Dhawalagiri South Base Camp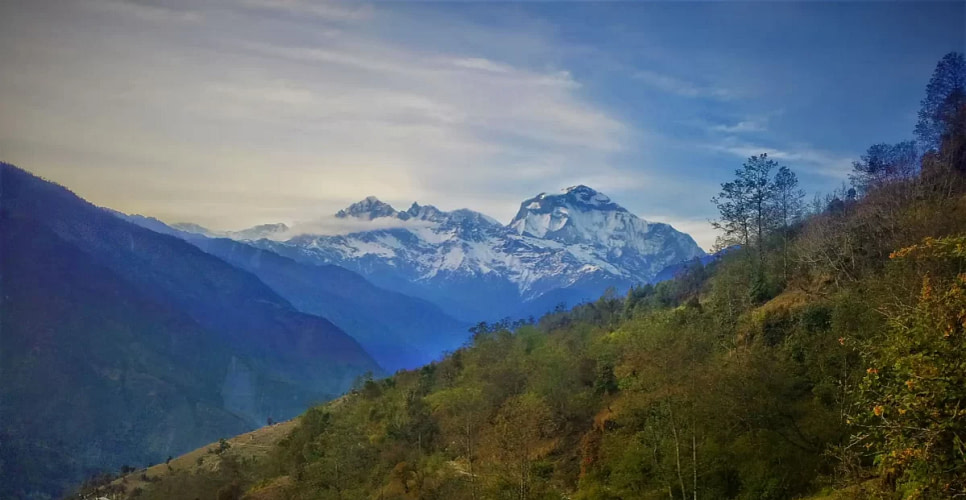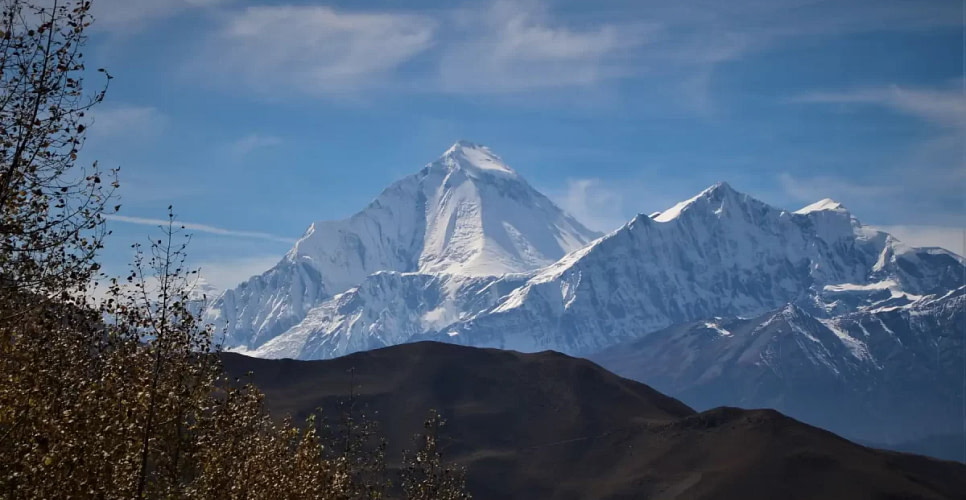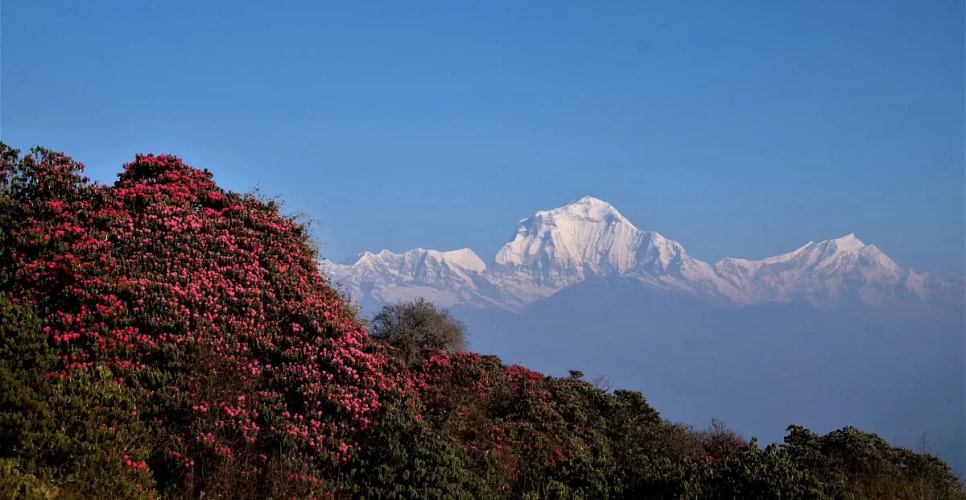 Highlights of Dhawalagiri South Base Camp
View of snow-capped mountain peaks including world's 7th highest peak
Explore the local traditions and culture
Pristine natural destination
Overview of Dhawalagiri South Base Camp
Dhawalagiri South Base Camp is an unique trekking tour to explore Mt.Dhawalagiri the world's seventh highest peak scaling at 8197 m lies in the Gandaki Province in Nepal. Dhawalagiri South Base Camp Trek is a recently opened destination for tourists; the route goes through villages with stone thatched roof houses, built in a traditional style. The hiking trail crosses goes along and crosses the Raghu Ganga River which originates from the south face glacier of the Dhawalagiri.
The name of the mountain translates to the White Mountain, and people here regard this mountain as a deity. Other mountain peaks like Tukuche, Manapathi, Churay, Annapurna, and some smaller peaks can be seen from and during the trek. Also known as the Dhawalagiri Sanctuary Trek, it is one of the challenging treks in Nepal as the Dhawalagiri South Base Camp trail goes from the low hill region to the sub-alpine climatic zone, showcasing the vivid wilderness of Nepal. The people of several ethnic groups reside in this region, which includes Magar, Chhantyaal, Brahmin, Chhetri, Kami and Damai, people.
The people basically don't categorize as Hindu, rather they worship everything including, their own ancestors, and make claims to speak to them. The shamanic people are however mostly smiling a friendly. The cultural aspect of this trek is as vivid as the natural aspect; Dhawalagiri South Base Camp Trek requires camping for a couple of nights, which Vertex Holiday will arrange and the rest of the nights will be in local lodges.
The availability of luxury accommodation and food is slightly less likely, as the people are just starting to open community homestay during the Dhawalagiri South Base Camp The homestay culture is a recent phenomenon as the locals are attracted to the potential tourism opportunity in the region. Vertex Holiday organizes and executes Dhawalagiri South Base Camp and other similar trips into the Himalayas.
Itinerary of Dhawalagiri South Base Camp
Arrival in Kathmandu and transfer to your hotel.
On arrival , Vertex Holiday's airport representative will receive you and assist you to designated hotel . A brief introduction our trip will be conducted by our trekking leaders.  The evening is reserved for a dinner program at a typical Nepali restaurant with come cultural show.
Car 20 minutes
Accommodation Hotel
Meals Dinner
Altitude 1300
Drive to Pokhara
It takes around five to six hours to reach to the city of Pokhara, which is by far the most picturesque city in Nepal as this place is full of Natural vistas including Mountain views , forests , rivers and lakes. A walk around the Phewa Lake and Sunset view from World Peace Stupa is among today's highlights.
Bus 7-8 hrs
Accommodation Hotel
Meals Breakfast
Altitude 890 m
Drive to Beni 830m.
The drive to Beni offers visitors with the glance of the beautiful Annapurna range Himalayas We will stop by Kusma 730m, where we will visit the High Hanging bridge over Kaligandaki and Modi River. Over Night at hotel in Beni.
Bus 4 hrs
Accommodation Guest House
Meals Breakfast, Lunch , Dinner
Altitude 830 M
Drive and trek to Jhi 1680m
We will drive for around 2 hours and trek around two hours to reach the Village of Jhi. It is an amazing village situated on a hill with terrace farms. Overnight at Local home stay.
Jeep 2hrs
Accommodation Lodge
Meals Breakfast , Lunch, DInner
Altitude 1680 m
Trek to Ghyasikharka
The days trek continues crossing several villages exploring the lifestyle of people which is deeply connected with nature. The green forests and streams flowing in between make the trail more interesting as the fusion of the birds chirping with the flowing stream is hypnotizing. Ghyasikharka is a major settlement inhabited by the majority of Chhantyal people Overnight at local home stay.
Walking 6- 7 hrs
Accommodation Lodge
Meals Breakfast , Lunch, Dinner
Altitude 1868 m
Trek to Phedi Camp
From Ghyasikharka the trekking trail continues along the Raghu Ganga River, with the massive green hills surrounding the either side of the trail. If you are lucky some encounter with wildlife is possible. From here on there are no human settlements except from some shepherds hut hence we will have to continue on a camping basis.  Overnight at tented camp.
Walking 6 hours.
Accommodation Lodge
Meals Breakfast , Lunch, Dinner
Altitude 2466m.
Trek to Odar Camp
The trekking continues, along the Raghu Ganga River. As our trek ascends, the tree line starts to fade into short grassland on the sloped hill. There are not a much of people on the way as this region is still isolated from visitors.    Overnight at tented camp.
Walking 7hrs.
Accommodation Lodge
Meals Breakfast , Lunch, Dinner
Altitude 3189m.
Odar Camp to Dhaulagiri South Base Camp
Now the landscape and terrain is rugged and the trail is carved on a mountain with a sheer drop. As we approach higher altitude, it gets harder for the trekkers. However with the great teamwork of the clients and the trekking staffs will eventually help beat this hard trek. The view of the mountain peaks, glaciers and springs will help you forget all the hardship during the trek. Overnight at tented camp.
Walking 8hours
Accommodation Lodge
Meals Breakfast , Lunch, Dinner
Altitude 4055m.
Trek down to Chhari
Retracing the trail from Dhaulagiri South Base Camp we climb down to Chhari  Which is a important junction in the region. It is a small town in the Himalayas which acts as a small market for the local people.  Overnight at traditional homestay.
Walking 8 Hours
Accommodation Lodge
Meals Breakfast , Lunch, Dinner
Altitude 2,020 m,
Trek to Dagnam
The trek from Chhari to Dagnam is a easy one , as for the most part of the trek it descends on a newly opened off road. Even though there are jeeps and other smaller vehicles running on this road , trekking is better as we can explore the natural and the cultural phenomenon of the region. Overnight at local home stay.
Walking 7 hours
Accommodation Lodge
Meals Breakfast , Lunch, Dinner
Altitude 1720m
Drive to Beni by jeep.
We will ride the jeep from here to reach to Beni, the headquarter of the Myagdi District. It is the confluence point of the Raghuganga and the KaliGandaki river.It is a small commercial hub for people of the region.  Overnight at Hotel in Beni.
Jeep 2 hours
Accommodation Lodge
Meals Breakfast , Lunch, Dinner
Drive to Kathmandu by coach.
From Beni we drive to Kathmandu , which takes around ten hours . The tiring ride comes with many amazing sceneries including mountains , forests , rivers ,villages , farms and many other things. Overnight at Hotel in Kathmadu
Bus 10 hours.  
Accommodation Hotel
Meals Breakfast , Lunch, Dinner
Altitude 1300 m
Departure
After completing the amazing Dhawalagiri South Base Camp trek with Vertex Holiday, our representative will drop you at the Airport for your flight back home.
Car 25 minutes
Meals Breakfast
Includes/Excludes in Dhawalagiri South Base Camp Trip
What's Included?
Airport picks up and drops by private tourist vehicle.
3 nights hotel (3-star category) in Kathmandu on B/B plan.
Accommodation and meals (Breakfast, Lunch, and Dinner) in the whole trekking.
One day sightseeing in Kathmandu valley.
English, speaking guide.
Porter (one porter for two people)
Insurance for the staffs
Local transportation
National park and TIMS permits.
What's Excluded?
Travel insurance which should cover emergency rescue and evacuation (most required)
International flight fare
Nepal entry visa, which can be obtained easily upon arrival at Tribhuwan International Airport (TIA) in Kathmandu.
Drinks such as mineral water, cola, sprite, Fanta, beer, etc.
Personal trekking and climbing equipment.
Tips for trekking/tour staff and driver.
Complimentary
Comprehensive Medical Kit
Duffel Bag for Luggage
Seasonal fruits as snacks
Trip Information of Dhawalagiri South Base Camp
Important Note
Dhawalagiri South Base Camp trek is a recent addition to the huge collection of trekking destinations in Nepal , therefore the infrastructure for tourists are not to the western standard. However people are starting to realize the importance of tourism and are establishing homestays and lodges in order to facilitate the incoming tourists. And in Some remote places . you will be staying in tented camps and the meals will be prepared by our trekking staffs. Be prepared for an adventure of a lifetime opportunity.
Reviews on Dhawalagiri South Base Camp
Be first to post a review in this trip.