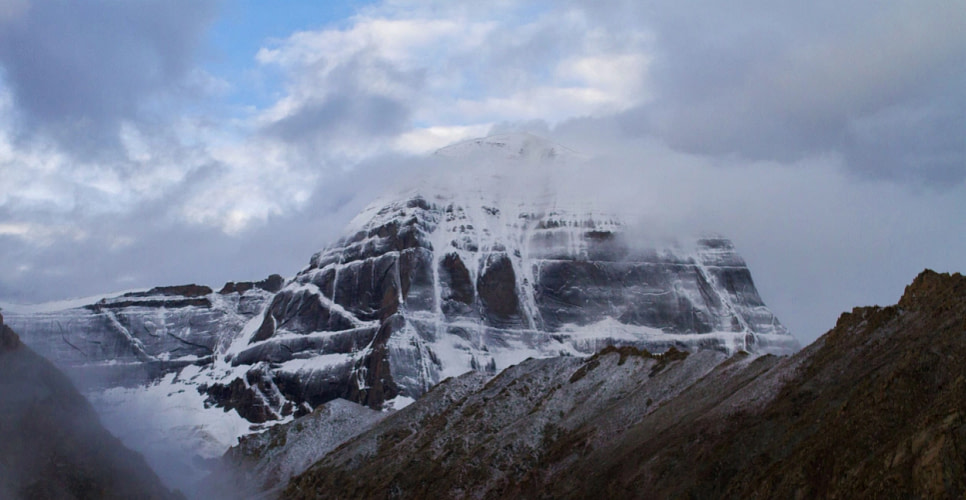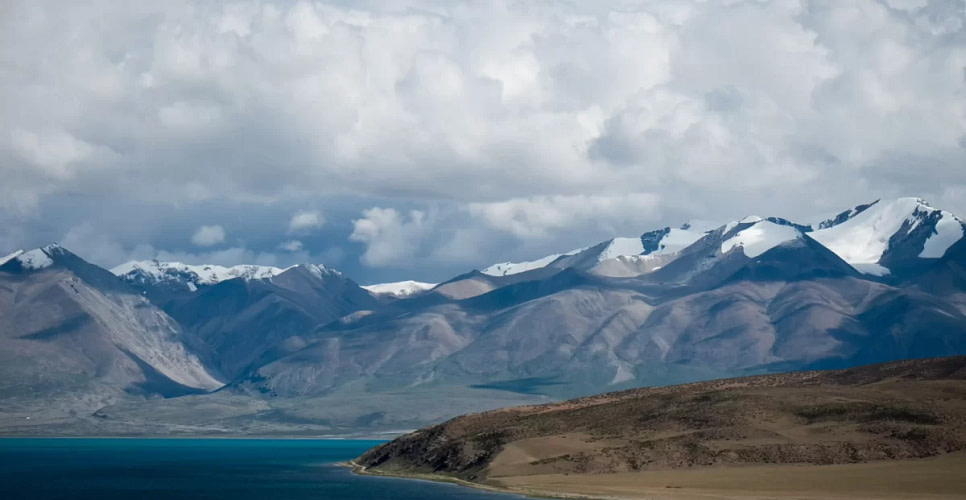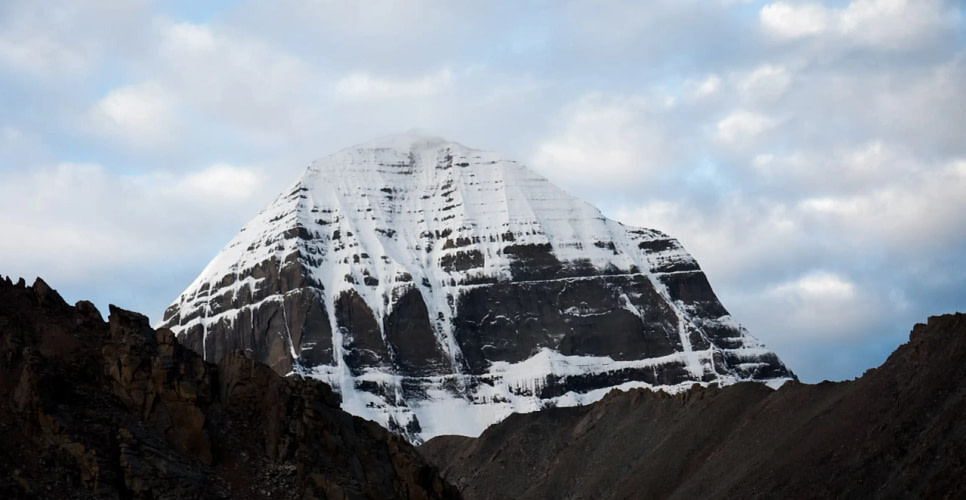 Trip Highlights of Kailash Mansarovar Tour
"Following the holy pilgrimage trail to revered Mt. Kailash and Lake Manasarover.
Journey on top of the world's highest and largest plateau with dramatic scenery
Exciting drive on vast Tibetan plains crossing high passes with grand scenic vista.
Walk around Mt. Kailash's four cardinal faces from south, west, and north to east.
Enjoy the holy dip and bathe on the huge and sacred beautiful Manasarover Lake
Overview of Kailash Mansarovar Tour
The  Kailash Mansarovar tour leads you to the holiest of all holy places on this planet earth. Revered as a sacred spot for four main religions Hindu, Jain, Buddhist, and ancient Bon of the pre-Buddhism sect. It will be a special place for all cast and creeds, and religions also, to experience its wild and scenic surroundings.
Holy Mt. Kailash rises solely on its own at 6,638 m and 21 778 feet high, which the Tibetans call Kang Rinpoche. An amazing mountain, the source of four major systems of Asia, Brahmaputra / Yarlung Tsangpo, Sutlej, Karnali, and Indus. Mt. Kailash and Lake Manasarovar, situated within a vast wide plateau at Ngari province of Far South-West Tibet, which was once the heart of the ancient kingdom of Guge. Some 1,600 km and 990 miles west of Tibet from the capital Lhasa and 538 km, about 335 miles distance from Kathmandu. The starting and ending point of Kailash Manasarovar tour, where a drive leads you to an exciting landscape.
Kailash Mansarovar tour continue north of Kathmandu valley to reach Langtang Himal area within green farm areas and forest to enter Tibet at Kyirong. Spending extra days at Kyirong, also called Gyirong Zangbo, next to Gyirong River, a tributary that later joins the Trisuli River in Nepal. A perfect height for acclimatization before heading towards a higher region of great Tibetan dry and arid wilderness. From Kyirong or Gyirong, the adventure begins heading the far western region of the Tibetan plateau, crossing over a pass to reach Brahmaputra River / Yarlung Tsangpo near the town of Saga.
The  Kailash Mansarovar tour  continues toward holy Lake Manasarovar, where we will have an extra day to enjoy the views around the huge Lake. Which is almost 90 km. Long and 70 km. Wide, one can take a hike to old Chu Gomba perched on top of a cliff cave. A religious person can offer prayer and have a dip or bathe on the shallow side of the holy lake, the ritual done mostly by Hindu followers.
After a pleasant time at Lake Manasarovar, our journey takes you on a wide Barkha plain, past the busy town of Darchen. Drive leads west at the holy spot of Taboche, where our trek and pilgrimage walk begins from the west of Mt. Kailash. To reach Dhiraphuk within the North Face of stunning Mt. Kailash, spend overnight in a simple lodge.
Holy walk, circuit, Parikrama, or Kora continues heading for a big steep climb to reach the highest point of the adventure. Stand on top Dolma-La Pass 5, 630 m / 18,471 feet high, facing Mt. Kailash North-Eastern Face. The pass is regarded as a holy place with the closest views of the great Mt. Kailash and then the Kailash Mansarovar tour continues toward a long downhill.
On reaching the base of Dolma-La Pass, the rest of the walk on a gradual trail to reach Zutulpuk. A small settlement with a few simple lodges and shops and a huge cave, the word Zutul means a place with a cave. Where 11th Century saint Milarepa meditated in this cave, leaving an image of his footprints. Finally, our holy circuit/kora completes on reaching a road-head for a long drive to the border of Tibet and Nepal. On route, spend overnight stops at Saga and Kyirong, and then enter Nepal back into the green vegetation.
Within tall tree lines and heavily farmland villages, the drive takes you to Kathmandu with last night's halt around Langtang Himal. Kailash Mansarovar tour adventure comes to an end at Kathmandu after a mystical journey.
Itinerary of Kailash Mansarovar Tour
Arrival in Kathmandu via respective airlines and transfer to hotel.
On arrival at Kathmandu-Nepal International Airport via various airlines, our guide and staff will receive you for a short transfer to the heart of Kathmandu city. Where your hotel is located, after checking into your rooms and then meet other members of the trek at the hotel lobby for briefing. Information on the Tibetan Journey Overland briefing includes useful details to make your holiday in Tibet more enjoyable. The evening group welcomes dinner in a lovely Nepalese Restaurant with an introduction to Nepalese culture of various parts of Nepal with folk dance and music.
Car 20m
Accommodation 3 Star Hotel
Meals Dinner
Altitude 1300m
At Kathmandu preparation for Tibet Journey and sightseeing tour.
The morning after a good breakfast, enjoy a tour of Kathmandu's places of great interest, where our city guide leads you on a short drive and walks to visit famous historical and religious monuments with old palaces. Most of the ancient temples, Stupas, and monasteries, including royal courtyards, are listed as world heritage sites in the chapter on fascinating wonders. After an enjoyable back to the hotel, for the final meeting and preparations for the most wonderful adventure to Tibetan Journey by Overland.
Car 6 Hours
Accommodation 3 Star Hotel
Meals Breakfast
Altitude 1300m
Drive to Syabrubesi village 1,420 m - 06 hours
Start early in the morning, after a good breakfast, for an interesting drive beyond Kathmandu valley to reach the high, cooler Himalayan hills at Dhunche, headquarter town of Rasuwa district, and the entrance to Langtang National Park. From here, a long descent on a zig-zag turn to reach Syabrubesi village for an overnight stop in the best available local lodge. Herewith time to browse around the village and witness the local culture of Tamang, the hill tribe of Langtang Himal range practice Buddhism and the Bon sect of pre-Buddhist.
Bus 6 Hours
Accommodation Guest House
Meals B/L/D
Altitude 1420m
Drive to Kyirong in Tibet near Nepal border 2,890 m - 03 hours.
Enjoy a good breakfast at Syabrubesi, where morning leads to an exciting drive on a newly built dirt road that takes you to enter Tibet from the border post of Nepal at Rasuwagadhi. After a few hours' drive from Syabrubesi and then a short walk across to the Tibetan side of the border. Where our Tibetan guide and driver from our counterpart agents of Tibet will meet you and then through immigration and customs formalities. Then a short drive reaches you in Tibet at Kyirong County for first overnight accommodation in a nice local guest-house.
Jeep 3 Hours
Accommodation Guest House
Meals B/L/D
Altitude 2890m
At Kyirong rest day for acclimatization.
In Kyirong, a free day for acclimatization is necessary before heading towards the high-altitude terrain of the vast Tibetan plateau. Enjoy the day with short walks and browse around this small town and witness the local impressive culture interwoven with Tibetan Buddhism religion within the backdrop of the Ganesh and Langtang Himal range.
Accommodation Guest House
Meals B/L/D
Altitude 2890m
Drive to Saga 4,400 m - 05 hrs.
After a relaxing day and overnight stops in Kyirong, then having breakfast drive takes you into a river gorge for an hour to enter a wide-open country. The start of Tibet's vast south-west plateau, a wild, windswept landscape of arid and dry air with sparse vegetation, as the journey continues where the road from Nylam / Zhangmu joins near Paigut-Tsho, a huge salt lake. From here drive leads up to cross over the small pass towards Brahmaputra River / Yarlung Tsangpo that flows from the source of Mt. Kailash. Drive heads to cross a long bridge to reach Saga for an overnight stop. A moderate size town situated en route to Mt. Kailash, where Lhasa and Shigatse road joins. Spend the overnight in a nice guest house, lodge, or hotel with time for a short walk around the town of Saga within a windblown high country.
Jeep 5 Hours
Accommodation Guset House
Meals B/L/D
Altitude 4400m
Drive to Lake Manasarover 4,588 m near Chu Gompa - 07 hours.
From Saga, start the day early morning to cover a long distance to reach the holy Manasarover Lake within the Mt. Kailash area. Drive heads to cross several high passes to reach the small town of Drogba, to enter within a long stretch of vast wide Tibetan landscapes. On the drive, enjoy views of distant Himalayan peaks that border the western part of Nepal with Tibet. Driving through villages and towns and observe nomads and yak herders' camps as the ride reaches you at Paryang, a windswept small town. Stopping here for a possible lunch stop, then drives continues to cross a high pass of Myum-la at 5 150 m, with chances of spotting some wildlife like mountain antelope with a herd of Kang the wild Ass, then downhill to the east side of Lake Manasarover close to the small town of Horpa, with the first glimpse of Mt. Kailash towards the north. From Herpa enter the large and wide Barakha plain of Ngari province within remote areas of Far South West Tibet, then end the day for an overnight halt at the west side of the holy Manasarover Lake. Close to an old monastery Chu Gompa is located on a high red cliff within an overhanging cave. Accommodation in a simple lodge or guest-house, in the high season of pilgrimage, gets over-crowded with Indian devotees and pilgrims.
Jeep 7 Hours
Accommodation Guest House
Meals B/L/D
Altitude 4588m
At Manasarover rest day for acclimatization.
Another rest day on this beautiful location by the holy Lake Manasarover with views of Mt. Kailash and Gurla Mandhata mountain range which is 7,694 m high towards the south of the lake with Kailash in the north. Enjoy the day for acclimatization as well for prayer and worship, or take a short walk uphill to interesting Chu Gompa. The myth and legend behind Lake Manasarover, where Hindu belief is Manasarover float beneath the shadow of holy Kailash as the lake formed in the mind of Gods like the word 'Manas' origin from ancient Sanskrit language mean mind or soul of god and the holy spirit. For interested and keen members, the option is for a few hours of Parikrama or a circuit of Lake Manasarover on a four-wheel drive for a complete circuit covering a distance of 110 km. The best time for kora and Parikrama around Lake Manasarover in late autumn and early spring when the tributary streams and rivers are low that joins the lake.
Accommodation Guest House
Meals B/L/D
Altitude 4588m
Short drive to Taboche past Darchen 4,600 m, walk to Dhiraphuk 4,900 m - 05 hours.
From Lake Manasarover, after enjoying a nice relaxing day our main goal and highlight start with a short drive to reach the near west face of holy Mt. Kailash. The ride leads past Darchen town with many hotels and lodges and markets, can be busy with pilgrims on auspicious time for kora and Parikrama on Saga Dawa, the birth anniversary of Lord Buddha, especially for Buddhist pilgrims. On reaching Taboche, a holy spot for Tibetan Buddhists marked with thousands of prayer flags and a tall wooden flag pole changes the pole and flags once a year on the day great festival time of Saga Dawa. Enjoy looking grand vista of Mt. Kailash West Face, from here our walk commences heading towards wide dry plains taking a path along the bank of a stream with a few small high altitude prickly shrubs and bushes. As gradual climb starts for few hours, but most of the walk on a level trail to reach Dhiraphuk Gompa for an overnight stop, accommodation in a simple lodge, and guest-house with a close towering North Face of Mt. Kailash.
Jeep Hours
Accommodation Guset House
Meals B/L/D
Altitude 4900m
Trek to Zutul-Puk 4,760 m via Dolma-la 5, 630 m - 06 hrs
The second day of the holy walk will be the hardest and tough day due to the steep climb and high altitude to reach Dolma-La top, the highest pass of the journey. Morning from Dhiraphuk starts on a gentle trail for a short hour on reaching a small wooden bridge, which is on the route of inner and outer Kora/circuit. The walk leads to outer Parikrama and circuit with a climb on a well-defined path, marked with many stone cairns and various items offered by Tibetan pilgrims. As the climb proceeds, then reach the highest and holy spot Dolma-La Pass at 5 630 m high, with the closest views of Mt. Kailash North-East Face. A sacred place, the pass festooned with prayer flags and offerings by Hindu and Buddhist pilgrims. Enjoy the best time of your life and experience being on the highest and holy point of the adventure. From the top, a long downhill with views of a small glacial pond called Parvati Kund. As the walk continues to reach the base of Dolma-La around Lamchu Valley on the eastern side of Mt. Kailash. On reaching the valley floor, the rest of the walk is on an easy gradual wide path to reach Zutul-Puk, a small settlement with few shops and a simple lodge close to a cave, where 11th Century saint Milarepa meditated. Where you can notice a trace of his holy footprints on the ceiling of this large cave. The word Zutul-Puk means a place with a cave.
Walking 6 Hours
Accommodation Guest House
Meals B/L/D
Altitude 5630m
Trek near Darchen and drive to Saga town - 07 hrs.
Another day to start early from Zutulpuk, after a simple local breakfast, a short walk of a few hours to reach a road-head, where our Tibetan drivers will be waiting for a long drive to Saga town. On the last day of the holy circuit, kora or Parikrama is on a gradual flat valley trail walking past many Mani prayer monuments to reach a narrow gorge by the side of the great Karnali River that flows towards Western Nepal. Our direction diverts west near Darchen on the last leg of the walks. As our holy hike ends at a dramatic exit from the river valley. Where drive leads to Saga on the same route over Mayum-La Pass; then reach Saga for an overnight stop, have a late dinner, and then retire to your rooms after a most exciting day and long drive.
Walking 7 Hours
Accommodation Guest House
Meals B/L/D
Altitude 4300m
Drive to Kyirong in local guesthouse - 05 hrs.
Today's overland journey will be exciting to reach the end of the wide arid, and barren Tibetan plateau, following the same route as earlier, then enter into a narrow river gorge and then to a wide-open valley on reaching Kyirong County by late afternoon as well for the last overnight stop in Tibet.
Jeep 5 Hours
Accommodation Guest House
Meals B/L/D
Altitude 2880m
Drive to Dhunche town 1,950 m past Syabrubesi - 05 hrs.
Feeling at your best as the altitude gets to lower normal heights with a nice overnight in Kyirong, having last breakfast in Tibet a short drive to reach frontier post and immigration of China, completing passport and visa formalities. After security check short walk to enter Nepal at Rasuwagadhi, bidding farewell to our good Tibetan guide and cheerful drivers. Walk towards Nepal side, here again going through visa formalities, drive into Nepal with a local driver as ride leads past farm villages within lush green surroundings to reach Dhunche for overnight in a nice lovely lodge. Dhunche headquarters town of Rasuwa district is located within Langtang Himal and the gateway to various trekking around the Langtang region.
Jeep 5 Hours
Accommodation Guset House
Meals B/L/D
Altitude 1950m
Drive back to Kathmandu and transfer to hotel - 06 hrs.
Leisure and late morning breakfast at Dhunche town populated by Tamang people, the hill tribes of Central Himalaya and Langtang region. After a nice breakfast, an exciting drive to Kathmandu. As the drive follows the lovely villages and towns of Ramche and Manebhanjyang. The journey continues around warm low areas of Trisuli Bazar and heading past Nuwakott to reach Kathmandu, and then transfer to your respective hotels. Afternoon free on last day in Kathmandu for individual activities and shopping Nepalese souvenirs.
Jeep 6 Hours
Accommodation 3 Star Hotel
Meals B/L
Altitude 1300m
International departure for homeward or to respective countries
Last day in Nepal in the country of Himalayan wonders, as per your international flight time either morning, afternoon, or evening. Vertex Holiday guide and staff transfer you to the airport for a homeward journey or to the next port of call, after a wonderful time and adventure on Mt. Kailash and Lake Manasarover Journey.
Includes/Excludes
We are updating the contents.
Essential Information - Kailash Mansarovar Tour
For Mt. Kailash and Lake Manasarover Journey from Kyirong and Saga, it is important and much better to spend nights in tented camps rather than using a simple lodge at Manasarover and around the Kailash circuit, with camping food served from our camping kitchen. As the lodges can be overcrowded with pilgrims sometimes, especially during the high season for pilgrimage and in Saga Dawa festival time. While in Tibet uses Beijing Standard Time which is 2 hours- 15 minutes ahead of Nepal standard times, the currency is the Chinese Renminbi Yuan which is about US$ 1 = Yuan 6-7, and NRS 17 for 1 Yuan. Overland drive from Tibet to Nepal entry point at Kodari (Nepal) via Nylam and Zhangmu (Tibet-China) is not possible at present due to broken roads from the landslide of the 25th April & 25th May earthquakes. The road might open for travel in the near future. We will keep in touch with us for updates regarding this situation. The only way to enter Tibet is by air from Lhasa or from Kyirong taking an overland journey through the Langtang Himal region, which has been open to foreign visitors for the last few years.
Reviews on Kailash Mansarovar Tour
Be first to post a review in this trip.