20 Best Trekking in Nepal Himalayas – Vertex Holiday
20 Best Trekking In Nepal Himalayas Overviews:
'Nepal is a premier country for all types of adventure activities'20 best trekking in Nepal Himalayas, as well there are more exciting places. But in this text, we would like to describe the major and renowned region for travelers to enjoy the adventure.
Nepal is a country with the world's highest peaks and mountain ranges which makes it one of the most sought adventure destinations, where world's tallest 8th peaks are Nepal, namely Mt. Everest, Lhotse, Kanchenjunga, Makalu and Cho-Oyu, Dhaulagiri, Manaslu with Annapurna.
All these highest mountains are above 8,000 m, where trekkers can venture to the base camps. Besides 8,000 m base camps, the Himalayas offers great traverses crossing over high scenic passes. The beauty and charm of trekking around Nepal Himalayas is the warm hospitality of the local natives, where trekkers can find refuge in the best mountain lodges and tea houses, as well as having good food throughout the treks.The country offers various amazing trekking adventures suitable for all types of travelers and age groups. From short moderate-grade walks of a few days to a week, or enjoy adventurous to challenging treks.
Most popular mainstream trekking areas around Nepal Himalayas, where travelers can stay overnight in the comfort of nice, cozy lodges.
On off the beaten trails, away and beyond villages and main settlements.
Trekkers will be provided with full-tented camping facilities backed by separate kitchen units for cooks and kitchen staff.
Tented Camping trekking is mostly required on remote trekking destinations like around the Far East and Far Western Himalayan region as well as in some hidden areas where lodges are not available, where camping equipment needs to be carried.
Twenty Best Trekking Destinations around Nepal Himalayas allows travelers to choose various options, as per one interest and duration wise.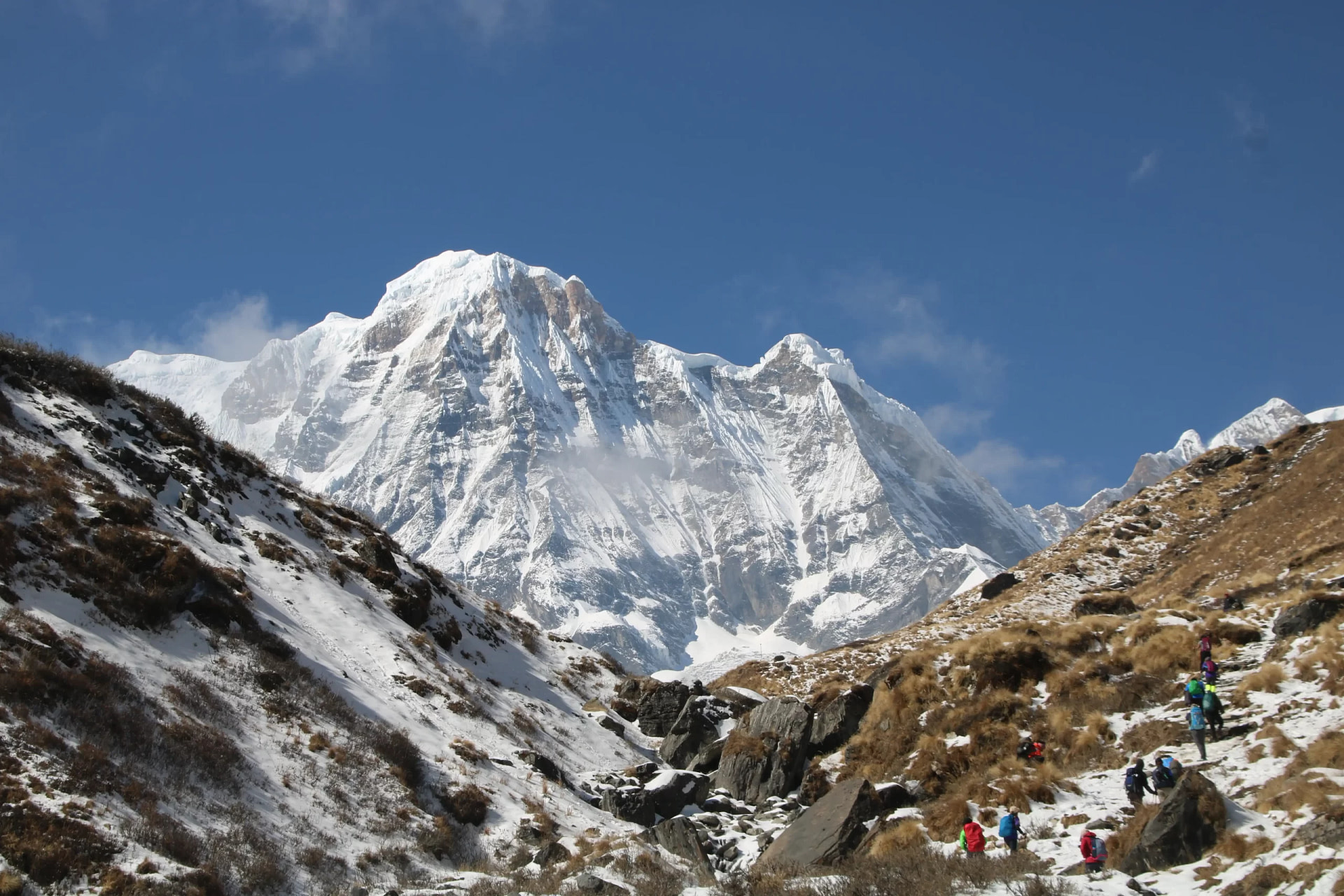 Annapurna Himalaya Region:
Annapurna Himalaya region one of the best trekking in Nepal with the view of  towering mountain range around the Himalayas offers various exciting adventure destinations.
01: Ghorepani Poon Hill Trek:
Ghorepani poon hill trek is one of the most popular and favored short trekking of less than a week. A moderate trek of a few days walks starts and ends at beautiful Pokhara city, located in Nepal Mid-West around Annapurna Himalayas.
Involves a short drive to the starting point of the trek, then walking through low, warm farm villages. A steep climb leads to cooler hills and walks through a lovely rhododendron forest reaching Ghorepani village.
A scenic spot situated at the base of the famous Poon Hill view-point, the highest spot at 3,210 m.
An early morning hour hike to Poon Hill, on top, enjoy the stunning sunrise views. Includes panorama of the world's three highest mountain ranges Mt. Dhaulagiri,
Mt. Annapurna and Mt. Manaslu with majestic Machhapuchare Himal.
After an enjoyable and exciting moment, either head downhill on the same route or take an alternative route. Where walk leads ups and down in the shade of beautiful rhododendron woods, reaching the large Ghandruk village.
Then concluding the trek taking an interesting drive back to Pokhara.
02: Mardi Himal Trekking:
Mardi Himal Trekking & Musical journey with Himalayan sound healing, a lovely country walks of a week's duration which is part of Annapurna Himalaya's southern range. The trek starts and ends in scenic Pokhara, a leading tourist holiday destination. A short drive takes leads to the trekking point of the trek and then heads uphill into cooler green hills.
The walk leads past a few farm villages facing constant views of the Annapurna Himalayan range of peaks. The route leads beyond human settlements and villages through dense tree lines of firs, pine, and rhododendron. Finally, the climb leads to High Camp at 3,700 m for an overnight halt in a nice simple lodge.
Next day 3-4 hours of good hike to the top of Mardi Himal View-Point at 4,500 m / 14,850 feet. Enjoy the dramatic scenery of rolling green hills and valleys with a panorama of the Annapurna Himalayas. Overlooking the closest views of majestic Machhapuchare Himal, the famous Fish-Tail peak with Mardi Himal at 5,587 m high. After exciting views and adventurous walks, a long descent leads to the low, warm farm village of Siding, where a short, interesting drive brings you back to beautiful Pokhara after a great wonderful experience on the Mardi Himal Trek.
03: Annapurna Base Camp & Sanctuary Trekking:
Annapurna Base Camp & Sanctuary Trek is an amazing and scenic walk, as well as one of the shortest base camp adventures. A wonderful trek of a week duration, from Pokhara to Pokhara, with a short drive both ways.
Trek leads above low, warm fields and then climbs up to cooler hills with ever-present views of the Annapurna Himalayas. Walk through the large village of Chomrong and then enter a Modi River gorge amidst forest surroundings.
Where the walk follows the Modi River upstream right up to its glacial source at Annapurna Sanctuary and base camp.
Annapurna base camp trek is one of the safest treks in terms of high altitude, where elevation gains slowly at a gradual pace. Reaching the height of 4,130 m, the highest point of the adventure is a magnificent location. The only base camp trek in the whole Himalayas with facilities of a lodge in the heart of massif Annapurna Himalayas. Where you will be standing beneath the world's 10th Highest Mt. Annapurna-I, which towers high at 8,091 m, Mt. Annapurna-I, was the first 8,000 m peaks ever climbed way back in 1950's by French Expedition.
Which was three years ahead before Mt. Everest was summited by Tenzing & Hillary in 1953. After a grand moment enjoying the dramatic scenery of Annapurna's massive peaks, return journey downhill and back to Pokhara.
04: Annapurna Circuit Trekking:
Annapurna circuit  is one of the best trekking in Nepal with scenic and classic adventures around the Himalayan range. Listed as one of the world's top ten adventure destinations due to its varied change in landscapes, vegetation, altitude, and cultures.
Where trail follows from low, warm sub-tropical to cooler hills and ends at an arctic zone of ice and glaciers, adventurous walks from north to south of the massif Annapurna Himalaya range of peaks, facing everlasting views of snow peaks.
Annapurna Circuit Trekking of two-week duration leads you towards the north of Annapurna Himalayas at beautiful Manang valley. Enjoy the fabulous ancient culture of Buddhism and its old monastery, where the trail is lined with prayer monuments. Walk follows to the lovely villages of Pisang, Hondre, Braga, and Manang, enclosed by towering snow peaks. Chulu's towards the north with Annapurna Himalayas in the south, having time for acclimatization days at Manang 3,550 m high. From Manang, the adventure leads to crossing the high Thorang-La Pass at 5,416 m. The pass forms the boundary.
Between the districts of Manang & Mustang, after a tough climb, a long descent to the Mustang area at Muktinath. A holy Hindu temple and major pilgrimage site for Hindu followers, a scenic spot with a nice windblown village.
After Muktinath, head towards Kaligandaki River through Jomsom town and the charming villages of Marpha and Tukuche, the journey leads to the world's deepest gorge Kaligandaki River, sandwiched between the giant peaks of Dhaulagiri and Annapurna. The walk leads to a low warm country at Tatopani, a lovely village with a natural hot spring.
The adventure continues heading uphill to a cooler region within a beautiful forest of rhododendron, reaching Ghorepani a famous village. Located beneath scenic Poon Hill, where the morning hike takes you on top for alluring views of the sunrise.
From Ghorepani and Poon Hill, a long descent to a roadhead for an exciting drive to beautiful Pokhara. A charming city blessed with natural wonders of snow peaks and lakes. A perfect place to enjoy after concluding the Annapurna Circuit Trek.
05: Tilicho Lake and Thorong La Pass Trekking:
Another beautiful adventure within Manang areas is a trek to a scenic turquoise-colored lake, following the same trail of Annapurna Circuit. From Manang village, the route to Tilicho Lake diverts, heading towards a wild hidden country beyond Manang valley. After a few days of good walks ups and down, reaching Tilicho Base Camp, a small settlement with few lodges.
Walk to Tilicho Lake, which holds the world's highest lake at an altitude of 4,919 meters high. Enjoy the glorious vista of snow-capped peaks that surrounds the exciting scenic country of Tilicho Lake.
After an enjoyable moment, head back towards the main trail of Annapurna Circuit as the walk leads to the high Thorang-La Pass. A steep climb of a few hours, reaching on top the highest point of the adventure at 5,416 m. Enjoy the fabulous scenery of the Snow Mountains that surround the scenic Thorang-La Pass.
A long descent leads to the Mustang region at Muktinath, a village with a holy temple and an important pilgrimage site. For all Hindus, from Muktinath, a pleasant scenic walk down to Kaligandaki River valley. A walk takes you to a large Jomsom town, the headquarters of the Mustang district. From Jomsom, a swift short, and panoramic flight brings you to beautiful Pokhara, after a wonderful experience on Tilicho Lake & Semi Annapurna Circuit Trek.
Everest Region Trekking:
Everest Region is one of the best trekking destinations in Nepal Himalayas. Where trekkers can enjoy various types of adventures, from moderate to challenging treks and crossing high scenic passes. Everest region offers one of the best high-altitude trekking adventures in the harmony of immense local cultures.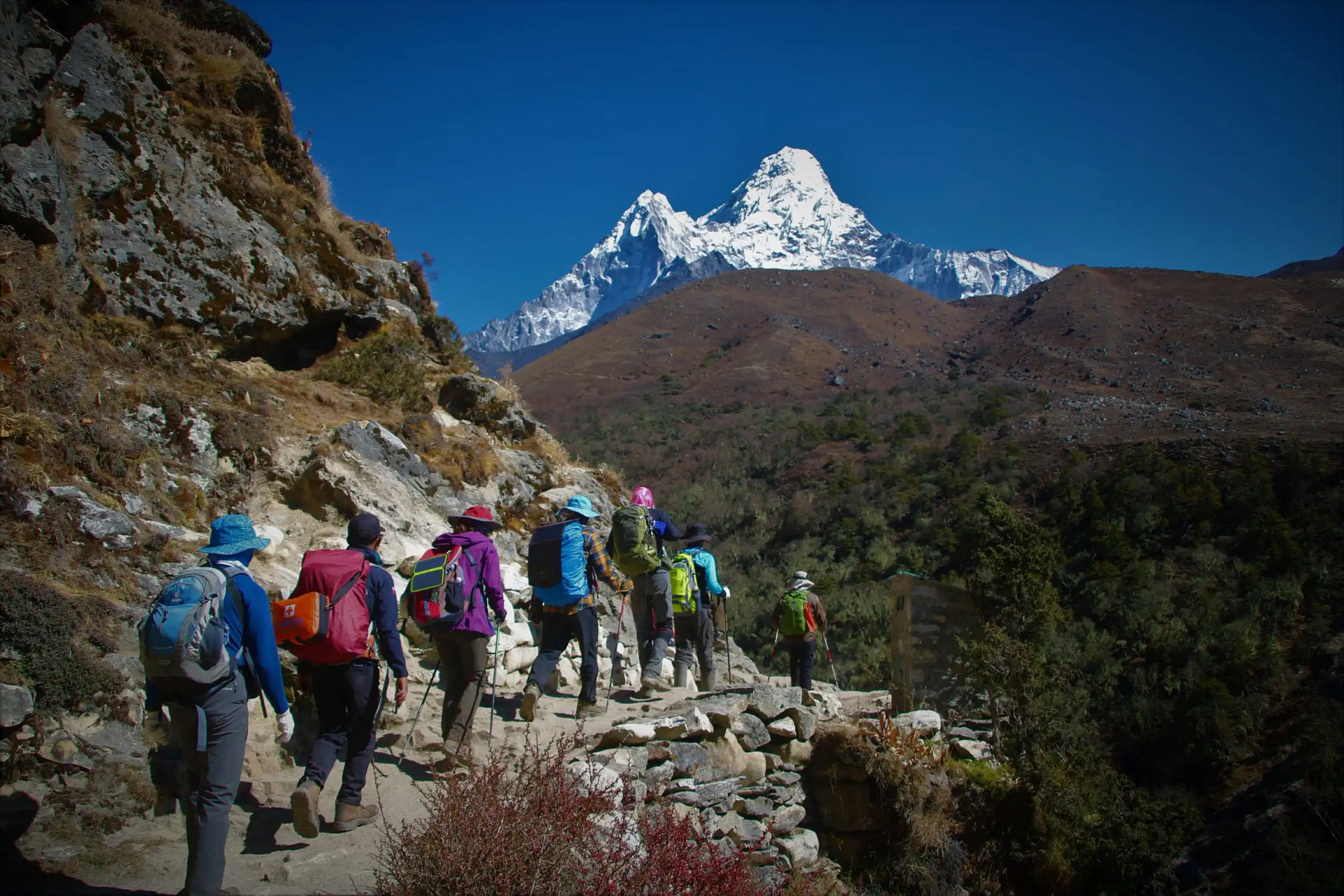 06: Everest Base Camp Trekking:
Everest base camp is the dream of millions of adventurers and trekkers to set foot beneath the world's number one, Mt. Everest. One of the best high-altitude treks and adventures, where the walk leads on a scenic and straightforward trail.
Besides, the lovely views along the walk, one can enjoy the local immense cultures of the Sherpa people and the highlanders of Everest. The trail leads to lovely traditional villages through Phakding, Monjo, and Namche Bazaar the hub of Khumbu Sherpa.
Trek leads to beautiful places like Tengboche and its majestic monastery, and lush green rhododendron and pine forest. The walk continues heading higher terrain towards mountain wilderness, visiting nice settlements of Pangboche, Dingboche, and Lobuche. Then finally, to the main highlight at Everest Base Camp, which is at a height of 5,364 m. Enjoy the dramatic scenery of arctic landscapes of ice and glaciers with close views of massif Khumbu Ice-Fall.
After an enjoyable moment at Everest base camp, includes another adventure that is part of the journey. A steep climb up to the famous view-point hill of Kalapathar, the highest point of the adventure. Stand on top at 5,545 m high, facing the closest views of Mt. Everest with incredible scenery of giant peaks.
On completing the major highlights of exploring the world's highest terrain, a long downhill walk leads you to Lukla where an exciting flight brings you back to Kathmandu, after a great experience on the Everest base camp trek.
07: Everest Gokyo Lake & Gokyo Ri Trekking:
Besides the favorite trek to Everest base camp, Gokyo valley and its scenic glacial lakes are quite exciting to experience. An adventure of more than a week takes you away from the main busy trail to the far north corners of Khumbu.
Gokyo Valley is a picturesque country enclosed by towering peaks where the walk takes you to high Gokyo-Ri at 5, 357 m. Rewards with a spectacular panorama of the world's four highest peaks at one single glance, facing views of Mt. Everest.
Includes Lhotse, Makalu, and Cho-Oyu with scenic Gokyo valley and its serene lakes, as well as Nepal's longest Ngozumpa glacier.
08: Everest base camp Trek With Cho-La Pass:
Another adventurous trek is where one can enjoy the scenic walk to Everest base camp trek with Gokyo valley and Chola Pass with beautiful glacial lakes. As well as reaching the high viewpoint of Kala Patthar Gokyo-Ri Everest base camp and Chola Pass. Crossing over the 5,420 m high Chola pass. A great combination and two scenic areas of Khumbu in one single trek. Covering both exciting destinations with a total duration of more than 2 weeks.
09: Everest Three High Passes Trek:
Everest Three High passes trek is a great adventure, a traverse from one beautiful area of Khumbu to another scenic valley. A complete trek covering all major highlights of the Everest region, from main trails to off-the-beaten tracks.
Crossing passes of above 5,000 m with a visit to Everest base camp, Kalapathar, and then towards Gokyo Valley. Finally ending at Thame village on the western side of the Khumbu and Everest region.
The passes involve being Kongma-La at 5,535 m, Cho-La Pass at 5,420 m, and Renjo-La at 5,360 m high. An adventure of more than 2 weeks long from Lukla to Lukla, the starting and ending point of trekking.
10: Tengboche Mt. Everest Panorama Trek:
Tengboche Mt. Everest panorama trek is a short, moderate adventure of a week duration, a perfect trek for all types of travelers. From families to elderly people walking leads to slow gain of altitude with ample time to get acclimatize. Have a rest day at the famous Namche Bazaar to explore the local culture, and then head towards scenic Tengboche.
A beautiful spot amidst lovely forest surrounding, facing a grand panorama of Everest and Lhotse with an array of giant peaks. At Tengboche, a tour of an impressive monastery of great religious and cultural interest.
Langtang Himal Region:
Langtang Himal Region is a great adventure destination as well as the nearest Himalaya range from the capital Kathmandu. Langtang Himal Region offers various scenic and cultural treks, which is one of the most popular trekking areas.
After Annapurna and Everest region, great country walks are suitable for all travelers and age groups.
11: Langtang Valley Trek:
Langtang Valley trek is a moderate adventure of week duration, scenic and cultural walks. Where altitude gains at a slow pace, which makes the trek interesting, reaching the highest spot at Kyanjin around Langtang Valley.
Reaching at the height of 749 m / 12,371 feet high within scenic Langtang valley at Kyanjin. The walk takes you through a lovely forest of rhododendron, pines, and oaks; during springtime, the wildflowers will be in full bloom. While at Kyanjin, one can explore the high viewpoint of Kyanjin-Ri and Tserko-Ri, which offers spectacular views of the whole Langtang Himal range. Includes drive both ways from Kathmandu to Syabrubesi village.
12: Langtang Valley & Gosainkunda Trek:
Langtang valley and Gosainkunda trek is an adventure that leads to both beautiful areas of the Langtang Himal region. A trek of two weeks covers the scenic Langtang Valley and then the holy glacial pond of Gosainkunda.
A sacred pilgrimage site for all Hindu followers where once a year, a great religious festival takes place. The month of August as per the Hindu Lunar calendar, falls within the full moon. From Gosainkunda, the adventure leads to a high pass above 4,609 m high, facing a grand vista. Includes views of Langtang and Central Himalayas as far as Ganesh, Manaslu, and Annapurna Himalaya range.
The walk leads towards the eastern rim of Kathmandu valley, where this beautiful trekking completes.
13: Tamang Heritage Trail Trekking:
Tamang heritage trail trekking is more than a week of scenic and cultural country walks, exploring the local immense Tamang cultures. One of the ancient indigenous mountain tribes of Nepal Himalayas, trekkers can witness amazing traditional heritage customs. As it were for the past thousands of centuries, visiting nice traditional villages and immersing with the local community.
The trek takes you from one Tamang village to another scenic location and crosses high Nagethali Hill at 3,165 m. From the top enjoy the grand panorama of the Langtang, Ganesh, and Manaslu Himalaya range of snow peaks.
Ganesh Himal And Manaslu Region:
Ganesh Himal & Manaslu Region, located Far Mid-West of Nepal Himalayas, is one of the least visited regions. A great adventure within Gorkha and Dhading districts as well the trek extends as far as the Manang area.
14: Ruby valley and Ganesh Himal Trek:
Ruby Valley and Ganesh Himal Trek of more than a week of adventure, walking towards the complete wilderness. Ruby valley trek explores the least explored areas of the central Himalayas and its beautiful scenic valley. The walk leads past human settlements and villages for some days in absolutely tranquil surroundings of lovely woods and high snow peaks.
15: Manaslu Circuit Trek:
Manaslu Circuit Trek is located around Mid-Western Himalaya close to Annapurna and Ganesh Himal ranges. One of the restricted areas of Nepal, which was open for visitors from 1992 onwards. All outside visitors require special permits to enter the high Manaslu valley, a wonderful adventure destination where the walk leads around the world's 8th highest Mt. Manaslu and crosses the high Larke-La pass at 5,106 m.
A mesmerizing and wonderful experience to achieve this marvelous adventure exploring local immense cultures and scenic landscapes. Manaslu circuit trek is An adventure of less than two-week treks that involves exciting drives both ways.
16: Tsum Valley Trek:
Tsum valley trek falls within a restricted area of Nepal, which was open to outside visitors from 2008 onwards. Where all trekkers need to obtain a special permit to enter the once-forbidden land. Tsum is the valley of happiness, a raw and virgin country well hidden from the rest of the world where trekkers can explore the remote, isolated villages and their impressive culture of ancient Buddhism heritage.
A trek of two weeks takes you as far as Mu Gompa at 3,700 m high, and visit Rachen Gompa. The walk takes you around traditional cultural villages in the shadow of high Manaslu and Ganesh Himal.
Far Estern Himalayas:
Far Eastern Himalayas, around Makalu and Kanchenjunga region, is one of the least explored areas. Due to its remote location, where the world's 3rd and 5th highest peaks are located, a great adventure following the off-beaten tracks.
17: Makalu Base Camp Trekking:
Makalu base camp trekking leads you to the world's 5th highest peak
Mt. Makalu rises to the height of 8,463 m. Located Nepal Far North East beyond Mt. Everest, a scenic and beautiful country to explore. The walk takes you from the low Arun valley to the high Barun valley, enriched with exotic flora and fauna. The adventure takes you beyond villages and human settlements for more than a week within pure mountain wilderness. Makalu base camp, due to its remoteness, involves flights both ways from Kathmandu to low, warm Tumlingtar airport.
18: Kanchenjunga base camp trek:
Kanchenjunga base camp trekking is an exclusive adventure towards the far eastern rim of the Nepal Himalayas. One of the longest-duration trekking adventures covers both North and South Base Camps. Walking from dense green forest to remorseless fields of ice and glaciers, the trek involves flight both ways.
Includes an exciting drive to start and end the trek of more than 3 weeks.
Far Western Himalayas:
19: Upper / Lower Dolpo Trekking.
Upper and Lower Dolpo Trekking fall within the restricted area of Nepal located far northwestern Himalayas. The Upper Dolpo of more than 3 weeks of adventure takes you to beautiful Phoksundo Lake. Then heading towards high and remote Shey Gompa, the crystal monastery. A perfect adventure for people interested in pure wilderness and off-the beaten tracks.
Similarly, Lower Dolpo takes you to scenic Phoksundo Lake and crosses high Baga-La, and Numa-La passes of above 5,000 m. An exciting walk exploring the lovely villages of Ringmo, Tokyu, and Tarakot. A trek of two-week duration involves flights both ways from Kathmandu to Jhupal via Nepalgunj airport.
20: Upper Mustang Trekking.
Upper Mustang trekking, once a forbidden country with its walled kingdom of Lo-Manthang. An ever-exciting and picturesque land, which is an extension of the Tibetan southwest plateau. Which is also the major Trans Himalaya Salt Trade Route between Nepal and Tibet / China. Where trade still exists through the Karo-La pass, which is beyond Lo-Manthang. A wild country steeped with high windblown canyons and eroded high cliffs and Snow Mountains. An exciting place to explore its beautiful villages and monasteries adorned with age-old heritage and ancient culture of Buddhism. Upper Mustang falls within Restricted Area opened for outside travelers in 1992; a special permit is required to enter Upper Mustang.