Jomsom Muktinath Trekking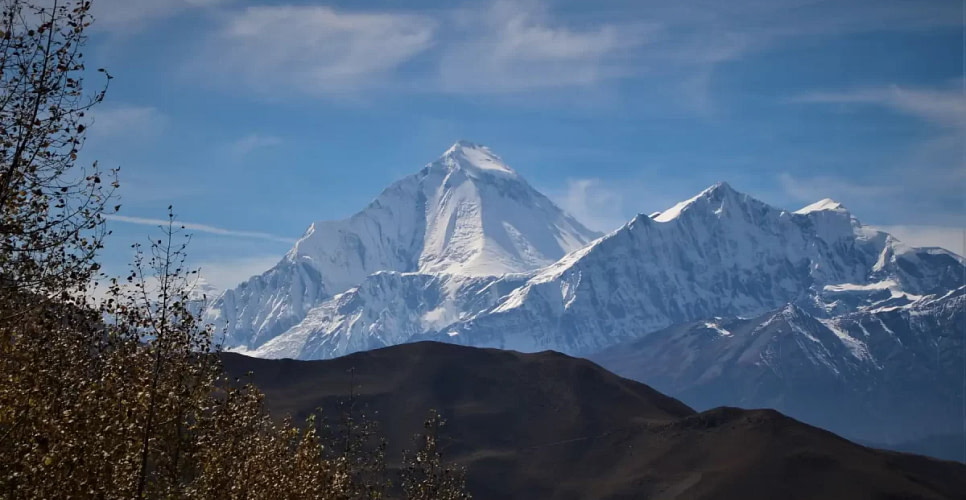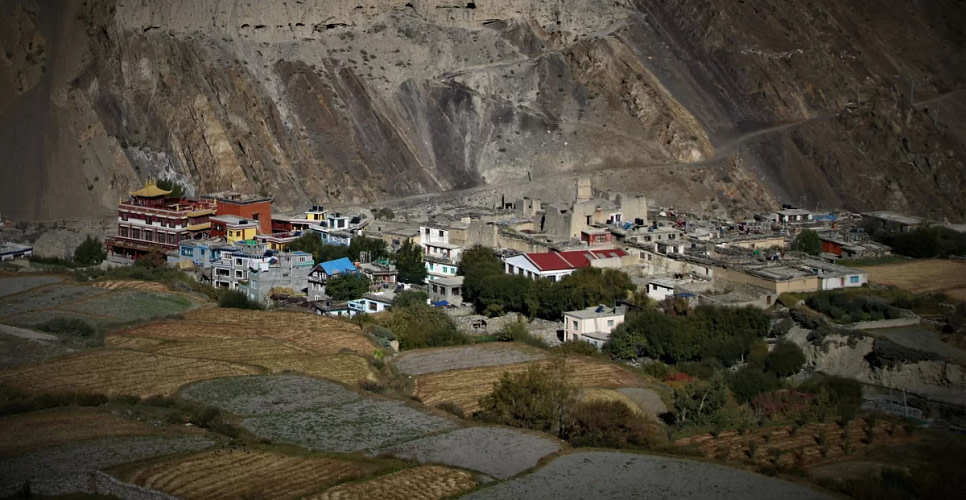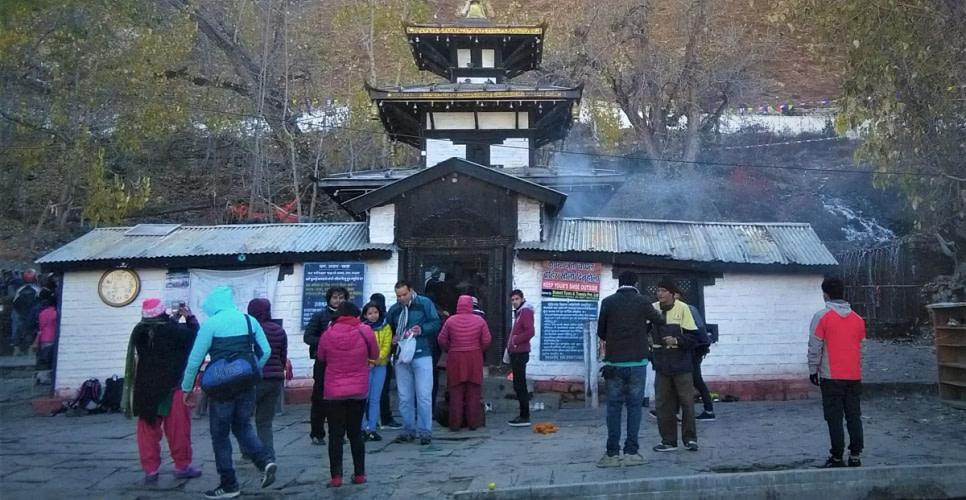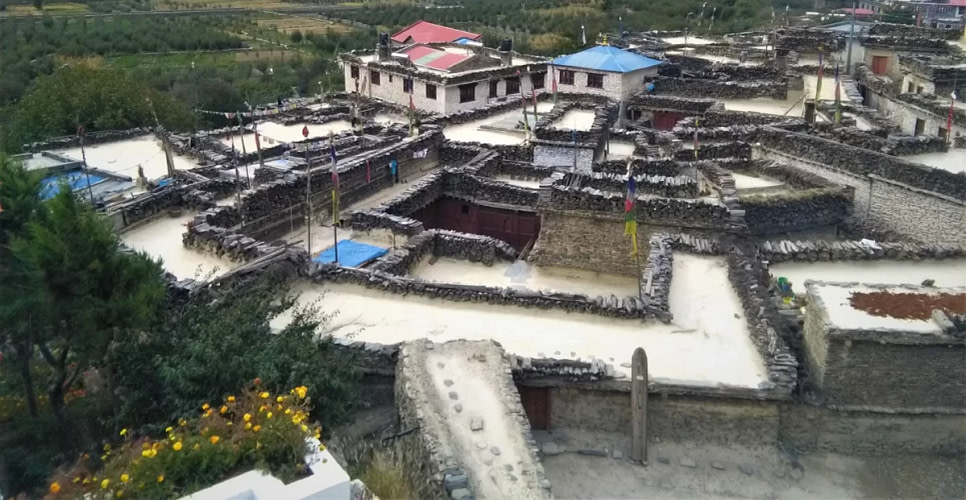 Trip Highlights of Jomsom Muktinath Trekking
Wonderful viewpoint-Poon Hill (3210m).
Goes through the world's deepest Kali Gandaki gorge.
Tibetan Buddhist settlements.
Annapurna and Dhaulagiri mountain vistas.
World-renowned Muktinath temple.
Overview of Jomsom Muktinath Trekking
Jomsom Muktinath Trekking is one of the best hiking trails in Nepal. The hiking trip goes through diverse landscapes, exploring beautiful mountain vistas, ethnic villages, terrace fields, rivers, and diverse flora and fauna. The destination of this journey, the Mustang region is also known as the Hidden kingdom as it lies behind the Annapurna Mountain Range.
Commencing from Nayapul, the Jomsom Muktinath Trekking route goes through colorful rhododendron forest to Ghorepani. A short hike Poon Hill in the morning offers a wonderful sunrise view of the Himalayas. Apart from mountain views, Tatopani is a major highlight for its natural hot spring bath at the pool with the roaring sound of the mighty Kali Gandaki River. Then the trek route follows on the bank of the Kali Gandaki river to reach an ancient town known for apples Marpha.
Jomsom the windiest place in Nepal is the headquarter of the Mustang region is a small town with an airstrip. The mountain views from this region include the world's seventh highest peak Dhawalagiri with other smaller peaks like Annapurna, Nilgiri, and Tukuche. Then the Jomsom Muktinath Trek leads to Muktinath a sacred pilgrimage site for Hindus and Buddhists believed to wash one's sins away and grant liberation. Then we head down to Jomsom and fly back to Pokhara.
Vertex Holiday's Jomsom Muktinath trek itinerary is a once-in-a-lifetime hiking trip at a reasonable cost considering the best possible holiday experience in Nepal. Get in touch with us for more information regarding this vacation trip and other amazing holiday trips in Nepal.
Itinerary of Jomsom Muktinath Trekking
Arrival day in Kathmandu (1300m).
Namaste and welcome to Nepal. After your arrival, Kathmandu, Vertex Holiday's airport representative receives you at the airport and transfer to the hotel. After getting refreshed, we will conduct a short briefing and orientation . The evening will be wonderful with a dinner in a Nepali restaurant with cultural program. Overnight at the hotel.
Car 20m
Accommodation 3 Star Hotel
Meals Dinner
Altitude 1300m
Kathmandu Sightseeing Tour.
After breakfast at the hotel, we set out for the sightseeing tour in Kathmandu which includes UNESCO listed world heritage sites. Kathmandu is a city of temples and mediaeval arts and architectures. Pashupatinath temple, Boudhanath, Swayambhunath, Kathmandu Durbar Square in Kathmandu are the major attractions.
However, there are in total of seven world heritage sites in the Kathmandu valley. Returning back from the sightseeing tour, a short trekking briefing will be conducted by our trekking leader. Overnight at the hotel.
Car 6 Hours
Accommodation 3 Star Hotel
Meals Breakfast
Altitude 1300m
Fly/drive to Pokhara (823m).
From Kathmandu, we drive to the touristic town of Pokhara. As an option of the driving, with an additional cost you can take a flight and see the views of Langtang, Manaslu and Annapurna region peaks.
If driving, tourist buses leave at 7 am and you have to check-in at 6.30 am. Through the winding road, we drive for 6 hours and reach Pokhara. After checking in you can take a stroll around the Lakeside . Overnight at the hotel.
Bus 7 Hours
Accommodation 3 Star Hotel
Meals Breakfast
Altitude 850m
Pokhara to Nayapul drive, trek to Tikhendhunga (1552m).
After breakfast, we drive to Nayapul. The trek begins with a gradual inclined trail on the bank of a stream . The houses built with stone thatched roof will be a complete new experience for you.
The rice fields on the side of the trail and the birds chirping in the forest with the sound of soothing stream makes you forget the hike. Once we reach to Tikhedhunga we will check in and visit the nearby waterfall if you would want to . Overnight at lodge.
Car 2 Hours
Accommodation Tea House
Meals B/L/D
Altitude 1485m
Tikhedhunda to Ghorepani (2750m).
On the second day of the trek, we ascend the stone steps trail for couple of hours after crossing the suspension bridge. Once we reach the village of Ulleri mostly inhabited by Magar ethnic people .
After lunch our trek goes through the rhododendron forest on a gradual inclined trail . Gradually, we walk up to Ghorepani and our hike for the day is over. Overnight at lodge.
Walking 6 Hours
Accommodation Tea House
Meals B/L/D
Altitude 2885m
Ghorepani to Poonhill (3210m) Tatopani (1190m).
Getting up early, we hike up to Poon Hill to catch the glimpse of sunrise . The hiking trail is fine and is made of stone steps. Pooh Hill is offers the panoramic view of Mt. Annapurna, Dhawalagiri, Fishtail, Himchuli, and other surrounding peaks. The view from here will literally give you tears of joy, especially during the spring season as the colorful rhododendrons are in full bloom. Then we hike down to Ghorepani. Having breakfast, we trek down to Tatopani . The trail is mostly downhill with a lot of zigzags to reach the mighty Kaligandaki River. Then we walk on a fine plain graveled road to reach Tatopani which translates to Hot Water. The reason being that this place is blessed with a natural Hot Spring where you can take a warm bath enjoying the success of today's journey. Overnight at lodge.
Walking 6 Hours
Accommodation Tea House
Meals B/L/D
Altitude 1190m
Tatopani to Ghasa (2110m).
Our trek continues on the Kali Gandaki River valley, following the off road with a descent amount of traffic. But the view of the Nilgiri Mountains won't let you down. Passing Dana, we can view breathtaking Rupse waterfall then we walk through the world's deepest Kali Gandaki gorge which lies between the Annapurna and Dhawalagiri mountain ranges. Following the eastern bank of the River, we reach to Kopchepani and gradually to Ghasa. Overnight at lodge.
Walking 6 Hours
Accommodation Tea House
Meals B/L/D
Altitude 2110m
Ghasa to Marpha (2680m).
The trek from Ghasa begins with a slight uphill to reach Dhaiku and follows down to a stream. From there, we ascend to Chhaye. The the trail is more gradual and easier as the tree line start to fade and the Tibetan Plateaued vibe can be felt. Then we reach to Marpha, an ancient town inhabited by the majority of the Thakali ethnic community. This place is famous for the tasty apples and their apple brandy. The village has distinct houses made up of stones and muds in a traditional way and seems like an open museum with a Buddhist monastery. There are daily prayer programs where a visitor can witness and special programs during various festivals. Overnight at lodge.
Walking 6 Hours
Accommodation Tea House
Meals B/L/D
Altitude 2680m
Marpha to Kagbeni (2810m).
We begin our trek from Marpha with an easy ascend to the Jomsom valley. Passing Jomsom, we cross the river and hike to Kagbeni via Ekle Bhatti. Kagbeni is a picturesque ancient village at 2810 meters, situated at the junction for Upper Mustang and Muktinath . Kagbeni is decorated ancient monastic houses , Buddhist temples, ruins of royal palace and green potato field . Overnight at lodge.
Walking 6Hours
Accommodation Tea House
Meals B/L/D
Altitude 2810m
Kagbeni to Muktinath (3710m).
The trail through arid landscape takes us to the world-renowned Muktinath temple. The view of the Dhawalagiri range of mountains add a genuine serenity to the trip. Thousands of Hindu and Buddhist devotees visit this site in a belief of being liberated from the sins of the lifetime. A pool and several water sprouts lie beside the temple where the pilgrims take a cold bath . Overnight at lodge.
Walking 6 Hours
Accommodation Tea House
Meals B/L/D
Altitude 3710m
Muktinath to Jomsom (2715m).
After visiting the temple we begin to descend. If you prefer then we can also take a drive. Passing Kagbeni and the windy Jomsom valley, we reach to Jomsom. It is the district center of the Mustang region. Then we celebrate the succession of the trek. We stop there waiting for the next day's flight. Overnight at lodge.
Walking 6 Hours
Accommodation Tea House
Meals B/L/D
Altitude 2715m
Jomsom to Pokhara by flight.
This morning, we take a half an hour flight from Jomsom to Pokhara. Then we drive to the hotel. Then we head for the city tour around Pokhara which includes the Davis falls, Mahendra cave, World peace stupa, International mountaineering museum, and others. Later on, we can also enjoy the boat ride. Overnight at the hotel.
Flight 35m
Accommodation 3 Star Hotel
Meals Breakfast
Altitude 850m
Drive/fly back to Kathmandu.
Today, we drive back to Kathmandu. It's a scenic drive through the Prithvi Highway road. Optional, if you take a flight, it's half an hour's flight. After your arrival at Kathmandu, transfer to the hotel. Overnight at the hotel.
Optional program: If you are going for the jungle safari tour in Chitwan, you drive to Chitwan and enjoy the safari trip. We offer 2 Nights/3 Days package for your wonderful holidays in Nepal.
Bus 7 Hours
Accommodation 3 Star Hotel
Meals Breakfast
Altitude 1350m
Final departure.
Having a good memorable trekking experience with Vertex Holiday, our representative drops you at the airport for your departure.
Includes/Excludes
What's Included?
 The airport picks up and drops
Two-night hotel in Kathmandu
Sightseeing in Kathmandu just private vehicle and a professional city guide
Kathmandu to Pokhara tourist bus ticket
Pokhara to Kathmandu tourist bus ticket
Two-night hotel in Pokhara
Pokhara Nayapul by private vehicle
All meals in during the trekking in the mountain (breakfast, lunch, and dinner)
Experience, helpful and professional English speaking guide, porter service (two people= 1porter)
Jomsom – Pokhara flight ticket
All kinds of paperwork i.e… permit and trekking information management system (TIMS) card for trekking
All kinds of taxes and service charges
What's Excluded?
Visa fee for Nepal
Excess baggage charge
All food in Kathmandu and Pokhara
All personal expenses
All kinds of drinks during a trekking
Personal-ordered food
Rescue charge (if needed)
Personal insurance (yourself only)
Hot shower during the trekking
Trekking equipment
Complimentary
Seasonal fruits for snacks
Duffle bag for luggage
Comprehensive Medical Kit
Essential Information - Jomsom Muktinath Trekking
We are updating the contents.
Reviews on Jomsom Muktinath Trekking
Be first to post a review in this trip.