Upper Dolpo and Shey Gomba Trekking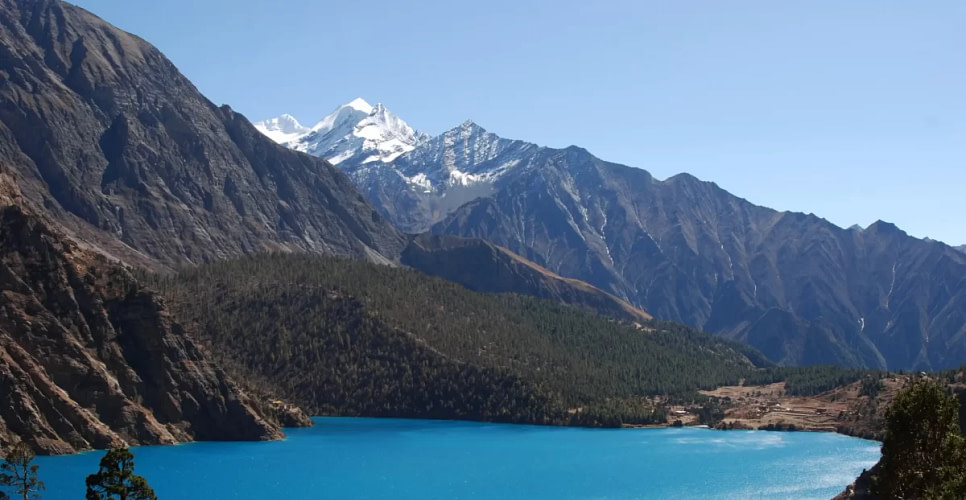 Trip Highlights of Upper Dolpo and Shey Gomba Trekking
Adventure of a fascinating journey around Nepal's Far Wild West Himalaya
On and off the beaten tracks, far and remote, Away from modern civilization.
Enjoy dramatic country landscapes from green hills to arid and barren terrains.
Explore isolated farm villages steeped with ancient Bon and Buddhist cultures
In the land of snow leopards and blue sheep with other mountain mammals
Nepal's largest National Park of Shey and Phoksundo, enriched with flora/fauna
Overview of Upper Dolpo and Shey Gomba Trekking
Upper Dolpo and Shey Gomba Trekking, with Vertex Holidays, take you to far-hidden corners of the Western Himalayas, where country landscapes change dramatically as you trek along within wild-west areas of Nepal. Far and away from the human civilization of the 21st Century, adventure in the most remote part of the country. Where Dolpo villagers still retain their age-old glory and heritage traditions, and culture as there were hundreds of years ago.
Upper Dolpo and Shey Gomba are more of exploration rather than a trekking adventure as the walk leads you on the old classic trail of the Trans Himalaya Salt Trade Route of Nepal and Tibet. Adventure within the country's largest national park, Shey & Phoksundo, covers an area of 3 555 sq. km. Extends towards the Mugu district further North West and around Mustang in the east direction, as well as the border of South West Tibet in the north, where the high areas of Dolpo are, which is an extension of the vast Tibetan plateau of dry and arid landscapes, yet beautiful to enjoy its charming scenery. Upper Dolpo and Shey Gomba are perfect adventures for travelers who are bored walking on popular mainstream trekking trails. The area around Dolpo provides adventurers to enjoy the absolute wilderness. Within the harmony of ancient culture and custom of Dolpo villagers, as trek leads to a remote, isolated area of Shey Gompa.
The Upper Dolpo and Shey Gomba Trekking adventure begins with a sweeping panoramic flight from the capital Kathmandu to land at Nepal Far South West in Nepalgunj. From the low, warm city of Terai-belt to the low land of Nepal. Then taking a short flight to reach Dolpo in Jhupal's small airstrip to start our trek towards Upper Dolpo. The first part of the journey takes you around nice farm villages and to Dunai, the headquarters town of the Dolpo region.
Upper Dolpo and Shey Gomba Trekking continues walking past lovely farm areas of mixed hill tribes of western Nepal to reach picturesque Phoksundo Lake. Also called Ringmo Lake as the village with the same name is located close to the emerald Phoksundo Lake. A beautiful spot surrounded by green tree lines of blue pine, spruce, cypress, poplar, deodar, fir, and birch. Spending time at Phoksundo Lake, exploring Ringmo village of great cultural interest of both Buddhism and ancient Bon sect of pre-Buddhism.
Our Upper Dolpo and Shey Gomba Trekking adventure continues towards the north, away from villages and human settlements, for some days to reach mystical Shey Gompa. The climb takes over a high pass of the adventure at 5, 350 m, overlooking the stunning panorama of beautiful landscapes with snow peaks. Then heading towards our main goal and highlighted reaching Shey Gompa. Located within tranquil surroundings and isolated from the rest of the world.
Shey Gomba, also known as the Crystal Monastery due to a nearby mountain called Shey or Crystal, of Tibetan origin language. The monastery is the spiritual heart of Dolpo that has stood since the 11th Century to this day. A two-storied roofed monastery painted red with various ancient religious arts and painting in the main prayer hall.
A religious festival is held every 12 years called Shey Mela, which started 1,800 years ago by Kagyu pa, a Buddhist sect. The event victory over evil, a great wonderful place for rest days to explore around, and the monastery of great interest. Enjoying an exciting time around the most remote part of the Himalayas at Shey Gompa, the Upper Dolpo and Shey Gomba Trekking heads towards the inner areas of Dolpa. With more to explore remote rural villages and monasteries of both the Bon and Buddhism religions.
The Upper Dolpo and Shey Gomba Trekking leads on a completely barren, arid country, the terrain similar to Tibetan landscapes as the route leads past the interesting village of Saldang and Cha-Gaon. Where houses are built of stone and mud decorated with religious arts and happy people with simple farm life. As route leads over high passes of Jyanta and Jeng-La of above 5 000 m to reach the large village of Tokyu. One of the largest settlements with huge farm fields of buckwheat, barley, and other high-altitude crops.
A lovely village to visit around the houses and witness more of the Dolpo people's ancient culture and customs. From here onward Upper Dolpo and Shey Gomba Trekking into a wide valley of Dho-Tarap and the village to reach the historical Tarakot village. An important fortress village at one time during the 14th Century Malla kingdom that lasted till the 17th Century. Tarakot village was the main gateway to the Tibet border, where it used to collect tolls and taxes from the caravan.
After a great time around Upper and Inner Dolpo, finally, our Upper Dolpo and Shey Gomba Trekking journey slowly comes to an end upon reaching Dunai. Then back at Jhupal for the last overnight stop to bid farewell to all the loyal trekking staff and porters. Next, an early morning swift flight in a small aircraft will reach you at Nepalgunj and then fly back to Kathmandu. Where mesmerizing experience of the great adventure on the Upper Dolpo and Shey Gomba trek that concludes.
Itinerary of Upper Dolpo and Shey Gomba Trekking
Arrival in Kathmandu via respective airlines and transfer to hotel.
On arrival at Kathmandu-Nepal International Airport via various airlines, our guide and staff will receive you for a short transfer to the heart of Kathmandu city.
Where your hotel is located, after checking into your rooms and then meet other members of the trek at the hotel lobby for briefing. Regarding the wonderful adventure to Upper Dolpo and Shey Gomba Trek. On briefing includes useful information to make your holiday in Nepal more enjoyable. The evening group welcomes dinner in a lovely Nepalese Restaurant with an introduction to Nepalese culture of various parts of Nepal with folk dance and music.
Car 20m
Accommodation 3 Star Hotel
Meals Breakfast
Altitude 1300m
Morning free preparation for trek, afternoon fly to Nepalgunj.
On this day in Kathmandu, allowing trekking members prepare for the trek with a leisurely morning after breakfast. As the time for flight departure, transfer to Kathmandu domestic airport for a scenic flight of less than an hour to land at Nepalgunj city airport. During air, enjoy a glorious panorama of Himalayan peaks from Langtang, Ganesh, Manaslu, and Annapurna to the Dhaulagiri range.
Nepalgunj is located in Nepal's Far Mid-West within low land known as the Terai belt of warm sub-tropical climate. Reaching Nepalgunj airport is a short drive to your hotel near the city area. Enjoy an evening stroll and catch a glimpse of the locals with more Indian influence due to the close border with India.
Flight 40m
Accommodation Guest House
Meals B/L/D
Fly to Jhupal 2,475 m then drive to Dunai 2, 231 m - 02 hrs.
Morning as per flight time for Dolpo, reach the airport for an exciting flight to Jhupal, a scenic short flight of 40 minutes. On arrival at Jhupal airport received by our trekking staff and loaded the gear in a four-wheel drive or jeep.
A short drive of few hours to Dunai, the headquarter and administrative town of Dolpo located by the Thulo Bheri River, check into the best available lodge and guest house for overnight, with time to relax and wander around the street of Dunai to witness the local way of life and impressive culture.
Flight 40m
Accommodation Guest House
Meals B/L/D
Altitude 2231m
Trek to Chepka 2, 678 m - 06 hrs.
From Dunai, heading through the market areas and then a morning walk leads to cross a bridge over Thulo Bheri River with a climb to a ridge above Phoksundo River valley with views of Kagmara peak.
After a pleasant first-day walk, head downhill past farm villages with many walnut trees around Dhara, within cattle herders' temporary settlements, and then a short climb to reach Raha-Gaon village inhabited by Thakuri people of the Hindu tribe. Walk downhill into the forested area to reach our first overnight camp at Chepkpa, a small farm village.
Walking 6 Hours
Accommodation Guest House
Meals B/L/D
Altitude 2678m
Trek to Samdua village 2,960m -06 hrs.
The second-day trek from Chepka leads close to Ankhe village, starts with a short climb and descends into a forest to a riverbank, and then uphill, leaving the forest behind with a downhill back into tree lines. As the walk continues upstream to cross a small bridge at Ryajik village, walking further to Samdua for the overnight stop, located near the entrance of Phoksundo National Park.
Walking 6 Hours
Accommodation Guest House
Meals B/L/D
Altitude 2960m
Trek to Phoksundo Lake 3,611 m - 06 hours.
A great day walks to reach the first destination as well as the highlight of the adventure to Phoksundo Lake. The walk leads past Pungmo Khola (stream) valley following Pungmo Khola downhill into a small forest of pine and birch trees to reach the upper side of Phoksundo Khola.
Having a few short stops, then walk to Ringmo village, a nice and interesting village with a Tibetan origin background, and similar culture. The houses are built of stones mud-plastered, with Buddhist and Bon religious prayer monuments of Chorten and Mani (prayer) walls.
From the village of Ringmo short walk to reach serene Lake Phoksundo for an overnight camp near the bank of turquoise-colored Phoksundo Lake.
Walking 6 Hours
Accommodation Guset House
Meals B/L/D
Altitude 3611m
Rest day at Phoksundo Lake for a local excursion.
A great and perfect place for a rest day, enjoy with leisure activities and short walks, facing beautiful surrounding dramatic scenery that includes views of Kagmara peaks, explore around Ringmo village of immense cultural interest.
Also called Shey Phoksundo or Ringmo Lake, an alpine fresh-water oligotrophic lake within Shey Phoksundo National Park, where one can trek to various regions around Dolpo, and cross Kagmara high pass also to reach further west at Jumla and Lake Rara.
Walking Rest Day
Accommodation Guest House
Meals B/L/D
Altitude 3611m
Trek to Phoksundo-Khola 3,750 m- 05 hrs.
From here onward our journey heads towards the higher side to reach around Upper Dolpo area, our main highlight of this marvelous adventure, the walk follows a contouring rocky ledge on the river bank, with some unsteady small wooden bridge and vague path to reach the western side of the lake within a wide summer pasture. The area opens into a wide field and a valley to set our overnight camp by the shore of Phoksundo Khola / stream.
Walking 5 Hours
Accommodation Guest House
Meals B/L/D
Altitude 3750m
Trek to Phoksundo Bhanjyang 4,717 m - 04 hrs.
The morning walk starts on a nice level path with a short climb north above Phoksundo Khola, and then on a hill slope with a steep uphill haul to reach a ridge top. Facing grand views of the wide green valley down below with Kang-La pass in the north that leads to our major destination at Shey Gomba.
Overnight camp is set on a nice green summer pasture near the base of the high Kang-la pass, around complete wilderness and far from human settlements.
Walking 4 Hours
Accommodation Guest House
Meals B/L/D
Altitude 4717m
Cross Kang-La 5,350 m and trek to Shey Gomba 4,160 m -06 hrs.
Adventure to Shey Gomba, as the morning, starts with a steep climb on a stone and rocky trail for some hours to reach on the highest spot of the trek at Kang-la pass.
Which is above 5,350 meters / 17,552 feet, our highest point of the adventure. The pass is also called Nagdalo-La, at the top festooned with prayer flags and stone cairns as spiritual symbols.
Enjoy the spectacular views after a hard struggle overlooking the beautiful scenery of the wide Dolpo country with snow peaks that includes Mt. Dhaulagiri, in the Far East direction. After achieving a successful climb to the highest pass of the adventure, then downhill to the bottom of a stream, walk past Yak herder camps, coming across Buddhist prayer monuments of Chorten and Mani walls.
A pleasant walk reaches you to our final destination at Shey Gomba, located near Crystal Mountain, regarded as a Holy Mountain with an old Shey Monastery.
Walking 6 Hours
Accommodation Guest House
Meals B/L/D
Altitude 4160m
Rest day at Shey Gomba the crystal monastery.
A great place for a rest day, around a remote and isolated region of the Himalayas in a complete wilderness of arid and dry surroundings.
A deserving rest to relax and for a short hike to explore around amazing location within Crystal Mountain. Tour of impressive and interesting old Shey Gomba, also called Crystal Monastery. Where Dolpo villagers come for Koro / Circuit of the mountain and monastery on every 7th auspicious time of the Lunar month.
The mountain is embedded with quartz and semi-precious stones, hence the name Crystal Mountain. Here is a beautiful line by saint and great guru Druptop Senge Yeshe of the 11-12 Century.
"I flew through the sky on a snow lion, and there among the clouds,
I performed miracles, but not even the greatest of celestial feats
can equal once rounding on foot this Crystal Mountain."
A mystical and wonderful place to experience, a real Shangri-La well hidden away from the rest of the maddening world.
Walking 6 Hours
Accommodation Guest House
Meals B/L/D
Altitude 4300m
Trek to Namgung 4,608 m via Sela (Gela) La 5,094 m.
After a great moment and exciting time at Shey Gomba, adventure takes to another beautiful side of this great country to Inner and Lower Dolpo.
From this magnificent place, journey continuous walking beneath great canyon walls, as path meanders high up to Sela / Gela-la pass and a ridge top at 5,094 m high. Catch wonderful views of great valleys and rolling hills with distance Dhaulagiri peaks, and then downhill within grazing area with pleasant walk to Namgung Gaon for overnight stop in a windblown village but interesting.
Walking 6 Hours
Accommodation Guest House
Meals B/L/D
Altitude 5094m
Trek to Saldang 3,770 m - 05 hours.
From this barren and arid land and quant sleepy village next stop to Saldang a lovely farm village, walk on dusty windswept wide path with steep climb to cross over a ridge to reach Saldang, another impressive and a large village of Upper Dolpo region, located on the higher side extension of a Tibetan plateau.
Overnight camp near the village crop field of buck-wheat and barley.
Walking 5 Hours
Accommodation Guest House
Meals B/L/D
Altitude 3770m
Trek to Cha-Gaon 4,910 m - 05 hrs.
After an interesting time exploring the village of Saldang and its old monastery, a morning walk follows on the bank of Nang Chu River all the way, with a few short ups and down, and then past Sugu-Gaon and Dechen Lapran.
Yak herder settlement and then reach our overnight camp at Cha-Goan, a village with an old Rapa Gompa of Bon, an ancient pre-Buddhist heritage and culture.
Walking 5 Hours
Accommodation Guset House
Meals B/L/D
Altitude 4910m
Trek to Dachu Khola camp at 4,700 m - 06 hrs.
Morning walk from Cha-Gaon takes you around south-eastern areas of Dolpo towards Tarap valley within Tokyu and Dho Tarap villages, as route, follows Dachu Khola and beyond, after crossing a few smaller wooden bridge and then through farm fields, to reach Yak herder temporary summer shelters for overnight camp.
Walking 6 Hours
Accommodation Guset House
Meals B/L/D
Altitude 4700m
Trek to Jeng-La Phedi 4,900 m - 06 hrs.
After a pleasant overnight in the middle of the serene wilderness, a morning walk follows the same river for a short while and then walking on the main path, coming across yaks and mules caravan laden with spices, crops, and herbs heading towards the Tibet border for trade, that has existed for hundreds of years till present.
Walking on the old Trans Himalayan salt trade route and Caravan trails of Nepal and Tibet, and then reach the base of Jeng-la pass for overnight camp.
Walking 6 Hours
Accommodation Guest House
Meals B/L/D
Altitude 4900m
Trek to Tokyu Gaon 4,240 m via Jeng-La 5, 110 m - 05 hrs.
Start the morning walk with a steep climb to reach on top Jeng-La pass at 5,110 m high, overlooking views of the massive Mt. Dhaulagiri range with some peaks of the Mustang area, from here long descent walk to the base of the pass and then on a pleasant winding trail to reach a large Tokyu village for overnight camp.
Tokyu is one of the largest villages around Dolpo, with nice houses and neat farm fields. Consists of more than ten villages spread around its lovely tended farm fields with Tibetan-style houses, including old monasteries.
Walking 5 Hours
Accommodation Guset House
Meals B/L/D
Altitude 5110m
Trek to Dho-Tarap 4, 090 m- 05 hrs.
From Tokyu Gaon, the morning starts with descending towards Tarap Chu within a wide green valley, one of the most scenic valleys of western Nepal with many of Sheppard's temporary settlements of Yaks and Sheep, trek continues to reach our overnight stop and camp at Dho-Tarap, near the village populated with mix tribes Dolpa of Tibetans origin and Magar hill people.
Walking 5 Hours
Accommodation Guest House
Meals B/L/D
Altitude 5090m
Trek to Ghyamgar 3,759 m - 07 hrs.
Enjoyable time exploring villages of Tokyu and Dho-Tarap villages as morning heads to long descend within Tarap valley, one of the largest and longest valleys of Dolpo stretches to nearly 20 km long. Where path follows the Tarap Chu River most of the way that joins with the Thuli Bheri River near Tarakot village.
The walk leads past Langa, a small place with views of cascading waterfalls, then heads due south following Sisaul and Kesila grazing fields, around Yak herder camps to reach Ghyamgar for overnight camp.
Walking 5 Hours
Accommodation Guest House
Meals B/L/D
Altitude 3759m
Trek to Tarap Khola 3,652 via Chyugar 3,440 m - 06 hours.
The morning begins with a marvelous walk around the end of Tarap valley, where the trail enters a narrow gorge with some sparse vegetation. Bushes of juniper and wild rose to walk past Tol-Tol close to a large overhanging cave. Around this area might be lucky to spot some wildlife like Naur or Blue Sheep and other animals, including the elusive Snow Leopard.
Walk progress on reaching a confluence of Tarap Chu and Lang Khola streams. Overnight camp is set by the river after a long day walks of more than six hours.
Walking 6 Hours
Accommodation Guest House
Meals B/L/D
Altitude 3440m
Trek to Tarakot 2,540 m - 06 hrs.
Today's adventure takes you to the famous historical village of Tarakot, which is close to Dunai, and towards the north around the Dhaulagiri Himalaya range on route to Mustang region.
The morning walk leads past smaller farm villages and then into a patch of tree lines, following the river to near Tarakot. On reaching Tarakot, a large and interesting village with an old historical background.
Tarakot at a one-time fortress village during the Malla dynasty; the fort is known as Dzong in Tibetan and Kot in Nepali to defend the area from outsiders. At Tarakot village, with time to explore around, visit the famous old Sandul Gomba, located at the junction of Barbing Khola and Tarap Chu River, where our overnight camp is set.
Walking 6 Hours
Accommodation Guset House
Meals B/L/D
Altitude 2540m
Trek to Dunai - 05 hrs then drive to Jhupal - 02-hour jeep ride.
From Tarakot, our adventure slowly comes to an end as today's walks take you back to Dunai. The morning begins following a trail through spread-out villages, as the trail gets wider with a few short uphill and downhill to reach the Bheri River valley and Dunai. From the town of Dunai take a jeep ride to reach our ending point of the journey at Jhupal. Overnight in the best available local lodge and guest house with time to bid farewell to our trekking staff and porters. As they have to walk and take a bus ride for a few days to reach Kathmandu via Nepalgunj.
Walking 5 Hours
Accommodation Guest House
Meals B/L/D
Fly to Kathmandu via Nepalgunj.
Morning as per the flight time to Nepalgunj, board a small aircraft, either Twin Otter or Dornier plane. A swift short flight brings you to low warm areas at Nepalgunj. With time for refreshments or lunch before connecting to a bigger plane for a scenic flight of 50 minutes to Kathmandu, back into the hustle and bustle of the city life of Kathmandu. After being in tranquil surroundings around Upper Dolpo, from the short airport drive to your hotel with the rest of the day at leisure.
Flight 40m
Accommodation 3 Star Hotel
Meals Breakfast
Altitude 1300m
Free day in Kathmandu spare and contingency day.
It is always best and wise to have a spare or contingency day in case of a flight delay which might lead to cancellation at Jhupal / Dolpo. Due to bad unfavorable weather conditions for small planes to operate, which can happen even at the best time of the season.
On this free day, one can enjoy individual activities and shop for souvenirs or take a tour of Kathmandu's ancient cities sites within Kathmandu, Patan, or Bhaktapur.
Accommodation 3 Star Hotel
Meals Breakfast
Altitude 1300m
Depart Nepal for international departure homeward bound.
Your last day in Nepal, enjoying a memorable adventure on Upper Dolpo and Shey Gomba Trek, and then as time for your international flight. Our staff transfer you to the airport for homeward bound.
Includes/Excludes
What's Included?
Hotel accommodation in Kathmandu with breakfast as per the program.
Three meals a day (Breakfast, Lunch, Dinner) with hot beverages and snacks during treks.
Experienced fluent English-speaking guides, cooks, sherpas, and porters.
Shey-Phoksundo National Park, Upper Dolpo permits
Domestic airfare & airport tax.
Staff food, accommodation, clothing, salary & insurance.
Airport Pickup & transfers.
All governmental procedures
What's Excluded?
Meals at Kathmandu.
Personal nature expenses.
Bar and beverage bills
Client's Travel Insurance.
Rescue & Evacuation.
Gratitude (tip) for staff
Complimentary
Comprehensive Medical Kit
Duffel bag, luggage For Trekking
Seasonal fruits as snacks
Welcome Dinner by Vertex Holiday
Essential Information - Upper Dolpo and Shey Gomba Trekking
Additional Information on Upper Dolpo
Upper Dolpo and around Lower Dolpo, which is well described in the famous classic novel 'The Snow Leopard by American author Peter Matessian, published in the 1980s. Dolpo region is well exposed and picture in a famous movie called Himalaya, a joint Nepal, and French Production directed by the famous Éric Valli, a French photographer and film director. Which was nominated as the best foreign-language movie for Oscar in 1998.
The monastery in the local language and in Nepal, often spelled as Gompa or Gomba, depends upon areas of tribal native languages across the country.
After Dunai, accommodation in a tented camp with a separate kitchen unit for a cook, and kitchen hands, along with guides and strong porters to carry all equipment and food for the whole trek.
Dolpo area falls within the restricted region of Nepal, where trekkers need to obtain special permits as well as park entry fees.
Reading the Snow Leopard and watching the movie Himalaya, certainly makes you plan this wonderful adventure to Upper Dolpo and Shey Gomba with one and only Vertex Holidays.
Reviews on Upper Dolpo and Shey Gomba Trekking
Be first to post a review in this trip.