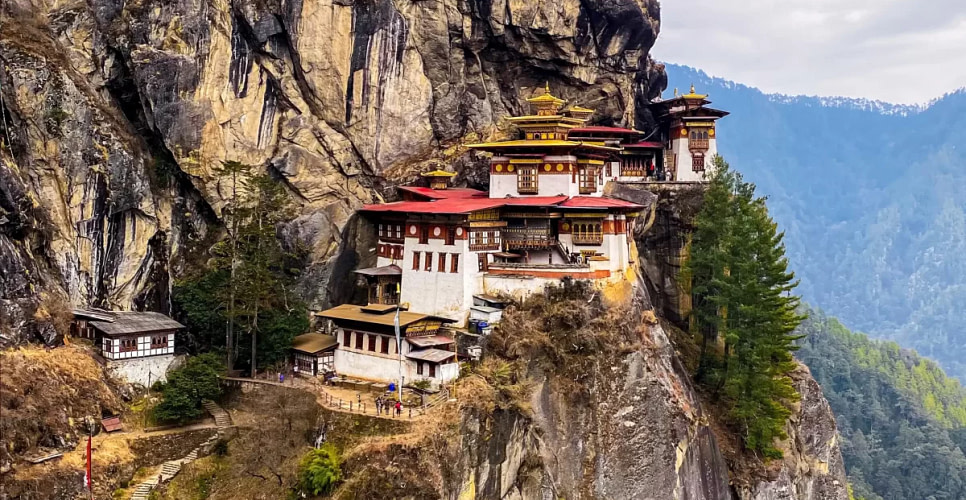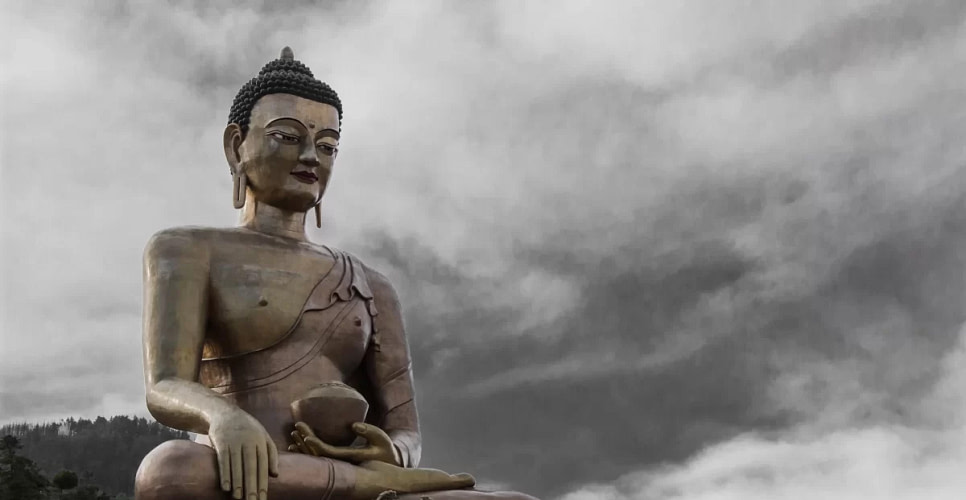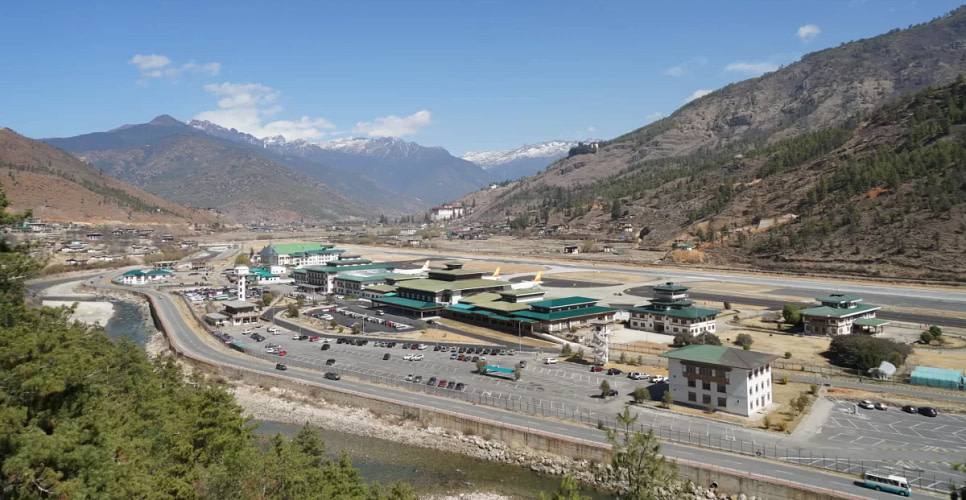 Trip Highlights of Discover Bhutan Trip
The beautiful scenery of phovjikha valley
Black-necked crane (during the winter season)
Tiger Nest (Taksang Monastery)
Most memorable dhochula pass
beautiful Himalayan scenery
Overview of Discover Bhutan Trip
Discover Bhutan Trip (5Nights/ 6 Days) is an extended itinerary that explores various significant sites that are widely renowned. National Memorial Chorten, Buddha Statue, Takin Zoo, Thimpu Zong, Zilukha Nunnery, Dochula pass, Gangtey Monastery, Chhimi Lhakhang, Punakha Dzong, Paro Dzong, Tachogang temple and other sites are included in this package.
Vertex Holiday organizes 5 Nights/6 Days Discover Bhutan Trip  with experienced local guides and luxurious vehicles along with excellent accommodation. Please, feel free to contact us for detailed information about the Bhutan tour itinerary and overall arrangement.
Itinerary of Discover Bhutan Trip
Arrive at Paro and drive to Thimphu (driving 1.5hr)
1. National Memorial Chorten
National Memorial Chorten was built in the late twentieth century with a red prayer wheel and a shrine. The visitors or the Buddhist devotees always take some rounds. The Chorten was built in honor of the late King Jigme Dorji Wangchuk. It is a place for mental solace, where one can feel the peace, devotion, and integrity of souls from various social backgrounds. You visit the place and feel wonderful.
2. Buddha Statue
Buddha Statue is located on the top of Thimpu; Buddha Statue is 51 meters tall. This is popularly known as the Buddha's point due to this statue. This tallest point of the valley is also the best viewpoint of the capital city. The scenario is remarkable.
3. Takin Zoo
Takin Zoo has been preserved in a large walled area that has become an attraction in Bhutan. Taking is the national animal of Bhutan. It is a different type of animal than the usual ones. Go there in the morning and see the activities of it. From this place, the view of Thimpu city can be explored.
4. Zilukha Nunnery
Zilukha Nunnery is home to nuns who are devoted to Lord Buddha. You can visit this nunnery to explore the spiritual life of nuns. Meditation comes along with their daily routine. The place is peaceful and is located beside the Highway. During the visit to Zilukha Nunnery, you can also get eternal pleasure from meditation.
5. Thimpu Zong
Thimpu Zong is the largest zong, which is the abode of Trashi Chhoe Dzong. It was built by Lama Gyalwa Shingpo but later, it was taken by the Lama named Phajo Drukgom Shigpo. Later, it was again taken by Zhabdrung and given the name Trashi Chhoe Dzong, which means wonderful.
Overnight at the hotel.
Flight 45m
Accommodation 3 Star Hotel
Meals B/L/D
Altitude 2200m
Thimhu to Phovjikha (driving hour 6/7hr)
1. Dochula pass
Dochula pass is a popular site where you can see the 108 chhortens built by Queen Ashi Dorji Wangmo Wangchuck. The stunning Himalayan views can be explored. Druk Wangyel Lhakhang is another wonderful site. Overnight at the hotel.
2. Visit Gangtey Monastery
Visit Gangtey Monastery (evening program in Phovjikha) special time in winter to see a beautiful black-necked crane. It is a significant monastery of Nyingmapa School. It is situated in the central part of Bhutan.
Overnight at the hotel.
Car 4 Hours
Accommodation 3 Star Hotel
Meals B/L/D
Altitude 2300m
Phovjikha to Punakha (driving hour 3/4 hrs)
Early morning Gangty trail hike (then driving to Punakha ).
Getting up quite early in the morning, we set out for hiking on the Gangty trail and drove to Punakha.
1. Chhimi Lhakhang
Chhimi Lhakhang is one of the significant Buddhist monasteries in the Punakha district. It has got a pyramid temple-shaped structure. This monastery was built in 1499 by Drukpa Hierarch, which is believed to have been blessed by the divine madam. It is situated on the hillside of Lobesa.
2. Punakha Dzong
Punakha Dzong was built in a model of the capital city, which is a central place of government administration. It was built with an order of Guru Rinpoche for the abode of Namgyal. Later Thimpu served as a capital city.
Overnight at hotel
Car 4 Hours
Accommodation 3 Star Hotel
Meals B/L/D
Altitude 2300m
Punakha to Paro (driving 4hr)
1. Tachogang temple
Tachogang temple (where is the old bridge, a golden opportunity to take a memorial photo) is located along the Paro-Thimphu highway. It was built in the early 15th century by the great iron bridge builder and Poet – Yogi Thangtong Gyalpo.
2. Paro Dzong
Paro Dzong is the administrative seat of the Paro district. It was built in 1644 under the regulation of Zhabdrung Ngawang Namgyal. Paro Dzong's full name is Rinpung Dzong, which means the head of jewels. It was established by Gyelchok.
3. National Museum of Bhutan
The National Museum of Bhutan is an educational institution that preserves the history and traditions of Bhutan. Several cultural artifacts can be found there that are collected from different parts of the country. It is significant in terms of research work and exploration of history.
Overnight at the hotel.
Car 4 Hours
Accommodation 3 Star Hotel
Meals B/L/D
Altitude 2300m
Paro sightseeing
Morning hike to Tiger Nest (Taksang Monastery). It takes a couple of hours to get there. The Tiger's Nest has got a link with Guru Padma Sambhava, who flew to this Nest and spent a long time meditating there. It has become a famous Buddhist pilgrimage destination.
Visit Kichu Temple. It was built in the 7th century and is one of the 108 temples built by the Tibetan Songtsen Gyampo. Evening shopping time in paro.
Overnight at hotel
Car 4 Hours
Accommodation 3 Star Hotel
Meals B/L/D
Altitude 2800m
Departure
Drive to the airport and fly to your destination.
Includes/Excludes
What's Included?
Airport pick-up and drop-off service
Every day provides three meals with a cup of tea & coffee
At least 3-star hotels accommodation with twin bed sharing basis
All Inland Transports during the trips
We provide a Professional English-speaking, helpful, friendly, and experienced guide.
There is include a Royalty charge $200 per day.
Include all kinds of Local Taxes & Entrance fees of Nepal and Bhutan
Kathmandu – Butan – Kathamdnu flight Ticket
What's Excluded?
Your personal Travel & Medical Insurance
All kinds of hard Drinks & Beverages
Personal ordered food
Your personal Communication charges, Laundry, Tips, and porters at hotels
All kinds of personal nature's expenses
Essential Information - Discover Bhutan Trip
We are updating the contents.
Reviews on Discover Bhutan Trip
Be first to post a review in this trip.