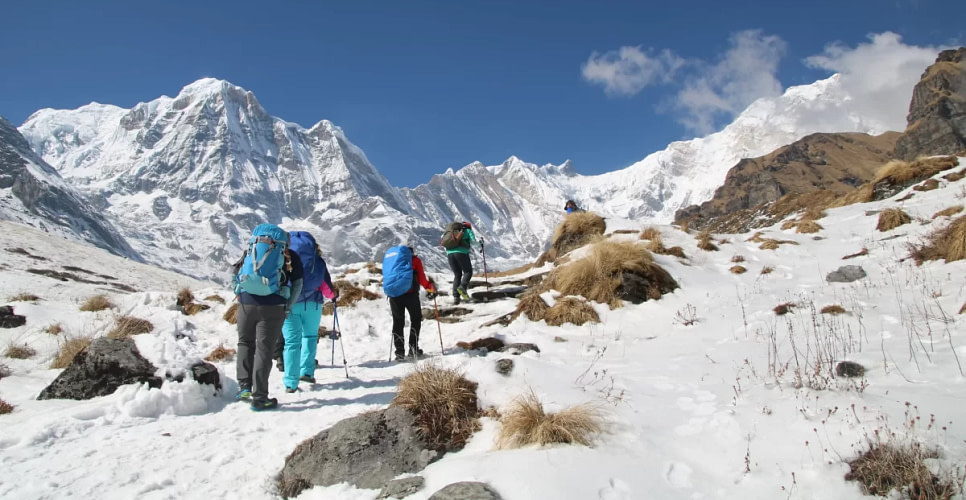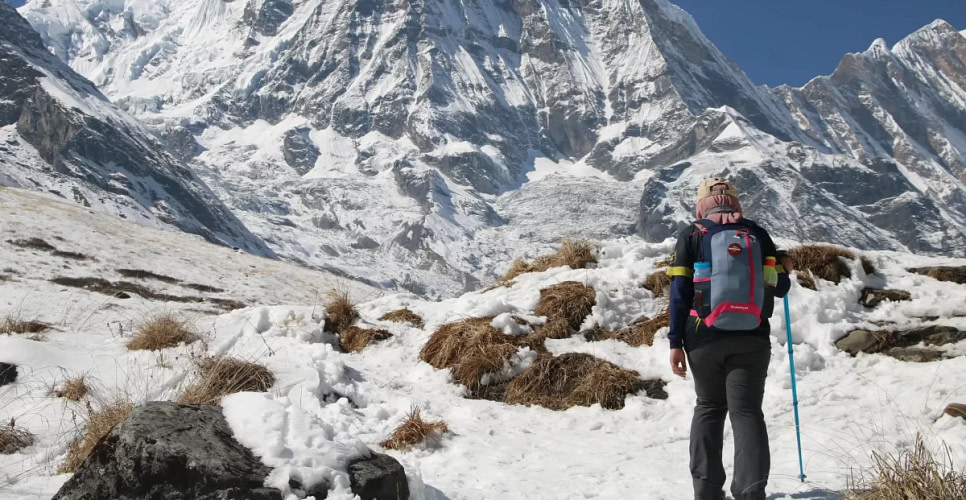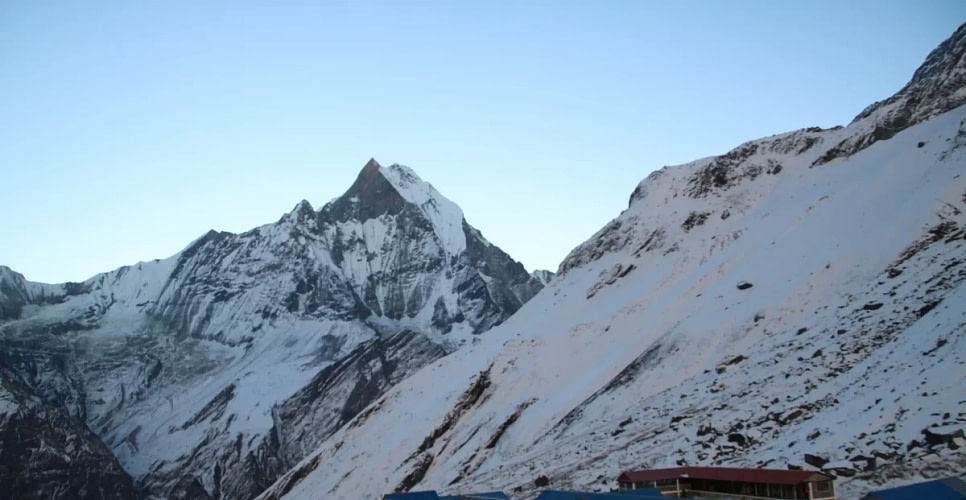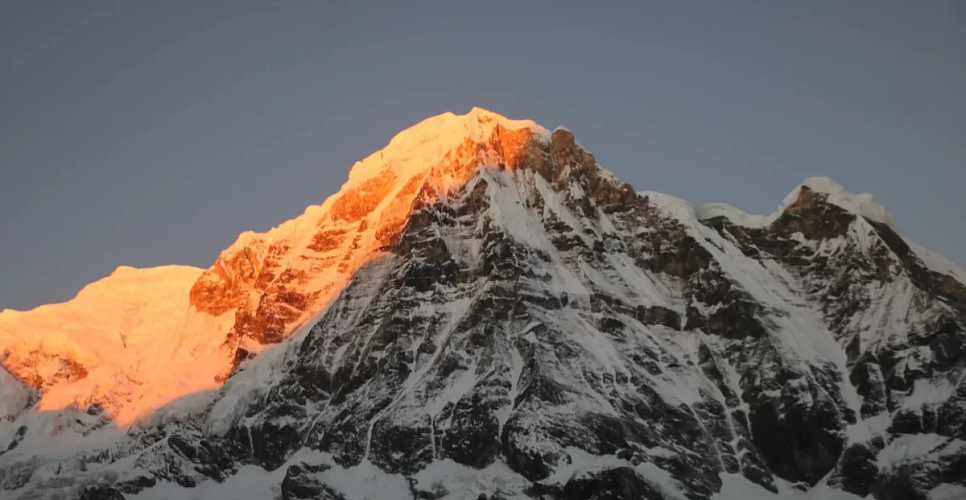 Trip Highlights of Annapurna Base Camp Trek
Excellent viewpoints: Poon Hill and Annapurna base camp
Evergreen forests and cascading waterfalls
Wide stone step trail
Ethnic hospitality
Meditation in Annapurna base camp
Overview of Annapurna Base Camp Trek
This Annapurna base camp trek trail is one most sought-after destinations in Nepal Himalayas. This popular destination provides travelers and tourists with an opportunity of spectating magnificent mountain vistas, excursing to the hidden river valleys,
Annapurna base camp trek explores the diverse Gurung and Magar ethnic communities, showcasing their unique traditional stone-thatch-roofed houses and the terrace farming culture. Besides, this hike goes into dense forests with the majority of Rhododendron, pine fir, oaks, and other species of vegetation. Harmonic music of wind and tweeting of birds along with chances of observing wildlife species of Langur, Rhesus monkeys, deer, and rodents enhance the overall hiking experience.
Several viewpoints like Poonhill, Deurali, and Tadapani offer exciting sunrise and sunset with panoramic views of mountain peaks like Annapurna, Dhawalagiri, Fishtail, and Hiunchuli. Annapurna Sanctuary, a hidden valley amidst beautiful snow mountains, offers tourists a sublime experience of the Himalayas.
A bath at a natural hot spring in Jhinu sets your muscles and comforts the tiredness accumulated during the trip. It is widely believed, that these pools have great medicinal and therapeutic values.
If you are seeking a hiking vacation in Nepal, Annapurna base camp trekking journey is appropriate for all trekkers, including beginners. This holiday trip is a versatile walking trip, with plenty of options for shortening and extending duration. Besides, Khopra Ridge Community Trek and Mardi Himal trek are some off-the-beaten-path tracks in the vicinity.
Itinerary of Annapurna Base Camp Trek
Arrival and transfer to Hotel
Namaste and welcome to Nepal. After your arrival, Kathmandu, Vertex Holiday's airport representative will receive you at the airport and transfer to the hotel. After getting refreshed, short briefing and orientation by our trekking leaders will be conducted. The evening is wonderful with dinner with the Nepali cultural program. Overnight at the hotel.
Car 20m
Accommodation 3 Star Hotel
Meals Dinner
Altitude 1350m
Full day Cultural Tours in Kathmandu valley / Trip Preparation and briefing.
After breakfast at the hotel, we will set out for the sightseeing tour in Kathmandu, which includes UNESCO listed world heritage sites. Pashupatinath temple, Boudhanath, Swayambhunath, Kathmandu Durbar Square in Kathmandu are among them.
However, there are in total seven world heritage sites in the Kathmandu valley. Returning back from the sightseeing tour, you will get a short trip briefing. Overnight at the hotel.
Optional program:- Early morning you can take mountain flight to see Mt.Everest and other hundreds of nice peaks.
Car 8 Hours
Accommodation 3-star Hotel
Meals Breakfast
Altitude 1350m
Kathmandu to Pokhara (910m): 6 hrs drive.
From Kathmandu, we drive to the touristic town of Pokhara starting our Annapurna base camp trek journey. As an option of the driving, you can take a flight with additional cost to see the views of Langtang, Manaslu and Annapurna range of mountain peaks.
If driving, tourist buses leave at 7 am and you have to check-in at 6.30 am. Through the winding road, we drive for 6 hours and reach Pokhara. Walking throughout the lakeside city is fabulous. Overnight at the hotel.
Bus 7 Hours
Accommodation 3 Star Hotel
Meals Breakfast
Altitude 850m
Pokhara to Tikhedhunga (1570m) Duration: 1 hour drive and 4 hrs trek.
After breakfast, we drive to Nayapul, from where our Annapurna base camp trek begins. The trek goes through the stone houses and terrace farm trail. A stream flows beside the trail. In autumn, the smell of the rice fields can be as astounding as the scenery.
The first day of the trek ends at Tikhedhunga. Here we can visit the nearby waterfall and enjoy the serene nature. Overnight at lodge.
Car 2 Hours
Accommodation Tea House
Meals B/ L/D
Altitude 1570m
Tikhedhunga to Ghorepani (2850m): About 6 hrs trek.
On the second day of the trek, we ascend through the stone stepped uphill trail for a couple of hours after crossing the suspension bridge. While ascending, we will meet many trekkers both ascending and descending.
Then we reach a village of Ulleri and to Banthati for lunch. Then we walk through the rhododendron forest. Gradually, we walk to Ghorepani amidst the dense rhododendron forest . Overnight at lodge.
Walking 6 Hours
Accommodation Tea House
Meals B/ L/D
Altitude 2850m
Hike up to Poon Hill (3210m) - Tadapani (2610m): About 7 hrs.
Getting up early, we hike up to Poon Hill to catch the glimpse of sunrise. The hiking trail is made of stone steps. Poon Hill is a famous viewpoint from where the panoramic Mt. Annapurna, Dhawalagiri, Fishtail, Himchuli, and the surrounding peaks can be viewed.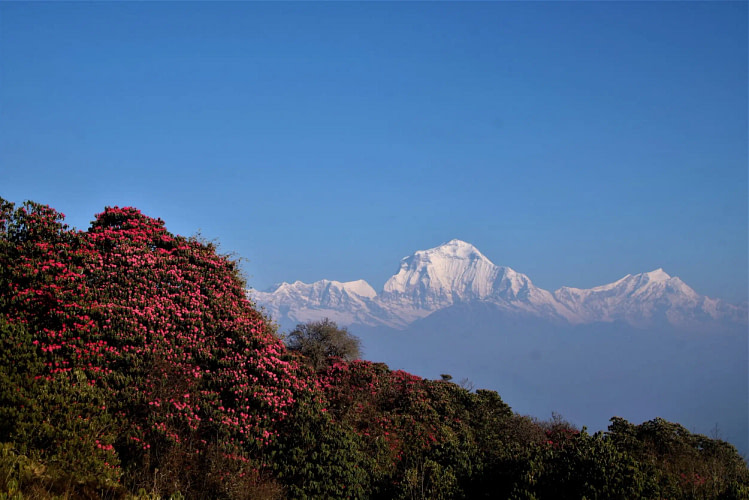 You can take an abundant snaps. We then hike down to Ghorepani for breakfast breakfast and trek to Tadapani through the biggest Rhododendron forest in Nepal . The trail today is full of ups and down with view of mesmerizing mountain ranges .Overnight at lodge.
Walking 7 Hours
Accommodation Tea House
Meals B/L/D
Altitude 2610m
Trek To Sinuwa (2360m): About 7 hrs.
With the morning glimpse of sunrays hitting the Annapurna South peak , we begin our trek through the rhododendron forest . The second half of trail is relatively easy. The fabulous Annapurna South and Fishtail peak at the backdrop expose their beauty.
Enjoy the local hospitality walk up to the village of Chhomrong for lunch. We trek down to the Chhomrung stream passing some lodges. Crossing the stream we gradually climb up and reach Sinuwa. Overnight at lodge.
Walking 7 Hourss
Accommodation Tea House
Meals B/L/D
Altitude 2360m
Trek To Deurali (3230m): 4-5 hrs
After the breakfast our trek heads through the forest entering into the Modi Khola valley. The trekking trail today is mixed as we reach the Bamboo village. The tiny village start to appear as we approach higher.
Our Annapurna base camp trek continues through the bamboo forest to reach to Dovan for lunch. Passing the Himalayan Hotel, we ascend to the Hinku cave. The trail is isolated and the pristine scenery will astound us.
As we are heading through the high altitude, the symptoms of dizziness can be felt. Then we continue climbing to Deurali, enjoying the view magnificent Fishtail. Overnight at lodge.
Walking 4-5 hours
Accommodation Tea House
Meals B/L/D
Altitude 3230m
Trek To Annapurna Base Camp (4130m): 5-6 hrs
We proceed to the Annapurna base camp via Machhapuchhre (Fishtail) base camp. Annapurna base camp is in the shape of natural amphitheater, surrounded by white mountains Annapurna I, II, Fishtail, Gangapurna, and others . Mostly, this part remains snow-covered. Overnight at a lodge at Annapurna base camp.
Walking 5-6 hours
Accommodation Tea House
Meals B/L/D
Altitude 4130m
Trek Back To Dovan (2580m): 4 hrs
Sunrise view from the Annapurna base camp is outstanding. Exploring the white peaks, we take breakfast and begin to descend through the same trail via Machhapuchhre base camp. Passing Deurali, we climb down to Dovan, beautifully resided by the River. Overnight at lodge.
Walking 4 Hours
Accommodation Tea House
Meals B/L/D
Altitude 2580m
Trek to Jhinu Dada (1760m): 5-6 hrs
After breakfast, our trek retraces through the steep trail from Bamboo. Reaching Khuldi Ghar, we trek down further to the  village of Chhomrong .
Climbing down to Jhinu Danda, we hike down for about 20 minutes to enjoy the natural hot spring. It is taken as a natural cure for various skin diseases. Then back to Jhinu Danda. Overnight at lodge.
Walking 5-6 Hours
Accommodation Tea House
Meals B/L/D
Altitude 1760m
Trek To Nayapul- Drive To Pokhara:about 6 hrs Trek, 1 hour drive.
We begin to trek down from the Jhinu Danda to Naya Pul. It is a walk through the wide trail for about 6 hours via Syauli Bazaar. From Nayapul, it takes an hour to drive to Pokhara. Overnight at hotel.
Accommodation Tea House
Meals B/L/D
Altitude 850m
Pokhara to Kathmandu (1337m): 6 hrs drive (or 30 min flight).
Today, we drive back to Kathmandu. It's a scenic drive through the Prithvi Highway road. Or if you take a flight, it's half an hour flight. After your arrival at Kathmandu, transfer to the hotel. Overnight at the hotel.
Optional program: If you are going for the jungle safari and village tour in Chitwan, you drive to Chitwan and enjoy the safari trip. We offer 2 Nights/3 Days package for your wonderful holidays in Nepal.
Walking 6 Hours
Accommodation 3 Star Hotel
Meals B/L/D
Altitude 130m
Farewell.
After a memorable trekking experience , a representative from Vertex Holiday will drop you at the airport for your departure.
Includes/Excludes
What's Included?
Airport picks up and drops off by private vehicle
Three nights' and two nights' accommodation at a star category hotel in Kathmandu and Pokhara(BB plan with twin sharing basis)
Kathmandu city tour, professional guide with private vehicle
All ground transportation on a comfortable private vehicle as per the itinerary
All meals during the trek (breakfast, lunch, and dinner)
All accommodation during in mountain (twin sharing basis)
An experienced and government license holder, helpful, friendly and English/Chinese-speaking trekking guide, porter to
carry luggage (2 trekkers: 1 porter) including their all kind of cost i.e. Transportation, salary, insurance, equipment, meals, and accommodation
All necessary paperwork and trekking permits (ACAP, TIMS, please bring 3 passport size photos)
Government taxes and service charge
What's Excluded?
Nepalese visa fee
International airfare
Personal travel insurance
Any kind of museum, heritage site, and park entrance fee
All kind of drinks, snacks and personal ordered food
All kind of personal expenses
Hot shower during the trekking
Lunch and dinner in Kathmandu and Pokhara
Personal trekking equipment
Rescue charge (if needed)
Tips for trekking staff
Complimentary
Comprehensive medical kit
Duffle bag for Trekking
Snack of seasonal fruit during the trek
Essential Information - Annapurna Base Camp Trek
This trek to the base camp of the tenth highest mountain peak in the world, Annapurna, elevated at 8091 meters or 26,545 feet, is one of the most sought-after destinations in the world. The name of the mountain is combined with two words "Anna" meaning crops and "Purna" meaning sufficient, as these Snow Mountains feed the major river systems along with creating a wet climatic condition for sufficient rainfall helping the farmers with irrigation resulting in sufficient yields.
Prior to the triumphant summit of Mt.Everest by Edmund Hillary and Tenzing Norgay, Annapurna was the first mountain over 8000 meters ever summited, and such a feat was achieved by the French Expedition team led by Maurice Herzog on the third of June 1950.A book titled Annapurna: published in 1951 talks about this expedition.
A short and charming hike into the Annapurna Conservation Area, with an elevation ranging from 1070 to 4130 meters is a decent trekking trip. However, several sections of the entire journey consist of steep uphill and downhill tracks.
Annapurna massif, a group of towering snow-clad mountains, numbered I, II, III, and IV along with Gangapurna, Fishtail, Baraha Shikhar, and several others is located on the northern part of a major touristic city of Pokhara, regarded as some of the most beautiful in Nepal. The range stretches from Manaslu on the east to Dhawalagiri on the west.
This adventure holiday destination in Nepal is visited by thousands of travelers from all over the globe due to its serene walking trails combined with awe-inspiring natural and cultural attractions. From the green hilly region to the alpine meadows of the lower Himalayan region, ABC trek takes you to the center of the Annapurna Himalayas.
The major highlights of Annapurna Base Camp Trek:
Pokhara the city of 7 lakes, renowned as the gateway to the Annapurna Mountains is probably the most beautiful city in Nepal. An amalgamation of natural wonders including lakes, rivers, mountain vistas, and green forests along modernized settlements, this city was termed Mini Switzerland by Tony Hagen during his wonderful work in the eighties. Besides natural wonders, the cultural aspect of the city is also significant as there are several shrines dedicated to Hindu and Buddhist religions.
Annapurna base camp trek is equipped with some amazing viewpoints, offering close encounter views of the snowcapped mountain peaks. Poonhill, elevated at an altitude of 3210, is a major highlight during the trek, with a panoramic view of mountains along with rural mountainous settlements in the hilly terrain of Myagdi district.
Besides, the Rhododendron forests in the region are among the largest in Nepal, housing wide varieties of the national flower of Nepal. The most abundant species of Rhododendron in the region are Red, Pink, Purple, and White-colored flowers.
Ghandruk village, known as one of the most beautiful villages in Nepal, offers a major touristic place for domestic and international travelers, providing picturesque sceneries along with Gurung indigenous culture. The traditional houses in the village, built with stone mud, and wood are truly intriguing to anyone.
Annapurna Base Camp Trek Route:
A drive of around one and a half hours from Pokhara takes you to the trailhead Nayapul, on the bank of the Modi River. The hiking trip starts after checking in the Permits, alongside the Bhurungdi river bank. The easy walk proceeds through the paddy fields and ethnic settlements of Hile, where the traditional houses with stone thatch roofs provide a cultural delight. On reaching Tikhedhunga, one can explore around the pristine environment with waterfalls for a wonderful time.
The next day, the trek ascends on a steep stone trail of Ulleri village with the majority of Magar ethnic people, with a glimpse of Annapurna South (7219m) and the rugged geography of the vicinity. After, crossing the Banthati, the trail enters into the calm Rhododendron forest following a small stream reaching an isolated settlement of Nangethati, and continuing towards Ghorepani.
A mountain pass elevated at around 2800 meters, Ghorepani was formerly a major resting place for traders and travelers. The name was combined from "Ghoda," translating to horse and "Paani" water, as this place was well facilitated with food, water, and accommodation for merchants, travelers, and their horses. At early dawn, a hike to Poonhill (3210m) offers a panoramic sunrise view of jaw-dropping mountain peaks, including two eight thousand Annapurna and Dhawalagiri.
Retracing back to the respective lodge, the journey continues after breakfast through the shady Rhododendron forests along the high ridge of Deurali with tremendous views of Annapurna Himalayas, and then heads to Tadapani with several descends and ascends via the lush green forest. The sunset view from Tadapani is a unique experience, as the tone of the snow-covered mountains changes from white to yellow to red before the darkness arrives.
The next destination is Chhomrong, descending to Chuile a small settlement amidst the dense forests then ascending again to a Gurung settlement. Traditional stone houses, terrace farms, and well-facilitated lodges make it one of the popular overnights stops for trekkers. This village has a Tourist Information Centre, dedicated to providing necessary information regarding weather, the condition of trails, and any possible natural disasters in the region.
Descending the suspension bridge, the trail starts to get steeper until the Upper Sinuwa village, and then it heads into the forested trail. Crossing several accommodations like Bamboo, Dovan, and Deurali, the tree lines start to fade into alpine meadows along the bank of Modi River valley.
The glacial region begins from Machapuchhre Base Camp, the base camp of the virgin mountain known as Fishtail for its resemblance to the tail of a fish. Then the trail ascends towards the hidden pocket of Annapurna Sanctuary, surrounded by beautiful snow mountains. The main destination of the trekking trip serves as a wonderful viewpoint for 360 degrees of beautiful mountain peaks.
After a delightful time at the ABC, our journey backtracks to Chhomrong and splits towards Jhinu, the spot of hot springs. Down at the river gorge, offers a soothing bath at the pool allowing for the strained muscles to relax.
On the last day of the Annapurna base camp trekking journey, an easy walk beside the bank of the Modi river takes you back to Nayapul, then drive back to Pokhara. However, the trekking trail can be extended towards Landruk, Tolkha, and Dhampus as it was a popular trail among trekkers before the construction of motorable roads.
Annapurna Base Camp Trek Best Season & Weather:
Trekking in Nepal is open mostly throughout the year, and each season provides a distinct feature. However, the spring season (Mar-May) is the best time to take this trip, as the weather and climatic conditions are clear and sunny offering the best views. Moreover, the national flower Rhododendron, is in full bloom with four distinct colors; Red, Pink, White, and Purple.
Next, the best time is during the autumn season (Aug-Oct), with similar features to the spring season except for the shorter days. Another set of wildflowers blooms during this time, making it the 2nd spring season. Although the temperatures are slightly lower, the winds are stronger.
In winter (Nov-Feb) the higher elevated regions from Dovan receive a significant amount of snowfall. For those who would love to hike in the snow, this would be the best time. Besides, the Annapurna and Machapuchhre base camp offer a perfect destination for snowboarding and skiing activities.
In the monsoon (Jun-Jul) the region's precipitation is very high, leading to a huge amount of rainfall with thunderstorms, and isn't the best time for hiking trips. For more information about weather and seasons, please visit here.
Necessary Equipment for the Trek:
Before taking any trekking trips in the Himalayas of Nepal, the packing of proper equipment is necessary. Vertex Holiday recommends Moderate sized waterproof backpacks for your essentials, including medications, water bottles, snacks, and toiletries. Personal clothing, water bottles, torch, crampons, ski poles, good trekking boots, snow-gaiters, sunglasses, snow goggles, and headwear for sun and cold weather are necessary.
Besides, a sleeping bag and down jacket will be a lifesaver, although the lodges provide a blank. Luggage should not exceed the weight limit of 14 kilograms as a porter is assigned for two clients. For a more detailed list of equipment and packing list, please visit here.
Annapurna Base camp Trek Permits:
Entering the Himalayas requires permits for international tourists, likewise one requires two types of permits entering into the region. The first one is issued by ACAP (Annapurna Conservation Area Project) managed by NTNC (National Trust for Nature Conservation). Another is issued by TAAN (Trekking Agencies Association Nepal) and is called the Trekkers Information Management System (TIMS).
Vertex Holiday will undertake all necessary formalities for obtaining both permits, and the costs are included in the total cost of the trekking package.
Why Choose Annapurna base camp trek:
When it comes to choosing a trekking trip in Nepal, tourists might fall into a dilemma as the country is equipped with a plethora of destinations, including Everest, Langtang, Manaslu, Annapurna, and many other offbeat path tracks. Besides, this trekking can be extended with Annapurna Circuit, Khopra Ridge, Mohare Dada, Mardi Himal, and other treks in the region.
However, the main reason for choosing this trekking trip is its sheer beauty, along with the mesmerizing views of snowclad mountain peaks. Besides, the journey takes you to the isolated pockets of the Annapurna Himalayas, excursing through diverse topography along with dense rhododendron forests, river valleys, and the glacial alpine regions.
Culturally, the adventure holiday provides an insight into the ethnic communities of the Magar and Gurung people, along with the traditional stone houses. The majority of locals are Hindus, along with some Buddhists, making it spiritually diverse. The smiling faces of locals along with their warm hospitality will enhance the overall experience.
The cost for this holiday trip is comparatively cheaper compared to other popular trekking destinations offering the best possible experience of the Himalayas. Besides, the trip offers adventure seekers from beginner to advanced level trekkers, an opportunity of testing their stamina and endurance ability.
Annapurna Base camp Trek Challenges:
While hiking in the region, there are some challenges for anyone to be cautious of, even though graded as a moderate trip. Several sections of the trail are steep and slippery, causing exhaustion and tiredness. The chance of Altitude Sickness is minimal, however for a person with a bad health condition, it cannot be denied.
Besides, some parts of the trail fall under avalanche-prone areas thus, joining a group is recommended, which will be beneficial in case of some unfortunate accidents. Overall, the trekking journey is not difficult, but one must be physically and mentally healthy.
Travel Insurance for Annapurna Base Camp Trek:
Proper all-inclusive Travel and Medical insurance are mandatory while taking a trekking trip in Nepal. Any sort of unfortunate events that can occur anywhere, including accidents, natural disasters, bad weather, and chances of altitude-related sickness, cannot be denied.
In such cases, the insurance will be of great help in covering extra expenses like transportation and hospitalization. The fastest and most convenient means of transportation in the Himalayas are Helicopter services, normally used during an emergency evacuation.
Thus comprehensive Travel and Medical insurance will be vital in saving you in any potentially hazardous situation as well as saving you. For more detailed information about Travel insurance, please visit here.
Annapurna Base Camp Trek Food and accommodation:
Food and Accommodation facilities are the best on this wonderful trek to Annapurna Base Camp, as this is one of the most popular trekking regions. At Chomrong where trekkers can enjoy various options, from the simple budget, standard to luxury class lodge accommodation, and the best foods. Here, one can check the local German Bakery popular among travelers.
From Chhomrong village onwards, all room accommodation is nice and simple with a large warm dining hall. In high season single supplements in rooms are hard to find, need to book well in advance.
Most rooms are with non-attached bathrooms and toilets. All need to share common toilets and bathrooms.
As for food, nearly all lodges on overnight stop as well as on lunch stops provides an excellent food menu to enjoy delicious meals at Chomrong, where one enjoys fresh bakeries also, where all lodges on route ABC serves good healthy meals from continental, Indian, Chinese, and Nepalese meals, snacks. Some lodges also provide Mexican, Italian, Japanese, and Korean food also.
Fitness for Annapurna base camp trek:
Generally, all trekkers with good physical fitness and sound health can join on this wonderful trek to Annapurna Base Camp. A moderate grade walking with some steep ups and downhill but safe altitude-wise, where all age-group can enjoy the walk.
The safest adventure altitude-wise, but some exercise will be the best before booking this trip. Like jogging, swimming, walking for an hour as well as walking up and down the steps. However, if you are willing to take some workout classes like cardio and exercises for your legs, then they can help you cope with the challenges during the Annapurna base camp trek.
Most Asked Questions by Travellers
Starts with climb on well defined path all the way to Annapurna Base Camp, with some short steep haul and descend. But after Machhapuchare Base Camp to ABC is on slow gentle up, overall and exciting walk on nice path with few short ups and downs, walking on hard rocky ground as well on stone steps.
Not that hard and tough, but leads to steep climb for some hours, altitude wise trek to Annapurna Base Camp is safe altitude wise. Where elevation gains at gradual pace, as long one takes it slowly with enough refreshing stops, it will be an enjoyable walk all the way to Annapurna Base Camp.
A short panoramic flight of 30 to 35 minutes, an exciting flight overlooking panorama of Himalayan peaks with view of Langtang, Ganesh Himal with Manaslu range and Annapurna Himalaya.
Yes, all lodges on route to Annapurna base camp, do have electricity. From Chomrong onwards to Annapurna base camp, some areas like Bamboo and Deurali have their own hydro or solar power. Where you can charge your electronic gadgets, where you need to pay certain fee for charging per hour per items. The price of charging differs from one place to another.
Yes all drinking water is safe, which is boiled and filtered as the lodge owners does not want their reputation down, as they needs customers again and again in near future. At Chhomrong there is a safe drinking water station managed by ACAP (Annapurna Conservation Area Project)
Starts from low warm farm areas below 1,000 m and then reaching at Chomrong above 2,000 m high, and then at Deurali which is above 3,000 m and then at Machhapuchare Base Camp, which is at the height of 3,800 m. Then finally reaching the highest spot of the adventure at Annapurna Base Camp, altitude of 4,130 m high.
Reviews on Annapurna Base Camp Trek
Be first to post a review in this trip.