Everest Base Camp Trek





Based on 5 Reviews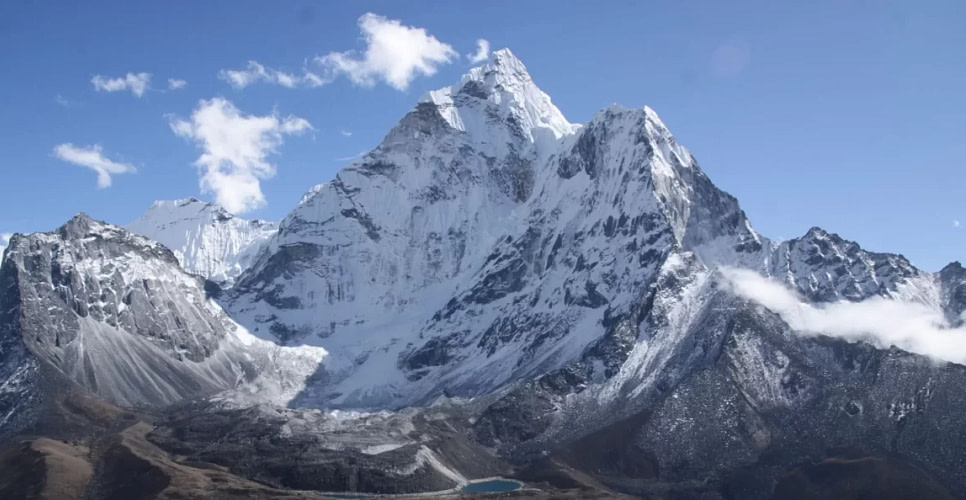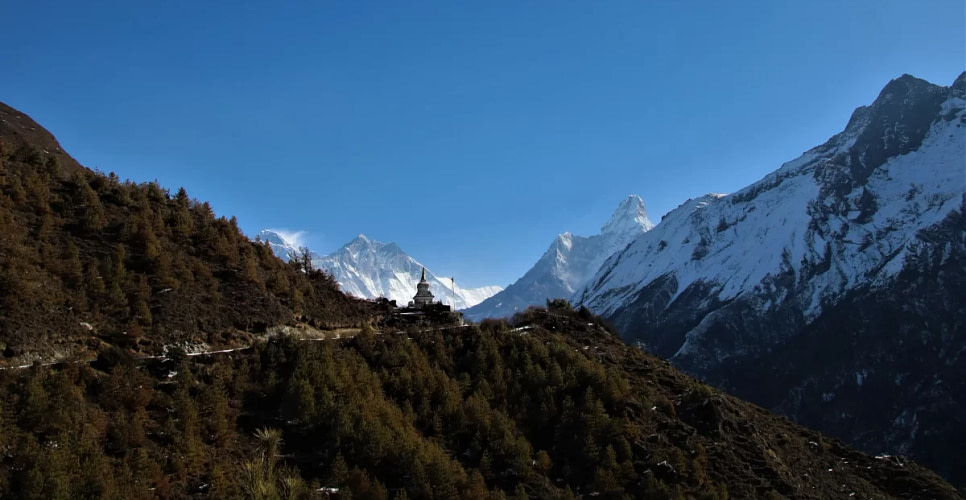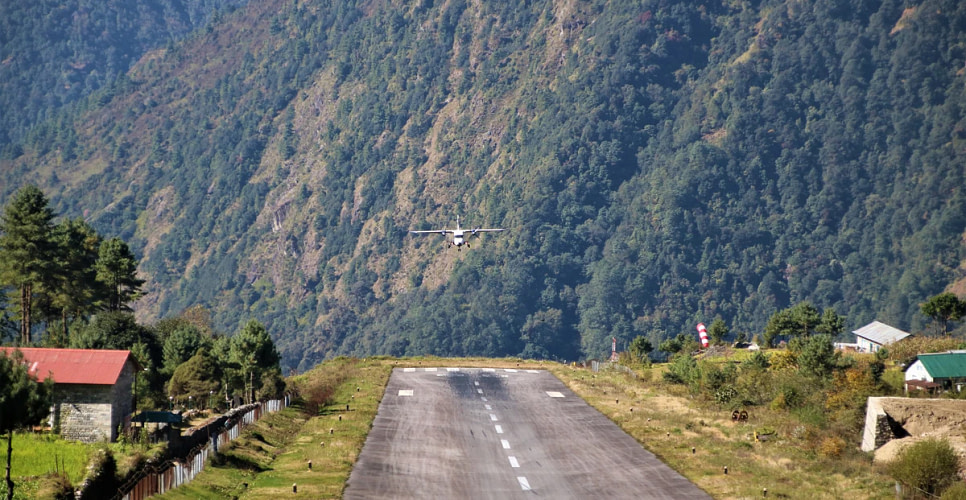 Trip Highlights of Everest Base Camp Trek
Culturally significant UNESCO World Heritage sites.
 Sherpa valleys with traditional Himalayan Buddhism Culture
Himalayan views including the world's highest mountain peak Mt. Everest (8848m)
Monasteries and Chhortens
Rare found flora and fauna in Sagarmatha National Park
Trip Price
US$ 1480
US$ 1390 Per Person
We are updating the group discounted price.
Overview of Everest Base Camp Trek
One of the finest trekking trips in the entire world, Everest Base Camp Trek is a daring hiking trail in the Everest Himalayan territory of Nepal. With an altitude ranging from Lukla (2860 m) to Kalapathar (5555m), the Everest Base Camp trek is classified as a difficult and strenuous journey.
The Mount Everest base camp trek trail is located in the Sagarmatha National Park enlisted in the World Heritage Sites by UNESCO. This amazing hiking trip to the base camp of the world's tallest mountain peak is a must-include vacation trip on any adventure seeker's bucket list.
A 30-minute flight to the world's most thrilling high altitude Tenzing Hillary Airstrip of Lukla offers an amazing view of the towering snowclad mountain peaks of Nepal before reaching the trailhead.
Mount Everest Base Camp trek trail offers scenic views of a number of the world's most beautiful mountain peaks like Mt. Everest (8848m), Lhotse, Lhotse Shar, Makalu, Ama Dablam, Thamserku, Kantega, and various lesser peaks. With diverse geographical attributes, Sagarmatha National Park comprises glaciers, glacial lakes, snow-fed rivers, diverse plant life, and wildlife.
The lower parts of the Solukhumbu are dotted with Rhododendrons, pine, birch, and juniper. Some major fauna species in the Sagarmatha National Park include Snow Leopard, Red Panda, Blue Sheep (Himalayan Thar), Jharal, Himalayan Pika, Tibetan Snowcock, Impeyan Monal, and many others.
Culturally, the Everest Base Camp trek trips offer travelers a chance to witness the high-altitude way of living of the Sherpa ethnic people. The communes in the Everest Himalayan region are a mixture of conventional and modern lifestyles. Monasteries like Tengboche and Pangboche are still preserving the Himalayan Buddhist culture alive.
The people of the region are known for their warm hospitality and welcoming nature. Apart from that, Stupas, Chhortens, Mani walls, Prayer wheels, prayer flags, and traditional houses are common rendezvous while hiking the Everest Base Camp route.
Accommodations are mostly lodges and teahouses based, whereas the foods and other commodities are transported using Helicopters, Yaks, and Porters from the lower region.
Everest base camp trek, a fascinating hiking escapade to the world's highest elevated Mt.Everest region, is renowned all over the world for its tranquil beauty. This adventure holiday destination in the Himalayas attracts high numbers of trekkers and adventure seekers during the high tourist season.
Everest Base Camp (EBC) is also the base camp for summiting the world's 4th highest mountain Mt. Lhotse where the path leads to South Col.Mt.Everest stands on the border of Nepal and China, where the southern side plus summit belongs to Nepal, while the North Face to China.
The height of Mt. Everest has recently been revised and gained slightly taller at 8,848.86 meters or 29,031.69 feet. The new elevation was declared and agreed upon by China and Nepal at a virtual ceremony. Reaching the southern side of Mt. Everest in Nepal is prominent amidst trekking, mountaineering, and alpine adventure seekers.
The alpine regions of Everest Solukhumbu from the Nepalese side present a better picturesque panorama, with the facilities of accommodation with nice and warm lodges and teahouses around scenic Solukhumbu in Everest base camp trek proffer a wide range of facilities, besides its pristine landscapes.
Hamlets and settlements inhabited by Sherpa indigenous people all the way to Gorakshep, on the path to Everest base camp. Travelers can rejoice and relax sojourn at warm, comfortable lodges with the cultural vibes of the Sherpa commune, the highlander demographics of the Everest region.
The villages during the hiking routes are festooned with splendid Buddhist shrines and prayer symbols, enhancing the journey to make it interesting. Visiting lovely attractions, including stupas, Chhortens, and monasteries enhanced with conventional Buddhist religious artifacts.
Everest Base Camp Trek provides tourists with an opportunity to explore a wide range of attractions comprising the grand mountain vistas of the world's highest Mahalangur mountain range of the Himalayas and indigenous Sherpa society. Enjoy an attractive hike to Everest base camp overlooking stupendous scenery similar to the alpine topography of snow, ice, moraines, and glaciers.
An uphill climb for a couple of hours to the summit of rocky Kalapathar Hill at 5,555 m high provides a mind-boggling close-up view of Mt. Everest, Mt. Pumori, and other neighboring snow mountains. Normally, Kalapathar is a renowned sunset viewpoint; however, the sunrise view is as mesmerizing.
After the completion of this wonderful holiday trekking adventure, the journey retraces back to Namche and finally to Lukla.
Itinerary of Everest Base Camp Trek
Day 1. Arrive in Kathmandu (1300m), transfer to hotel and dinner with Nepali cultural program/ Trip preparation
Namaste and welcome to Nepal. As you arrive Kathmandu, Vertex Holiday's airport representative receives you at the airport and transfer to the hotel.
After getting refreshed, we give you short briefing and orientation about the Everest Base Camp trek . The evening is wonderful with dinner with the Nepali cultural program
Car 30m
Accommodation 3 Star Hotel
Meals Dinner
Altitude 1300 m
Day 2. Fly to Lukla (2804m) and trek to Phakding (2610): walk approx 3-4 hrs.
Having breakfast, drive to the domestic airport of Kathmandu and fly to Lukla enjoying the picturesque Everest region Himalayas. Landing at Lukla, you meet the rest of the crew who accompany us during the trekking.
Then the Everest Base Camp Trek starts smoothly through the easy trail and you can see the tiny settlements along with their potatoes fields. Crossing the steel bridge over Dudh Koshi River, we reach Phakding. Overnight at lodge.
Multiple Drive to airport, 30 minutes flight, hike 3-4 hrs.
Accommodation Overnight at lodge.
Meals B/L/D
Altitude 2804m
Day 3. Trek from Phakding to Namche Bazaar (3440m)
After  breakfast, we begin our trek, which is ascending high. Crossing bridges, we reach to the entry gate of Sagarmatha National Park at Jorsalle.
Now the trail is steep high. The charming view of Everest can be seen for the first time of the trek. We walk continually till we reach to the horse-shoe shaped Namche Bazaar, which is one of the busiest settlements in the Everest region.
Walking 5 - 6 hrs.
Accommodation Overnight at lodge.
Meals B/L/D
Altitude 3440m
Day 4. Acclimatization day at Namche Bazaar -day hiking to Khumjung valley over Everest view point hotel.
Today is an acclimatization and exploration day. To avoid mountain sickness, it is necessary when we walk over 2700 meters. So, we go on exploring this amazing town along with its neighboring parts as Khumjung and Everest view hotel.
There are almost all the facilities and markets of all the goods. Basic facilities are available as health post/hospital, school, trade centers, and others. Hillary school is located there.
The exploration hiking is also wonderful to understand the Sherpa culture and traditions, spirituality and hospitality. Back to lodge and rest. Overnight at the hotel.
Walking 3- 4 hrs
Accommodation Overnight at lodge.
Meals B/L/D
Day 5. Trek from Namche Bazaar to Tengboche Monastery (3,860m): walk approx 5 - 6 hrs
Beginning the Everest Base Camp Trek from Namche Bazaar, we head towards the Tengboche monastery, following the River and walking through the oak, rhododendron and birch forest. Y
ou have a chance to see the wild animals as the wild goat, blue sheep, and others. The dazzling Himalayan views accompany us throughout the trail. We have lunch at Phunki Tenga, which lies beside the River.
Gradually, we walk to Tenbuche and rest.
Walking
Accommodation Overnight at lodge.
Meals B/ L/ D
Altitude 3,860m
Day 6. Trek from Tengboche Monastery to Dingboche (4,350m): walk.
Mornings are normally chilling in the mountainous region. Having a warm breakfast, we begin our trek from Tengboche. The morning bells can be heard. Lamas and monks perform their rituals in the morning.
The monastery is perhaps the highly located monastery in Nepal. On the lunch stop of Pangboche, we can again visit the oldest monastery of Everest.
It takes a couple of hours to reach Dingboche from here. The views of Everest, Nuptse, Ama Dablam, Kwangde, Thamserku and others are brilliant. Reach to Dingboche and rest.
Walking 5 - 6 hrs
Accommodation Overnight at lodge.
Meals B/ L/D
Altitude 4,350m
Day 7. Acclimization day at Dingbouche ,Day trip to Chhukung valley (4,710m):.
Crossing 4000 meters, the Everest Base Camp Trek becomes tougher to walk in the alpine altitude. We have another acclimatization day. After breakfast, we set out for the hike to Chhukung valley.
It is the last village the climbers stay who go climb the Island peak. The trail is fine and the surrounding is dotted with potatoes and barley fields. Then back to Dingboche.
Optional: you can climb up to Dingboche viewpoint
Walking 4 hrs
Accommodation Overnight at lodge.
Meals B/ L/ D
Altitude 4,710m
Day 8. Trek from Dingboche to Lobuche
Having breakfast, we move out through the rocky trail. With breakfast, we begin to climb up to Lobuche. First, we pass Phalanx Karpa and reach Dugla, which is our lunch point today.
There is a memorial place for the climbers who pass away during the Everest expedition. Up to reaching Dugla, we can feel if we have some symptoms of altitude sickness.
If you feel that, we do not move higher. If not, we walk again and reach Lobuche for the stop.
Walking 5-6 hrs.
Accommodation Overnight at lodge.
Meals B/ L/ D
Altitude 4950 m
Day 9. Trek Lobuche - Gorak Shep (5,170m) to Everest Base Camp () and back to Gorak Shep: walk approx
We are very near to our final destination of Everest base camp trekking. for the lunch, we reach to Gorakshep, where we also put our baggage.
Carrying a day pack, we begin to ascend to the Everest base camp through the rocky trail that is prevailed with moraines.
During the climbing seasons, the Everest base camp remains full of tents, where climbers stay and do climbing practices.
Taking sufficient snaps, we descend to Gorakshep and rest.
Walking 8-9 hrs.
Accommodation Overnight at lodge.
Meals B/ L/ D
Altitude 5,364m
Day 10. Hike up to Kalapatthar early in the morning and trek down to Pheriche (4200m):
Getting up early, we hike up to Kalapatthar. For the breathtaking sunrise view over the snowy peaks, Kalapatthar is the best viewpoint of the Everest Base Camp Trek.
Also, the awesome panoramas of Makalu, Ama Dablam, Pumori, Lhotse, Nuptse, and Cho Oyu can be seen. Then we trek down to Gorakshep, have breakfast/lunch, and trek down to Pheriche. It's a long walk, but a superb excursion.
Walking 8 -9 hrs
Accommodation Overnight at lodge.
Meals B/L/D
Altitude 5,555m
Day 11. Trek Pheriche-Pangboche - Tengboche to Namche:
We follow the route that goes through the bank of the Dudh Koshi River. The trek is wonderful with views of some Khumbu peaks that are familiar to us.
Passing Pangboche and then Tengboche, we reach the Namche Bazaar. If you prefer, we can descend further to Monju and take a rest.
Walking 6-7 hrs.
Accommodation Overnight at the lodge,
Meals B/L/D
Altitude 3860 m
Day 12. Trek from Namche Bazaar to Lukla
This is the last trekking day of our Everest base camp trek. We have breakfast and begin the excursion through the steep trail from Namche Bazaar.
Checking out from the national park counter, we reach Manjo and head further crossing the suspension bridges. Passing Phakding, the normal route begins.
We gradually reach our concluding point at Lukla. We celebrate our successful trek with all the team members. It is the last day of the trek for our crew.
Walking 6-7 hrs.
Accommodation Overnight at lodge.
Meals B/L/D
Altitude 2804m
Day 13. Fly back to Kathmandu.
It's time to bid farewell to this Himalayan town and fly back to Kathmandu. The Himalayan peaks that became familiar to us can be explored for the last time if the weather is clear.
Landing in Kathmandu, you transfer to the hotel and take a rest. Overnight at the hotel.
Multiple 30 minutes Flight and Drive to hotel from airport
Accommodation 3 Star Hotel
Meals Breakfast
Altitude 1300m
Day 14. Transfer to the international airport for your final flight departure.
Having completed Everest Base Camp Trek  with Vertex Holiday our representative drops you at the airport for your final departure.
Includes/Excludes
What's Included?
All ground transportation on a comfortable private vehicle as per the itinerary
Two-night accommodation in Kathmandu(Twin sharing basis) at a 3-star hotel with  Bed and Breakfast
Two-way airfare for Kathmandu-Lukla-Kathmandu
Airport pick up and drop  off for Lukla flight by private vehicle
Professional tour guide and private vehicle for a city tour
All kinds of entire fees during  city tour
Snack of seasonal fruit during the trek
All meals during the trek time in the mountain (breakfast, lunch, and dinner)
Accommodation during the trek  with Twin sharing basis
An experienced English, German, or Chinese-speaking, knowledgeable trekking guide.
Porter to carry your luggage (max:-25kg) including all of their costs i.e. Transportation, salary, insurance, equipment, meals, and accommodation
Necessary trekking  and National Park entry permits (please bring 3 PP size photos)
Comprehensive medical kit
Government taxes and office service charge
What's Excluded?
Nepalese visa fee
International airfare
Personal travel insurance
All kind of drinks, snacks and personal ordered food during trekking time
All kind of personal expenses
Hot shower during the trekking if needed to pay
Lunch and dinner in Kathmandu
Personal trekking equipment
Rescue charge (if needed)
Tips for trekking staff
Complimentary
Comprehensive medical kit
Duffle bag for Trekking
Snack of seasonal fruit during the trek
Essential Information - Everest Base Camp Trek
Everest Base Camp trekking Route:
Commencing after a sensational mountain flight from the domestic terminal in Kathmandu to Tenzing Hillary Airstrip at Lukla (2,860 m), an amusing Sherpa hill town also known as the entrance to the Everest region. The Everest Base Camp trekking trip explores other adventure destinations in the Solukhumbu region.
From Lukla, the trekking journey follows the winding stone trail to Phakding. Located at 2,640 m high above sea level, it serves as an overnight halt in several teahouses and lodges for visitors including budget to luxury categories…
After breakfast at Phakding, our day's hiking starts in the morning, following the bank of Dudh Koshi River, rejoicing a pleasant walk on a comfortable trail until the access gate of Sagarmatha National Park. Break at Jorsalle for lunch and time for rest before continuing the journey.
With crossings at various steel suspended bridges, the hiking journey ascends on a steeper trail within the swaying pine forest before Namche Bazaar, elevated at 3,440 m.
Namche is a popular acclimatization spot, where visitors are obliged to spend a minimum of two nights for the body to adjust to the new environment of the Everest Base Camp Trek. Besides tour around the busy Sherpa market town and side hikes to Khumjung and Everest View Hotel. The museum at Khumjung displays the traditional heritage of the Sherpa commune.
Namche Bazar is a medium-sized Hill station that is a popular marketplace for local people and travelers. Trades of daily commodities to luxury branded trekking and mountaineering equipment are made in this place.
The town is well equipped with food and accommodation services ranging from basic to luxury categories. Several restaurants, pubs, and bars have been increasing in numbers recently, and visiting them are also noteworthy.
After Namche Bazaar, the day's hiking journey of the  Everest Base Camp Trek resumes overlooking the majestic views of Snow Mountains like Kongde, Thamserku, and Kantega. After a lunch stop at Phungitenga hike continues through the lush green forest for a steep ascent of a couple of hours to reach Tengboche, the region's biggest Buddhist monastery.
Tengboche monastery 3, 867 m, provides panoramic views of Everest, Lhotse, and Nuptse, including Ama Dablam, at a close-up extent. Tengboche monastery allows visitors to explore inside the monastery and vivid religious and spiritual rituals carried out by monks.
Visiting Tengboche Monastery is ideally best during the Mani-Rimdu festival, which falls on Oct-Nov according to the Buddhist Lunar calendar. Sunrise view in the Himalayas with an amazing contrast of White Mountain peaks against a green jungle is also the main highlight of Tengboche.
From Tengboche, continue the day's hike on the bank of the Imja Tse river basin, facing a spectacular view of mount Ama Dablam leads to Pangboche, a colorful Sherpa village with enough lodges for lunch or overnight stay, with farms on the path to Everest base camp.
Hike on an elevated trail along with a windy topography. The Everest Base Camp trekking journey goes to Dingboche, a lovely Himalayan town situated in the beautiful Imja Tse valley.
Elevated at 3,345 m altitude, Dingboche is the best mountain settlement for acclimatization and exploring the pristine landscape underneath the shadow of Ama Dablam. The Mountain View stretches towards Island peak, including Nuptse, Lhotse, and Makalu on the Far East.
The next day of the Everest Base Camp Trek, a side hike to Nagarsyang Peak offers an amazing high-altitude hiking experience with pristine topography.
After enough rest at Dingboche, the journey to Base Camp goes through the alpine meadows to a short ascent to Thugla for lunch. The trail after Thugla is comparatively easier, passing through several memorial stones of the climbers who lost their lives in the Everest Himalayas. Nuptse and Lobuche can be seen on the way to Lobuche, today's overnight stay situated on the bank of Khumbu Glacier.
After enjoying a delicious breakfast, our journey heads toward Gorakshep at an altitude of 5134m. Today the hike is a gradual ascent on the bank of rocky moraines of Khumbu glacier with boulders on the way. Mountain views of Pumo RI, Thamserku, Nuptse, and Thamserku adorn the journey with excitement.
On reaching Gorakshep for lunch at the last place for accommodation of the Everest Base Camp trek, you will check in your lodge or teahouse overlooking massive Himalayan giants. After lunch, the hike progresses towards our destination of the Everest base camp trek following the Khumbu Glacier, while appreciating the views of Mount Everest and neighboring mountain peaks.
After a wonderful excursion to Everest Base Camp, our hiking journey retraces back to Gorakshep for a pleasant overnight. At dawn, with the help of torchlight, hike up to Kalapathar 5555m, to catch the mesmerizing glimpse of the sun rising from behind the Everest Himalayas.
Although a tiring hike, the trip rewards an incredible panorama of towering snowclad peaks, including views of Mt. Everest in close proximity. After clicking some pictures and having a memorable time at Kalapathar, descend to Gorakshep for breakfast.
After achieving all the main highlights of the Everest Base Camp trekking, the trekking journey retraces back to Lukla via Namche Bazaar, followed by an interesting flight back to Kathmandu.
The Main Highlights of Everest Base Camp Trekking:
Astonishing mountain views from flight to the remote Tenzing & Hillary airstrip at Lukla with sights of wonderful topography of mountainous regions.
Throughout the entirety of the Everest Base Camp trekking trip, panoramic mountain vistas guide you into the mountains.
UNESCO World Heritage Sites enlisted Sagarmatha National Park, with exotic biodiversity, including some rare and endangered species of wildlife.
Submerge in the immense rural traditional cultural heritage while hiking around villages decorated with vivid Buddhist cultural monuments.
Namche Bazaar is the Sherpa capital of Solukhumbu, a sweet hilly market town with traditional and modern products for trade.
Adventure of a lifetime into the Everest region, worldwide popular Everest Base Camp trek,
Strenuous side hike to Kalapathar and other viewpoints ideal for viewing Mt. Everest, Mt. Pumori, and a number of other high mountains.
Equipment checklist for the Everest Base Camp trek:
As suggested while booking with Vertex Holiday. Normally down Jackets and Sleeping bags are recommended by the company. Personal clothing, water bottles, torch, crampons, and ski poles are essential. Other items to pack are fine and strong trekking boots, snow gaiters, sunglasses, snow goggles, and headwear for sun and cold weather.
A waterproof daypack is also handy in order to carry your essential items, as the luggage is carried by porters and it's usually hard keeping up with them. For detailed information on the packing list for any trekking trip in Nepal, please visit here.
Food and accommodation in Everest Base Camp Trek:
Throughout the Everest Base Camp trek, foods are offered from a wide range of menus, with proper hygiene and health maintained. In most places, some lodge restaurants provide fresh bakeries with varieties of coffee and tea. Meals and snacks served in lodges are continental, Indian, Chinese, and Nepalese meals, whereas Mexican, Italian, Japanese, and Korean food is also available.
Food products, including vegetables and animal products, are transported from the lower regions carried by porters, yak, mules, and Helicopters. Starting from Lukla onwards till Namche Bazaar, travelers can choose from simple budget, standard to luxury class lodges or teahouses for accommodation.
From Tengboche onwards, all room accommodation is the ordinary but spacious, comfy dining hall. During the high tourist season, single supplement rooms are hard to find, thus requiring advanced booking. Most rooms are non-attached; thus, sharing common toilets and bathrooms is mandatory.
Permits for Everest base camp Trekking:
Without Permits, there is no chance of trekking in the Himalayas of Nepal, including the Everest region.
The local authority of the village community issues an entry permit for trekking in the Solukhumbu region.
Entry Permit to the Sagarmatha National Park is also mandatory and is to be obtained at the Entry gate before Jorsalle. Vertex Holiday will undertake the necessary formalities to obtain the permits.
TIMS ( Trekking Information Management System) has been scrapped in the Everest region, and you will not be requiring them.
Why choose the Everest Base camp trek:
There are many motives for taking the Everest Base Camp trekking Trip, and the foremost is the jaw-dropping panoramic Everest and the neighboring mountain peaks of Nepal Himalayas, probably a once-in-a-lifetime trip.
During the hiking trip, exploration of serene Sherpa ethnic villages jeweled with the rich spiritual Himalayan Buddhist culture, including monasteries, prayer wheels, Mani walls, stupas, Chhortens, and prayer flags swaying with the wind, combined with the heartwarming hospitality of Sherpa commune and their lodges.
Apart from mountain vistas, including Mt.Everest, the trek goes through lush green woodland of pine, fir, and rhododendron: Nepal's national flower blooming during the spring season entices travelers.
A challenging yet most rewarding high-elevated trekking destination in the world, the Everest Base Camp trek is one of its kind.
Everest base camp Trekking Challenges:
Even though most of the trekking trail is situated on higher altitudes of alpine territory, the trip is comparatively easier than expected. However, the challenge is enormous for anyone and counts on their physical fitness and medical history.
The density of oxygen in the air gets thinner with the gain of elevation; therefore, the breathing and speed of hiking ratio are to be maintained by walking slowly and steadily.
Once you start feeling shortness of breath, taking rest and drinking water while exploring the harsh environment is optimal.
Selection of food and beverages that you consume is also needed wisely; thus, try to keep as light as possible, including green vegetables and soups.
Travel Insurance for Everest Base camp Trek:
Travel and medical insurance from your respective country with the coverage of Emergency rescue and evacuation is the best option for precaution. Unfortunate things can happen anywhere, like accidents, and sudden changes in weather, even during the best time of the year.
In high-altitude places, the probability of health complications, including Acute Mountain Sickness, cannot be discarded, where immediate medical attention might be required. At such times fast measures of transportation like Helicopter services are quite helpful but costly.
Therefore Vertex Holiday advises you to have proper Insurance covering your travel, hospitalization, or other extra costs.
Everest Base Camp Trekking Weather and Best Season:
The ideal season for Everest Base Camp trekking is in the springtime (Mar-May) and autumntime (Sep-Nov). The days during these months are mostly sunny and clear, with traces of scattered clouds.
The temperature fluctuates from -15 degrees to 20 degrees centigrade depending on the time of the year and elevation. A cool breeze flows, assisting you in removing all the heat from the strenuous journey.
However, if you are a hardcore trekker and are seeking to hike on the trail with snow, then the months of December to February are the best option for you. The temperatures can reach -20 throughout the night and 10 degrees during the day. Although the skies are clear during the majority of the daytime with a chance of snowfall during the late afternoon.
The weather during the Everest Base Camp Trek is an unpredictable phenomenon in the Himalayas, as the chance of rainfall and snowfall is imminent in the Himalayas, thus causing roadblocks, landslides, or avalanches. During such times, evacuation with the help of a Helicopter may be required.
The mountain flight to Lukla from Kathmandu and vice versa can be delayed, postponed, or canceled due to extreme weather conditions. In such cases, trekking trips can be rerouted to other Himalayan destinations.
Fitness for Everest base camp trek:
Everest Base Camp Trekking mandates trekkers to be psychologically as well as physically fit, as the harsh topography will pose a huge challenge to them.
Improving the endurance capacity of your body, including respiratory and circulatory functions, is important. Thus, Vertex Holiday recommends that you spend at least three weeks' time in the gym. If not possible, jogging, aerobics, swimming, and cycling can be helpful.
Apart from all these, Yoga and meditation can be of great help as long as you practice them properly under the guidance of a proper instructor.
Vertex Holidays' custom Everest Base Camp Trekking package itinerary includes all the major highlights of the Everest region. It is designed to serve the trekkers seeking for a once in a lifetime hiking trip in the mountains at an affordable cost.
Considering the risks of Acute Mountain Sickness, climate change, avalanches, or other extreme weather conditions, For we are dedicated to providing sustainable tourism services, we ensure you the quality and hygiene of our trip packages. If there are any queries, then feel free to reach us.
Most Asked Questions by Travellers
Everest Base Camp trek is a challenging due to its high altitude which exceeds over 5000 meters above sea level. The level of oxygen in the atmosphere is -50% compared to the sea level , which may be hazardous to people with no experience.
No, the Everest Base Camp is elevated at 5364 meters above sea level; the highest point of this trek is Kalapathar (5555 m). A side hike from Gorakshep (5130m), to the popular viewpoint ideal for sunset and sunrise over the Everest Himalayas.
Everest Base Camp is not recommended for beginners, children and elderly. Instead if would be better to check Everest Helicopter tour if one wishes.
Besides it would be better to check other trekking destinations in the lower elevated regions like Langtang, Ghorepani Poon Hill or Pikey Peak trekking.
However in some rare cases, some of them manage to complete Everest Base Camp trek successfully on their first attempt.
People go to the Everest Base Camp to achieve the feeling of being on the base camp of the world's highest peak. Which is in the " Bucket List " for many people , whereas some people simply love the idea of getting lost in the Himalayas and forget the worldly problems for some time and experience the feeling of heaven without having to die.
As listed by Lonely planet on the list of the "Top 10 Best Treks in the World" , Everest Base Camp trek is what one can expect from it. As a popular trekking trail , it is mostly crowded as thousands of tourists and travelers flood in from all over the world to experience the thrill of getting lost in the Himalayas.
Yes , Mt. Everest is visible from the Everest from Base Camp , Kalapathhar and many other places during the Everest from Base Camp trek.
Reviews on Everest Base Camp Trek
4.9






Based on 5 Reviews
---

Jin Ken
Taiwan
"Fell in Love with this place"
Taking a trekking trip in Nepal was the best decision, that I made in 2018. Due to the time restriction, this trek was recommended by Vertex Holiday although I wanted to go to the Everest Base Camp. However, I loved this trek, as I was lucky to have chosen this trek at the perfect timing for snowfall. It felt like climbing a mountain peak. I would like to thank the team, especially Santosh for helping me to complete this wonderful trip. He was so kind and energetic, that he was carrying my luggage as well as guiding me at the same time. The views were fantastic, whereas the food and accommodation were not that bad. Altogether, the trip was a very good experience, and will definitely come back to complete the EBC trek once the tensions in the world settle down. Thank you and Good luck
Jin Ken

Christie & Thomas
United States
"The most challenging yet beautiful adventure of my life"
At first I was skeptical about me being able to hike to the Everest Base Camp, however am glad that I took the risk. It was by far the best anniversary gift till date. Even though most of the hikes were strenuous and tiring, the views and the landscapes were mesmerizing. Crossing the high pass was the hardest climb for me so was for Thomas. But we both are grateful that we had Vertex Holiday as our trip organizer. We wouldn't have been able to have a pleasant holiday in the mountains without your help. Our guide seemed quite professional and was very cheerful . The food was "OK" and accommodation was fine. In overall, the total experience was memorable. Would love to be back for another adventure.
Thank You , Vertex Holiday and wish you a good luck!
Christie & Thomas

Sharon Wang
Taiwan
Great trip in the mountains.
I had a great experience in Nepal, with the assistance of Vertex Holiday for our trekking tour. We completed the Everest Base Camp Chola pass trek in 2019 before the pandemic. Our designated guide was knowledgeable and fun-loving, And the porters were as helpful as any human could be. The service they provide at this reasonable cost was simply awesome. I would recommend Vertex Holiday for any body seeking a wonderful holiday in Nepal.
Thank you Vertex Holiday
Sharon

Stewart Ong
Taiwan
Vertex Holiday's provided us with a very reasonable Everest base camp trekking, our guide was excellent and was very knowledgeable whilst we were Trekking and the food provided was very good. During the trekking time, we were provided with an excellent service from Vertex Holiday. We were very happy with our experience and what it did cost us and would highly recommend choosing Vertex Holiday for any sort of trip.
Stewart

Hanička Ledecká
Slovakia
Amazing experience
As two young girls arriving in Nepal, we were concerned about finding a trekking company that could give us peace of mind along with the trek we wanted. Amrit the manager was amazing and totally accommodated our needs and understood that we were students so not wanting to spend a crazy amount. We did the Everest base camp trek, and it was the best experience of my life. Our guide Prakash made the whole experience for us, not only was he very knowledgeable and helpful but a great person who really tailored our trek for us both. As two young girls, they put our minds at rest about safety. I could not recommend them enough to anyone wanting a short to long or cheap to expensive track. They have it all and will accommodate in the best way for all.