Langtang Valley Trek





Based on 5 Reviews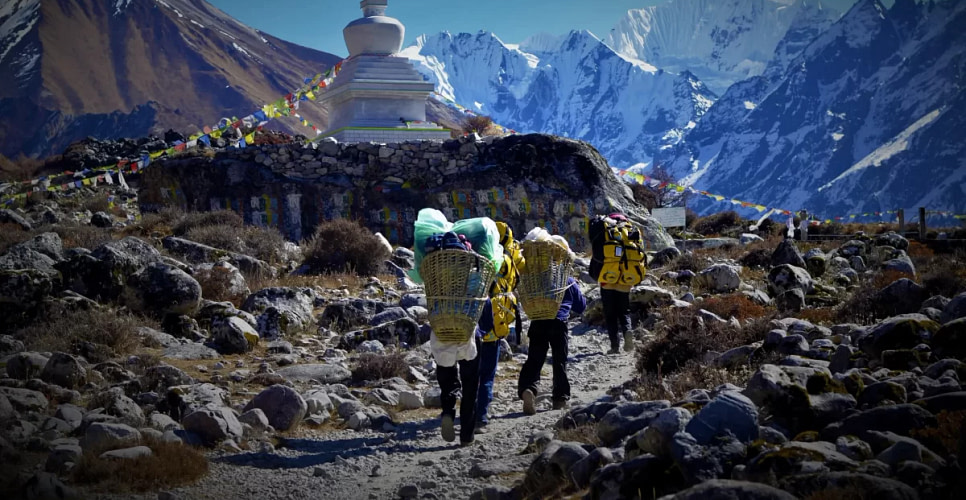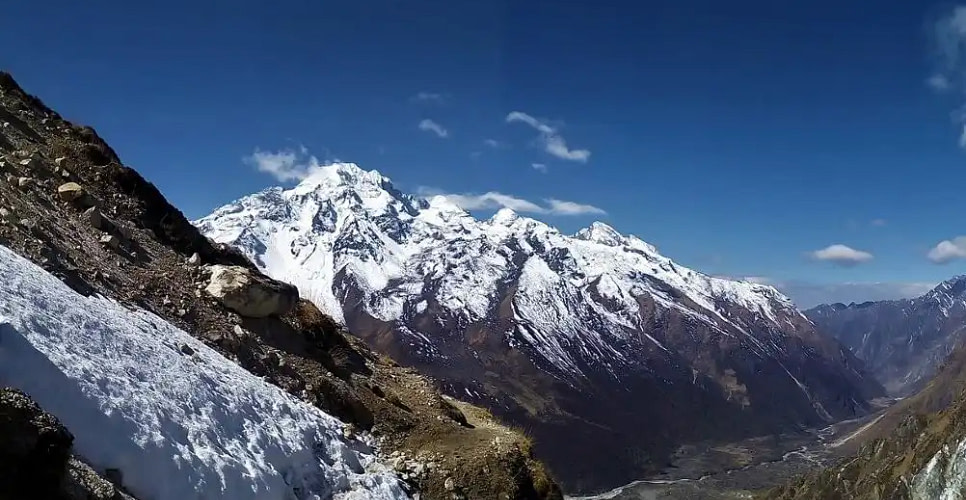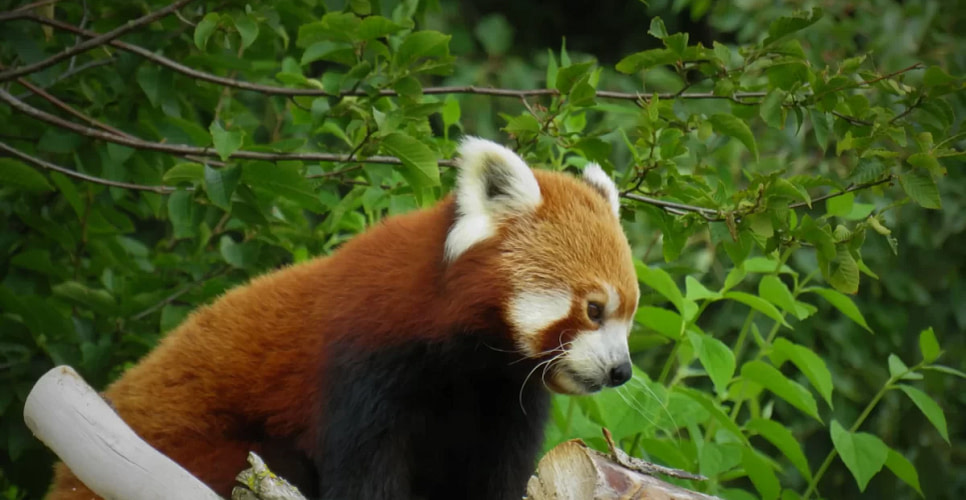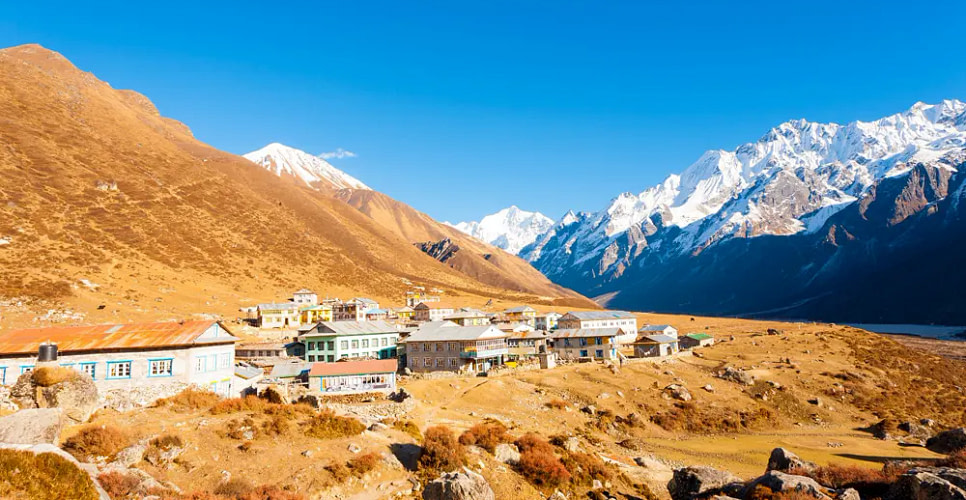 Trip Highlights of Langtang Valley Trek
Snow Leopard and Red Panda
Langtang Lirung and the surrounding peaks
Tamang ethnic culture and hospitality
Monastery, Chhortens, and Mani walls
Overview of Langtang Valley Trek
Langtang Valley Trek is the most leisurely trek that explores the spectacular Himalayan region on the northern side of Kathmandu city of central Nepal, where jaw-dropping mountain vistas surround the trip.
After 8-9 hours of driving to the north side of Kathmandu, the Langtang Valley Trek journey starts from Syafru Besi, a hilly town near Dhunche of the Rasuwa district. This hiking trail excurses into the unspoiled territory of Langtang National Park, passing through local hamlets inhabited by most Tamang ethnic people.
The Langtang Valley Trekking trail goes along the shaded forest of rhododendron, pine, junipers, and other vegetation types, including alpine meadows making walks ecstatic. Some wild animals are nearby, such as wild boar, deer, and monkeys.
Furthermore, the first Himalayan National Park of Nepal provides shelter to rare and endangered species like Red Pandas and Snow Leopards. However, it is difficult to have a glimpse of them for their shy nature.
The Langtang Valley Trek is the closest trail from the capital city of Kathmandu, which is culturally enriched as Himalayan Buddhism is prevalent in the region, where one can explore Tamang culture. The vivid prayer flags, stupas, gompas, Mani walls, Chhortens, and other Buddhist cultural heritages decorates the entire trail. The famous Tamang Heritage Trail is located in the region and is ideal for travelers seeking to explore the rural ethnic lifestyle.
Itinerary of Langtang Valley Trek
Arrival day in Kathmandu (1300m).
Namaste and welcome to Nepal. After your arrival, Kathmandu, Vertex Holiday's airport representative receives you at the airport and transfers you to the hotel. After getting refreshed, a short briefing and orientation will be conducted by our trekking leaders. The evening is wonderful with dinner with the Nepali cultural program. Overnight at the hotel.
Car 20m
Accommodation 3 Star Hotel
Meals Dinner
Altitude 1300m
Drive from Kathmandu to Syaprubesi (1600m). 6-7 hrs
Today, we drive from Kathmandu to Syaprubesi. It takes about 6-7 hours. Most of the drive is on graveled off-road. Following the Trishuli river, the winding road goes through various villages and rice fields. The view of the near-distant hills and mountains makes this journey memorable. Syaprubesi is the starting point of Langtang Valley Trekking Overnight at the lodge.
Multiple Walking, Flight & Bus
Accommodation Tea House
Meals B/L/D
Altitude 1600m
Trek to Lama Hotel (2470m). 6 hrs
After breakfast the trek begins following the Langtang river, crossing the suspension bridge, and hiking through the lush forest of oak, rhododendron, and bamboo. Even though the National Park houses rare and endangered species of Red Panda, due to their nocturnal nature, it is difficult to encounter them. We might see some animals like deer, rhesus monkeys, and others. The trekking trail ascends slightly then we reach Lama Hotel. Overnight at lodge.
Walking 6 Hours
Accommodation Tea House
Meals B/L/D
Altitude 2470m
Trek to Mundu via Langtang village (3543m). 6.5 hrs
After breakfast, we follow this scenic trail, passing some of the tiny ethnic communities. Houses are mostly made of stones. From Ghoda Tabela, we get surprising sceneries of the fluttering Buddhist prayer flags on the top of the houses.
Various Chhortens and Mani walls are placed in the memories of people who have passed away. The Himalayan view of Langtang, Nayakang, and others make today's journey exciting. Overnight at lodge.
Walking 6 Hours
Accommodation Tea House
Meals B/L/D
Altitude 3543m
Trek to Kyangjin Gompa (3870m), 4-5 hrs
Our trek follows on a slightly inclined trail, which is most pleasant. The mountains on either side of the trail add serenity to the prayer flags, Mani walls, and Chhortens. The view of the Langtang range of the Himalayas will not let you feel tired.
Once we reach Kyanjin Gompa, we can explore the Buddhist monastery and around the village. If you are looking for more adventure for the day we can hike to Kyanjing Ri (4773m), a wonderful viewpoint to witness the beautiful Langtang mountain ranges. Overnight at Lodge.
Walking Hours
Accommodation Tea House
Meals B/L/D
Altitude 3870m
Acclimatization and Exploration , Tserko Ri (4984 m) 7-8 hrs
Today's trek is the hardest of all, however, the best view of the trek awaits. We start early in the morning with pack lunch, water, and other essential items. We hike through yak grazing pastures before ascending to Tserko Ri.
The ascend is tough as we will have to walk through a rocky trail at the beginning and then walk on snow. Once we reach the top then you will be able to forget all the hard parts of the hike. After spending some time, we follow the trail back to Kyanjin Gompa. Overnight at Lodge.
Walking 7 Hours
Accommodation Tea House
Meals B/L/D
Altitude 4984m
Trek back to Lama Hotel. 5-6 hrs
After breakfast, our trek retraces back to the Lama Hotel. Enjoying the Himalayan views and lush forest, we descend gradually and arrive at Lama Hotel. Enjoy the hospitality once again in this place. Overnight at lodge.
Walking 6 Hours
Accommodation Tea House
Meals B/L/D
Altitude 2470m
Trek to Syaphrubesi. 4 hrs
We continue after breakfast to Syaprubesi following the bank of the Langtang Khola River. The gentle trail leads us gradually to this ending point. Arriving early, you have plenty of time to explore the town. You might even want to take a warm bath at the hot spring nearby. Overnight at lodge.
Walking 4 Hours
Accommodation Tea House
Meals B/L/D
Altitude 1600m
Drive back to Kathmandu.
Having breakfast, we drive from Syaprubesi to Kathmandu. Passing half of the road drive through the off-road, we have another half of the road pitched. Arriving at Kathmandu, you will be assisted to the hotel. Overnight at the hotel.
Bus 7 Hours
Accommodation 3 Star Hotel
Meals B/L/D
Altitude 1300m
Final day : departure.
Having a good memorable trekking experience with Vertex Holiday, our representative drops you at the airport for your departure.
Includes/Excludes
What's Included?
Airport\hotel transfers by our company vehicle
Two nights' accommodation with breakfast at a star-category hotel in Kathmandu
Two-way bus ticket to/from Syphrubesi
Full board meals (breakfast, lunch, and dinner) during the trek in the mountain
Best available twin-sharing lodge for your mountain accommodation during the trek
One highly experienced government lenience holder, helpful and friendly guide, porters (1 porter for 2 people, Max.25kg) including their food, accommodation, salary, equipment, and insurance
Langtang national park permit
TIMS card Fee ( Trekkers' Information Management System)
All kinds of Government taxes & office service charges
What's Excluded?
Lunch and dinner in Kathmandu
Your personal Travel insurance
International airfare
Nepal entry visa
All kinds of drinks (hot and cold) during the trek
Hot showers during the trek (if needed)
Your Personal trekking equipment
Tips for trekking staff
Complimentary
 Duffle Bag for Trekking
Welcome Dinner By vertex Holiday
A comprehensive Medical kit
Essential Information - Langtang Valley Trek
Cultural Highlight of Langtang Valley Trek ( Kyanjin Gumba)
Kyanjin Gompa, located at 3860m above sea level, is the 400 years old historical sacred gompa, surrounded by hills offering spectacular snow-capped views of mountains.
It is also well-known as a Buddhist pilgrimage site. The trekkers visiting Langtang Valley Trek can explore spiritual knowledge about the Buddhist religion and culture. This region has few locals residing, but still, this place has gained significant fame from its name, Kyanjin Gompa.
Kyanjin Gompa is the gateway of Kyanjin Ri and Tsergo Ri, which offers magnificent views of snowclad mountain peaks, including Langtang Lirung(7234m), Yala Peak (5700m), and other beautiful mountain peaks in the territory.
Langtang National Park:b n
Established in 1976, this Himalayan National Park is the fourth protected area of Nepal, covering an area of 1710 square kilometers in the Rasuwa, Nuwakot, and Sindhupalchowk districts. Langtang National Park lies at the highest elevation of 7245m at Langtang Lirung; the Park houses diverse ecosystems ranging from green tropical forests and alpine grasslands to icy glacial regions.
Significant vegetation species include Fir, Rhododendron, Birch, Chirpine, and Nepalese Alder. In contrast, endangered animals like Musk deer, Himalayan Thar, Black bears, wild dogs, and Ghoral, along with 250 species of birds, inhabit this Park. Moreover, rare and endangered Red Panda and Snow Leopard species are native to this protected area. However, catching a glimpse of these nocturnal species is uncommon.
Langtang National Park includes popular trekking trails like Langtang valley, Tamang Heritage Trail, and Gosaikunda Helambu. Besides, high mountain passes like Ganja La (5120m) and Lauribina La (4600m) are famous among trekkers seeking remote destinations. However, these passes require proper camping equipment along with food, guides, and porters, as food and accommodation facilities are unavailable in the higher remote regions.
Gosaikunda Lake, elevated at an altitude of 4300 m, is a major tourist and pilgrimage destination, visited by thousands of visitors annually. Besides, Paanch Pokhari (Five lakes) also serves as a sacred site for both Hindus and Buddhists. Trishuli and Bhote Koshi Rivers act as boundaries, with several smaller river systems flowing through the region.
10 Days Route Of Langtang Valley Trek:
This trip starts from Syafru Besi after a bumpy drive from Kathmandu, along with the Langtang River, into the lush green forests enriched with diverse vegetation. After some pleasant hike, the trail ascends gradually to Lama Hotel on the stone steps for overnight rest amidst the densely forested area. The next day, the route ascends gradually to Ghoda Tabela, and the tree lines start to fade. Then it passes through the alpine yak pastures, traversing through serene topography via Langtang village and the ruins of the 2015 avalanche to reach Mundu.
From Mundu, the trail gets more accessible with the excellent views of mountain vistas in the Valley. Mani walls, Chhortens, prayer wheels, and flags signifying Himalayan Tibetan Buddhism all during the hike. On reaching Kyanjin Gumba, one can visit the local monastery and then hike to Kyanjin Ri to view the sunset in the Himalayas.
The next day early in the morning, the trek's most challenging and tiring section to Tserko Ri (4984m) offers a significant challenge with high rewards. The journey requires you to prepare food for lunch, snacks, and water as the region is remote, and no food and accommodation facilities are available beyond Kyanjin Gumba. However, after a long and tiresome hike to the peak, the best view of the Langtang Himalayan range awaits.
After experiencing a memorable holiday trip in the region, the journey returns to Kyanjin Gumba overnight, followed by a downhill hike on the same trail back to Syafru Besi. On the last evening of the trekking trip, one can enjoy a warm bath at the nearby hot spring, which will help to relax the strained muscles.
What To Prepare For The Trek?
Graded as a moderate hiking trail, the hiking trail is much easier compared to the reward it has to offer. However, having a healthy body and mentality is always beneficial. Vertex Holiday recommends you indulge in some physical activities like jogging, swimming, walking steps, or some other exercises which result in shedding your sweat for at least a couple of weeks before the trip departure. Besides, Yoga and meditation with proper guidance are going to help you.
You can check the equipment necessary for a trekking trip in Nepal Himalayas, recommended by Vertex Holiday Here. Pack your luggage considering the weight limit, which may include warm clothes, sun gears, rain gear, and other essential gear, including crampons.
A porter is assigned to carry the luggage of two clients, which should not exceed 14 kilograms each. Pack a water bottle, snacks, and personal essentials, including toiletries and medications for your day.
Weather And Best Season For The Langtang Valley Trek:
The weather in the Langtang valley is pleasant mainly all over the year. The best time for a trip to the region is during the spring and autumn seasons, as the skies are clear with enough sunny days. The snowclad mountain peaks and calm weather are visible throughout the trip.
The spring season (Mid-March to Early June) offers a mesmerizing hiking experience as the wildflowers are fully blooming. The temperature varies from 10 to 27 degrees centigrade depending on the altitude range. Trekkers can expect scattered clouds and rainfall during the night.
Whereas during the autumn season (Late August to early November), the days are shorter, with clear and sunny days. During this period, some wildflowers bloom as if it were the second spring season. The temperature variations are 5 to 22 degrees centigrade, with colder nights. Some scattered clouds are possible during the evenings, and dew is imminent in the early mornings due to low precipitation.
During the monsoon season (June – August), rainfall is imminent, with average rainfall ranging from 25 to 35 mm. The temperature ranges from 17 to 30 degrees centigrade with high humidity. Trekking during this season is open for travelers who love to hike in the rain.
In the winter (Late November to February), the Langtang valley trek is ideal for travelers who love to hike in the snow. On average, the temperature varies from 3 to 14 degrees centigrade, whereas the nights are colder, with temperatures dropping -5 degrees centigrade. Moreover, the region is open to travelers and tourists throughout the year, targeting people with different preferences. However, one must be adaptive to anything that may arise during the trekking trip.
Permits for The Langtang Valley Trek:
This trail falls under the protected area of a National Park. An entry permit is required for foreigners. Besides, Trekking Information Management System (TIMS) card is also essential for international tourists. These permits must be acquired before the trip departure date. All the ticket costs are included in the trip's price, and Vertex Holiday will obtain them.
However, if you are thinking about hiking on your own, you can obtain a TIMS card from Trekking Agencies Association Nepal (TAAN) office in Kathmandu. At the same time, a National Park Entry permit can be obtained from Nepal Tourism Board Office. The fees collected for tickets are utilized in the preservation and maintenance of the trekking trails and the environment, along with the salaries for the employees of the particular organizations.
What Kind Of Food And Accommodation are Available In The Langtang Region?
Accommodation is mainly based on Lodges and Teahouses, with two categories, Ordinary and Luxury. Luxury accommodation costs are slightly higher with additional facilities. Hygienic and comfortable bedrooms with warm dining halls are available. Mostly, lodges have bathrooms on a sharing basis, where you need to pay extra costs for hot water for the shower.
Food facilities are mostly Nepali Dal Bhat, including some Indian and continental menus. Besides, local ethnic dishes are also available, which are of Tibetan origins, such as bread, noodles, and dumplings. In the Kyanjin Gumba, you can taste the local Yak cheese produced in the local dairy. Langtang valley trek has some places where you can find Bakery products with hot coffee.
How Difficult Is This Trek?
This off-beat trekking trail is underrated and with lesser traffic of tourists despite its alpine beauty. The probability of Acute Mountain Sickness is minimal as the altitude gain is optimized considering these types of hazards. However, the weather and climatic conditions in the mountains are always unpredictable. The chances of sudden rainfalls, landslides, and avalanches cannot be denied.
As the most beautiful parts of this region are rough and receive a significant amount of snowfall, the probability of an avalanche is imminent.
Langtang Valley After The 2015 Earthquake
This disaster struck in 2015 after the devastating earthquake, leading to the loss of life and property. It is, however, recovering from the tragedy, rebuilding the accommodation and other infrastructures.
One can visit the Langtang valley to support the local economy. Besides, during the high tourist season, you must confirm the accommodation before the trip departure date. In this way, you do not have to worry about not finding a place to sleep. Thus, it would help if you took care of preventive measures.
Travel Insurance For The Langtang Region
All-inclusive travel and medical Insurance are mandatory, which will benefit any sort of emergency evacuation to a safe place, which might require the fastest means of transportation, Helicopter services. For more information regarding Insurance, please visit here.
Langtang Valley Trek Cost:
The costs for trekking in the Langtang Valley depend on various situations, including the kind of itinerary and the services one seeks. If you desire a luxury itinerary for a trekking trip, the costs will undoubtedly be higher than the ordinary one. The 10 Days Langtang Valley trek costs US$ 690 per person. If you have a group of more than two people, we can manage the cost of our package to fulfill your requirements.
If you have further queries regarding this trekking trip and other popular vacation destinations in Nepal, feel free to contact us via the inquiry section. Vertex Holiday can customize the Langtang Valley trek itinerary per the client's requirements for a beautiful trekking holiday in Nepal.
Reviews on Langtang Valley Trek
4.8






Based on 5 Reviews
---
Albert Chen
Taiwan, Province of China
Wonderful trek in Langtang valley
Sorry for late review. It was wonderful trek in Langtang valley. The scenic mountains and the people over there were always smiling. During our time in Nepal , we had a wonderful experience. Thank you Vertex Holiday for such a wonderful trip. We will be looking to visit again , trying to complete the Three pass trek. Cheers

Juliette Beaux
France
Best adventure in Langtang Region
My husband and I would like to thank Vertex Holiday for a wonderful trekking trip. It was our first time in Nepal worried about altitude thankfully our guide was experienced and motivating . However we are happy that we took the trip and climbed Tsergo Ri peak(4984m) , without oxygen. Overall trip was a wonderful time , however we missed the non-veg food. Would love to explore other places as well, maybe EBC next time. Till then Namaste!
4.8





Very Good
Angline Godin
Spain
Best Trip
Thank you Vertex for arranging my Trip to Langtang Valley.
4.9





Very Good
Jidm Shims
Poland
Vertex Holiday for Langtang Valley
I proudly recommend Vertex Holiday for Langtang Valley Trekking if you are planning to to.
4.8





Very Good
test
4.5





Good