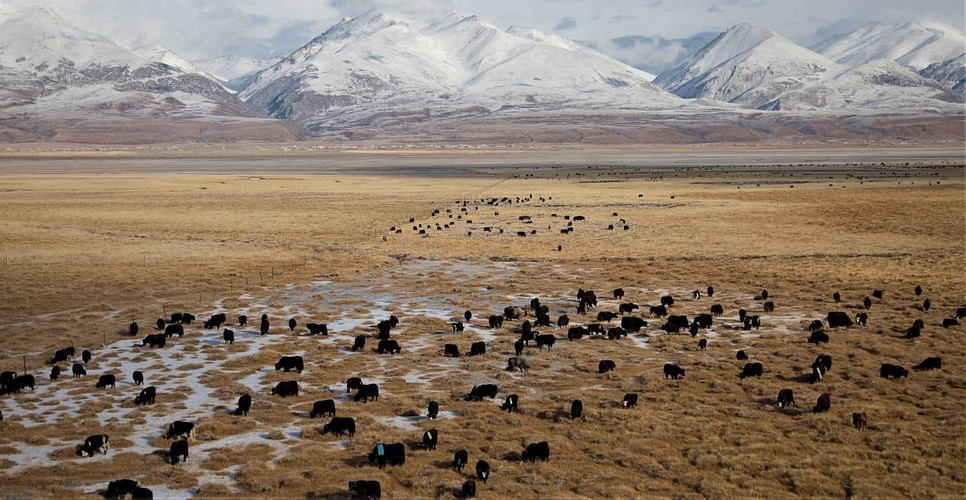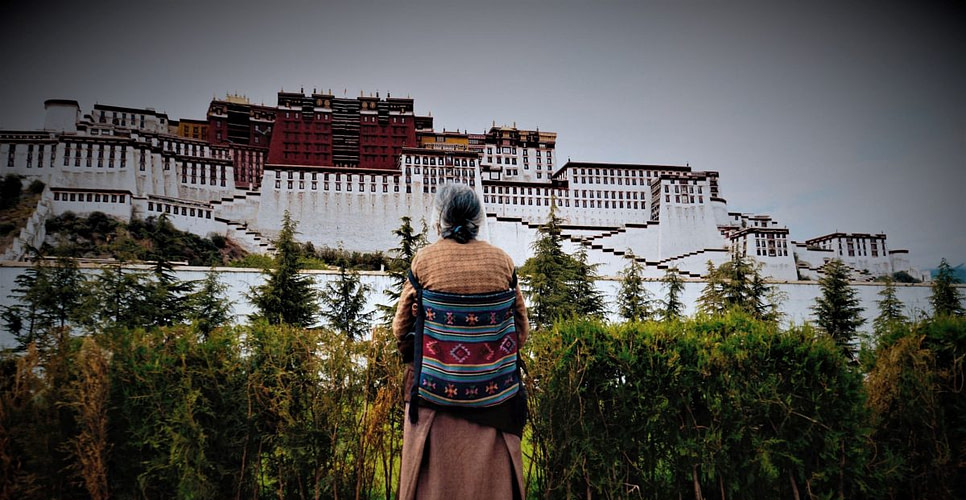 Trip Highlights of Tibetan Journey Overland
Adventure on overland within the world's highest and largest scenic plateau.
Breathtaking scenery of beautiful dramatic landscapes with high snow peaks
Explore lovely cities and villages enriched with colorful cultures of age-old heritage
Tour of magnificent monasteries around Shigatse, Gyantse, and the fabled city of Lhasa.
Crossing high passes facing a stunning panorama of Tibetan vast scenic dry terrain
Enjoy a fascinating tour of the famous landmark of Tibet, the glorious Potala Palace."
Overview of Tibetan Journey Overland
Tibetan Journey by Overland a great wonderful adventure that covers most of the southern region of scenic areas of Tibet. Drive leads you across the vast country within the world's highest and largest plateau, along with spectacular scenery of high snow mountains. Truly a journey of a lifetime to experience visiting the most spectacular cities adorned with magnificent monasteries of great cultural interest.
Tibetan Journey Overland, with Vertex Holiday, allows visitors to witness the in-depth Tibetan way of life. Drive takes you around picturesque landscapes, rural farm villages, towns to big cities in harmony with the colorful culture of ancient heritage. Overland adventure to Tibet is another great way of observing Tibetan rural farm life and dramatic country landscapes. Where most visitors do not have the prospect like on Tibetan Journey Overland from Nepal.
Tibetan Journey Overland begins from the Nepalese capital city Kathmandu, heading towards the nearest border of two countries, Nepal / Tibet-China, where the drive leads to the high hills of Langtang and Ganesh Himal range at Dhunche town and Syabrubesi village, which is also a popular trekking route to Langtang valley and Gosiankund lake, as our journey continues heading due north. Then cross over the frontier of Nepal towards Tibetan soil at Kyirong county town, where our real adventure starts. After meeting our Tibetan guide and drivers to show and guide you around the wonders of Tibet during a week-long visit.
Journey heads towards vast Tibetan landscapes with awesome views of Langtang, Ganesh, with the 14th world highest Mt. Shisapangma at close distance. Drive continues reaching the old Friendship Highway of Kathmandu and Lhasa, then on a good road past many farm villages and towns. Facing grand views of Mt. Everest and Cho-Oyu, our route leads to the top Gyatsho-La Pass.
The highest spot of our journey at 5,220 m, the top festooned with prayer flags and offerings. In Tibetan Buddhism religion, all high ridges and mountains are the abode of holy spirits, where the drive continues down to Large towns. Then reaching the first 2nd largest city of Tibet at Shigatse, where the tour takes you to the beautiful Tashilumpo Monastery.
The seat of the holy Panchen Lama, the second head of state after Dalai Lama, is an interesting religious complex of a golden-roofed pagoda. From Shigatse city, after an enjoyable time, head towards Gyantse city with a famous pagoda stupa, a Buddhist monument. As the ride carries on, crossing a few high passes of Simi-la and Karo-la, the closest views of Nzongkhangsa peak its ice-falls with glaciers.
The journey then leads towards the beautiful turquoise lake of Yamdrok Tsho and then climbs to the last Khamba-La Pass. Offers a breathtaking panorama of beautiful Tibetan landscapes with snow-clad peaks, and then downhill to reach the suburb of Lhasa city. Entering our final last highlights in Lhasa, a city blend of modern and old buildings, retaining its age-old past glories.
Where you will spend 3 overnights in the best Tibetan hotels in older parts of Lhasa near the colorful Barkhor Square, in Lhasa, two full days for an exciting tour of its old historic sites and religious monuments steeped with beautiful monasteries. Visit Drepung, Sherpa's large and important monasteries with ancient Jhorkang Temple, including the majestic Potala Palace.
The pride and highlights of Tibet, as well as an architectural wonder, are located on a hill in the hub of Lhasa city. Enjoy a wonderful time around Lhasa, visiting places of great cultural interest, and then a short sweeping flight brings you to Kathmandu. During air-borne, enjoy a great panorama of the Himalayan range of peaks with Mt. Everest as the flight lands at Kathmandu international airport. Where our magnificent and mesmerizing Tibetan Journey Overland concludes.
Itinerary of Tibetan Journey Overland
Arrival in Kathmandu via respective airlines and transfer to hotel
On arrival at Kathmandu-Nepal International Airport via various airlines, our guide and staff will receive you for a short transfer to the heart of Kathmandu city, where your hotel is located, after checking into your rooms and then meet other members of the trek at the hotel lobby for briefing. Information on the Tibetan Journey Overland briefing includes useful details to make your holiday in Tibet more enjoyable. The evening group welcomes dinner in a lovely Nepalese Restaurant with an introduction to Nepalese culture of various parts of Nepal with folk dance and music.
Car 20m
Accommodation 3 Star Hotel
Meals Dinner
Altitude 1300m
At Kathmandu preparation for Tibet Journey and sightseeing tour.
The morning after a good breakfast, enjoy a tour of Kathmandu's places of great interest, where our city guide leads you on a short drive and walks to visit famous historical and religious monuments with old palaces. Most of the ancient temples, Stupas, and monasteries, including royal courtyards, are listed as world heritage sites in the chapter on fascinating wonders. After an enjoyable back to the hotel, for the final meeting and preparations for the most wonderful adventure to Tibetan Journey by Overland.
Car Hours
Accommodation 3 Star Hotel
Meals Breakfast
Altitude 1300m
Drive to Syabrubesi village 1,420 m - 06 hours
Start early in the morning, after a good breakfast, for an interesting drive beyond Kathmandu valley to reach the high cooler Himalayan hills at Dhunche, headquarter town of Rasuwa district and the entrance to Langtang National Park. From here, a long descend on the zig-zag turn to reach Syabrubesi village for an overnight stop in the best available local lodge. Herewith time to browse around the village and witness the local culture of Tamang the hill tribe of Langtang Himal range practice Buddhism and the Bon sect of pre-Buddhist.
Bus 6 Hours
Accommodation Guest House
Meals Breakfast
Altitude 1420m
Drive to Kyirong in Tibet near Nepal border 2,890 m - 03 hours.
From Syabrubesi morning drive on a newly built road that links Nepal and Tibet border near Rasuwagadhi (1 800 m / 15 km / few hour drive from Syabrubesi). Where our Tibetan guide and driver from our counterpart agent in Tibet. On completing immigration and customs formalities on both sides of the border, then enter Tibet past Rasuwagadhi, taking a short drive to Kyirong county for first overnight in Tibet, accommodation at a local guest-house.
Bus 3 Hours
Accommodation Guest House
Meals Breakfast
Altitude 2890m
Drive to Shegar or New Tingri 4, 350 m-06 hrs.
After a pleasant first overnight in Tibet at Kyirong, having a good breakfast enter the vast high plateau of Tibet as a morning overland journey with a friendly Tibetan guide and driver leads towards several Tibetan farm villages. Then reach close to Lalung-la Pass 5,050 m with views of Mt. Shisapangma 8, 013 m, the world's last 14th highest peak. From this scenic high spot near Lalung-la pass, drive through dry terrain to reach Old Tingri and enjoy the first glimpse of Mt. Everest and Cho-Oyo peaks, here few hour drives take you to Shegar, also called New Tingri with a moderate and basic lodge for an overnight stop.
Car 4300m
Accommodation Guset House
Meals Breakfast
Altitude 4350m
Drive to Shigatse / Xigatse 3, 900 m - 05 hrs.
At Shegar, some might catch a slight headache from high altitude, but it soon gives away; as you rest on the drive taking plenty of water to drink is the best way to fight against high altitude symptoms. After having a scenic breakfast drive continues with a climb to the highest pass of the trip to cross over Gyatsho-la Pass at 5, 220 m. From the pass, the drive descends to Larze town, located on the midway of Mt. Kailash and towards Shigatse. After a refreshing stop, drive for a few hours to reach Shigatse; the second-largest city in Tibet, a place with the famous Tashilumpo Monastery; the holy seat of Panchen Lama. Here the hotels are much better than the other few nights. At Shigatse, with time, browse around the streets and observe local Tibetans and their custom.
Car 5 Hours
Accommodation Guest House
Meals Breakfast
Altitude 3900m
Drive to Gyantse 3,950 m - 03 hrs.
Morning visit to the famous Tashilumpo Monastery and the colorful local market, with many shops and vendors, and interesting to watch Tibetans of all walks of life. After an interesting tour few hours' drive to Gyantse, a small bustling city with ancient history, which was the main center for trade with British India through the North East of India border to Tibet. After checking in a nice hotel, visit Kumbum Chorten built around 1400 AD. Rest of the day is free to relax and for short walks around the city streets.
Car 3 Hours
Accommodation Guest House
Meals Breakfast
Altitude 3950m
Drive to Lhasa 3, 650 m - 261 km - 05 hrs.
From Gyantse, our final overland adventure leads towards our main destination to Lhasa, crossing over Karo- La Pass 5, 010 m with spectacular close views of Nzongkhangsa peak with massive ice-falls and glaciers. An interesting spot to observe local nomads and Yak herders camp.After a short photo stops, head towards beautiful Yamdrok Tsho Lake, known as turquoise Lake. Drive continues to the top of Khamba-La pass, facing gorgeous views of landscapes and snow-capped peaks, and then on the road to Lhasa as the drive leads towards the city suburb and then enters the fabled Lhasa, at present a blend of modern and old city Lhasa. The old section is located in the east around the colorful and busy Barkhor market square, where our hotels are located. An afternoon with time for a short walk and immerse within Tibetan pilgrims from all different parts of Tibet as they make a once-in-a-lifetime journey visiting Lhasa on a holy pilgrimage.
Car 5 Hours
Accommodation Guset House
Meals Breakfast
Altitude 3650m
In Lhasa with tour of Lhasa interesting places and Potala Palace.
In Lhasa for two full days where you will be engrossed with an exciting tour of famous sites that Lhasa has to offer. Morning our Tibetan guide receives you at the hotel lobby, then take a short drive on the west side of the city with a climb to Drepung Monastery, the largest and most important monastery of Tibet, built as a university for Tibetan Buddhism scholars earlier days, which was also a resident of many high priests to 5th Dalai Lama, till present Potala Palace was constructed. An interesting tour of the Drepung Monastery interior and around religious and prayer rooms; from here tour of Jokhang Temple, situated in the heart of Lhasa around the busy Barkhor marketplace. Visit the monastery as well as the first Buddhist temple of historical importance. The tour takes you inside the temple and on the scenic terraces for beautiful photographs of the colorful, busy Barkhor Market and its exciting surroundings, facing views of Potala Palace. On the last day in Lhasa, a morning tour of the magnificent Potala Palace was built in early 640 AD. Started by Songsten Gampo, from his private meditation cave, during the time of the 5th Dalai Lama, Potala Palace was built to its present shape. This beautiful palace represents an important landmark and pride of Tibet that dominates the whole of Lhasa and Kyuchi valley. Afternoon tour of another interesting and important Shera monastery and watch young monks in debates one of the most exciting places to visit. The rest of the day is free for individual activities and shopping for souvenirs.
Car 4 Hours
Accommodation Guest House
Meals Breakfast
Altitude 3700m
Drive to Gongor airport for the flight back to Kathmandu.
Morning, after breakfast, and as per flight time for Kathmandu, depart from the hotel for short, less than a two-hour drive. At the Gondor airport bidding farewell to our Tibetan guide and driver and then head towards the air terminal for check-in. Board a big Boeing Air China Airlines for a scenic flight back to Kathmandu after a memorable experience in Lhasa and around Tibet, a short drive to your respective hotel. Afternoons are free for individual activities and shopping for souvenirs in Kathmandu.
Flight 3 Hours
Accommodation 3 Star Hotel
Meals Breakfast
Altitude 1300m
International departure for homeward or to respective countries
Last day in Nepal in the country of Himalayan wonders, as per your international flight time, either morning, afternoon, or evening. Vertex Holiday guide and staff transfer you to the airport for a homeward journey or to the next port of call after a wonderful time in Nepal and adventure on the Tibetan Journey by Overland.
Includes/Excludes
We are updating the contents.
Essential Information - Tibetan Journey Overland
We are updating the contents.
Reviews on Tibetan Journey Overland
Be first to post a review in this trip.