Everest Base Camp Trek with Cho La Pass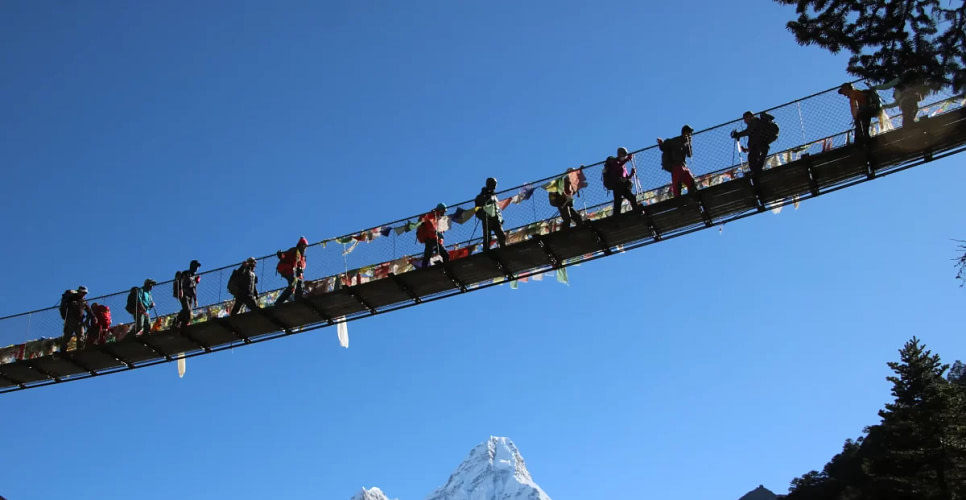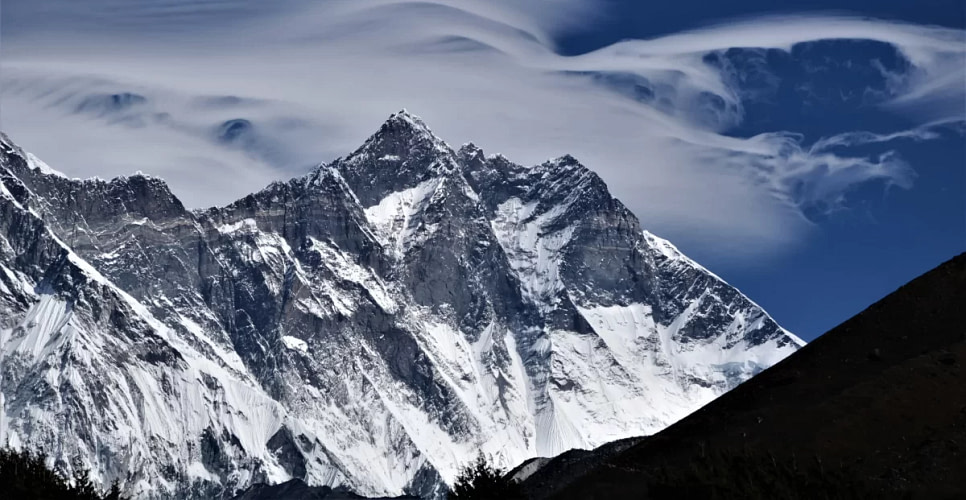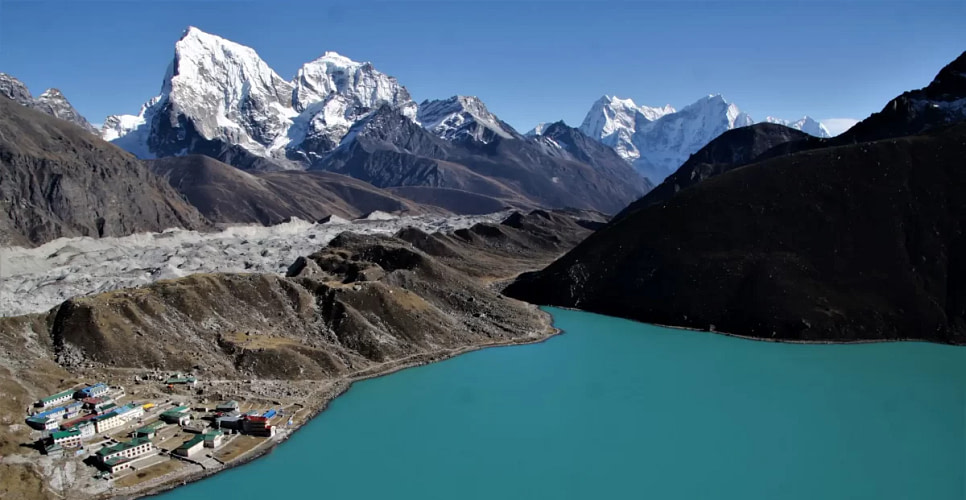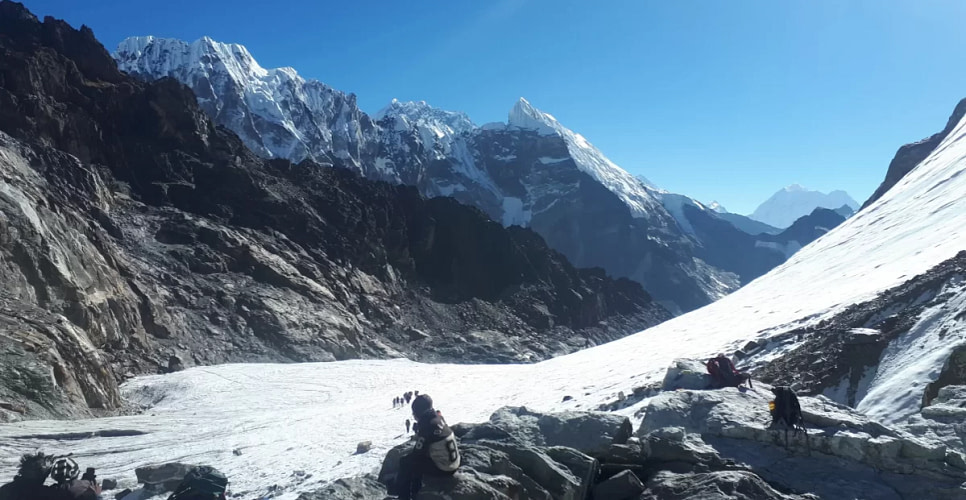 Trip Highlights of Everest Base Camp Trek with Cho La Pass
An adventure within spectacular scenery around both sides of scenic Khumbu valley
 Enjoy the glorious experience of Everest base camp and at beautiful Gokyo lakes.
 Climb to the high altitude (above 5000m) Kalapathar, Cho-La pass, and scenic Gokyo-Ri
 Panoramic views of towering snow-capped mountains from various high-altitude viewpoints.
Explore lovely Sherpa traditional villages enriched with age-old cultural heritage."
Overview of Everest Base Camp Trek with Cho La Pass
Everest Base Camp Trek with Cho La Pass and Gokyo Lakes is a beautiful Trekking trip in the Everest Region of Nepal. This hiking trip is a customized itinerary for trekkers planning to explore the worldwide popular Everest base camp Trek with Cho La Pass and Gokyo Lake.
Scenic views of the world's highest mountain peaks, including Mt. Everest, Mt.Lhotse, Mt. Makalu, and Mt. Cho-Oyu, and other smaller peaks like Ama Dablam, Thamserku, Island Peak, and many others are the main highlight.
Apart from the mountains, Sagarmatha National Park was listed in World Heritage Sites in 1979, enriched with exotic vegetation comprised of rhododendron, pines, oaks, fir, and alpine shrubs, including rare and endangered wildlife species like Red Panda, Snow Leopard. At the same time, the animal species like Himalayan Thar, Jharal, Himalayan Pika, Impeyan Pheasant, and Tibetan Snowcock are among the common sightings. Certainly, a fascinating adventure that one can enjoy, walking in the harmony of a tranquil wilderness.
The cultural aspect of this Everest Base Camp Trek with Cho La Pass and Gokyo is decorated with the warm hospitality of the Sherpa community-based teahouses and lodges. Monasteries, Chhortens, Mani walls, Prayer wheels, and Prayer flags represent the Himalayan Buddhist Culture during the trekking trip. Among them, Tengboche and Pangboche monasteries are the major Buddhist religious sites.  Besides, the Sherpa Museum in Khumjung is a major attraction in the Everest region.
While returning from the Everest Base Camp, the hiking trail diverts to the Cho La pass, elevated at 5420m, then follows to the Gokyo valley via the world's longest Himalayan glacier in the world Ngozumba glacier to reach Gokyo (4800m). Gokyo is a small settlement in between the Ngozumba glacier and Gokyo glacial Lake.  A side hike in the morning to Gokyo-Ri (5357m) viewpoint offers a panoramic view of the four world's tallest peaks Mt. Everest, Lhotse, Makalu, Cho-Oyu, and other smaller mountain peaks.
The Everest Base Camp Trek with Cho La Pass and Gokyo Lakes itinerary is suitable for tourists wanting to explore the Everest Region and is not restricted by time. This hiking trip incorporates the best mountain destinations of the Sagarmatha National Park. Vertex Holiday's Everest Base Camp and Chola Pass trekking package is a cost-effective holiday vacation in the Himalayas. For more information like maps, expenses, equipment checklist, and other details, contact Vertex Holiday.
Itinerary of Everest Base Camp Trek with Cho La Pass
Arrival in Kathmandu via respective airlines and transfer to hotel.
On arrival at Kathmandu-Nepal International Airport, Vertex Holiday's representative will receive you for a short transfer to the designated hotel. After checking in, we will meet other members of the trek at the hotel lobby for a briefing regarding the wonderful adventure of Everest Base Camp & Gokyo Valley Trekking. On briefing includes useful information to make your holiday in Nepal more enjoyable. The evening is reserved for dinner at a Nepalese Restaurant with an introduction to the Nepalese culture of various parts of Nepal with folk dance and music.
Car 30m
Accommodation 3 Star Hotel
Meals Dinner
Altitude 1300m
Fly to Lukla 2, 820 m and trek to Phakding 2,645 m - 04 hrs
Early in the morning, head to the airport for the epic flight to Lukla. The flight heads east, overlooking a breathtaking panorama of the Himalayan range of peaks with views of Mt. Everest, Lhotse, and Nuptse, as the plane lands at Lukla airstrip. The airport called Tenzing & Hillary tribute to the first conqueror of Mt. Everest on May 29th, 1953. From Lukla airport, after collecting all our baggage, carried by our strong porters or pack animals called Zhopkyo (crossbreed of Yaks and normal low altitude cows or ox). After a refreshing stop, start a walk to Phakding for the first overnight stop.
Multiple Drive to airport and Flight 30m /walking 2 Hours
Accommodation Tea House
Meals B/L/D
Altitude 2645m
Trek to Namche Bazaar 3,440 m / 11, 350 feet - 06 hrs.
Today's trek takes you to the famous Namche Bazaar the hub of Khumbu villagers, as well as trekkers. Where once a week, a colorful and busy market is held every Saturday walk leads to cross a few bridges over Dudh Koshi glacial rivers to reach the entrance of Sagarmatha National Park, where a ticket is to be purchased.
Sagarmatha is the name for Everest in Nepal, while the Sherpa knows as Chomolungma of Tibetan origin language. From here, reach the last village of Jorsalle before Namche Bazaar for a lunch break, and then continue to walk following the river on a bank within a cool shade of pine and rhododendron forest. On crossing the last high bridge, along undulating uphill for a few hours to reach Namche Bazaar for two overnight stops.
Enjoy views of Kwangde and Tharmasarku peaks from the lodge in Namche, and then check into your rooms for refreshing rest before dinner time in a large warm, and cozy dining hall.
Walking 6 Hours
Accommodation Tea House
Meals B/L/D
Altitude 3440m
At Namche for acclimatization and short scenic hike.
Today is the day for acclimatization in Namche Bazaar, a necessary to have spare and leisure day for a short hike to viewpoints.
Enjoy the morning with breakfast and hike to Namche viewpoint overlooking Mt. Everest and the beautiful peak of Ama Dablam with other adjoining peaks. Visiting the Sherpa museum offers cultural information about the Khumbu region. Energetic people can take a hike up to Everest View Hotel of few hours from where the amazing mountain scenery can be seen.
Walking 4 Hours
Accommodation Tea House
Meals B/L/D
Altitude 3440m
Trek to Tengboche 3,867 m - 05 hrs.
The morning after breakfast, an easy hike after a short climb to the top of Namche, facing excellent views of Khumbu peaks with Everest, and then down to Imjatse River at Phunki-Tenga, a small settlement with few lodges and restaurants.
A popular mid-day stops for trekkers for lunch and refreshments, from here on, steep winding up for a few hours through the cool shade of lovely woods to reach Tengboche and its colorful monastery. The area is surrounded by an array of peaks with grand views of Everest, Lhotse, and Ama Dablam, with a range of adjoining high mountains. Here lies the biggest Buddhist monastery in the region with an interior of great cultural and religious interest, and then retire back to your lodge for rest and marvel at the surrounding exciting vista of snow mountains.
Walking 5 Hours
Accommodation Tea House
Meals B/L/D
Altitude 3867m
Trek to Dingboche 4,340 m - 05 hrs.
After breakfast, the day's trek starts with an easy descent to reach a strong metal bridge. On crossing the bridge above Imjatse River, a slow uphill climb to Pangboche village with the closest views of beautiful Ama Dablam. From here onward, tree lines disappear for short bushes of juniper and dwarf rhododendron bushes. The walk takes you higher to reach scenic Imjatse valley, where Dingboche is located for an overnight halt, facing the first view of Island Peak towards the east of the valley floor.
Walking 5 Hours
Accommodation Tea House
Meals B/L/D
Altitude 4340m
Rest day in Dingboche for acclimatization and short excursion.
Dingboche is situated in scenic Imjatse Valley and, with the great North Face of Amadablam, a rest day for acclimatization. Here one can take a short hike uphill to Narsyang hill, which takes a couple of hours. Offers a super panorama of a mountain range that surrounds the Imjatse valley; enjoy views of Island Peak with Mt. Makalu towards the east; rest of the day, relax and enjoy the view.
Walking 3 Hours
Accommodation Tea House
Meals B/L/D
Altitude 4340m
Trek to Lobuche 4,960 m - 05 hrs.
The morning starts with a steep climb of less than half an hour to a ridge festooned with prayer flags and Buddhist monuments. Enjoy the great views as the hike continues on easily up to reach the small settlement of Thugla, where massive Khumbu glaciers melt into torrential cold streams.
A favorite stop for trekkers heading both ways to Everest base camp, Lobuche, or down to Dingboche and Pheriche valley. After lunch at Thugla, afternoon, an hour's climb towards Thugla's small pass, where you can notice many Mani walls and memorials of unfortunate climbers. After a good short rest, a slow and easy walk but strenuous due to the thin air and high altitude to reach the overnight stop at Lobuche.
Walking 5 Hours
Accommodation Tea House
Meals B/L/D
Altitude 4960m
Trek to Mt. Everest Base Camp 5,364 m via Gorakshep 5,180 m.
The day's trek leads to the bank of the Khumbu glacier, even though being a short distance it takes a few hours of the tough walking due to the high altitude and air pressure. Starts on an easy path and then up above Khumbu glaciers over moraines of rocks to reach Gorakshep. The highest settlement before base camp with few lodges to stay for overnight after visiting Everest base camp.
From Gorakshep's head slowly taking more than two hours to reach base camp, feeling wonderful. Standing beneath the world's tallest peaks and close to massive Khumbu Icefall and glaciers. Enjoy the stupendous scenery of high giant snow peaks then back to Gorakshep for an overnight stop, after a great day adventure.
Walking 5 Hours
Accommodation Tea House
Meals B/L/D
Altitude 5364m EBC
Climb Kalapathar and trek to Dzongla 4,830 m
Start early morning climb to the highest point of our trek Kalapathar, which literally means black rock. A steep climb but worth the view as you stand on top, overlooking the grand panorama of Mt. Everest at close distance with Mt. Pumori ahead; after a breathtaking moment, descend back to Gorakshep. After breakfast, continue treks downhill past Lobuche, and then the route diverts from the main trail to reach the hidden corner where a small settlement Dzongla located, beneath Cho-La Pass on the route to Gokyo Valley.
Enjoy close views of Cholatse and Taboche peaks as you have time after checking into a simple fine lodge for an overnight stop.
Walking 7 Hours
Accommodation Tea House
Meals B/L/D
Altitude 5555m Kalapathhar
Cross Cho-La Pass 5, 367 m and descend to Thagnak 4, 750 m-08 hrs.
Another exciting morning to cross over Cho-La pass, starting early morning climb to steep slopes to reach on top Cho-La pass actual pronunciation is Tsho-la means a lake, where small icy ponds exist close to Cholatse and Nirekha peaks.
Enjoy grand scenery from the high top of Cho-la pass and then descend slowly to reach the bottom of a pass at Thagnak, also called Dragnak, for an overnight stop before Gokyo Lake, located close beneath Ngozumba, the longest Himalayan glacier in the world.
Walking 8 Hours
Accommodation Tea House
Meals B/L/D
Altitude 5367m Chola pass
Trek to Gokyo Lake 4, 800 m - 04 hrs.
Enjoy a short day walk to Gokyo and the 3rd lake, where the route follows the scenic trail to reach a small settlement Na; climb to a rocky path within ablation valley, then reach the first lake and then the second lake, as the walk leads finally at Gokyo where the 3rd main lake situated, also called Dudh Pokhari or Gokyo Lake. This beautiful area is located at 4,800 meters high; after a short lunch walk around the lake with views of Mt. Cho Oyo world's 06th highest, and Gyachung Kang reflects on emerald Gokyo Lake.
Walking 4 Hours
Accommodation Tea House
Meals B/L/D
Altitude 4800m
Climb to Gokyo-Ri 5, 357 m and trek to Machhermo 4, 470 m - 06 hrs.
Start early in the morning for the sunrise view from Gokyo-Ri at 5,357 m which offers a breathtaking panorama of the world's four mountains above 8000m with Mt. Cho-Oyu, Mt. Everest, Lhotse, and Mt. Makalu with a series of smaller peaks.
Enjoying views and grand mountain scenery with Ngozumba Glacier and of Gokyo valley with the emerald-colored lakes, descend to Gokyo and continue a trek of few hours on the easy scenic trail to Machhermo, a nice settlement located on a small valley with few trees of willow and Populus.
Walking 6 Hours
Accommodation Tea House
Meals B/L/D
Altitude 4470m
Trek to Kyanjima 3, 650 m via Dole - 06 hrs.
From Machhermo, a short steep hike to reach a high ridge, and then on a pleasant walk downhill past Luza and Dole settlement. The trekking route then heads back into tall tree lines as the walk descends near Dudh Kosi Rivet at Phortse Tenga, with few tea shops and lodges. After a short rest with a possible lunch stop either in Dole or on this small settlement, the afternoon walk leads to a short climb to a hilltop called Mong, facing grand views of peaks.
After a brief scenic moment, a long descent takes you to Shanasa village, where the main trail of Everest base camp and Namche meets. A short walk takes you to an isolated scenic small settlement at Kyanjuma for an overnight stop, a great spot for views of Amadablam, Everest, and other high peaks.
Walking 6 Hours
Accommodation Tea House
Meals B/L/D
Altitude 3650m
Trek to Monjo 2,880 m via Namche Bazaar- 05 hrs.
Enjoying the glorious views of Mt. Everest and Amadablam, Tharmasarku, with other adjoining peaks, our hike continues on a wide trail to Namche Bazaar for lunch. After lunch, a long descent to Dudh Kosi River valley within the forested area to reach the Sagarmatha entrance and exit post. A short walk takes you to the comfort of a nice lodge at Monjo for an overnight stop.
Walking 5 Hours
Accommodation Tea House
Meals B/L/D
Altitude 2880m
Trek to Lukla - 04 hours.
The last day walk of the adventure leads to a short stretch with a nice pleasant path to reach Phakding. From here, on the gradual winding trail with the last final climb to reach the end of the trek at Lukla. For the last overnight around the high Khumbu and Everest region, party time with fellow members and trekking staff, including porters who made the trip a great success.
Walking 4 Hours
Accommodation Tea House
Meals B/L/D
Altitude 2650m
Fly from Lukla to Kathmandu with afternoon free at leisure.
Early morning with breakfast, then depart from the lodge to Lukla airport. The morning flight reaches you back in Kathmandu. From the airport, transfer to your respective hotels with a free day to enjoy the hustle-bustle city life of Kathmandu.
Multiple 35m Flight and Drive From airport to hotel
Accommodation 3 Star Hotel
Meals Breakfast
Altitude 1300m
Depart Nepal for international departure homeward bound.
Your last day in Nepal, enjoying a memorable adventure on Everest Base Camp & Gokyo Valley Trek, with Vertex Holiday. Our airport representative will transfer you to the airport for departure.
Includes/Excludes
What's Included?
All ground transportation on a comfortable private vehicle as per the itinerary
 2-night accommodation in Kathmandu at a Three-star hotel with BB plan
 Two-way airfare for Kathmandu-Lukla-Kathmandu
 Airport pick up and drop off for Lukla's flight by private transportation
 One professional tour guide and private vehicle for a city tour, including all kinds of entries fee
 All meals during the trek time in the mountain (breakfast, lunch, and dinner)
 Twin-sharing accommodation during the trek
 Snack of seasonal fruit during the trek
 An experienced, English-speaking, knowledgeable, skillful, and helpful government license holder trekking guide and porter to carry your luggage(max:-25kg), including all kinds of costs of Transportation, salary, insurance, equipment, meals, and accommodation
All kinds of necessary paperwork for your trips (TIMS card and permit – please bring 3 PP size photos)
What's Excluded?
 Nepalese visa fee
 International airfare
 Personal travel insurance
 All kinds of drinks, snacks, and personal ordered food during trekking time
 All kinds of personal expenses
 Hot shower during the trekking if needed to pay
 Lunch and dinner in Kathmandu
 Personal trekking equipment
 Rescue charge (if needed)
Tips for trekking staff
Complimentary
Comprehensive medical kit
 Duffle bag for Trekking
Snack of seasonal fruit during the trek
Essential Information - Everest Base Camp Trek with Cho La Pass
Everest base camp trek with Chola pass Information:
Everest base camp trekking with Cho-La Pass is a wonderful adventure that takes you on the high valleys of scenic Khumbu.
Trekking around the picturesque region of Khumbu within the world's highest peaks base camp with scenic Gokyo valley crossing high Cho-La Pass.
Everest base camp trekking with Cho-La Pass, a marvelous combination, visiting both exciting scenic areas of high Khumbu. Everest base camp is one of the most sought adventure destinations around the Himalayas, not only as of the world's highest peaks.
As well as its spectacular scenery, where trekkers can stand right beneath number one Mt. Everest at base camp. In the close canopy of Khumbu Ice-Fall and glaciers, enclosed by giant peaks of Lhotse and Nuptse.
Everest base camp trekking with Cho-La pass allows trekkers to experience both beautiful high sides of the Khumbu valleys. Around scenic areas of Everest Base Camp and Gokyo Lakes, crossing high Cho-La Pass at 5,367 m high.
Located in Nepal in North Mid-East of Mahalangur Himalaya at a Longitude and Latitude of 27.8981° North with 86.7776° East.
The main highlights of Everest Base Camp Trekking with Cho-La Pass:
Daily scenic views of high snow-capped peaks in the close shade of Mt. Everest.
Lively, exciting cultures of the Sherpa, the highlanders of Everest, are interwoven with the Buddhism religion of age-old heritage.
Walking into lovely Sherpa villages adorned with colorful religious monuments prayer walls and spinning wheels.
Located within Sagarmatha National Park enriched with rare flora/fauna, the park is designated in UNESCO World Heritage Site.
From Lukla to Gorakshep, near Everest base camp where one can find nice and cozy accommodation with a comprehensive food menu.
Lodges of various classes, from the simple budget, standard to luxury inns and tea-house.
Standing beneath the world's highest Mt. Everest, at base camp close to notorious scenic Khumbu Ice-Fall and glaciers.
Visiting both Everest and the world's 4th highest Mt. Lhotse base camps at 5,364 m / 17, 598 feet high.
Climb to high Kalapathar Hill at 5,643 m / 18,514 feet high with the closest views of Mt. Everest and Mt. Pumori.
Tour of the famous Tengboche Monastery, where the colorful Mani-Rimdu festival is held every year in October-November, as per the Buddhist calendar. Tengboche Monastery is a beautiful spot surrounded by an array of snow peaks with views of Mt. Everest and majestic Ama Dablam.
Staying an extra day in Namche Bazaar at 3,440 m high for acclimatization, and scenic hikes to scenic viewpoints.
Walking from the lovely enchanting forest of rhododendron, juniper, pines, and first trees to arid and barren mountainous country.
Crossing high Cho-La Pass at 5,367 m high after visiting Everest base camp and Kalapathar hilltop.
From Cho-La Pass glorious panorama of the surrounding high peaks of Cholatse, Lobuche, and Nirekha peaks with Mt. Cho-Oyu.
Traverse from Everest base camp to beautiful Gokyo valley and the lakes via the high Cho-La Pass. At Gokyo, hike to the scenic viewpoint hill of Gokyo-Ri at 5,357 m facing a breathtaking panorama of the world's four highest peaks. Mt. Everest, Lhotse, Makalu, and Cho-Oyu with a series of snow peaks and an excellent view of Gokyo valley and the lakes.
Grand views of Ngozumba world's longest glacier, about 36 km / 22 miles long. Extends from 4 700 m up to above 8 000 m, located within beautiful Gokyo valley.
Routes to Everest Base Camp and Gokyo Valley via Cho-La Pass:
Everest Base Camp Trekking with Cho-La Pass trekking begins from the popular Lukla town with a short airstrip. Where a smaller plane flies to and from Kathmandu to Lukla on a clear fine day, from early morning till mid-day. Sometimes in the high season, the flight operates till late afternoon also due to the mass flow of trekkers visiting various destinations.
Most porters and trekking crews, as well as guides, are stationed in Lukla, during the best seasons of the year.
The first part of Everest base camp trekking with Cho-La Pass begins heading towards Namche Bazaar. An easy walk on leaving Tenzing & Hillary airport and Lukla town, following downhill close above Dudh Kosi River. The walk leads past the nice villages of Choplung and Ghat lined with impressive Buddhist monuments with prayer walls and spinning wheels.
Normally all trekkers spend first overnight at Phakding village, and then the next morning heading towards the famous Namche Bazaar.
Following short ups and down and then on a gradual path to cross a bridge, then reaching lovely Monjo village. From here, enter Sagarmatha National Park, the word Sagarmatha for Mt. Everest in Nepalese, while Sherpa calls as Chomolungma.
From the park entrance, follow Dudh Kosi towards the last bridge, and then wind uphill to fame Namche Bazaar.
Namche Bazaar is the heart, and capital of Khumbu, was once a week a colorful busy Saturday market is held, hence the name Namche Bazaar provides various facilities.
Namche is an ideal and perfect place for rest to support acclimatization at 3,440 m high, before heading to higher terrain. From Namche Bazaar, the first part of the adventure leads on the main trail to Everest Base Camp.
A scenic trail facing the grand vista of Mt. Everest, Lhotse, and Ama Dablam with an array of snow peaks. The walk leads down and then up to beautiful Tengboche and its famous monastery, located on a small plateau.
Tengboche stands amidst a lovely alpine forest facing a stunning panorama of Everest and a series of peaks.
Tengboche offers a stunning panorama of Everest and surrounding peaks, a lovely spot with a majestic colorful monastery.
The Tengboche area provides nice lodges for travelers, as well as fresh bakeries café, one can enjoy a tour of the monastery.
From Tengboche onwards, tree lines fade for short high, altitude bushes and shrubs as the route leads closer toward the mountainous region.
After Tengboche, walk to Pangboche, the last permanent village, towards Everest base camp. Also, a route to Ama Dablam base camp, Pangboche onwards, with options to choose either walk to Pheriche or Dingboche. The most popular and favorite among trekkers is Dingboche, a large settlement with many good lodges.
Located on beautiful Imjatse Valley, beneath towering Ama Dablam North Face and Lhotse with Nuptse, facing views of Island Peak.
Normally spends an extra day at Dingboche, which is 4,340 m high, a scenic settlement enclosed by high snow peaks.
A perfect place for acclimatization day, as well for a short acclimatization hike to high view-point hills.
Spending time at Dingboche, a slow walk above Imjatse and Pheriche valley, takes you to a small settlement at Thugla. A favorite spot of trekkers for a lunch stop or refreshing break before a steep climb up to Lobuche.
From Thugla top, a pleasant walk towards Lobuche, a settlement located on the west corner of the main wide trail.
Spending an overnight at Lobuche, in one of its nice lodges, a morning walk leads to Everest base camp. A nice pleasant start reaching a spot where the route to Gorakshep and Metrological station splits.
Time permitting, visit the Metrological station of huge glass pyramids, a joint venture of Italian and Nepal scientists. Here the movement of glaciers, snow, and moisture is recorded, after an interesting moment a slow walk up to Gorakshep.
Gorakshep is placed on a flat glacial field below Mt. Pumori and Kalapathar rocky hill, on route to Everest base camp. At one time Gorakshep was the earlier base camp till the 1970s, a place with few lodges.
From Gorakshep, walk for a few hours at a distance of 6 km to Everest base camp. Everest base camp is livelier during mountaineering expeditions; enjoy the dramatic views of surrounding high peaks.
After an exciting moment at Everest base camp, the next adventure from Gorakshep takes you on a steep climb to the top of Kalapathar.
A scenic hill and the highest point of the adventure reward the grand vista of surrounding giant peaks. As well as the closest views of Mt. Everest, as you stand on Mt. Pumori, from here towards our next destination.
On the high trail from Everest base camp trek with Cho-La Pass and Gokyo valley:
Completing the first phase of the adventure, the walk leads to a small place at Dzongla, situated away from the main trail. A settlement with few simple lodges with grand views of Taboche and Cholatse, located at the eastern base of Cho-La Pass.
An early morning a steep climb on rocky ledge slopes, then reaching on top Cho-La Pass at 5,367 m high. The pass marked with rock cairn and prayer flags offers grand views of surrounding peaks, then head downhill to Thank. After a tough climb, traverse from Everest base camp to Gokyo via Cho-La, then reach beautiful Gokyo valley.
Beautiful Gokyo valley, in its early days till the present, remains as a summer pasture for yaks and other cattle grazing fields. As the flow of tourism increased, several temporary settlements flourished with nice and cozy lodges known as Tea House.
Gokyo lakes are situated on a scenic valley enclosed by high snow-capped peaks, with two high passes, Renjo-La and Cho-La. Renjo-La, at 5,344 m, is located south of Gokyo Lake, and Cho-La towards the North-East at a height of 5,367 m high. Crossing the Cho-La pass from Gokyo valley takes you to Everest Base Camp around the eastern region of high Khumbu.
The charm and beauty of Gokyo valley are its five glacial lakes, with views of the world's 6th highest Mt. Cho-Oyu. Which is at 8,201 m / 26, 906 feet, straddles the border between Nepal and Tibet / China. Located close to Gokyo's last and remote 5th lakes, which offer grand views of the northern side of Mt. Everest.
The main highlight of Gokyo it's the view-point Gokyo-Ri at 5,357 m, which offers excellent views of the world's four highest peaks, where trekkers can enjoy overlooking the grand panorama of snow peaks with Everest, Lhotse, and Makalu with Cho-Oyu.
On completing all major highlights and goals of the adventure, return journey downhill towards Lukla for a flight to Kathmandu.
Everest base camp trek with Chola pass Best Season & Weather:
Everest Base Camp via Cho-La Pass trekking to Gokyo Lake for nearly all seasons of the year. But the best high seasons for this wonderful adventure are spring and autumn/fall times.
Springtime from March till May, when days are clear for a pleasant trek and scenic views. This is the time for wildflowers to be in seasonal bloom, especially the rhododendron and magnolia. You can notice from Lukla onwards till Tengboche, around dense tree lines, the late afternoon can get cloudy. Chances of snow and light rains sometimes, but most days are full of sunshine. Morning, late afternoon, and nighttime will be very cold, where the wind-chill factor adds more freezing temperatures.
The temperatures of a minimum of -10 degrees Celsius and a maximum of + 18 to 21 degrees Celsius. Higher altitudes are bright and sunny with strong UV due to thin air, depending upon altitude wise.
The next best time is autumn/fall from September till November, the weather is fine with crystal clear blue sky. Chances of snowfall sometimes during the trek and on Cho-La Pass, but most days are fine with sunshine. Days are shorter during autumn times due to short sunlight hours. Morning and late afternoon will be cold as well in the nighttime, but clear nights with a bright starry sky.
The temperatures of minimum -15 degrees Celsius and maximum of + 15 to 20 degrees Celsius. Higher altitudes are bright and sunny with strong UV due to thin air depending upon altitude wise.
Necessary equipment for the Everest base camp trek with Chola pass:
As suggested and provided on booking with Vertex Holidays, long list of personal clothing as per season-wise. Normally down Jackets and Sleeping bags are issued by the company, depending upon trip cost if it's added. Besides, personal clothing, water bottles, torch as well crampons, and ski pole as options. Good trekking boots, snow-gaiters, sunglasses, snow goggles, and headwear for sun and cold weather. Moderate-size backpacks to keep necessary items for the day, as well as waterproof gear.
Everest base camp trek with Chola pass Food and accommodation:
Food and Accommodation are some of the best that one can find on this type of adventurous trekking on Everest base camp with Cho-La Pass.
From Lukla onwards till Namche Bazaar, where trekkers can enjoy various options from the simple budget, standard to luxury class lodge accommodation and best foods.
From Tengboche onwards, all room accommodation is nice and simple with the large warm dining hall. In high season single supplements in rooms are hard to find, need to book well in advance. Most rooms with non-attached bathrooms and toilets. All need to share common toilets and bathrooms.
As for food, nearly all lodges on overnight stop as well on lunch stops provides an excellent food menu to enjoy delicious meals.
Lukla to Tengboche, some lodge restaurants provide fresh bakeries also, where one can have a delightful time.
Meals served in all lodges from continental, Indian, Chinese, and Nepalese meals and snacks. Some lodges also provide Mexican, Italian, Japanese, and Korean food also.
Everest base camp trek with Chola pass Permits and TIMS card:
Trekking Permits are very necessary all around Nepal Himalaya, as for Everest region, where the village community charges an entry fee. Where Vertex Holiday staff will do the necessary formalities, TIMS, which Trekking Information Management System applies to another region, is not for the Everest area. Before leaving Lukla town, where one has to pay a certain amount to enter high Khumbu around the Everest region.
The other permit required is Sagarmatha National Park, which you will enter on the second day as you walk past Monjo village, where National Park is located. Your guide will buy the park entrance fee at the entry point before heading towards Namche Bazaar onwards.
Why Choose Everest Base Camp With Chola Pass Trek:
For a number of reasons, and depending upon one interest as this trek takes you to an amazing scenic country. Where one enjoys the adventure of a lifetime experience, besides wonderful scenery on daily walks. Trekkers will encounter lovely traditional Sherpa villages full of culture and religions enriched with monasteries, prayer symbols of interesting Mani, stupa, and spinning wheels. Along the walks and, villagers are friendly greet you with smiles wherever you stay in local lodges, you will be in the warm harmony and hospitality of Sherpa natives.
Besides views of majestic peaks and fascinating culture, walking into the lovely forest in springtime, the hills are alive with wild-flower, especially the rhododendron, the national flower of Nepal.
Apart from mentioning the highlight of the trek, joining on this adventure, testing your ability, and taking the challenge of a lifetime, in the end, you feel in high spirits trekking around the scenic high-altitude country of Khumbu.
Everest base camp trek with Chola pass Challenges:
Depending upon one physical fitness and medical background, actually, trekking is not that hard and tough, except at rising altitudes.
Taking slow and steady, taking much rest in between, will overcome the challenges. The other challenge is crossing over Cho-La Pass.
Normally the climbs and steep downhills are not difficult, the toughest challenge is if there is much snow on the pass. Which will make the trek longer with a tiring climb. Adventurous grade treks like this one have to be physically fit with sound health, for higher altitude challenging treks long days walks with altitude to acclimatize on walks, must be fitted with a strong and positive attitude.
Everest base camp trek with Chola pass Travel Insurance:
It is very important that one must buy travel and medical insurance for safety and precaution. An unfortunate thing can take place anywhere, such as sudden bad weather, even at the best time of the season.
Where Himalayan weather can be unpredictable sometimes, and crossing over Cho-La pass could be not possible on heavy deep snow. Where the company might have to re-route towards other destinations, as well in case of political situations and roadblocks.
Your travel insurance will cover extra expenses, as well, if one gets very sick due to high altitude or other causes. In serious medical conditions, one needs immediate evacuation by the fastest means of transport, like a Helicopter Service, to bring the victim to the nearest good hospitals or Kathmandu. In this situation, your medical insurance will support you with extra expenses that occurred. We suggest that all trekkers joining the adventure must obtain medical / travel insurance for necessary accidents and unfortunate events and should cover transportation by all means of transportation, including Helicopter service.
Most Asked Questions by Travellers
Walk of moderate to adventurous grade; this adventure is not overall difficult although some days can be longer with the strenuous climb, especially on the way to Everest base camp and steep up to Kalapathar. But taking it slowly with enough rest stops can make the walk enjoyable while enjoying the views. The last tough climb is crossing Cho-La pass, one of the longest days of the adventure of eight hours. Where trekkers need to take things slowly and taking much rest as possible to enjoy the day walks.
As altitude-wise, it won't be a big problem but can happen to some trekkers/climbers in the group or with other illnesses, like severe diarrhea or any other medical and health issue if the member with the worse condition has to break the journey and reach Kathmandu by the fastest means of transport for evacuation. The only fastest and most reliable is taking a helicopter service, where all medical and other expenses incurred have to be borne by oneself. Where it can be reimbursed from the insurance company, with a supporting letter from Vertex Holiday and as well from medical doctors in Kathmandu.
Around the high Khumbu area from Lukla onwards of strong Buddhism religion and culture of ancient heritage customs with the traditional life of farming and raising livestock. Khumbu areas dominated by Sherpa follow Tibetan Buddhism, which you can witness on walks as well as visiting some monasteries like Tengboche and Pangboche.
It sometimes happens, even during the best time of the year. Where Himalayan weather can be unpredictable sometimes, but not all time the good seasons. In this situation, if the flight does not operate due to unfavorable weather. Our guide will make the best effort, as well as contact the head office in Kathmandu regarding the situation. If the weather does not improve for flights, even on the next day, the best option is to use helicopter services if needed, especially for people with tight international flights. Staying longer in Lukla for a few days and using of chopper where clients have to bear the extra expenses and to be claimed from your travel insurance company.
Nearly all seasons of the year, but best in spring from March to May, with autumn/fall of September to November, including pre-winter times of December. Spring is best with wildflowers in full bloom till Tengboche Monastery, and with clear fine days, most of the time can get cloudy in the late afternoon with clear starry nights.
It is much cold in the morning and nighttime as well in shady areas, and the wind-chill factor adds colder with freezing temperatures; you can expect snow sometimes around higher altitudes.Autumn/fall is another best time with a clear day for views and a trek to Everest base camp and Gokyo Valley. But can be much cold morning and night time, can expect snow sometimes around higher altitude.
Certainly, every best lodge we use for overnight stops or lunch does have facilities to charge electronic gadgets from cell-phone, cameras, and laptops to pay a charge per hour for each item. The price differs from one place to another. The only place where you might not get the facility for charging is Dzongla and Thagnak.
Gradual path with few short ups and down, walking on hard rocky ground as you get closer, walking over ice and glaciers to base camp within a moraine of ice and glaciers.
Not that tough, as long one takes it slowly with enough refreshing stops along the way; some sections encounter a small portion of icy trails but more or less on hard, rocky, and scree paths all the way to the top. The only tough and hard will be if the pass is covered in deep snow, where our expert guides will help and support you to make the climb safe and accessible.
A short panoramic flight of 30 to 35 minutes, an exciting flight overlooking a panorama of Himalayan peaks with the view of Mt. Everest.
Yes, all lodges on route Everest base camp and at Gokyo after crossing Cho-La Pass do have electricity. From Lukla onwards Tengboche has hydropower, and Dingboche and other settlements have their own solar power, where you can charge your electronic gadgets, where you need to pay a certain fee for charging per hour per item. The price of charging differs from one place to another.
Yes, all drinking water is safe, which is boiled and filtered, as the lodge owners do not want their reputation down, as they need customers again and again in the near future.
Flying to Lukla on a smaller aircraft, where baggage allowance is 20 kg including your handbags or day packs. To keep the weightless wear heavier gear like trekking boots and down jackets on the flight to make the baggage less weight.
Reviews on Everest Base Camp Trek with Cho La Pass
Be first to post a review in this trip.