Dhaulagiri Circuit Trekking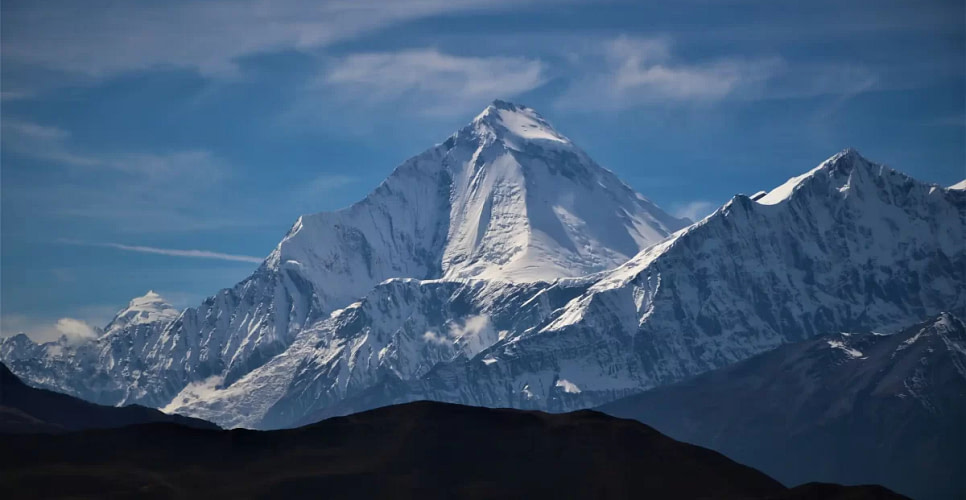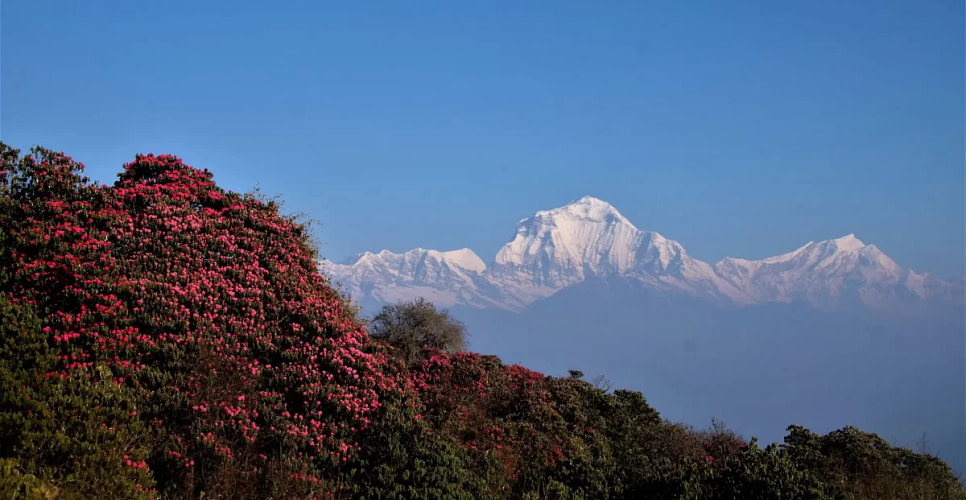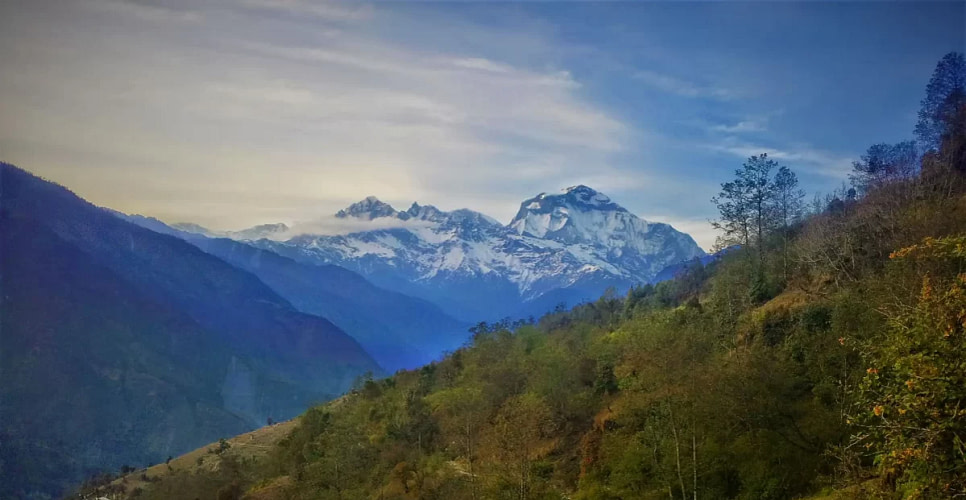 Trip Highlights of Dhaulagiri Circuit Trekking
"An adventure that covers all cardinal sides of the world 7th high Mt. Dhaulagiri
Exceptional views of the country's dramatic landscapes of high hills and valleys
Panorama of massive high peaks of Mt. Dhaulagiri and Annapurna Himalayas
Walks from dense green alpine forest to remorseless fields of ice and glaciers
From low sub-tropical to cooler scenic hills and towards arctic mountainous zone."
Overview of Dhaulagiri Circuit Trekking
Dhaulagiri Circuit Trekking is one of the toughest trekking trips in Nepal. This trek goes through a full circuit covering all four cardinal sides of the world's seventh-highest peak. Mt. Dhawalagiri 8, 167 m, rises above Myagdi and Kaligandaki River valleys. The Mt. Dhawalagiri range extends towards the Mustang and Dolpo areas of Nepal.
The view of the massive peak remains constant throughout the trek till it ends at Pokhara city. The Dhaulagiri Circuit Trekking  starts from the low, warm sub-tropical farm areas of Myagdi to reaches higher, cooler hills covered in a beautiful forest. The lush green vegetation disappears on reaching the fields of ice and glaciers at base camp. It is a trek of cultural and natural diversity. Around Mt. Dhaulagiri, one of the great treks that takes you right beneath the mountain follows the Myagdi River right up to its glacial source at the base camp.
Dhaulagiri Circuit Trekking starts from picturesque Pokhara city, blessed with awesome natural beauty. From Pokhara, an exciting drive further west to reach the village of Darbang, where our adventure begins to Dhaulagiri. The walk takes you through several villages before reaching the last village of Bagar. The trek passes through a complete wilderness of pristine surroundings for a week, where very few groups of trekkers or shepherds can be seen. An interesting trek into a serene dense forested area lined with tall rhododendron, oaks, and pine trees to enjoy.
The route leads further northwest, where vegetation and tall trees fade into a zone of ice and glaciers, reaching Italian and Japanese base camps. These names were given to the mountaineers who camped during their expedition. Then Dhaulagiri Circuit Trekking route heads for a climb uphill through moraine and glaciated faint path to reach Mt. Dhaulagiri base camp. Stay overnight right beneath Dhaulagiri and its huge Ice Fall enclosed within a series of snow and rocky peaks. The adventure continues with a climb to cross over a high ridge known as French Pass at 5,357m which is on the highest point of the adventure festooned with prayer flags and cairns.
These are symbolic respect for the Holy Mountain and natural spirits. From the pass, enjoy overlooking striking views of peaks that surround you, and then head down to wide and scenic Hidden Valley, where we will be spending two more nights in this beautiful location encircled by high towering peaks. From Hidden Valley, Dhaulagiri Circuit Trekking can be splitted into couple of routes to several adventure destinations, like Upper Mustang and Dolpo.
From here Dhaulagiri Circuit Trekking heads towards Lower Mustang and Kaligandaki valley for a return journey with the last final climb over Dhampus pass, which is above 5,290 m high with an exciting panorama of surrounding close peaks, including an excellent view of Annapurna and Nilgiri Himal in the east. Then the route descends through tall pine, fir, and rhododendron forest to reach Marpha, one of the most charming villages of the Lower Mustang area and Kaligandaki River valley, with whitewashed houses with comfortable lodges and farms of delicious apples. From the lovely village of Marpha, our trek ends by taking a short scenic flight from Jomsom back to Pokhara. Then our adventure Dhaulagiri Circuit Trekking concludes with a return drive to Kathmandu.
Itinerary of Dhaulagiri Circuit Trekking
Arrival in Kathmandu via respective airlines and transfer to hotel
On arrival at Kathmandu International Airport, a representative from Vertex Holiday will receive you and assist you to your hotel. After checking into your rooms, you will meet other trek members at the hotel lobby for a briefing regarding the wonderful adventure Dhaulagiri Circuit Trekking. A representative from Vertex Holiday will lead you to a welcome dinner program with folk dance and music.
Car 20m
Accommodation 3 srar hotel
Meals Dinner
Altitude 1300m
At Kathmandu for trek preparation and tour of heritage sites.
The morning after breakfast, enjoy a tour of Kathmandu, where our city guide leads you on a short drive and walks to visit famous historical and religious monuments with old palaces. Most of them are listed as world heritage sites by UNESCO. After sightseeing, head back to the hotel for the final meeting and preparations for the Around Mt. Dhawalagiri trekking.
Car 6 Hours
Accommodation 3 Star Hotel
Meals Breakfast
Altitude 1300m
Drive to Pokhara 860 m-06 hours and transfer to hotel.
Drive to Pokhara either in private vehicles or in a tourist coach which departs every morning. Drive follows the Trisuli River for some time, then diverts west following the Marshyangdi River of Nepal. As the ride continues, the view of the Nepalese countryside with snow peaks of Manaslu, Lamjung, and Annapurna Himalaya can be seen.
After reaching Pokhara, transfer to the hotel then is time for a short walk around the Phewa Lakeside. Pokhara is a renowned tourist destination blessed with beautiful natural surroundings of the high Annapurna Himalaya range with serene lakes. (Option for a scenic flight to Pokhara from Kathmandu takes only 30 minutes but is not included in the cost of this itinerary)
Bus 6 Hours
Accommodation 3 Star Hotel
Meals Breakfast
Altitude 860m
Drive to Darbang 1,200 m via Beni 900 m -05 hrs.
Depart from the hotel in Pokhara after breakfast for another exciting drive that takes you west on a scenic highway to Beni, a confluence of the Kaligandaki and the Myagdi rivers. The drive offers grand views of the Annapurna range. From here, the off-road journey follows the Mygdi River to reach Darbang for our overnight stop. Check into the best available local lodge.
Bus 5 Hours
Accommodation Guest House
Meals B/L/D
Altitude 1200m
Trek to Riverside 1,700 m - 05 hrs.
The first day of the Dhaulagiri Circuit Trekking begins following the raging Mygdi River. The walk leads through several smaller farm areas and hamlets and into the deep mixed forest to reach the bank of Myagdi River, a suitable spot to set our overnight camp. Then our guide and kitchen staff will provide afternoon tea followed by dinner in large dining tents, as per the group size.
Walking 5 Hours
Accommodation Guset House
Meals B/L/D
Altitude 1700m
Trek to Bagar 2, 375 m -06 hrs.
From this isolated camping spot by the river, start the trek after breakfast. Route follows back into farm areas and smaller villages to reach Jugepani for a possible hot lunch stop. After lunch, a long afternoon walk starts with a steep climb for an hour to reach the high hill covered in thick forest.
Then the Dhaulagiri Circuit Trekking descends on a gradual winding path with downhill to overnight camp at Bagar, the village where the camp is set near a primary schoolyard. After setting up tents, exploring the village to catch a glimpse of the local traditional simple farm life and culture of western Nepal is optional.
Accommodation Guset House
Meals B/L/D
Altitude 2375m
Trek to Dovan 2,600 m-06 hrs.
After breakfast, walk further from this last village for a week till Marpha is reached. The climb passes through dense tree lines and vegetation, leaving the Myagdi River below. After an hour of the steep climb, head downhill on a small path to reach Dovan for overnight camp. An isolated spot surrounded by tall trees, a place with small tea shops and shades that provides shelter for some travelers, as well for our porters.
Walking 6 Hours
Accommodation Guest House
Meals B/L/D
Altitude 2600m
Trek to Chartare / Bhainsi Kharka 3,000 m -05 hrs.
From here, the Dhaulagiri Circuit Trekking journey heads into the complete wilderness with some temporary shades of cow herders, crossing an unstable small bridge over a tributary stream that joins with the Mygdi River. After crossing, we head into dense forest pines, oaks, hemlock, fir, and rhododendron trees.
As the walk progresses on a pleasant forest path, reach a small hut of cattle herders at Chartare or Bhainse Kharka, also called Jungle Camp. Tents are pitched on a small clearing amidst dense forest surroundings, and enjoy the night with the sound of the forest.
Walking 5 Hours
Accommodation Guset House
Meals B/L/D
Altitude 3000m
Trek to Pakhaban (Japanese Camp) 3, 750 m - 05 hrs
Resume the trek on a nice pleasant trail within dense vegetation and tall tree lines. The forest ends up reaching an open area of moraine, rocks, ice, and glaciers called Italian Camp. From here, a path leads to crossing a vague glaciated path with a short climb to reach the other end with grassland, Pakhaban, or Japanese Camp for overnight camping.
After setting up the camp, it's time to enjoy a view of Mt. Dhawalagiri South Face flank, Putha Hiunchuli, Manapathi, and a huge wall of Tsaurabong Peak. Way down below lies the glacier, which forms the raging Myagdi River that we had been following for many days.
Walking 5 Hours
Accommodation Guset House
Meals B/L/D
Altitude 3750m
Trek to Dhaulagiri Base Camp 4, 650 m / 15, 256 feet- 06 hrs.
From here, the Dhaulagiri Circuit Trekking passes through the fields of ice and glaciers to reach the base camp. The walk starts on an easy path for a while and then follows the rocky moraine route. After a strenuous day's walk over the glacial section then finally reached Dhawalagiri base camp overnight, one of the highlights of the adventure.
Tents are set to find good level ground on this rocky area and in the close shade of main Mt. Dhaulagiri-I (8,167 m) and Ice Fall, which includes Tukuche peak close to Dhaulagiri. From the base camp views of the west peaks of Dhaulagiri II (7,751 m.), Dhaulagiri III (7,715 m.), and Dhaulagiri IV (7,618 m.)
Walking 6 Hours
Accommodation Tent House
Meals B/L/D
Altitude 4650m
Trek to Hidden Valley 4, 900 m via French Pass 5, 360 m
In the morning, after breakfast, head north walking on moraine and glaciers with a climb to reach on top of a ridge, which Is called the French Pass at the height of 5, 360m. It offers the view of a grand panorama of close surrounding peaks with Dhaulagiri North Face and Tukuche peaks.
After a scenic view and rest, we head down to the wide Hidden Valley for overnight camp. It is a walk of a few hours with an easy descent. Hidden Valley is a large summer pasture field for Yaks.
Walking 5 Hours
Accommodation Tent House
Meals B/L/D
Altitude 5360m
At Hidden Valley free day for excursion
A well-deserved rest day, after many days of challenging and adventurous trekking, enjoy the free day exploring the grand surrounding scenery of peaks. Take a hike around for a few hours to catch more exciting views of the surrounding landscapes as well as a great mountain range that encircles the Hidden Valley.
Walking 3 Hours
Accommodation Tent House
Meals B/L/D
Altitude 5360m
Trek to Yak Kharka 4, 915 m - 05 hrs.
After a wonderful time and refreshing rest day at Hidden Valley, the trek leads on a gradual path for a few hours towards the last high pass, Dhampus pass, at 5,250 m high. A short climb to reach the top offers grandeur views of Dhaulagiri, Tukuche at a near distance with Annapurna range and Nilgiri peaks towards the east on the far side of Kaligandaki River Valley.
Enjoying the beautiful view, we head downhill to Yak Kharka, also known as Alu bari, where Yak herders often stay around this area during grazing seasons growing potatoes (Alu) and other high-altitude vegetables. Overnight at tented camp.
Walking 5 Hours
Accommodation Guest House
Meals B/L./D
Altitude 4915m
Trek to Marpha 2, 670 - 04 hrs.
From Yak Kharka, start the trek with a long descent of 1,200 m to reach Kaligandaki river valley, where our adventurous trek ends at Mustang. After a long downhill, we reach Marpha, a charming village with white-painted houses, neatly paved streets, and well-maintained lodges.
At Marpha, celebrate the successful Dhaulagiri Circuit Trekking with local apple products, including cider, brandy, and juice, as this region around Lower Mustang is famous for delicious apples.
Walking 4 Hours
Accommodation Guset House
Meals B/L/D
Altitude 2670m
Drive to Jomsom 2,715 m and fly to Pokhara 860 m transfer to hotel
The next day takes a short ride in local vehicles to reach Jomsom airport for a flight to Pokhara. Jomsom is the headquarters town of the Mustang region, with a small airstrip above the Kaligandaki River.
As per the flight schedule for Pokhara, we board a small aircraft for a short scenic flight of 20 minutes to beautiful Pokhara. During the flight, enjoy the view of Dhaulagiri and Annapurna peaks. On landing at Pokhara airport, take a short drive to your hotel near the famous Phewa Lake.
The rest of the day is free for individual activities, or enjoy boating on the lake or hiking to Peace Stupa, located on the opposite hilltop side of the lake.
Flight 45m
Accommodation 3 Star Hotel
Meals Breakfast
Altitude 860m
Drive to Kathmandu -06 hours (via air 30 minutes scenic flight)
After breakfast, depart from Pokhara for an exciting and interesting drive to Kathmandu, as the journey heads on the main highway past many farm villages and towns. The drive follows the Trisuli River for some hours and then climbs to reach the suburb of Kathmandu valley.
Finally, the ride heads down to enter the hustle and bustle of the city life of Kathmandu and then transfer to your respective hotel. The rest of the afternoon is free for individual activities and shopping for souvenirs or enjoying rest with grand memories of the adventure on the high mountains of Annapurna Himalaya. (Flying options half-hour on-air to Kathmandu with a sweeping panorama of mountains)
Bus 6 Hours
Accommodation 3 Star Hotel
Meals Breakfast
Altitude 1300m
Depart Nepal for international departure homeward bound.
Your last day in Nepal. A representative from Vertex Holiday will assist you to the airport for departure as per your scheduled flight.
Includes/Excludes
What's Included?
All ground transportation by private vehicle, including airport transfers
Three nights' accommodation with breakfast at a 3-star category hotel in Kathmandu
Guided sightseeing tours in Kathmandu, including tour guide, entry fees, and vehicle
Meals on the entire board (breakfast, lunch, dinner, tea & coffee) prepared by our expert cook
Twin-sharing tented accommodation during the trek
An experienced guide required the number of porters, their food, accommodation, salary, insurance, and equipment.
Trekking equipment (two men tent, dining tent, kitchen tent, table with chairs, kitchen utensils, and other necessary equipment during the trek)
Jomsom to Pokhara flight, including departure tax
Vertex holiday down jacket and sleeping bag during the trek
Safe drinking water, boiled/iodine tablets.
All necessary permits for trek
All government and local taxes
Office service charge
What's Excluded?
Travel Insurance
International airfare
Nepal entry visa:
All cold drinks include alcoholic beverages, mineral water, Coke, Fanta, juice, etc.
Personal shopping and laundry, phone, internet bill, etc.
Personal trekking equipment
Tips for Guide, Porters, and Driver
Complimentary
Comprehensive medical kit
Duffle bag for Trekking
Snacks or fruit
Essential Information - Dhaulagiri Circuit Trekking
We are updating the contents.
Most Asked Questions by Travellers
Yes one of the tough and most adventurous treks in the whole Himalayas region, but not difficult as it seems to be. The area around Dhaulagiri is getting more popular as the region offers absolute wilderness and is away from mainstream trekking trails. Where you can enjoy serene walks with only the sound of nature and bird calls in the backdrop of huge mountain scenery.
It is best to be physically fit, and in sound health before and after booking this trekking adventure, good exercise is needed to keep you in shape as this trek involves many steep ups and downhills, as well a touch of high altitude.
From the springtime of April and May, as well as in the autumn/fall season from September to November. The best season is April to May and September to November, where days are clear for excellent views of surrounding beautiful landscapes and high snow-capped peaks. With cold morning and late afternoon till night time cold and in the shade. You can expect snow sometimes around this good season also, especially on higher areas and on passes.
This trek takes you to remote corners of the western Himalayas and can be dangerous for individual trekkers, where you need an expert guide to accompany you and show you the right and safe direction. Needs to join with trekking companies like Vertex Holiday; we provide all camping gear, guides, and porters plus needful trekking and conservation permits of the region. Solo Trekking can be done in the main popular trekking region, but Around Dhaulagiri need to join a well-organized trekking company for a safe and enjoyable adventure.
The nearest hospital and medical post are at Beni, Pokhara, and Jomsom town end of the trek. In case of a very sick person from any other medical reasons or accidents, as well as altitude sickness. If they cannot continue the journey, the sick person needs to be taken back to Pokhara or Kathmandu. The fastest means of transport is taking a helicopter service in this emergency case where victims have to bear all the expenses to be claimed from health and medical insurance.
Very limited only in some big villages and towns after Darbang, the starting point of the trek; there are no villages with facilities to charge your electronic gadgets except at the end of the trek in Marpha village. Where you need to pay a certain amount for charging each item.
In the beginning, up to tourist standards with comfortable, hygienic rooms and foods available. But after Pokhara and Darbang, you will be camping where our expert cook will serve all types of dishes from Continental, Chinese, Mexican, Italian, Indian and Nepalese meals with a good breakfast. Sometimes our cook bakes cakes and pies on camping as well, all food cooked in a healthy and safe hygienic environment. Overnights in spacious two-men tents with toilet tents with dug-out holes at every camping spot. Sleeping on small thin mattresses. You can bring thermal mats for your comfort as well as small pillows. The only good accommodation and food available apart from camping is at Marpha village lodge and in Pokhara hotels.
Our itinerary is designed with care, with much shorter days and enough time to get acclimatized; that is why Vertex Holiday is different from other local companies, as we care for our client's and staff's safety. Following our trekking itinerary very low chances of getting altitude sickness. As the altitude gains gradually, by the time you reach higher areas, you will be fine and well-acclimatized by then. But in rare situations, if someone gets very sick from AMS (Acute Mountain Sickness) needs, the patient is to evacuate to lower areas accompanied by our reliable staff. For servers, cases call for helicopter services to be taken to Kathmandu for proper treatment.
Reviews on Dhaulagiri Circuit Trekking
Be first to post a review in this trip.