Upper Mustang Trek





Based on 1 Review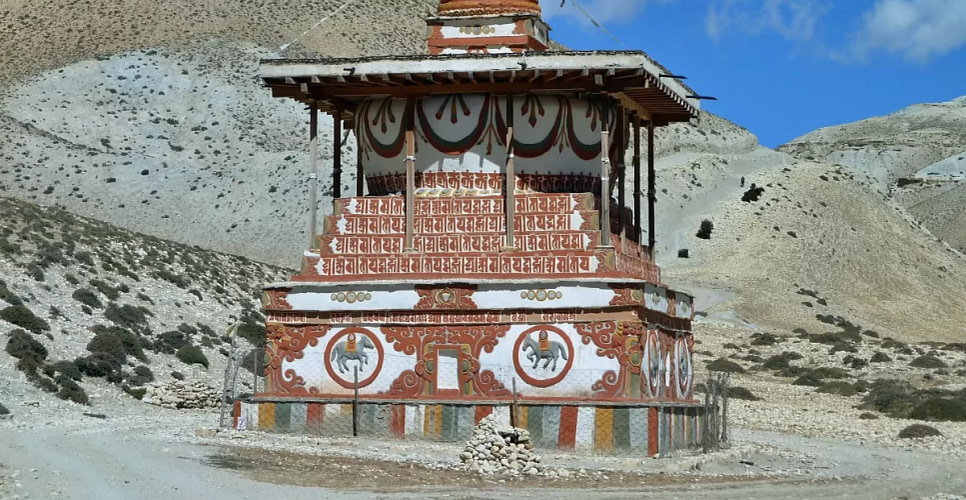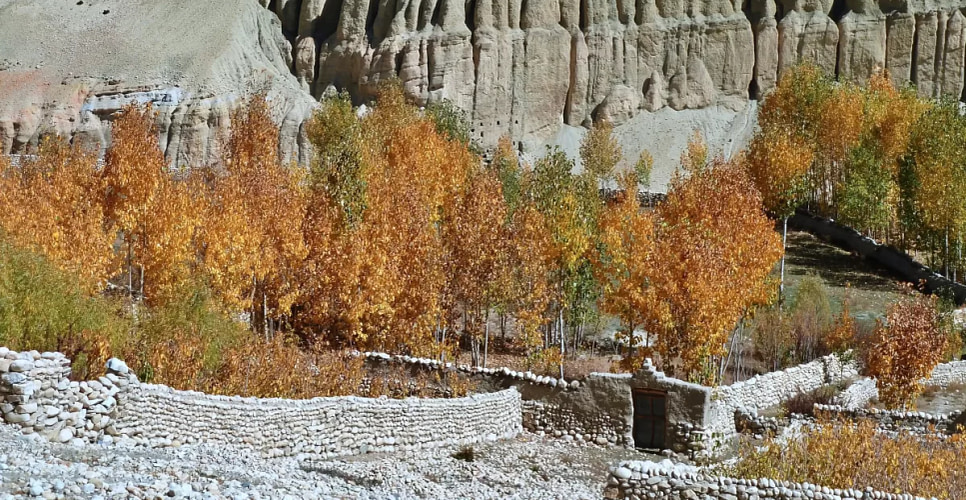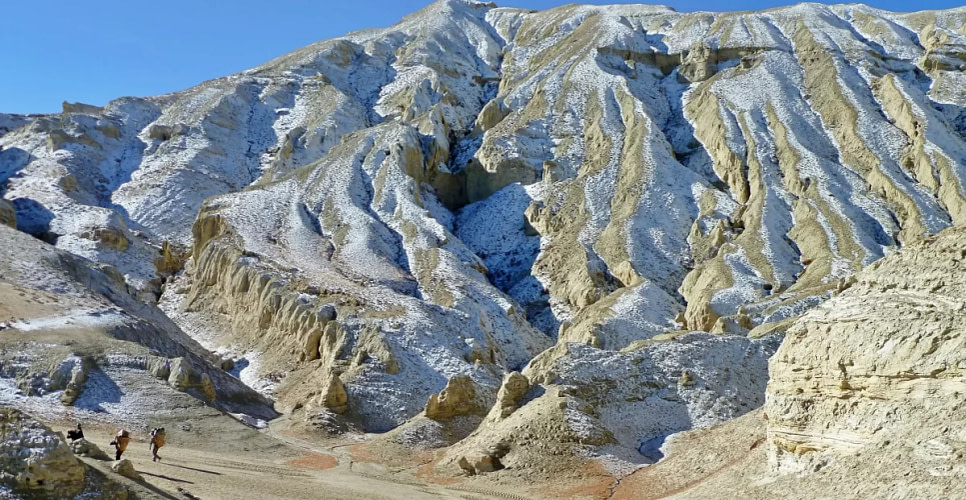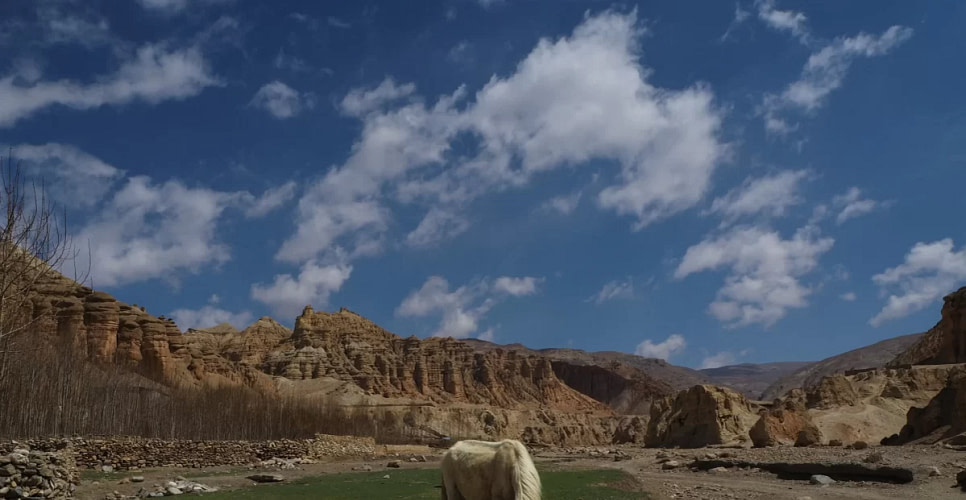 Trip Highlights of Upper Mustang Trek
A photographer's paradise within picturesque scenery of unique landscapes in Upper Mustang Trekking.
Follow the ancient Trans Himalaya Caravan and Salt Trade Route of Nepal / Tibet.
Adventure to the former forbidden walled kingdom of medial-era Lo-Manthang Trip.
Extension of the world's largest and highest South West Tibetan vast scenic plateau.
Explore unique cultures of ancient Buddhism religion and ancient Bon heritage.
Overview of Upper Mustang Trek
Upper Mustang Trek is a journey to the Forbidden Kingdom, located in the Northern part of the Annapurna Conservation Area, home to the famous Annapurna Circuit Trekking. A picturesque country behind the towering mountain ranges of Dhaulagiri(8167m) and Annapurna(8091m) Himalayas. It is a paradise for travelers and photographers seeking to explore the cold deserted topography of Nepal.
Upper Mustang Trek journey to the rain shadow area, connected to the windswept Tibetan Plateau, gives this topography a distinct vibe of Tibetan culture. Also known as Little Tibet, the traditional settlements are inhabited by indigenous people with ancestral backgrounds with the Tibetans. The region is native to the Lho and Lhopa native tribes; however other ethnic groups like Gurung, Thakali, and others inhabit here.
The walled city of Lo-Manthang serves as the headquarters for the Upper Mustang region and is rich in ancient history and culture. The buildings, including the royal palace, still hold their ancient aesthetics as this region has little to no influence on modern infrastructures. Even the lodges and homestays are an amalgamation of traditional architecture and modern facilities.
The destination city of Lo-Manthang is situated at an elevation of 3840 m above sea level, whereas the highest altitude during the trek in Upper Mustang is 4230 m at Marang La, where the Buddhist shrine Ghar Gumba is located. Besides, the region is full of similar Buddhist monuments decorated with prayer flags, wheels, and Mani Walls depicting the values of Himalayan Tibetan Buddhism.
It was in 1992 that this remote Upper Mustang Trek destination was officially opened to international visitors. However, a special permit is mandatory, as well as the assistance of a government-authorized Travel operator. As the Upper Mustang region is deemed a sensitive zone bordering the Tibetan Autonomous Region of China, therefore the number of visitors visiting the region is controlled.
Although an isolated region, the Upper Mustang trek is gaining popularity among travelers and tourists from all over the world. In recent years with the availability of motor transportation, huge numbers of domestic tourists are flooding the region. Jeep tours and motorbike tours are among the major options available to explore this pristine destination. However, people willing to spend a slightly higher cost can take a helicopter tour to the region.
However, if you are not fond of motor transport, then you can definitely take the ancient Trans Himalayan Salt trade route, which is still intact and is the major trekking and hiking trail in the region. Besides, walking trips offer visitors an opportunity of exploring the picturesque landscape as well as interact with the local communities.
Itinerary of Upper Mustang Trek
Arrival day in Kathmandu (1300m)
Namaste and welcome to Nepal. After your arrival, Kathmandu, Vertex Holiday's airport representative, will receive you at the airport and transfer you to the hotel.
After getting refreshed, a short briefing and orientation will be conducted by our trekking leaders. The evening is reserved for a wonderful dinner program with some cultural dances and music. Overnight at the hotel.
Car 20m
Accommodation 3 Star Hotel
Meals Dinner
Altitude 1300m
Kathmandu Sightseeing Tour
After breakfast at the hotel, set out for the sightseeing tour in Kathmandu, these include UNESCO listed world heritage sites. Kathmandu is a city of temples and medieval arts and architecture.
There is Pashupatinath temple, Boudhanath, Swayambhunath, Kathmandu Durbar Square in Kathmandu. However, there are in total of seven world heritage sites in the Kathmandu valley. Overnight at the hotel.
Car 6 Hours
Accommodation 3 Star Hotel
Meals Breakfast
Altitude 1300m
Fly/drive to Pokhara (823m)
From Kathmandu, we drive to the tourist town of Pokhara. As an option for driving, you can take a flight at an additional cost and see the view of the Langtang, Manaslu, and Annapurna range of peaks.
Driving is also an amazing experience going through the winding road for 6 hours and reaching Pokhara. The hilly landscape and the fast-flowing rivers will give you chills. After checking in, you can explore around lakeside. Overnight at the hotel.
Bus 7 Hours
Accommodation 3 Star Hotel
Meals Breakfast
Altitude 800m
Fly to Jomsom and trek to Kagbeni (2858m)
The flight from Pokhara to Jomsom goes through the grand Kaligandaki river valley with the spectacular views of Annapurna and Dhawalagiri mountains.
Jomsom is the district headquarter of the Mustang region. The trek heads to Kagbeni, which is a picturesque village situated at the confluence of Jhong Khola and the Kali Gandaki River. Tibetan culture and hospitality are the main face of Kagbeni and is also the gateway to Upper Mustang. Overnight at lodge.
Flight 40m
Accommodation Guest House
Meals L/B/D
Altitude 2858m
Kagbeni to Chele (3050m)
After breakfast we commence our Upper Mustang Trek journey and the trail goes along the Kali Gandaki river bank. The trail leads us to through the villages of Tangbe and then Chhusang .
The people and culture are influenced by Himalayan and TIbetan Buddhism Heading from there, we head up through the huge red chunk of conglomerate that has fallen from the cliff above, forming a tunnel through which the Kaligandaki follows. Hiking gradually, we reach to the Chele village. Overnight at lodge.
Walking 6 Hours
Accommodation Guest House
Meals B/L/D
Altitude 3050m
Chele to Syanbochen (3800m)
After breakfast, we begin our trek through Eklai Bhatti and ascend to the Taklam pass of 3634 meters. The close-up view of Tilicho Peak, Yakawa Kang, Nilgiri, and Damodar Danda can be seen from the pass then we trek down to Samar for lunch. The trail to Syangbochen is gradual and easy. Overnight at lodge.
Walking 6 Hours
Accommodation Guest House
Meals B/L/D
Altitude 3800m
Syanbochen to Ghaymi (3520m)
As we begin the trek, we cross the Yamada La of 3850 meters. The Tibetan-style traditional houses that are whitewashed and the fluttering prayer flags hanging on the rooftop are seen as amazing.
The sceneries are similar to that of the Tibetan Highlands. Another pass is the Nyi Pass of 4010 meters, and we descend to Ghyami. Overnight at lodge.
Walking 6 Hours
Accommodation Guest House
Meals B/L/D
Altitude 3520m
Ghaymi to Charang (3560m)
After breakfast, we commence the trip and cross the Ghyami stream. Then we climb up to the plateau and witness the long Mani wall. Which is a memorial for the spirits of the ones that passed away in Himalayan Buddhism.
After about five hours of journey, we reach to Charang, where we conclude our day's trek. Overnight at lodge.
Walking 6 Hours
Accommodation Guest House
Meals B/L/D
Altitude 3560m
Charang to Lo-Manthang (3810m)
From Charang, our hike descends to Tsarang Chu Canyon and then ascends on a steep trail after crossing the river. Then we climb to the Lo Pass (3850m), from where we see the first view of the Lomanthang.
On the way, we can explore the beautiful Bhrikuti peak, Annapurna, Tilicho, and other minor peaks. This place is the most important place in the Upper Mustang Region . Overnight at lodge.
Walking 6 Hours
Accommodation Guest House
Meals B/L/D
Altitude 3810m
Explore Day in Lo-Mangthang
It is the most important day of the Upper Mustang Trek journey. After breakfast, we visit the Namgyal and Tingkhar Gompa. For the locals, they are significant ones. Then we move to Tingkhar village, which has got about 40 houses.
It is also the last village in the northwest. The four-storied King's palace, red Thugchen Gompa, Chyodi Gompa, and others accompany the attractions today. Even the surrounding places that are dotted with seasonal flowers are surprising. Overnight at lodge.
Walking 6 Hours
Accommodation Guest House
Meals B/L/D
Altitude 3810m
Lo-Mangthang to Dhakmar (3820m)
Spending an outstanding time in Lo-Manthang with cultural exploration, we leave this stone-walled town and head to the Drakmar. On the way, we can visit the Ghar Gompa. It is a significant monastery of Tibetan Himalayan Buddhists. Then we walked to Drakmar and ended the day's trip. Overnight at lodge.
Walking 6 Hours
Accommodation Guest House
Meals B/L/D
Altitude 3820m
Drakmar to Ghiling (3570m)
Our trekking journey retraces to Ghiling, which takes about 6 hrs, through the arid landscape. Walking early in the morning is the best option as it becomes tough to walk after the mid-day due to dusty wind. Overnight at lodge.
Walking 6 Hours
Accommodation Guest House
Meals B/L/D
Altitude 3570m
Ghiling to Chele
After about 5 hrs of walking through the windy valley, we reach to Chele. We can still enjoy exploring the breathtaking views of the Annapurna and Nilgiri peaks. Overnight at the lodge at Chele.
Walking 5 Hours
Accommodation Guest House
Meals B/L/D
Chele to Jomsom
On the last day of the foot excursion, we head from Chele to Jomsom. From Kagbeni, the Upper Mustang trekking trail joins the Annapurna Circuit (Jomsom Muktinath trail). Celebrate the trek conclusion and wait for the upcoming flight on the following day. Overnight at lodge.
Walking 5 Hours
Accommodation Guest House
Meals B/L/D
Jomsom to Pokhara by flight
In the morning, we take a half an hour's flight from Jomsom to Pokhara. After checking in we head for the city tour around Pokhara: Davis falls, Mahendra cave, World peace stupa, International mountaineering museum, and others. Later on, we can also enjoy the boat ride. Overnight at the hotel.
Flight 40m
Accommodation 3 Star Hotel
Meals Breakfast
Drive/fly back to Kathmandu
Today, we drive back to Kathmandu. It's a scenic drive through the Prithvi Highway road. Or if you take a flight, it's half an hour flight. After your arrival in Kathmandu, transfer to the hotel. Overnight at the hotel.
Note: If you are going for the jungle safari tour in Chitwan, you drive to Chitwan and enjoy the safari trip. We offer 2 Nights/3 Days package for your wonderful holidays in Nepal.
Bus 7 Hours
Accommodation 3 Star Hotel
Meals Breakfast
Altitude 1300m
Final Departure
Having a good memorable trekking experience with Vertex Holiday, our representative drops you at the airport for your final departure.
Includes/Excludes
What's Included?
 Airport pick up and drop off by our private car/van, depending on group size.
Authentic Nepali and Newari welcome and farewell dinner with a live culture stage show
An experienced, helpful, very friendly, knowledgeable, and fluent English/Chinese-speaking guide
We provide one sharing porter for two trekkers during the trek to carry your luggage.
Three nights sharing a twin bedroom in a tourist standard hotel in Kathmandu with a buffet breakfast
Two nights sharing a twin bedroom in a tourist standard hotel in Pokhara with a buffet breakfast
To/From – Kathmandu Pokhara by A/C tourist coach with mineral water and Wi-Fi service
Pokhara – Jomsom – Pokhara by domestic flight worth US$ 215.00 per person
Trekking lodge accommodation on a twin bed sharing basis during the trek in upper Mustang
All meals: breakfast, lunch, and dinner during the trekking in upper Mustang
We provide tea/coffee with cookies in the early morning and seasonal fruits during the trekking
ACAP Permit fee and Airport taxes for domestic flights
Upper Mustang Restricted Area Permit worth US$ 500.00/person
Insurance, equipment, meals, flight, internal transportation, and accommodation of your guide and porters
Salary for your guide and porter
All government tax, vat, and Office Service charges
Farewell dinner in one of the authentic Nepal restaurants with a live culture show
What's Excluded?
Nepalese visa fee
International airfare
Personal travel insurance
All kinds of drinks, snacks, and personally ordered food during trekking time
All kinds of personal expenses
Hot shower during the trekking (if needed)
Lunch and dinner in Kathmandu
Personal trekking equipment
Rescue charge (if needed)
Tips for trekking staff
Complimentary
Comprehensive Medical Kit
Duffel bag, luggage For Trekking
Seasonal fruits as snacks
Welcome Dinner by Vertex Holiday
Essential Information - Upper Mustang Trek
HISTORY OF UPPER MUSTANG:
During the 16th and 17th centuries, this region was an independent kingdom. However, it is widely accepted that the Kingdom was built in 1380 by a king named Ame Pal. The geographical positioning made this ancient kingdom an important place for controlling trade between Indian Subcontinent and Tibet. Later in the 18th century, the Kingdom of Lo was annexed to the Kingdom of Nepal, however, it was allowed to continue its age-old monarchy.
Despite being part of Nepal, the kingdom of Lo had its own king, and the people of this region followed the decisions of the monarch. In 2008, after the demise of the Monarch in Nepal, the region lost its status as a separate kingdom was also lifted by the government of Nepal. The last official King Jigme Dorje Palbar Bista, was revered as the unofficial king of the Lo kingdom by the people until his Demise in 2016.
THE SKY CAVES OF MUSTANG:
In 2007 a local shepherd found an interesting cave full of ancient paintings of Gautam Buddha. Since then, thousands of such caves have been found hanging on the cliffs. Popular as Sky caves, these are actually the tombs of late Lama Gurus of the region where several mummified bodies dating as old as two to three thousand years have been found besides other archaeological artifacts.
These artifacts range from non-precious to precious metals and gemstones, along with ancient statues and idols of Buddhist religious culture. Some of the artifacts linked to the ancient Silk Route, originating as far on the west as modern-day Turkey. These sites have been enlisted under UNESCO tentative sites list since 1996.
Several international media, including National Geographic, have made documentaries about these interesting sites. Whereas explorers from the United States of America, Italy, and Nepal have been conducting research operations and has found many historical and religious aspect of the kingdom of Lho.
Some even believe these caves were used as meditation chambers as well as burial chambers. Besides, some explorers suggest that this tradition is related to the Sky Burial tradition, where the body of a deceased one is left on a mountain for the vultures to feed it from.
Upper Mustang Trek Route:
Upper Mustang Trek is an interesting walking journey via the Kaligandaki river gorge amidst towering red canyons and high cliffs. The trek still follows the ancient Trans Himalayan Salt trade route connecting Tibet with the southern regions of the Himalayas.
It is truly an exciting land where a walk takes you from one lovely village to another, lined with exquisite prayer walls and monuments.
Trek to the Forbidden Kingdom of Upper Mustang starts after a scenic flight from Pokhara to Jomsom, the windiest place in Nepal. This Himalayan town on the lower mustang serves as headquarters to the district of Mustang and is well equipped with excellent facilities for food and accommodation along with other commodities.
The Upper Mustang Trek continues along the bank of Kaligandaki river valley, splitting from Kagbeni, a settlement with rich ancient history. It is from here that Restricted Area Permits (RAP) are required for tourists.
The adventure proceeds crossing the high passes offering magnificent mountain vistas as well as the beautiful landscape of Mustang. Besides, several ethnic villages on the trail provide an important cultural insight along with their warm hospitality.
At Lo-Manthang, the main destination of the trekking trip offers a great tour of the ancient city along with paved roads, a historic royal palace, and several monasteries of Buddhist cultural interest. The smiling faces of the locals will enchant you for a memorable trekking experience.
Besides, this trip can be extended to Muktinath, a popular pilgrimage site for both Hindus and Buddhists. The shrine is believed to help devotees liberate themselves from sins and attain Nirvana. After wonderful trekking in Upper Mustang, the journey descends back to Jomsom as the conclusion of an epic trip for a scenic flight back to Pokhara.
Upper Mustang Tiji Festival:
Adventure trekking in the upper part of the Annapurna Conservation Area is not only known for its spectacular scenery and immense culture but also for its colorful festivals and rituals. Among which Tiji Festival is the main attraction. A glorious event takes place in Lo-Manthang as per the Buddhist Lunar calendar, which falls during the middle of May.
This year in 2022, the year of the tiger, this festival falls from the 27th to the 29th of May Tiji Festival, originally pronounced as 'Ten Che' means establishing the world for peace. Also, a victory over evils festival continues for full three days.
Tiji Festival is celebrated during the beginning of a new spring season and is a blessing for the country, bringing much prosperity and happiness.
Monks in different colorful attire and masks dance to the tune of religious prayer music to dispel evil spirits. The main festival of Tiji is held in Chode Monastery, the main religious center of Lo-Manthang in Upper Mustang. It is during this time most international tourists visit this wonderful vacation destination.
The Hidden Kingdom Of Upper Mustang Geography:
Upper Mustang is an extension of the Tibetan plateau geographically, close to the Kora La border pass of Nepal and Tibet. Located in mid-northwest Nepal in the Mustang district of Gandaki Province and Dhaulagiri zone, with Jomsom as the headquarter town.
Mustang is the fifth largest district by area of Nepal, whereas Upper Mustang covers an area of 3,573 sq. km. with longitude and latitude of 28.9985 North and 83.8473 East.
The main occupations of villagers are agriculture and animal husbandry; Upper Mustang is also known as the country behind the Himalayas or as 'Little Tibet.' The word Mustang comes from Tibetan 'Möntang', meaning "fertile land" however, the Upper Mustang is mostly dry and arid, but with cultivated farm areas around villages growing high-altitude crops, like barley, wheat, and buckwheat.
The whole district is within ACAP, the Annapurna Conservation Area Project, one of the largest protected areas of Nepal. The alpine feature of the region allows for the high-altitude species of flora and fauna, including some rare and endangered species, to flourish. Snow leopards, lynxes, brown bears, Tibetan wild asses, and Tibetan argali are among the major animals, whereas Pheasants, Vultures, and other smaller species of birds are also found here.
Upper Mustang Trekking Food & Accommodation:
Food & accommodation are one of the main important features of the Upper Mustang Trek to make the adventure enjoyable and to keep all members fit and healthy. Most villages with standard lodges provide a comprehensive food menu, serving continental, Indian, Tibetan, and Nepali meals or snacks.
All meals are cooked in a hygienic way with a homely environment, vegetables, and fresh vegetables as per the seasons. Some lodge also serves fresh bakeries' products also. In the bigger group will be a set menu to save time and conserve fuel energy.
Accommodation depends upon the size of the villages, most standard lodges with clean and neat rooms, comfortable beds, and mattresses with a friendly local environment. Most lodges around higher areas after Jomsom and Kagbeni will have rooms with common baths and toilets.
The reason is due to the harsh terrain, high altitude, and cold climate, where plumbing systems can freeze to flush for running waters. However, lodges will provide excellent services of hot water showers at extra cost. All lodges have a largely warm and cozy dining hall with a friendly and delightful environment.
Best Seasons For Upper Mustang Trek:
Best Upper Mustang trekking seasons start from mid-March to June, around later spring to pre-summer seasons. In autumn/fall, September, and October, when days are clear for views and pleasant walks.
Morning and nighttime, as well as in the shade, get cooler, but the day is fine with brilliant sun lights. Late spring, from the middle of March to June, is another best time when days are longer with enough sunshine with cooler mornings and nighttime.
Interested people can trek during July and August also, where Upper Mustang falls in a rain shadow. The high Himalayan range forms a barrier for black monsoon clouds, and that is why the country is dry and arid most of the year round. From November onwards, the villages will be deserted as Mustang people migrate to a low warmer area to escape the winter cold.
Upper Mustang Trek Preparation:
Before and after booking with Vertex Holiday for Upper Mustang trek, ask for more details and information regarding the best seasons for the trip. The company will provide you with a list of clothing gear and necessary items required for the trek season-wise. For the detailed list, check the Equipment and Packing list.
For the trek, all need to be physically fit and in sound health, as the trek goes into the high altitude arid and dry landscape. Due to the rough terrain and lower concentration of oxygen in the air, it might not be as easy as for the Sherpa and other highlanders of Nepal. However, the trek is mostly gradual ascent decreasing the risks of any altitude-related hazards.
Although medical and travel insurance you're your native country is mandatory. It should cover hospitalization and emergency rescue using Helicopter services. As prevention is better than cure, one cannot predict any mishaps in the Himalayas.
Some forms of physical exercises prior to the departure date, like jogging, swimming, cycling, Zumba, aerobics, and cardio, are suggested. Guided Yoga and Meditation, including breathing exercises, are also among the best options.
Special Permits And Costs For Restricted area of Upper Mustang:
Upper Mustang Trek was first opened In 1992 and onwards for international visitors. However, it falls under a sensitive zone due to its closeness with The Tibet border, thus making this region under restricted area. Here all Trekkers and travelers require a special permit to enter the Upper Mustang.
Near from Headquarters of Jomsom, Kagbeni village. The special permit cost is 500$ per person for the first 10 days, and then the US $50 per day. This special permit (RAP) will be obtained by Vertex Holiday in addition. The trekkers need another permit for ACAP (Annapurna conservation area project).
For Upper Mustang, one cannot enter as a solo or individual trekker. A minimum of 2 people are required. All interested trekkers must join with reputed trekking agencies led by Government Licensed Guide approved and authorized by the Tourism and Trekking Department of Nepal.
For more information regarding trekking in the Upper Mustang Region and other similar destinations, feel free to contact Vertex Holiday. We organize wonderful holiday trips in the Himalayan country of Nepal, Tibet, and Bhutan. Besides, custom-tailored itineraries are also available as per the request of our valued clients.
Reviews on Upper Mustang Trek
5.0






Based on 1 Review
---
Joseph Müller
Germany
Best journey of my life
I and my wife were in Nepal in 2018 for the Upper Mustang trekking. It was nice of Vertex Holiday that they arranged a wanderful trekking vacation with a very cheerful guide. The landscape, scenery and the people were mesmerizing . Our basic needs including food , accommodation and transportation were well taken care of. For us , the cultural festival of Tiji was a new and exciting event and are glad that we attended it. We would like to thank Vertex Holiday for everthing , and hopefully we will be back for another adventure . Best of luck for your company's future. Joseph
5.0





Excellent