Tibet Overland with Everest Base Camp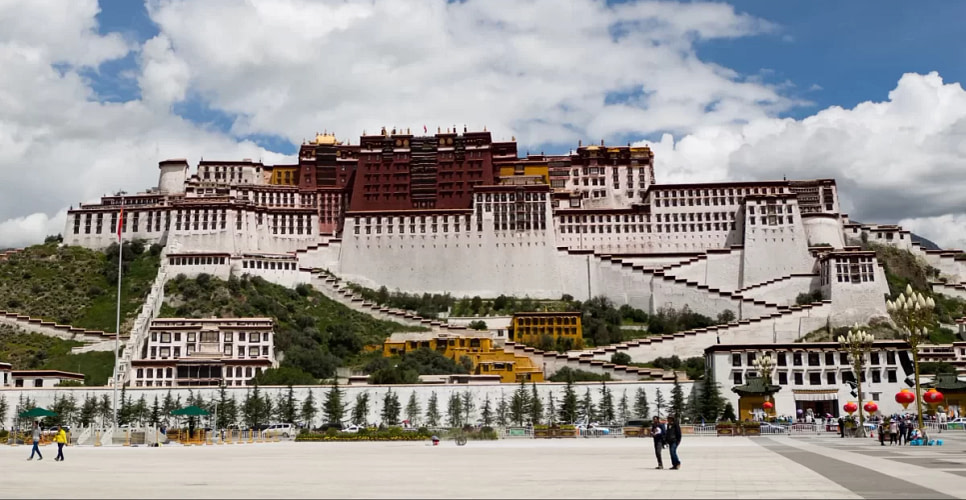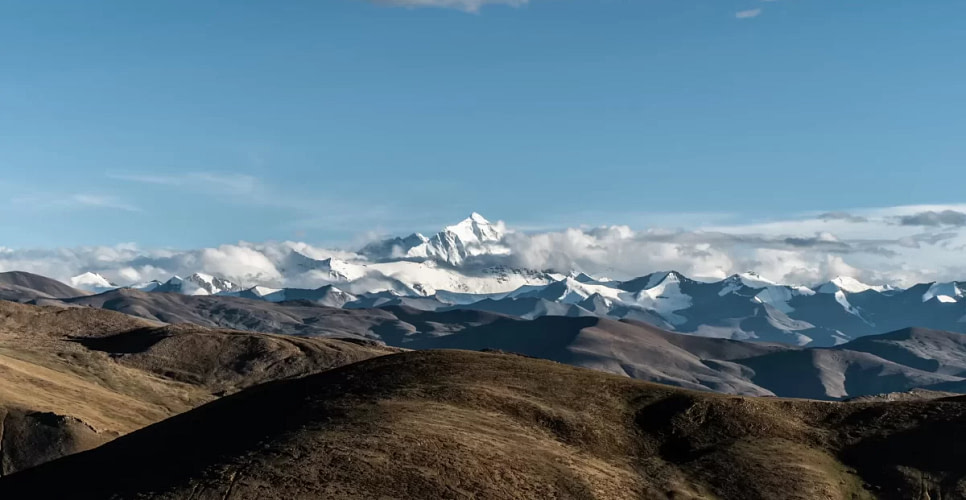 Trip Highlights of Tibet Overland with Everest Base Camp
Enjoy the greatest panorama of the world's highest peaks on a scenic flight to Lhasa.
Exciting tour around the best and largest cities of Tibet in Lhasa and Shigatse
Magnificent monasteries enriched with the ancient glory of religious monuments.
Visit of majestic and beautiful Potala Palace, the pride and landmark of Tibet
A scenic drive within the world's largest and highest plateau with awesome views
Adventure to the world's highest Rongbuk monastery and Everest North base camp
Overview of Tibet Overland with Everest Base Camp
Tibet Overland with Everest Base Camp, an exciting adventure flying in and driving out from Tibet, leads you to the most breathtaking scenery. Within the world's highest and largest plateau, in the harmony of impressive Tibetan culture with age-old heritage.
A world of its own for interested travelers seeking wilderness and solitude. As you relive the days in the comfort of old historic villages, towns, cities, hotels, and lodges.Where adventure leads you to explore and discover what awaits you traveling into vast Tibetan scenic landscapes.
Tibet Overland with Everest Base Camp is an exciting and fascinating journey covering most of the best cities and places of great wonders. It starts with a panoramic flight from Kathmandu, Nepal's capital city, to reach Lhasa. Flying over the great Himalaya mountain range with views of Mt. Everest and other world's highest peaks.
On arrival at Tibet's international airport in the Gondor town area, with a short, interesting drive to enter the fabled city in Lhasa. Spending a wonderful time in Lhasa, a city blend of old tradition with modern influence represents this fabled city of Lhasa.
Where you can experience everything from delightful cuisine to magnificent monuments steeped with huge monasteries and a majestic citadel, the Potala Palace. The tour takes you around its famous historical and religious sites visiting Drepung, Shera, and the old temple complex of Jhorkang. Enjoy masterpiece vivid art and paintings with grand statues of Buddha and saints, in every monastery interior, of great interest.
This is just a hint at what scenic wonders grace Lhasa, one of the highest cities in the world. Visit of majestic Potala Palace stands on a high red hill amid Lhasa city, which means Heavenly Realm or kingdom, the seat and residence of many heads of state, the Dalai Lamas.
Enjoy the colorful market around Barkor Square, the main hub of Lhasa, an interesting place to witness Tibetans from all parts of Tibet. Visiting Lhasa and its important monasteries on a holy pilgrimage circling shrines and monasteries chanting and spinning prayer wheels. After a wonderful, enjoyable time in Lhasa, the next adventure leads beyond Lhasa to reach the southern and eastern areas of Tibet.
Heading on top Khamba-La pass at 4,800 m high, overlooking a grand panorama of Tibetan dramatic landscapes with high snow peaks. Drive takes you on the shore of beautiful Yamdrok Tsho, the turquoise lake, to cross a scenic pass of Karo-la. Where you can enjoy looking at the massive peaks of Nzongkhangsa and the glaciers close above the pass. Enjoy the beautiful scenery of the vast surrounding country with nomads' tents and Yak grazing over the yonder, then reach Gyantse.
A city of modern and old with a famous Kumbum pagoda stupa, stop here for a short tour as the drive continues to Shigatse. The second-largest city in Tibet, after Lhasa and the seat of Panchen Lama, in Shigatse tour of beautiful Tashilumpo. A huge monastery complex with glittering golden roofed visit the interior around many chambers of the monastery of great religious interest.
The local market is equally fascinating to observe the traditional custom of the native Tibetans, from Shigatse on the road towards the southern border of Tibet to Nepal, where our adventure takes you to Mt. Everest. At its north base camp near Rongbuk monastery, as drive leaves the city area on the nice main highway.
Leading towards a high pass of Gyatso-La at 5,220 m high, festooned with colorful Buddhist prayer flags and offers. Downhill to Shegar town, where the route diverts to cross Pang-La pass, offers a spectacular panorama of Himalayan peaks, which lines the border of the two countries Tibet and Nepal, overlooking views of Mt. Everest, Lhotse, Makalu, Cho-Oyu, and Shisapangma.
As far as Kanchenjunga on the eastern horizon, after superb views downhill and up to reach Rongbuk Monastery. Their overnight halt in a local simple and basic lodge due to its high, harsh terrain with close views of towering Mt. Everest. Everest is called Chomolungma in Tibet. In 1921 British Expedition was led by Irving and Mallory. They tried their best to reach the north face of Mt. Everest. The rest of the story is a mountaineering history.
Rongbuk Monastery is a place for nunnery with a small prayer hall with a statue of Buddha and other famous holy gurus and saints. From Rongbuk, take a hike or ride on a local transport horse-cart and motorbikes that serve as taxis. Enjoy the great experience of a lifetime standing beneath the world's highest peaks, Mt. Everest or Chomolungma north base camp. After a great adventure spent overnight on the highest spot at Rongbuk, the journey continues heading southwest of Tibet's vast plain.
To reach the border town at Kyirong for the last final day and overnight in Tibet. The next morning walk across the border to reach the Nepalese side at Rasuwagadhi small settlement with a border post. On bidding farewell to our Tibetan guide and drivers, and then heading back into lush green vegetation and tree lines. Where exciting drive brings you to Kathmandu after a most overwhelming adventure of a lifetime experience on Tibet Overland with an Everest base camp tour.
Itinerary of Tibet Overland with Everest Base Camp
Arrival in Kathmandu via respective airlines and transfer to hotel.
On arrival at Kathmandu-Nepal International Airport via various airlines, our guide and staff will receive you for a short transfer to the heart of Kathmandu city, where your hotel is located, after checking into your rooms and then meet other members of the trek at the hotel lobby for briefing. Information on Tibet Overland and Everest base camp briefing includes useful details to make your holiday in Tibet more enjoyable. The evening group welcomes dinner in a lovely Nepalese Restaurant with an introduction to the Nepalese culture of various parts of Nepal with folk dance and music.
Car 20m
Accommodation 3 Star Hotel
Meals Dinner
Altitude 1300m
At Kathmandu preparation for Tibet Journey and sightseeing tour.
The morning after a good breakfast, enjoy a tour of Kathmandu's places of great interest, where our city guide leads you on a short drive and walks to visit famous historical and religious monuments with old palaces. Most of the ancient temples, Stupas, and monasteries, including royal courtyards, are listed as world heritage sites in the chapter on fascinating wonders. After an enjoyable back to the hotel, for the final meeting and preparations for the most wonderful adventure Tibet Overland with Everest base camp.
Car 6 Hours
Accommodation 3 Star Hotel
Meals Breakfast
Altitude 1300m
Fly to Gongor Tibet international airport and drive to Lhasa
Morning as per flight time for Lhasa flight transfer to Kathmandu airport for a scenic flight of an hour or more to land at Gongor in Tibet international airport, which is close to Lhasa, during air views of the world's highest mountains with Mt. Everest.As the plane landed at Gongor Airport, after going through security and immigration, then received by our Tibetan guide and driver for a short drive towards the eastern side of Lhasa city within significant areas populated mostly by Tibetans. Afternoon relaxes and takes a short walk around the Barkhor market square, where most hotels are located.
Flight 3 Hours
Accommodation 3 Star Hotel
Meals Breakfast
Altitude 2700m
Full day tour of Lhasa, Drepung, and Shera Monasteries visit with Jhorkang Temple
Morning our Tibetan guide meets you at the hotel lobby after your pleasant first overnight in Lhasa, a short drive takes you to the west side of the city with an uphill drive to Drepung Monastery, the largest and most important monastery in Tibet, built as a university for Tibetan Buddhism scholar in earlier days, which was also a resident of many high priests to 5th Dalai Lama, till Potala Palace construction was completed. An interesting tour of the Drepung Monastery interior and around religious and prayer rooms; from here tour of Jokhang Temple, located in the heart of Lhasa around the busy Barkhor market. Visit the monastery as well first Buddhist temple of historic importance and tales of ancient times. The tour takes you inside the temple and on the scenic terraces for beautiful photographs of the colorful, busy Barkhor Market and its surrounding, with views of Potala Palace nearby. An afternoon tour of another exciting and important Shera monastery and watching young monks in debates are one of the high light of the visit. The rest of the day is free for individual activities and shopping for souvenirs.
Car 5 Hours
Accommodation 3 Star Hotel
Meals Breakfast
Altitude 2700m
Tour of Potala Palace and Norbulingkha summer palace.
On the last day in Lhasa, an exciting morning tour of the magnificent Potala Palace, was built in early 640 AD. Started by Songsten Gampo, from his private meditation cave, during the time of the 5th Dalai Lama, this majestic Potala Palace was constructed. This beautiful palace represents a landmark of Tibet that dominates the whole of Lhasa and Kyuchi valley. The afternoon tour continues with a short drive to Norbulingka, a summer palace of semi-modern with a lovely large garden of tall trees, our guide takes you around the summer palace's important sites, and then ends the day with free leisure time.
Walking 5 Hours
Accommodation 3 Star Hotel
Meals Breakfast
Altitude 2800m
Drive to Shigatse 3,900 m via Gyantse 3,950 m visit Phalkor ,Monastery and Kumbum Stupa at Gyantse - 06 hrs.
The morning after an early breakfast, a Tibetan guide and driver receive you for a long scenic overland journey towards southern areas of Tibet. Drive leads near the airport with an uphill winding road to reach Khamba-La at 4,800 m high. From the pass, enjoy the panorama of vast Tibetan landscapes with Yamdrok Tsho, the turquoise lake down below. From the pass downhill to Yamdrok Tsho Lake and then reach Nagarktse, a small town for a hot lunch stop, the afternoon drive leads onto a wide-open plain witness herd of Yaks grazing on a large green field, then reach Gyantse, the 4th largest city in Tibet, after Lhasa, Shigatse, and Chengdu. Time permitting, enjoy a short tour of the famous Gyantse Dzong (fort) Pelkor Chode Monastery and Kumbum Stupa- a special landmark of Gyantse. After an interesting tour, a few hours' drive on a good road to Shigatse for overnight in Tibet's second-largest city.
Car 6 Hours
Accommodation 3 Star Hotel
Meals Breakfast
Altitude 3900m
Morning visit Tashilumpo Monastery and Shigatse market.
The morning after breakfast, as per local Chinese Beijing Standard Time, is around 8 a.m. (which is 2 hours and 15 minutes ahead of the Nepal Standard Time Zone). Tour takes you to a magnificent Tashilumpo monastery with its golden roofs and its wonderful complex, the seat of his holiness Panchen Lama, the second head of state after Dalai Lama. Tour with our guide takes you around many prayer chambers and halls where you can witness a bronze statue of the future Maitreya Buddha; the bronze image stands 21 meters tall. From here, back to the hotel or nearby Tibetan restaurants for nice lunch, in the afternoon, visit the local market of Shigatse, an interesting place to observe Tibetan customs and culture and various Tibetan tribes.
Walking 5 Hours
Accommodation 3 Star Hotel
Meals Breakfast
Altitude 4100m
Drive to Shegar or New Tingri 4, 350 m-06 hrs.
Enjoying a lovely tour of Shigatse, around places of great interest morning drive heading on the main Lhasa and Kathmandu roads, known as Friendship Highway. Drive heads due south to Larze town, located on mid-way of Lhasa-Kathmandu highway and road to Mt. Kailash around Tibet far southwest. From Large, the drive climbs to Gyatsho-La pass at 5,220 m, the highest point of the adventure, marked with thousands of Buddhist prayer flags and a board with the name of the pass and heights. Being on the top downhill to our overnight stop in a simple local guest-house or lodge at Shegar, also called New Tingri, a windswept town on route to Nepal and Everest base camp.
Car 6 Hours
Accommodation Guest House
Meals Breakfast
Altitude 4350m
Drive to Rongbuk Monastery 4,960 m and visit Everest Base Camp.
Morning having breakfast at Shegar, the drive leads past the check-post where our route diverts from the main road heading high up at Pang-La Pass, 5,200 m, almost the same height as Everest north base camp. From the top, enjoy a grand vista of Himalayan peaks that border Nepal and Tibet, with views of Mt. Everest, Lhotse, Makalu, Cho-Oyu, and Shisapangma with an array of peaks. After a great panorama downhill to Tashi Dzong village, then follow the river to reach Rongbuk Monastery, overnight in a simple and basic lodge next to the monastery. From Rongbuk, enjoy the towering North West Face of Mt. Everest of Chomolungma, as known in Tibet for Everest. Beyond Rongbuk Monastery, vehicles are not allowed, except for local transport of horse-cart, motorbikes serve as taxis or few hour hikes to reach the northern base camp of Everest at 5,200 m high, with the closest views of the world's highest peaks. Take a short ride on local transport, then spend the day at Rongbuk to visit the monastery, where British Expedition in early 1921, the famous Irving and Mallory stayed on their way to Mt. Everest summit.
Car 6 Hours
Accommodation Guest House
Meals Breakfast
Altitude 4960m
Drive to Old Tingri 4, 240 m - 05 hours
On a leisurely morning at Rongbuk, people who have not visited the base camp on the first day can have the opportunity in the morning after breakfast for a few hours. From Rongbuk, back on the main highway to reach the windswept town of Old Tingri, where a good local lodge is located on the roadside with views of Mt. Everest and Cho-Oyu peaks. Overnight in the best lodge available at Old Tingri before heading towards the border of Tibet and Nepal at Kyirong.
Car 5 Hours
Accommodation Guset House
Meals Breakfast
Altitude 4240m
Drive to Kyirong border town 2, 700 m - 06 hours
Enjoy the last views of Mt. Everest from the lodge at Old Tingri, after breakfast drive leads further south around the great wide plain of Tibetan arid and dry plateau to reach near Lalung-La Pass, where our drive diverts from the old highway towards rough roads close to the base camp of Mt. Shisapangma. As the drive follows the great range of snow-mountains that lines between Nepal and Tibet, the views include Shisapangma, Dorji Lakpa, and Langtang Himal range as the drive leads past Paigat-Tsho large lake to reach Kyirong for the last overnight halt in Tibet. This place, also called Gyirong Zangbo, is close to the Gyirong River, a tributary that flows to join the Trisuli River in Nepal.
Car 6 Hours
Accommodation Guest House
Meals Breakfast
Altitude 2700m
Drive to Dhunche town 1,950 m -05 hours.
Morning getting excited to reach back into Nepal after the last breakfast in Tibet, then a short drive to the frontier immigration post of China for passport and visa formalities. On completing the security check short walk to enter Nepal at Rasuwagadhi, as well as bidding farewell to our Tibetan guide and drivers. Who took care of you on this marvelous journey in Tibet, and then walked to the check-post on the Nepal side after going through visa and other formalities back in Nepalese soil where a drive leads you through many farm villages within lush green surroundings to reach Dhunce town for an overnight stop before Kathmandu. A headquarter town of Rasuwa district located within Langtang Himal and the gateway to various trekking around the Langtang region.
Car 5 Hours
Accommodation Guest House
Meals Breakfast
Altitude 1950m
Drive back to Kathmandu - 05 hrs.
A leisurely morning in this large interesting town populated by Tamang people, the hill tribes of Central Himalaya and Langtang region. After a good breakfast, an exciting drive to reach Kathmandu, as the road follows through nice farm villages and the town of Ramche and Manebhanjyang. As the journey continues around warm low areas of Trisuli Bazar and heading past Nuwakott to reach Kathmandu and transfer to your respective hotels. Afternoon at leisure on last overnight in Kathmandu for individual activities and shopping Nepalese souvenirs.
Car 5 Hours
Accommodation 3 Star Hotel
Meals Breakfast
Altitude 1300m
International departure for homeward or to respective countries.
Last day in Nepal in the country of Himalayan wonders, as per your international flight time, either morning, afternoon, or evening. Vertex Holiday guide and staff transfer you to the airport for a homeward journey or to the next port of call after a wonderful time in Nepal and adventure on Tibet Overland with an Everest base camp tour.
Includes/Excludes
What's Included?
All ground transportation by private vehicle, including airport transfers
Three nights' accommodation with breakfast at a 3-star category hotel in Kathmandu
All fees for sightseeing and visits to monasteries as per itinerary
Three nights' accommodation with breakfast at a 3-star category hotel in Lhasa and Shigatse
Best Available Guesthouses with breakfast at Tingri, Rongbuk, and Nyalam
Tibet travel permits and Chinese Visa fees
Kathmandu to Lhasa flights in economic class
Tibet Tourism Bureau (TTB) approved the Tibetan guide, including his salary, food, accommodation, insurance, etc.
Local bus transport from Rumbuk – EBC – Rumbuk, if required
All applicable taxes and service charges
What's Excluded?
Travel Insurance
others International airfare
Nepal entry visa
All cold drinks such as alcoholic beverages, mineral water, Coke, Fanta, juice, etc.
Nepali staff for Tibet tours
Shopping, laundry, internet, phone bills
Personal trekking equipment
The extra cost of transportation, porters involved due to landslides, snowfall
Services other than specified. Extra days stay at Kathmandu / any other place
Tips for trekking staff and driver (Tipping is appreciated, but it is not mandatory)
Essential Information - Tibet Overland with Everest Base Camp
We are updating the contents.
Most Asked Questions by Travellers
For your kind interest and information, book this trip with Vertex Holiday (P) Ltd. On booking, please mention your arrival date and duration of the holiday for this trip in Nepal and the Tibetan Journey Overland. While booking with us, e-mail or in any other medium to contact Vertex Holiday. Booking should reach us at least a minimum of two weeks ahead before the trip departure, along with booking a full deposit or 50 % of the payment for the trip, rest balance to be paid on arrival in Kathmandu before the trip departure. Sending us your full passport details and photos for the visa process.
Depending upon your budget and choice of hotel standard, from simple tourist class to 2 to 5-star deluxe hotels, the choice of hotels applies only to Nepal. Not in Tibet, where our Tibetan agents and counterparts will book the hotel in Tibet as well at Shigatse, Gyantse, and Lhasa as per the trip cost. Nevertheless, hotel accommodations and foods in Kathmandu and on route Lhasa are of moderate standard, with all the modern facilities that are required in all international hotels. The food from breakfast, lunch, and dinner is of high quality from local Nepalese / Tibetan cuisines to continental meals or Chinese dishes.
In Kathmandu / Nepal capacity of 609 MW in the Integrated Power System, of 230 volts in A.C. single phase, and 400 volts in three phases for general. Electricity in Tibet / China is 230 volts AC, 50 cycles. We do have two pins & 3 pins power sockets; you better have two Pin travel plug adapter, which will be useful to charge your batteries.
The currency in Nepal is the Nepalese Rupee which at the present exchange rate is US$ 1 equals to NRS 130.95; as for Tibet with Chinese currency than the US $1 equals 6: 90 Chinese Renminbi Yuan, which is the official currency of the People's Republic of China, and translates to "people's money.
Yes, it is possible, but you need to inform us about booking the trip with all details of your planned holiday for extension within Tibet and mainland China. The main reason is that all members will be on a group paper visa, while in Lhasa, our Tibetan agent will cancel your name from the list if you do not return to Kathmandu after the Tibet tour. Then our agent in Tibet will endorse a New Chinese visa for your further journey to mainland China traveling by air, train, or overland.
Reviews on Tibet Overland with Everest Base Camp
Be first to post a review in this trip.