Everest Three Passes Trek





Based on 10 Reviews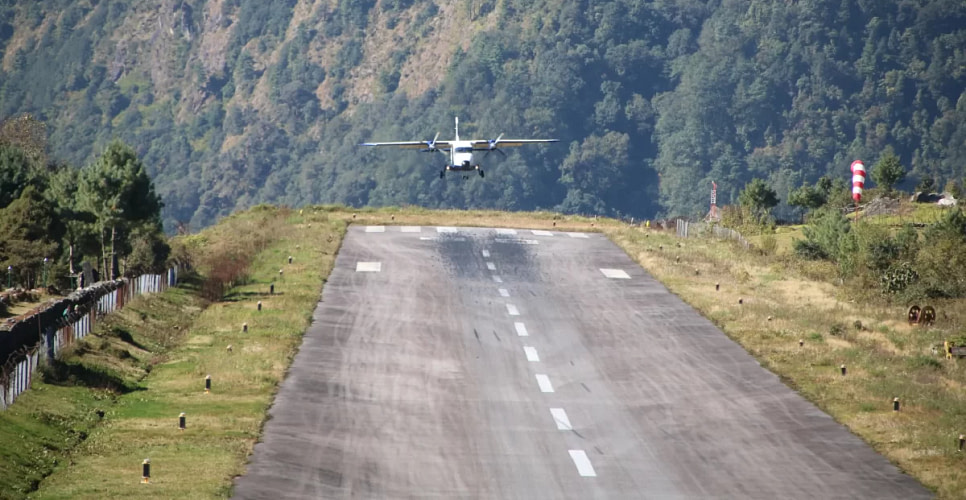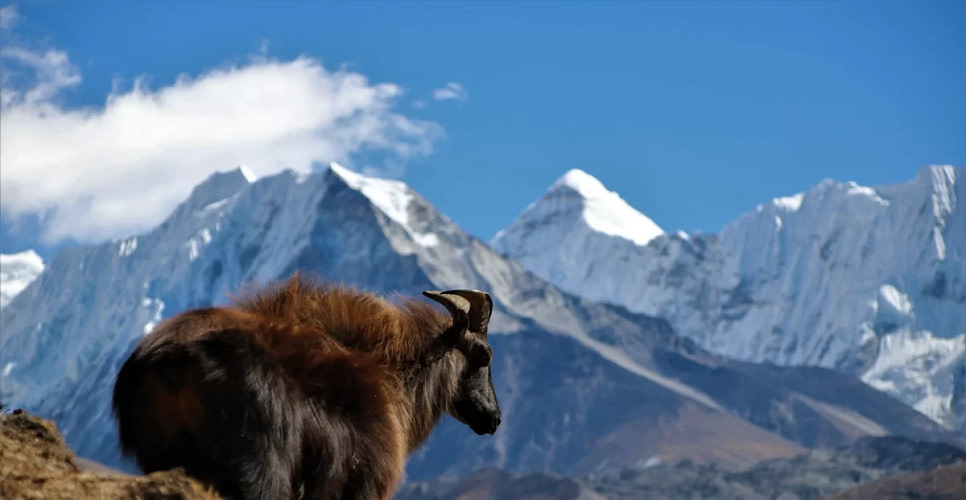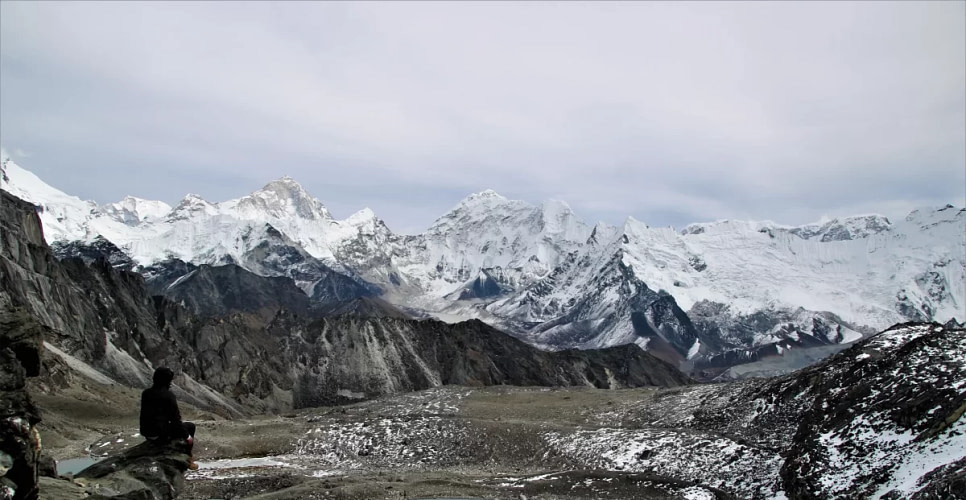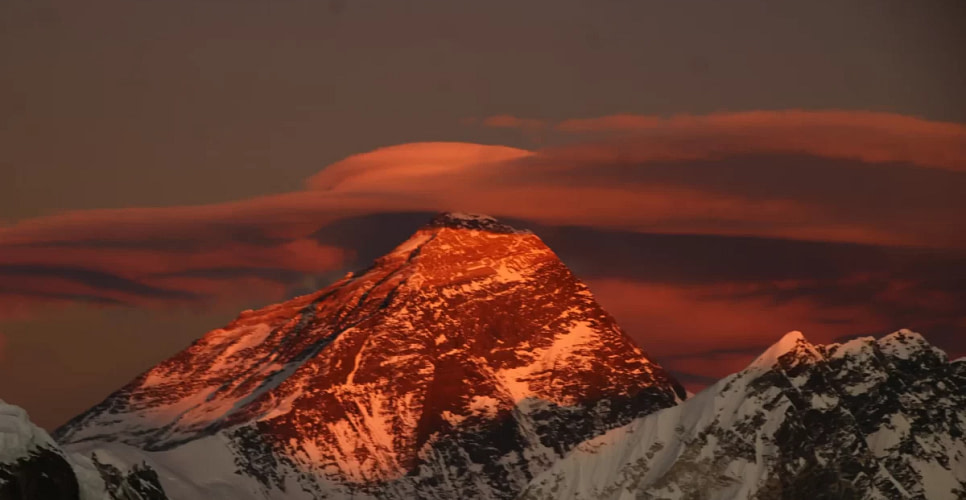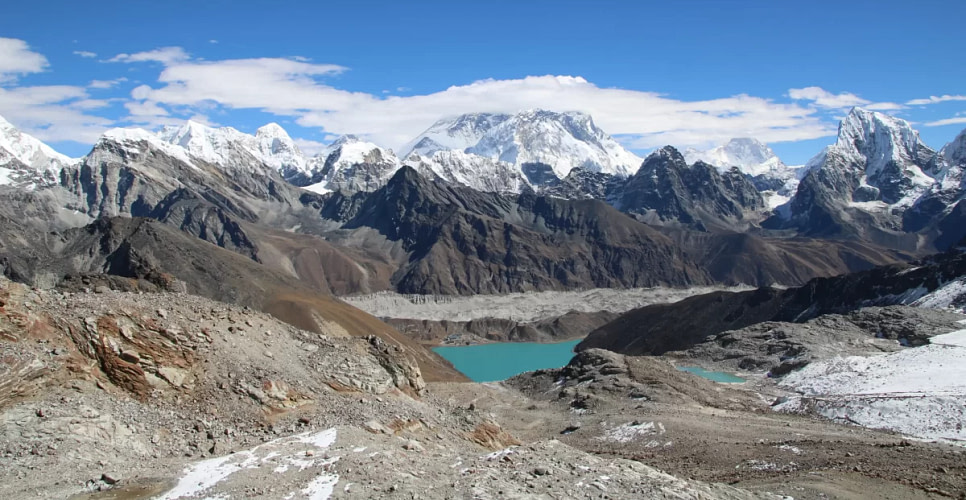 Trip Highlights of Everest Three Passes Trek
An excellent traverse crossing over three scenic high passes around the Khumbu valleys
Mind-blowing experience above 5,000 m passes away from mainstream trails
Enjoy the stupendous dramatic arctic landscape views at Everest base camp.
On top of Kalapathar hill, surrounded by giant peaks with the closest views of Everest
Adventure on off the beaten tracks in the harmony of the towering mountain range
Trip Price
US$ 2500
US$ 2200 Per Person
Group Discounts

1 Pax.
US$ 2200 PP
2-4 Pax.
US$ 2100 PP
5-7 Pax.
US$ 2050 PP
8-10 Pax.
US$ 2000 PP
11-14 Pax.
US$ 1950 PP
Over 15 Pax.
US$ 1900 PP
Overview of Everest Three Passes Trek
The Everest Three Passes Trek is home to a fantastic mountainous landscape and is known for a wide variety of mountaineering, trekking, and hiking destinations. Usually, tourists choose a lighter and easier way to explore this Himalayan region. However, those who are planning a challenging hiking trip must explore this adventure destination. The Everest three high Pass trek is one of the best high-altitude trekking routes in the world.
As the name suggests, the Everest Three Passes Trek route comprises three major high mountain passes above the 5000-meter mark, namely Kong ma La 5535m, Cho La 5420m, and Renjo La 5345m.
Except for these passes, several points are higher than 5000 Meters, among which Kalapatthar (5550m), Everest Base Camp (5340m), Gorakshep (5134m), Gokyo Ri  (5357m) are the main highlights of the Everest three passes trek. With much difficulty, the trek is blessed with magnificent views of the tall snowcapped mountains of the region.
Everest 8848m, Lhotse 8516, Makalu 8481m, Cho Oyu 8188m, Ama Dablam 6812m, and Thamserku 6623m are among the significant peaks.
Besides, the glaciers and the glacial lakes make the Everest three passes trek even more tempting. The longest Himalayan glacier Ngozumba and the Khumbu glacier are the significant glaciers in this region. There is also an abundance of water bodies in this region in the form of lakes, ponds, and streams.
Gokyo Lake system during the Everest Three Passes Trek is the central pilgrimage destination for Hindus and Buddhists, whereas several smaller lakes do exist, elevating above 5000 m. Some of them are even frozen throughout the year. The melting of ice and glaciers serves as an origin point for major rivers like Dudh Koshi, Bhote Koshi, and Imja Khola.
Everest three passes trek lies in the Sagarmatha National Park, listed as UNESCO World Heritage Site; trees and plants are much of a rare encounter during this trek except for the regions below 4 thousand meters in elevation.
Blue Sheep and some smaller rodents are most likely to be seen, whereas Snow Leopards, Bears, and wolves are nowhere to be seen. But different kinds of birds, including various pheasants, can be seen during the trek. The weather is chill mainly and sunny with clouds moving frequently. During the winter, the region is mostly covered in snow. These conditions make Everest Three Passes Trek a trekking paradise.
Apart from the natural attraction, the cultural aspect of the Everest Three Passes Trek is also an essential feature of the Everest three passes trek. Home to the indigenous Sherpa people, glimpses of Himalayan Buddhism culture can be seen throughout the trek duration. Monasteries, Stupas, Chhortens, Mani Walls, Prayer Flags, and Prayer wheels are common sightings.
Vivid cultural festivals celebrated during different times are open for tourists and travelers to witness.
Here at Vertex Holiday, we encourage people to achieve something previously thought unachievable. So if you are seeking a lifetime trip and don't mind spending a couple of weeks in the mountains, we will be pleased to arrange your Everest three passes trek trip. Consider connecting with us for more detailed information about this once-in-a-lifetime hiking trip and other essential details.
Itinerary of Everest Three Passes Trek
Day 1. Arrive in Kathmandu transfer to hotel and dinner with Nepali cultural program.
Namaste and welcome to Nepal. As you arrive in Kathmandu, Vertex Holiday's airport representative will assist you to the hotel. After getting refreshed, our guide will provide insights about the Everest three passes trek trek. In the evening, there will be a typical Nepali dinner with a cultural program.
Car 30m
Accommodation 3 Star Hotel
Meals Dinner
Altitude 1300m
Day 2. Fly to Lukla (2804m) and trek to Phakding (2610): walk approx 3-4 hrs.
Early in the morning, fly to Lukla to enjoy the picturesque Himalayas of Nepal, including the highest peak in the world, Mount Everest. Landing at Lukla, You will meet the rest of the crew who will accompany us during the trekking.
Then the Everest three passes trek starts smoothly through the easy trail, and you can see the tiny settlements along with their potato fields. Crossing the steel bridge over the Dudh Koshi River, we reach Phakding.
Multiple 30m by car, 45m flight, 3 hours walk
Accommodation Tea House
Meals B/L/D
Altitude 2610m
Day 3. Trek from Phakding to Namche Bazaar (3440m): walk approx 5 - 6 hrs.
After breakfast, we begin our hike, which leads higher elevation. Crossing bridges, we reach to the entry gate of Sagarmatha National Park at Jorsalle. Now the trail will be steeper. We walk continually till we reach the horse-shoe-shaped Namche Bazaar, which is one of the busiest settlements in the Everest region.
Walking 6 Hours
Accommodation Tea House
Meals B/L/D
Altitude 3440m
Day 4. Acclimatization day at Namche Bazaar -day hiking to Khumjung valley over Everest view point hotel.
Today is an acclimatization and exploration day. So, we will explore this amazing village Namche Bazaar along with its neighboring parts of Khumjung and Everest view hotel. There are almost all the facilities and markets for all the goods.
Basic facilities are available as health post/hospitals, schools, trade centers, and others. Hillary's school is located there. The exploration of hiking is also wonderful for understanding the Sherpa culture and traditions, spirituality, and hospitality. Back to lodge and rest.
Walking 6 Hours
Accommodation Tea House
Meals B/L/D
Altitude 3962m Everest View Hotel
Day 5. Trek from Namche Bazaar to Tengboche Monastery (3,860m): walk approx 5 - 6 hrs.
Beginning the Everest three passes trek from Namche Bazaar, we head towards the Tengboche monastery, following the River and walking through the oak, rhododendron, and birch forest.
You have a chance to see wild animals such as wild goats, blue sheep, and others. The dazzling Himalayan views accompany us throughout the trail. We have lunch at Phunki Tenga, which lies beside the River. Gradually, we will hike uphill to Tengboche and explore the area.
Walking 6 Hours
Accommodation Tea House
Meals B/L/D
Altitude 3860m Tengboche
Day 6. Trek from Tengboche Monastery to Dingboche (4,350m): walk approx 5 - 6 hrs.
Mornings are normally chilling in the mountainous region. Having a warm breakfast, we begin our Everest three passes trek from Tengboche. The morning bells can be heard. Lamas and monks perform their rituals in the morning.
The monastery is a sister monastery of Rongbuk Monastery in Tibet. Situated at 3,867 meters, this monastery is the biggest in the Khumbu region.
On the lunch stop of Pangboche, we can again visit the oldest monastery of Everest. It takes a couple of hours to reach Dingboche from here.
The views of Everest, Nuptse, Ama Dablam, Kwangde, Thamserku, and others are brilliant. Reach Dingboche and rest.
Walking 6 Hours
Accommodation Tea House
Meals B/L/D
Altitude 4350m
Day 7. Dingboche , rest
Acclimatization day excursion and climb up Narsyang top (4967 m) walking (4 hrs up and 2 hrs down). Stay overnight at the same lodge in Dingboche.
Walking 4 Hours
Accommodation Tea House
Meals B/L/D
Altitude 4800m Narsyang
Day 8. Dingboche to Chhukung valley (4,720m): walk approx 5 hrs.
We set out for hiking to Chhukung valley. It is the last village the climbers stay who go climb the Island peak. The trail is fine, and the surrounding is dotted with potatoes and barley fields.
Walking 6 Hours
Accommodation Tea House
Meals B/L/D
Altitude 4720m Chhukung Valley
Day 9. Chhukung - Kongma La (5,535m/18,154ft) - Lobuche
We start at first light from Chhukung, as we have to conquest the highest pass of the Everest three passes trek today. We carry plenty of water and some snacks, and a packed lunch, as there are no Lodges on the way.
Enjoying the remoteness of the route, the majestic view of the Island peak valley, and jagged ridge of Amphu Lapcha will give you chills. Behind us is the landscape of icy lakes, ahead of which is the Khumbu Glacier.
The final descent is the most difficult stage of the trek, as we'll have to cross the Khumbu glacier, where the trail keeps changing before reaching Lobuche.
Walking 10 Hours
Accommodation Tea House
Meals B/L/D
Altitude 4940m
Day 10. Lobuche - Gorak Shep (5,170m) to Everest Base Camp (5,364m) and back to Gorak Shep: walk approx 8-9 hrs.
Today we head for Gorakshep, which is the highest place where we will sleep. We'll reach Gorakshep for lunch and keep our luggage in Lodge.
Carrying a day pack, we hike to the Everest base camp through the rocky trail that is prevailed with moraines.
During the climbing seasons, the Everest base camp remains full of tents, where climbers stay and do climbing practices. Taking sufficient snaps, we descend to Gorakshep and rest.
Walking 6 Hours
Accommodation Tea House
Meals B/L/D
Altitude 170m Gorakshep
Day 11. Hike up to Kalapatthar (5,555m) early in the morning and trek down to Dzonglha (4,830m) 8-10 hrs
Getting up early, we'll hike up to Kalapatthar, which is a viewpoint for the breathtaking sunrise view over the snowy peaks. Also, the awesome panoramas of Makalu, Ama Dablam, Pumori, Lhotse, Nuptse, and Cho Oyu can be seen.
Then we trek down to Gorakshep, have breakfast/lunch, and trek down to Dzonglha. Keeping the magnificent Ama Dablam behind, we'll hike beyond the blue Cho La Lake, which is one major attraction for the day. It's a long walk but an exciting excursion.
Walking 9 Hours
Accommodation Tea House
Meals B/L/D
Altitude 4830m
Day 12. Dzonglha - Cho La pass 5420m) - Thangnak (4,680m) : 7-8 hrs
After breakfast, early in the morning, we walk through the steep climbing route. Today is going to be one of the toughest days of our  Everest three passes trek trip.
The hike goes through westward of Dzongla, ascending through the trail in between massive rocks. Cho La pass remains snowy for most of the year. From the top, the view of Ama Dablam, Cholatse, and others mountains is rewarding.
Walking 8 Hours
Accommodation Tea House
Meals B/L/D
Altitude 4680m
Day 13. Thangnak (4,680m) - Gokyo (4,800m): 4_5 hrs
After having the Breakfast , we will descend on a rocky downhill with the support metallic ropes. Before reaching our destination Gokyo , we will have to cross the longest Himalayan Glacier in the world.
On reaching Gokyo , the reflection of glittering night sky can be seen on the Gokyo glacial lake which is one major touristic destination in the world. Situated at the elevation of 4800 meters , Gokyo lake is a place where trekkers and tourists would imagine to spend the rest of their life in.
Walking 5 Hours
Accommodation Tea House
Meals B/L/D
Altitude 4800m Gokyo Valley
Day 14. Gokyo Valley: Climb Gokyo Ri (5357m) 5 - 6 hours.
Today is an exploration day. After having breakfast, we hike to the famous Gokyo Ri, which is the best viewpoint in this region.
The panoramic view of Everest, Cho-Oyu, Gyachung, Lhotse, Nuptse, Makulu, and many other smaller peaks can be seen from the top of Gokyo Ri.
The longest Himalayan glacier in the world, Ngozumba glacier, can be seen from there. Exploring the natural wonders, we trek down to the Gokyo valley and rest.
Walking 6 Hours
Accommodation Tea House
Meals B/L/D
Altitude 5357m Gokyo Ri
Day 15. Gokyo - Renjo La (5345m) - Lungden (4,380m) Marulung (4210m): 8-9 hrs
The hike ascends gently up the flank of Gokyo Ri and then zigzags to the northwest corner of the Gokyo lake.
We start early for the trek from the Gokyo Valley, turning to Renjo La trail beside Gokyo lake, aka Dudh Pokhari. After about 3 hours, we reach the Renjo La pass, which is a spectacular mountain view. Everest, Lhotse, Cholatse, Taboche, and many smaller peaks can be seen shining in the sun.
View from Renjo La Pass includes the Gokyo Village beneath the gray smear of Ngozumpa Glacier. After some mesmerizing views of the Himalayan landscape, we descend down and then hike beside smaller glacial lakes to reach Lungden.
We walk almost for an hour from Lungden (4350m) to get to Marlung on the east bank of the Bhote Koshi river.
Walking 9 Hours
Accommodation Tea House
Meals B/L/D
Altitude 4210m Marlung
Day 16. Lungden - Namche Bazzar (3,440 m): 8-9 hours
Down from the Marulung we cross the Bhote Kosi and descend to Taranga.
The Everest three passes trek trail then goes through the valley of Langmuche Khola. This stream drains down from Dig Tsho, the glacial lake that burst its banks in 1985, causing devastating floods along the Dudh Kosi Valley to moraine to Thame.
Thame has a sprawling village with a few lodges and stunning mountains like Thamserku, Katenga, Kusum Kangguru, etc.
Overlooking Thame is its famous Gompa, situated in some of the fields on a hill to the west. Established some 325 years ago, the Gompa has three big images of Chenresig (Avalokiteswara), Guru Ringboche, and Buddha Sakyamuni.
The colorful Mani Rimdu festival featuring colorful mask dances is held in this Gompa in May. We climb down after crossing a bridge and then eventually reach Samde. The place offers breathtaking views.
The path steeply descends down to Thamo village, which hosts a monastery called Khari Goma which is a nunnery being home to some nuns and monks. We eventually reach Namche again through some Gompas, colorful prayer flags, Mani walls, and Chortens.
Walking 8 Hours
Accommodation Tea House
Meals B/L/D
Altitude 3440m Namche Bazar
Day 17. Trek from Namche Bazaar to Lukla (2804m): walk approx 6-7 hrs.
This is the last day for our Everest three passes trek. We begin our trekking through the steep trail from Namche Bazaar. Checking out from the national park counter, we reach Monjo and head further, crossing the suspension bridges.
Passing Phakding, the normal route begins. We gradually reach our concluding point at Lukla. We celebrate our successful trek with all the team members with drinks and a warm dinner.
Walking 7 Hours
Accommodation Tea House
Meals B/L/D
Altitude 2804m Lukla
Day 18. Fly back to Kathmandu after the Three Passes trek/Rest day.
It's time to bid farewell to this Himalayan town and fly back to Kathmandu. The Himalayan peaks that became familiar to us can be explored for the last time if the weather is clear.
Landing in Kathmandu, you"ll be assisted to the hotel. The rest of the day is for your leisure activities, including shopping and exploring the city.
Multiple 40 minute flight and drive to hotel
Accommodation 3 Star Hotel
Meals Breakfast
Altitude 1300m
Day 19. Transfer to the international airport for your final flight departure.
Having a good memorable Everest three passes trekking experience with Vertex Holiday, our representative drops you at the airport for your departure.
Includes/Excludes
What's Included?
All ground transportation on a comfortable private vehicle as per the itinerary
 Two-night accommodation in Kathmandu(Twin sharing basis) Three-star hotel with BB plan
 Two-way airfare for Kathmandu-Lukla-Kathmandu
 Airport pick up and drop off for Lukla's flight by private vehicle
 All meals during the trek time in the mountain (breakfast, lunch, and dinner)
 Accommodation during the trek on Twin sharing basis
 An experienced, English-speaking, knowledgeable, skillful, and helpful government license holder trekking guide and porter to carry your luggage(max:-25kg), including all kinds of costs i.e. Transportation, salary, insurance, equipment, meals, and accommodation
 All kinds of the necessary paperwork for your trip (TIMS card and permit – please bring 3 PP size photos)
Government taxes and office service charges
What's Excluded?
 Nepalese visa fee
 International airfare
 Personal travel insurance
 All kinds of drinks, snacks, and personally ordered food during trekking time
 All kinds of personal expenses
 Hot shower during the trekking if needed to pay
 Lunch and dinner in Kathmandu
 Personal trekking equipment
 Rescue charge (if needed)
Tips for trekking staff
Complimentary
 Comprehensive medical kit
 Duffle bag for Trekking
Snack of seasonal fruit during the trek
Essential Information - Everest Three Passes Trek
Essential Equipment For Everest Three Passes Trek :
A high altitude adventure Everest three passes trek, sleeping bags, and down jackets are the most important things to prepare. If it's too much to carry from home, one can buy or rent in Kathmandu at a reasonable price.
Good trekking boots, warm inner clothing, crampons, headwear for the sun and cold, Sun-block, and good water bottles. Apart from this, we recommend hiking poles as they are helpful and supportive. Proper clothing as per the season-wise, where Vertex Holiday provides an essential equipment list to prepare, one can buy in Kathmandu also.
What Type of Food And Accommodation is Available On Everest Three Pass Trek?
The best one can expect on this high-altitude adventure on the Everest three passes trek. Food and Accommodation can be standard to simple, depending upon designated high places for overnight and lunch stops.
From Lukla onwards till Namche Bazaar, various options of lodges from the simple budget, standard to luxury class lodge accommodation and best foods. It depends upon the trip cost as provided by Vertex Holiday Pvt Ltd.
From Tengboche onwards, all room accommodation is standard and straightforward with the large warm dining hall. During high seasons, single rooms will be a problem sometimes due to the flow of many trekkers. One needs to book well in advance to pay extra for single-room supplements in Kathmandu hotels and on treks.
Throughout the Everest Three Passes Trek, most of the rooms need shared toilets and bathrooms due to challenging high-altitude terrain and cold temperatures. Where water flows in a pipeline can get frozen, it the best to use the shared toilets and bathrooms.
As for food, nearly all lodges on overnight stop as well as lunch stops provides excellent food menu to enjoy delicious meals. Lukla to Tengboche, some lodge restaurants provide fresh bakeries and coffee, where one can have a delightful time. Meals served in all lodges from continental, Indian, and Nepalese meals and snacks.
Best Seasons For The Everest Three Passes Trek :
The best time for the delightful adventure around Everest three passes trek is in the spring and autumn seasons. Spring in Nepal and around the Himalayas begins from March to May, and autumn from September to November.
However, springtime, with longer days having enough sunlight hours, from morning to late afternoon, can be windy. As well as adding an extra wind-chill factor around a high altitude above Tengboche and onwards. It could get cloudy in the afternoon with chances of light snowfall around higher terrain sometimes.
Morning and late afternoon till night remain cold. However, the lower hills up to Tengboche will be bright. During springtime, wildflowers bloom, especially the rhododendron of various colors and species making the Everest three passes trek a memorable experience.
The Autumn season is another best time for trekking around the Himalayas, where days are mostly bright and clear. But shorter days due to sunlight hours, cold morning, and late afternoon till night time can expect snowfall sometimes.
Interested trekkers can dare to take the Everest three passes trek during winter from December to February when the days are crystal clear. But shorter days are due to fewer sunlight hours during winter, with freezing temperatures in the morning and night.
However, the excellent advantage in the low season trekking with fewer visitors to encounter. Some lodges can be closed for the winter season as the Khumbu Sherpa migrates to lower, warmer areas to escape the bitter winter cold. It could get snowed in sometimes during the walk, usually around higher areas above 3,000 m high.
Travel & Medical Insurance for Everest Three Passes Trek
One must have travel and medical insurance for own safety and precaution during Everest three passes trek. Unfortunately, accidents can happen anywhere and anytime, including sudden bad weather, even at the best time of the season, as the Everest three passes trek lies in the alpine region with rough geographical.
The Himalayan weather can be unpredictable sometimes. It can get snowed in even in good times of the season when our guide might have to re-route towards other destinations, as well in case of road blocks due to landslides and avalanches.
Sometimes during the Everest Three Passes Trek, a flight to Lukla from Kathmandu or vice versa can get delayed or leads to cancellation due to unfavorable weather condition. In this case, Vertex Holidays might have to re-route the trek to other Himalayan destinations or use a helicopter service if required.
This is where your travel insurance will recover extra expenses if you get very sick due to high altitude or other causes. In severe medical conditions, one needs immediate evacuation by the fastest means of transport, like a Helicopter Service, to bring the victim to the nearest good hospitals or Kathmandu. In this situation, your medical insurance will support extra expenses incurred.
We suggest that all trekkers joining the Everest Three Passes Trek must obtain medical / travel insurance for necessary accidents and unfortunate events and should cover transportation by all means of transport, including Helicopter service. Check for more Travel Insurance information.
Altitude Sickness Around Everest Three  Passes Trek:
With the rise in altitude during Everest Three Passes Trek, the chance of getting mountain or size sickness increases as the concentration of oxygen level gets lower in the atmosphere. The chances increase, especially for people with little to less experience in higher altitudes. Thus proper acclimatization is required while climbing at a high altitude to help your body adapt to the newfound environment.
A high-altitude adventure trip around the Everest region requires acclimatization at Namche Bazaar, Dingboche, and Gokyo Valley to reduce altitude sickness for travelers.Everest three passes trek is better not to avoid acclimatization because this place has beautiful climatic conditions to prepare self for high altitudes and to cope with the frequently changing weather situations.
Generally,  trekkers might suffer from altitude sickness as they start their trek to Everest three passes trek from a lower altitude. Some symptoms include ongoing dry cough, minor fever, headache, vomiting, dizziness, and loss of consciousness which couldn't be treated with painkillers or water. Trekkers must be aware of altitude sickness if they have any symptoms regarding altitude sickness. If any such symptoms appear, then you should consult your guide or trek leader.
But when they complete their journey to the Everest Base Camp, they will have already acclimatized until reaching the lateral moraine of  Everest Base Camp. After arriving at the High altitudes, their body situation starts to cope with the environment.
Everest Three  Passes Trek Grading :
Even though the Everest three passes trek is a challenging grade, trekking is not that hard depending upon one physical fitness and medical background,  except for rising in altitude.
Taking slow and steady, taking much rest in between, will overcome the challenges. The other challenge is walking at a high altitude with short breaths. But once you stop and rest for a while with time to enjoy the surrounding views, you feel all right.
Taking a slow stride to overnight stops, sleeping well, choosing the suitable types of food, and drinking enough fluid will support you to challenge the high-altitude walks around Everest and crossing three high passes. Some days lead to longer walks, from 6 to 8 hours. The average walking is 5-6 hours.
Tenzing Hillary Airport A Daring Flight To Lukla :
Like the Everest Base Camp, the Everest three passes trek starts from the Tenzing Hillary Airport, commonly dubbed as the most dangerous airport in the world, lies at an elevation of 2,860 meters (9383feet) in the Solukhumbu district of the Everest Region, which is located in the small town of Lukla. The Lukla airport is served by the Tenzing Hillary Airport, and it is remarked as one of the world's most extreme and dangerous airports for adventure.
The Everest three high passes trek starts from Lukla after a short flight of about 30 minutes from the Ramechap, Manthali airport to Lukla, or can also reach within 35 minutes from the capital city (TIA), Kathmandu. The short scenic flight to Lukla is fantastic for enjoying breathtaking views of snow-capped mountains, hills, and different landscapes. It is the most popular place for visiting the world's highest peak, Mt.Everest.
The weather in Lukla has an airstrip, and it is unpredictable. It is often risky because of the frequently changing weather situation.
The High Altitude Adventurous Trek Through Sagarmatha National Park :
The Everest three high passes trek is located at The Sagarmatha National Park in the Everest region, home to various rare floras and faunas. This national park is also listed as a Word Heritage Site by UNESCO.
Sagarmatha National Park is famous for endangered animals like The Red Panda, Snow Leopard, Himalayan Thar, Himalayan Mouse Hare, and other rare birds like Impeyan Pheasant, Snow Cock, Blood Pheasant, and many others. The trek to Sagarmatha National Park also includes traveling through a dense forest of Rhododendron, Pine, Hemlock, Fir, Juniper, and Alpine trees.
The Everest three passes trek through the Sagarmatha National to Everest Three High Passes rewards its visitors with stunning views of the world's highest mountains, Mt. Everest, Mt. Lhotse, Mt. Makalu, Mt. Cho Oyu, Mt. Pumori, Mt. Ama Dablam, Mt.Thamserku, Mt.Kwangde, Mt Kangtaiga, and Mt Gyachyung Kang other peaks.
Namche Bazar, The Gateway Of Mount Everest Three Passes Trek:
Namche Bazaar is a famous trading market and the biggest town in the Solukhumbu district, which lies in the Everest region at about 3,500 meters above sea level. This town is a beautiful place to visit and explore Himalayan Sherpa cultures and mountains.
Namche Bazaar is the gateway to the Mt. Everest Three Passes Trek and other highest Himalayan peaks around the Everest region of Nepal. This valley is the biggest trading center lying around the Khumbu region, where you can get every trekking equipment and gear and food item along with the best famous tourist lodges and guest houses which will provide great hospitality, food menus, and accommodations.
The Himalayan Yak cheese and butter are made from yaks and are sold on this market. Various panoramic views of snow-clad mountain peaks are seen from all points of the Namche bazaar.
Namche bazaar is also enriched with various Himalayan Sherpa cultures, and their cultural and traditional living styles will seek your attention. This beautiful place must be visited once in a lifetime to have a great time on the lap of the Himalayas. Trekkers usually stay in this place to acclimatize and explore the surroundings.
Explore The Biggest Historical Tengboche Monastery in the Khumbu Region:
While passing through the Namche Bazaar, Tengboche Monastery catches the attention of trekkers, hikers, and mountaineers from its sacred and religious monastery.
This holy site, located on the top of the hills Tengboche and situated at about 3,867 meters above sea level, is also known as the largest gompa in the Khumbu region of Nepal. Tengboche Monastery is also known as the Dawa Choling Gompa. This monastery offers stunning panoramic scenes of high-altitude snowclad peaks like Mt.Everest, Mt.Ama Dablam, Mt. Lhotse, and many others peaks.
At Tengboche Monastery, the Mani Rimdu festival is hosted every October month by the Buddhist people living here. During this festival, they celebrate with great joy by singing and dancing to the cultural music played by their guru and Lama monks. Every year on this occasion, many tourists are willing to participate in that festival.
Three Popular high passes In Everest Region: Kongma La Pass, Cho La Pass, and Renjo La Pass:
While trekking through Everest three high passes, you can have a great opportunity to spot different amazing landscapes from three passes: Kongma La pass, Cho La Pass, and Renjo La Pass.
Kongma La Pass is the challenging highest pass among other passes. It is located at 5540m / 18,177 feet above sea level, which offers a close view of the world's fourth-highest mountain Mt. Lhotse 8,516 meters, and the Fifth highest, Mt. Makalu, 8,481 meters.
Cho La Pass is located at 5,420 meters / 17,782 feet above sea level, and it is a famous pass because it is connected to the beautiful Gokyo valley and lakes. Usually, this pass has an all-time Glacier for the entire year.
Renjo La pass is the lowest altitude pass among the other two passes. It is located at 5,360meters / 17,560 feet above sea level, and this pass offers a magnificent view of the world's highest, Mt Everest, Mt Lhotse, and Mt. Makalu, along with a Gokyo lake in front of the Mountains.
Explore The Worldwide Popular Everest Base Camp :
Everest base camp, located at the base of the World's Highest peaks, lies at an altitude of 5,364m/ 17,600 feet from sea level, is a popular worldwide destination for trekkers, and is located in the Everest Himalayan region of Nepal.
Mt. Everest is the home to different beautiful mountainous landscapes like Mt. Everest, Mt. Lhotse, Mt. Nuptse, Mt. Pumori, Mt. Baruntse, Mt. Ama Dablam, Mt. Thamserku, and other smaller peaks. Everest base camp trek is well known for its beautiful views of the eye-catching mountain peaks and Khumbu glaciers.
Explore The World's Highest Freshwater Gokyo Lake and Gokyo Valley:
Gokyo is a most beautiful colorful valley that lies at an elevation of 4,750m above sea level and is located in the Khumbu Everest region. Gokyo valley is the center peak destination for spotting stunning views of high mountains, icefalls, shimmering lakes, and glaciers.
Gokyo Valley is a beautiful place to stay, explore mountains and fresh bluish lakes, and reside through the world's longest Himalayan glacier, Ngozumpa Glacier. The lake is excellent and majestic. During the Everest three passes trek, travelers can explore the beautiful surrounding beside Gokyo Valley.
Gokyo lake has the world's purest and fresh waters and is a peaceful place to relax and spend the holiday in its soothing and exciting atmosphere. The lake has a turquoise-blue color on its surface and is relatively surrounded by snow-capped mountains in its surroundings.
Freshwater Gokyo lake is the famous sacred lake for the devotees of both Hindus and Buddhist followers. At the same time, traveling through Gokyo lake, a small Lord Shiva temple was built on the side of Gokyo lake. These lakes are highly visited by Hindu peoples during festivals like Janai Purnima and Buddhist religious peoples during their celebrations to worship.
People visit this place to worship Nag Devata (Snake God). Gokyo lake is the main attraction of Hindu people because of the Hindu temple, which is made to dedicate respect to Lord Shiva and Bishnu.
Gokyo valley and lakes are famous for their spiritual aspect. It is a fantastic place to explore Gokyo Ri. Trekkers can have an excellent opportunity to spot different beautiful breathtaking scenes in this area.
Stunning viewpoint on Everest three passes trek:
Attractive viewpoints on Everest three passes trek are countless from the start to the end of trekking. However, the best and most attractive outlook is from the top of Namche Bazaar near the Park museum and Everest View Hotel.
Other places on route to Tengboche, as well from scenic Tengboche, next place is Dingboche and its high hill. As well as from Chukung and on top of Kalapathar Hill and Gokyo-Ri, including from the high passes of Renjo-La, Cho La, and  Khonma La.
Fitness for Everest Three Passes Trekking :
On booking or planning before this high-altitude Everest Three Passes Trek adventure, one needs to be in good physical shape and sound health. All around Nepal Himalayas, besides Everest Three passes, trekking leads to steep climbs and downhill, with few gradual sections. All trekkers need to be fit and strong, and healthy, in good physical shape as well medically.
Before or after booking and departure for Nepal, one needs daily exercise for an hour. Like walking, jogging, aerobics, or Jumba, as well as climbing up and down the steps and checking with your family doctor regarding the fitness required for Everest three high passes adventure trip to Nepal.
The walk is usual. A long one takes it slow and steady. However, good physical fitness will be an advantage to enjoying the walk and the scenery.
Most Asked Questions by Travellers
It is not that tough or difficult depending on one fitness level. However, all trekkers are well aware traveling around the high Himalaya region can lead to some difficulties. But as the trek progresses on daily walks one will be used to the altitude and rough terrain and trail. The only hard will be crossing the passes when it is full of deep snow, where our guide will check if it is safe or not.
Gradual path with few short ups and down, walking on hard rocky ground, as you get closer to Kongma-La the first pass. Climb on rocky ledges around a moraine of rocks with some snow and ice sections to encounter. As you will cross over the Khumbu glacier also to reach an overnight stop at Lobuche. Where paths are lined with rocks and scree, needs to follow the guide in groups.
Not that tough. As long as one takes it slowly with enough refreshing stops along the way, some section is quite steep but more or less walking on a grassy path.
As you reach close to the top, climb on rocks of black boulders withered by snow and strong wind, hence the name 'Kala' for black and 'Pathar' for rocks. The only tough and hard will be if the trail is covered in snow, and ice can make the walk slippery, especially on the downhill.
A short panoramic flight of 30 to 35 minutes, an exciting flight overlooking a panorama of Himalayan peaks with a view of Mt. Everest.
Yes, all lodges on Everest Three High Passes do have electricity. From Lukla onwards, Tengboche has hydropower, and Dingboche and other settlements have their own solar power, where you can charge your electronic gadgets, where you need to pay a certain fee for charging per hour per item. The price of charging differs from one place to another.
Yes, all drinking water is safe, which is boiled and filtered as the lodge owners do not want their reputation down, as they need customers again and again in the near future.
Flying to Lukla on a smaller aircraft, where baggage allowance is 20 kg, including your handbags or day packs. To keep weightless, wear heavier gear like trekking boots and down jackets on the flight to make the baggage less weight.
It is mentioned above, depending upon your holiday vacation and the time of booking the trip, the best is in the spring or autumn season. If you are strong and able can join on this trek even in the winter time during the Christmas holidays. It will be tough and cold, with shorter daylight hours, but you can venture for this wonderful Everest Three Passes Trek.
The three passes of Everest are :
Kong Ma La Pass –  5535m,
Cho La Pass- 5420m,
Renjo La Pass – 5345m.
The three passes trek takes around 19 days to complete. However the duration can be extended as there are plenty of other amazing attractions to spend time on.
A pass during trekking is an opening in a mountain range which allows people to pass through in between high mountains.
Reviews on Everest Three Passes Trek
5.0






Based on 10 Reviews
---

Li Zheng
Taiwan
Ultimate Challenging Trip
It was one of the toughest challenges that I took and was able to make it safely. The views were just awesome and so was the cultural aspect. There were some difficult sections, where it felt like I was running out of breath. Gladly, my guide Shiva and porter Ambir were my support. It was one of the finest experiences.
Really recommend it !

Sylvie
France
A Journey of Self-Discovery
The Everest Three Passes Trek was a journey of self-discovery for me. It was not just a physical challenge but also a mental one. I was pushed out of my comfort zone, and I learned a lot about myself and my capabilities. My guide and porter were instrumental in helping me reach my goal, and their expertise and support were invaluable. The trek was tough, but it was worth it for the sense of accomplishment and personal growth.

Kelly
Hong Kong
A Roller Coaster of Emotions with Breathtaking Views
The Everest Three Passes Trek was a roller coaster of emotions for me. There were moments of doubt, fear, and exhaustion, but those were outweighed by the moments of awe, inspiration, and happiness. The views were breathtaking, and the people I met along the way were some of the friendliest and most welcoming people I have ever met. I would like to thank my guide and porter for their professionalism and care, and for making this journey a truly unforgettable one.

Tom Harper
Hong Kong
Unforgettable Experience
The Everest Three Pass trek was a truly unforgettable experience that exceeded all my expectations. The trek was challenging, but the stunning views and the chance to explore the local culture and traditions made it a truly enriching adventure.  three high passes were a thrilling challenge, and the support of the experienced guides and porters was essential in helping me complete the journey.
Thank You Vertex Holiday

Yi Chen
Taiwan
Epic adventure
The Everest Three Passes trek was an epic adventure that pushed me to my limits both physically and mentally. The three high passes trip organised by Vertex Holiday provided a thrilling challenge, and the views from the top were truly awe-inspiring. The trek also gave me a chance to experience the local culture and traditions of the Sherpa people, and the sense of camaraderie among fellow trekkers made it an unforgettable experience.

Lee Qingsan
Taiwan
Thrilling Adventure
The Everest Three Passes trek was a challenging and rewarding adventure that surpassed all my expectations. The scenery was spectacular, and the three high passes provided an exhilarating challenge. The trek also gave me the opportunity to learn about the history and traditions of the Sherpa people, and the kindness and hospitality of the locals made the journey even more special. Vertex Holiday provided me with professional guide who assisted me to complete this thrilling adventure.
Lee Qingsan

Mei Ya Ting & Team
Hong Kong
A journey of a lifetime
The Everest Three Passes trek was a journey of a lifetime that we will never forget. The trek was physically demanding, but the spectacular views and the sense of accomplishment upon completing the three high passes made it all worth it. The local culture and traditions were fascinating, and the support of the experienced guides and porters was invaluable. We are grateful with Vertex Holiday for making this trip a memorable one. We hope to come back again , to explore the beauty of Nepal.
Mei Ya Ting

John Edward
United Kingdom
Best Outdoor Company In Nepal
This trek organized by Vertex Holiday was an amazing adventure that tested my limits in the best possible way. The three high passes were a thrilling challenge, and the landscapes were some of the most beautiful I've ever seen. The trek also gave me a chance to connect with the Sherpa people and their unique culture, and the sense of community among fellow trekkers was a highlight of the journey.
Thank you ! See you again.

Melina
Singapore
Conquering the Everest Three Passes Trek - A Life-Changing Journey
I recently completed the Everest Three Passes Trek, and I cannot express enough how life-changing it was. The journey was tough, but it was worth it. The scenery was stunning, and the culture was fascinating. Even though I embarked on this journey alone, I felt safe and supported by the other trekkers and the local people I met along the way. I would highly recommend this trek to anyone looking for a challenging but rewarding adventure in the Himalayas.

Lim Zhang & Team
Taiwan
A Dream Come True for Solo Traveler
We had always dreamed of doing the Everest Three Passes Trek, and it did not disappoint. It was a challenging trek, but our determination was fueled by the stunning views and the kindness of the locals. We were also lucky enough to have met some amazing fellow trekkers who made the journey even more enjoyable. We would like to thank our guide and porters, who were always there to lend a helping hand and make the experience even more memorable.