Buddhist Cultural and Historical Tour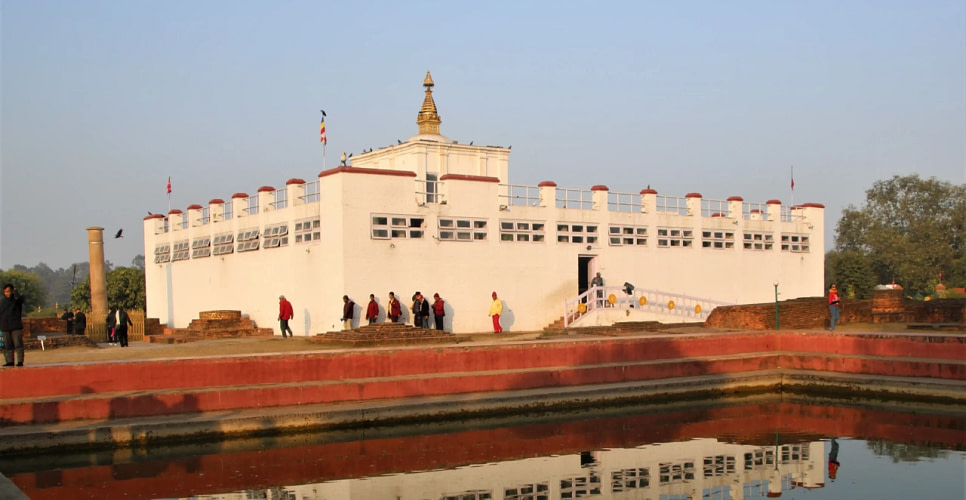 Trip Highlights of Buddhist Cultural and Historical Tour
Traditional Buddhist Monuments
Explore the Himalayan Buddhist Culture
Visit the birthplace of Lord Gautam Buddha
Overview of Buddhist Cultural and Historical Tour
Buddhist Cultural and Historical Tour in Nepal, the official Birth Place of Lord Gautam Buddha: Nepal has always been known as the land of realized beings, where Prince Siddhartha Gautama of Sakya Kingdom was born in 623 BC on the full-moon day of the Baisakh: the first month of the year according to the Hindu and Buddhist Lunar calendar. It falls around the first week of May in the Gregorian calendar.
In search of Truth, he discarded the imperial life and left the palace, his wife, and his son to search for truth. In search of the meaning of life, he started an ascetic life and achieved Nirvana after meditating in the shade of the Bodhi tree / Ficus Religiosa. After more than a month of 49 days or seven weeks, then finally reached enlightenment and began to teach the glory of Truth and Wisdom to his followers and disciples with the famous Noble Eightfold Paths of Life: Right perspective, Right determination, Right talk, Right behavior, Right lifestyle, Right effort, Right caution, and Right Samadhi( perfect union): These are the main teachings of Buddhism and has been practiced from ancient times to till this day.
The birth spot and the palace were lost and buried along with the rubbles till Mauryan Emperor Asoka discovered them. He erected a pillar in 249 BC marking with the inscription the true site of Buddha's birth. Eventually, it vanished for centuries till it was rediscovered in 1895 by a German archaeologist who unearthed the Asoka's Pillar. The inscription on the pillar and the records written by a Chinese pilgrim Fa Xian proved to the world the acclaimed Buddhist site. At present, Lumbini has been designated as UNESCO World Heritage Site since 1997 AD, the significant pride and glory of Nepal.
On the Buddhist Cultural and Historical Tour in Nepal, visitors of various different religions can join this exciting tour. Besides Buddhism's important places, the tour takes you to other fascinating sites that make this trip more delightful and exciting.
Itinerary of Buddhist Cultural and Historical Tour
Arrive in Kathmandu (1300m), transfer to hotel.
After a long flight from respective countries, arrive at Kathmandu and Nepal's International Airport. A representative from Vertex Holiday will receive you and drives you to your hotel in the center of Kathmandu city.
At the hotel, check in to your nice rooms and get refreshed before joining in at the lobby for a group meeting and briefing. Our guide and staff provide you with the necessary information and details about the tour around the places of interest.
In the evening group welcome dinner in a nice typical Nepali restaurant as an introduction to Nepalese foods, with live cultural programs of folk dance and music.
Car 20m
Accommodation 3 Star Hotel
Meals Dinner
Altitude 1300m
Tour of Kathmandu around famous Buddhist sites
Tour begins after breakfast; our guide will pick you up at the hotel for a short drive to the old Buddhist monument at Swambhunath Stupa of more than 2,600 years old history. The place is an attractive spot facing views of Kathmandu city and the valley with snow peaks towards the north. Enjoy the tour of Swayambhunath, located on top of a hillock, surrounded by a green forest with many monkeys.
From Swayambhunath, drive east to Bouddhanath, another famous Stupa of more than 500 years old. A large dome with the mystical eyes of Lord Buddha on four cardinal sides, the area around Bouddhanath is also known as 'Little Tibet.'
After an exciting and impressive tour, head towards the adjoining city of Patan or Lalitpur, the city of intricate arts and crafts. At Patan, visit the central Durbar Square Palace courtyard of the Malla Dynasty from the 9th to 17th Century. At Patan, a tour of the Mahaboudha temple dedicated to Lord Buddha, historically constructed in the 16th Century. A replica of the Shikara model similar to the one in Bodhgaya-India, the monument is also called a temple of thousand Buddhas.
The image of Buddha is engraved on every brick of the temple. From here, a drive to the southern outskirt of Kathmandu and Patan area to Pharping, a sacred site with a holy cave, where a great saint Padmasambhava of the 17th Century, meditated on his way to Tibet. Tranquil surroundings with an old village of Newar and Tamang tribes, visit the monastery and then drive back to the hotel.
Car 6 Hours
Accommodation 3 Star Hotel
Meals Breakfast
Altitude 1300m
Drive to Pokhara and transfer to hotel - 06 hours.
The morning after breakfast, depart for Pokhara, an exciting drive on Nepal's main highway, as the journey leads through several villages, towns, and farm areas.
Face occasional views of snow-capped peaks as the drive follows Trisuli River till our route diverts from Mugling Bazaar heading west.
A lovely scenic ride overlooking views of the Manaslu and Annapurna Himalaya range, as the drive ends on reaching Pokhara near the beautiful Phewa Lakeside. Where most nice hotels, shops, stores, and restaurants are located, on checking into your rooms.
The rest of the afternoon is free for leisure till dinner time and preparations for the early morning tour of Sarankot high hill.
Car 7 Hours
Accommodation 3 Star Hotel
Meals Breakfast
Altitude 822m
At Pokhara tour of Sarankot for sunrise, and at places of interest.
Rising early before breakfast, a short drive uphill to a scenic high hill of Sarankot on top at 16,000 m. A vantage viewpoint for a stunning sunrise over an array of Himalayan peaks, including Dhaulagiri, Annapurna, Lamjung Himal, and Manaslu Himalayas. Besides sunrise and mountains grand vista of Pokhara city and the valley with beautiful Phewa Lake. After an exciting morning back to the hotel for breakfast and then took a boat across the lake. Then an hour's hike up to a scenic ridge, where Peace / Shanti Stupa is located. The Buddhist pagoda stupa towers.
High at 1,100 m, above Pokhara valley and the city, facing fabulous scenery of Annapurna and Manaslu Himalaya range with majestic Machhapuchare Himal, the Fish-Tail peak. The Peace Stupa foundation was started by a Japanese saint Michidatsu Fujii with relics of the Buddha idol in 1973. But the whole Beautiful complex was completed in the late 1990s.
From the top, head down across the lake for another exciting tour of Pokhara's natural wonders of Davis waterfall, or Patale Chhago means Hell's falls; Davis Waterfall is situated within a nice park, and witness the torrential cascading waterfalls. Close to Devis Falls, visit Gupteshwor Mahadev Cave, a long cave walk on steps inside the cave to a shrine of the Hindu god Lord Shiva. From here, back hotel, with the rest of the afternoon free for leisure for individual activities
Car 6 Hours
Accommodation 3 Star Hotel
Meals Breakafst
Altitude 822m
Drive to Nepal Far South Mid-West at Lumbini - 06 hrs.
After an enjoyable time at scenic Pokhara, the morning drive heads down towards Nepal's Far South-West around warmer climate.
An exciting overland journey past Waling, Syangja town, and Butwal town, as the drive continues on the flat-land of Terai as the temperature gets warmer sub-tropical, heading past the large town of Bhairawa then reaching our last destination at Lumbini for two overnights.
Car 6 Hours
Accommodation 3 Star Hotel
Meals Breakfast
Tour of Lumbini at a birth spot of Lord Buddha and historical sites.
Start the morning after a good breakfast; our local guide takes you around the spot where Lord Buddha was born and visit the most important historical and religious sites of bygone days. Amazing to know that the beautiful palace of the Sakya Kingdom existed way back more than 3,000 years ago. Tour of Asoka pillar and the flame of peace with various interesting places of great interest.
After a great tour, head back to the hotel with time in the afternoon for leisure walks around the streets of Rupendehi, one of the main towns within Lumbini.
Walking 3 Hours
Accommodation 3 Star Hotel
Meals Breakfast
Drive back to Kathmandu from Lumbini-07 hours
From Lumbini, a long exciting drive back to Kathmandu, on leaving the low land of Terai around Far Mid-West South Nepal. Drive follows through many towns, villages, and farmlands, as well as deeply forested areas that line the road in some sections of the main highway. As drive reaches the mid-hills with cooler air and then winds uphill, entering Kathmandu valley and the city. On reaching the city area, transfer to your respective hotels with your last leisurely evening after an exciting drive from Lumbini.
Car 7 Hours
Accommodation 3 Star Hotel
Meals Breakfast
Altitude 1300m
Depart Kathmandu for an international flight homeward bound
Getting ready for final departure from Kathmandu and Nepal, as per your
international flight time, transfer to the airport for homeward bound or to
respective countries, after an enjoyable, memorable time on Buddhist Historical and Religious Sites tour with Vertex Holidays.
Includes/Excludes
What's Included?
Pick up and drops off from/to airport and hotel
All ground transportation (sightseeing in Kathmandu, Pokhara, and Lumbini by private vehicle)
Three nights' accommodation with breakfast at a 3-star category hotel in Kathmandu
Two-night accommodation with breakfast at a 3-star category hotel in Lumbini
Two night's accommodation with breakfast at a 3-star category hotel in Pokhara
A professional tour guide
All kind of entry fees for sightseeing
Welcome and Farewell dinner at a typical Nepalese restaurant in Kathmandu
All government taxes and office service charge
What's Excluded?
Nepal visa fee (more details please read travel info)
Lunch and dinner during travel time
Tips for guide and staff
Optional program fees
International airfare
Complimentary
welcome and farewell Dinner
Essential Information - Buddhist Cultural and Historical Tour
An exciting tour of the City of Temples Kathmandu: and beyond other Buddhist pilgrimage sites
This Buddhist cultural and Historical tour incorporates monuments of diverse Buddhist practices. This tour starts from Kathmandu, exploring Boudhanath stupa and Swayambhunath Stupa (UNESCO-listed world heritage sites), and Kapan Monastery. Apart from Buddhist monuments in and around Kathmandu, there are several Buddhist sites scattered around Nepal.
Another major destination is Pokhara, a beautiful city on the foothills of the Annapurna mountain range. Some popular Buddhist sites in Pokhara are the World peace stupa, Matepani Gumba, and Tibetan refugee camp. Another significant Buddhist site in Lumbini, the birthplace of Lord Gautam Buddha. is one of the world-renowned Buddhist pilgrimage sites in the world. Every year thousands of Buddhist devotees and other travelers visit this UNESCO world heritage site.
Buddhist Historical and Cultural Tour route:
Ideal holiday trip for all sorts of people and age groups. The tour explores major Buddhist spots, including cultural, historical, and religious places, where all can spend a memorable holiday in Nepal. The tour begins in Kathmandu, the capital city and major commercial hub of the land.
It is a semi-modern city: still maintaining its glorious medieval old monuments, art, architecture, and medieval cultural heritage sites as they have been since past couple of hundreds ago. The sightseeing tour around the UNESCO World Heritage Sites is the major tourist highlight of Nepal.
Kathmandu and Patan offer many great monuments and shrines, including cultural attractions for Buddhists and other visitors. The trip offers sightseeing of the old Swayambhunath Stupa (Monkey Temple), and Bouddhanath (the world's largest dome stupa), based on Buddhist ideology. Patan / Lalitpur city is known for fine arts and crafts with intricate carvings on wood and metals.
The visit extends to Pharping south of Kathmandu valley, where 7th Century great saint Padmasambhava meditated on his way to Tibet. The Buddhist Historical and Cultural Tour tour continues further west to Pokhara, located on a picturesque valley decorated with natural wonders.
Shadowed by the massive white snow mountain peaks of Dhawalagiri, Annapurna, and Machhapuchare(the famous Fish-Tail peak) Himalayan range and reflects on the Fewa and Begnas lakes. Pokhara is a major tourist city with mesmerizing scenery and the starting and ending point of various exciting trekking and hiking adventures around the Annapurna Himalayan region.
Pokhara offers exciting places of natural wonders, also the premier ground for several types of adventure sports, including paragliding, mountain biking, mountain flights, and so on. From Pokhara tour continues heading down southwest to Lumbini, the flatland of Nepal, Terai of sub-tropical lowland climate. 'The Light of Asia' Lord Gautam Buddha's Birthplace, Lumbini, is the central hub for followers of Buddhism from all around the world.
Lumbini offers a sightseeing tour of exciting and impressive historical and religious sites of the ancient lost kingdom of the Sakya empire. Re-discovered last century, some monuments still exist, like the historical Asoka Pillar, the primary evidence of Buddha's birth site. On completing Buddhist Historical and Religious Sites tour, then back to Kathmandu after a memorable and glorious time in Nepal.
Best Season for Buddhist Cultural and Historical Tour:
The best time for the Buddhist Cultural and Historical Tour is most of the year. Besides the wet season, from mid-June to August, the best and high season is during spring, from March to May, and autumn, from September to November. The Wintertime of December to February is another good time to explore but with much colder mornings and nights. In autumn and winter, days are shorter due to fewer sunlight hours, but mid-day is warm and clear, ideal for amazing views and tours.
If you have queries about this Buddhist Cultural Tour and other similar tours in Nepal, get in touch with Vertex Holiday. We are dedicated to providing a fantastic travel experience in Nepal.
Reviews on Buddhist Cultural and Historical Tour
Be first to post a review in this trip.