Langtang Valley and Gosainkunda Trek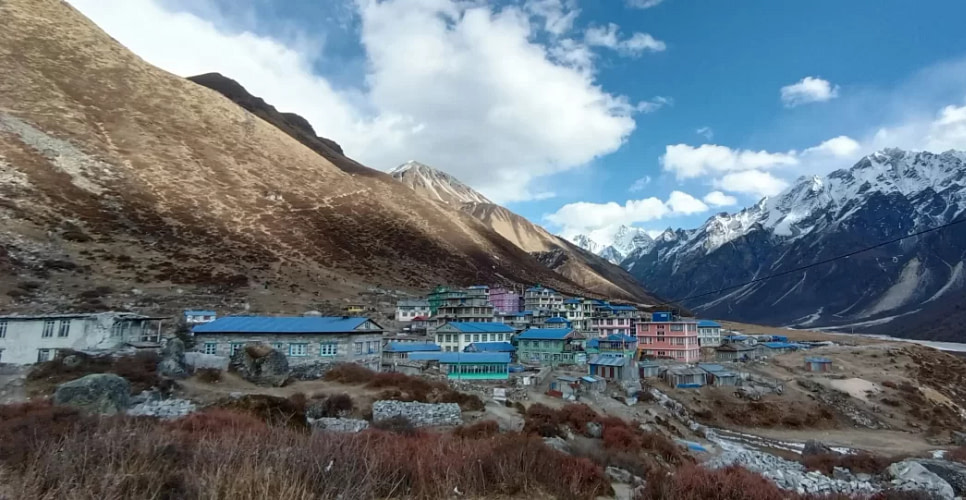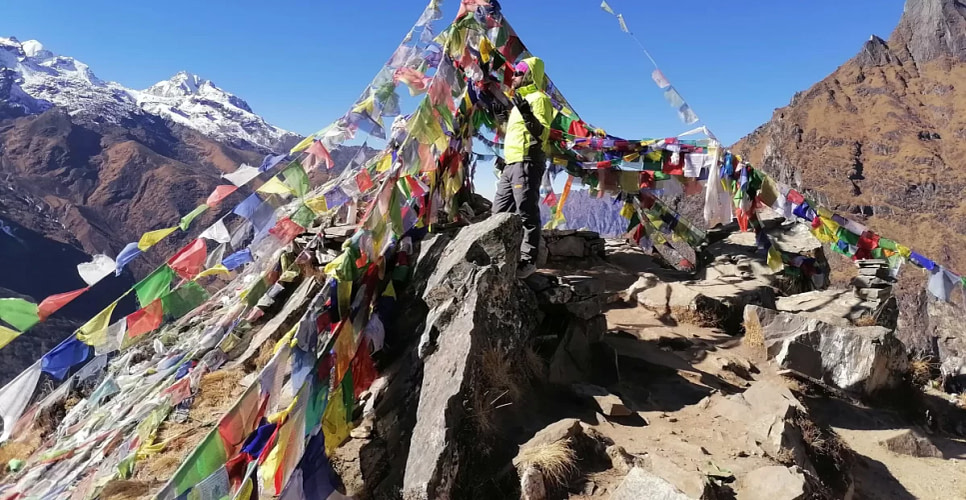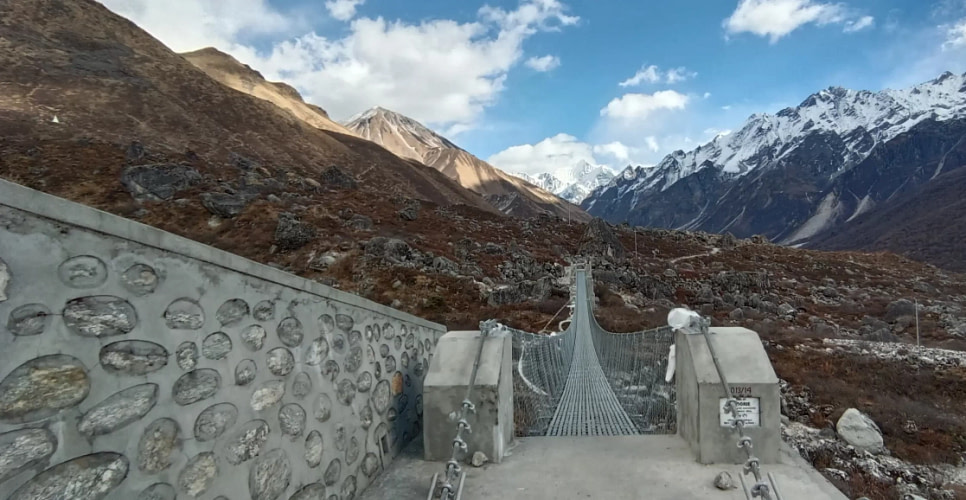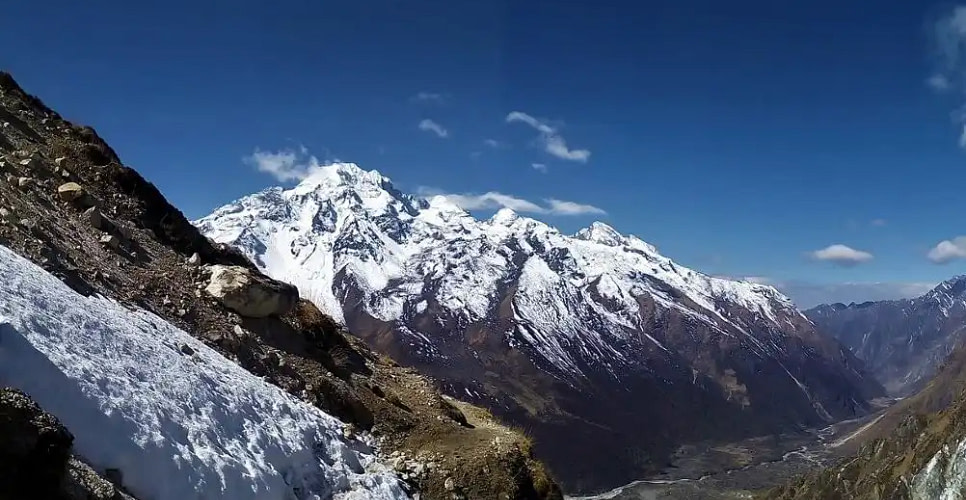 Trip Highlights of Langtang Valley and Gosainkunda Trek
Scenic and cultural adventure within the great Langtang Himal range.'
Highlights: "Enjoy scenic and cultural walks to beautiful Langtang valley and holy Gosainkund
Walk into lovely serene surroundings of enchanting forests and traditional villages.
Adventure of great combination covering a whole range of massive Langtang Himal
In the country of elusive and endangered Red Panda and other exotic wildlife
Explore the holy spot of Gosainkund and its crystalline glacial sacred ponds
Overview of Langtang Valley and Gosainkunda Trek
Langtang Valley and Gosainkunda Trek take you to famous Central Himalaya adventure destinations, visiting the spectacular high country of Langtang Himal. A blend of scenic and cultural combinations, where trekkers can experience traditional village life in the harmony of pristine surroundings.
Langtang Valley and Gosainkunda Trek is a perfect Himalayan holiday for all age groups with a taste of high-altitude adventure. On walks, elevation gains slowly and gradually, where one can get acclimatized by the time you reach the higher country. A beautiful trek around Langtang Himal of high snow-capped peaks and the nearest mountainous range from the capital.
Langtang Valley and Gosainkunda Trek, located around Central Himalaya north of Kathmandu valley, within Langtang National Park, covers an area of 1 710 sq. km. The first Mountain National Park of Nepal was established in 1976, enriched with exotic flora/fauna where elusive Red Panda habitats. In springtime, the valley and high hills are covered with seasonal wildflowers in full bloom. Making the whole area of Langtang a paradise for botanists and nature lovers, especially the rhododendron of various species.
Besides the grand vista of the Himalayan range of peaks, the whole Langtang Valley and Gosainkunda Trek is steeped with colorful culture of age-old heritage traditions. Interwoven with Buddhism religion, which you find equally fascinating. As you explore various Tamang villages on this beautiful adventure from the start to the end of this glorious journey.
Itinerary of Langtang Valley and Gosainkunda Trek
Arrival in Kathmandu via respective airlines and transfer to hotel.
On arrival at Kathmandu-Nepal International Airport via various airlines, our guide and staff receive you for a short transfer to the heart of Kathmandu city. Where your hotel is located, after checking into your rooms and then meet other members of the trek at the hotel lobby for briefing. Regarding the wonderful adventure to Langtang Valley and Gosiankund trek. On briefing includes useful information to make your holiday in Nepal more enjoyable. Evening group welcomes dinner in a lovely Nepalese Restaurant with an introduction to Nepalese culture of various parts of Nepal with folk dance and music.
Car 20m
Accommodation 3 Star Hotel
Meals Dinner
Altitude 1300m
At Kathmandu for trek preparation and tour of heritage sites.
The morning after good breakfast, enjoy a tour of Kathmandu places of great interest where our city guide leads you with a short drive and walks to visit famous historical and religious monuments with old palaces. Most of the ancient temples, Stupas, and monasteries including royal courtyards are listed in world heritage sites in the chapter of fascinating wonders After an enjoyable back to the hotel, for the final meeting and preparations for the most wonderful adventure to Langtang Himal and Gosainkund trekking.
Car 6 Hours
Accommodation 3 Star Hotel
Meals Breakfast
Altitude 1300m
Drive to Syabrubesi village 1,420 m - 06 hours.
Start early in the morning, after a good breakfast, for an interesting drive beyond Kathmandu valley to reach the high cooler Himalayan hills at Dhunche, headquarter town of Rasuwa district and the entrance to Langtang National Park. From here a long descend on the zig-zag turn to reach a Syabrubesi village for an overnight stop in the best available local lodge. Herewith time to browse around the village and witness the local culture of Tamang the hill tribe of Langtang Himal range practice Buddhism and Bon sect of pre-Buddhist.
Bus 6 Hours
Accommodation Tea House
Meals B/L/D
Altitude 1420m
Trek to Lama Hotel 2, 380 m - 06 hours.
After a first overnight on the cool area of Langtang Himal area, the morning starts with a short walk to cross a bridge, and then climb towards a high ridge within small farm areas, as the trek continues heading past a small settlement of Bamboo to enter into a dense forest and reaching a nice open clearing where Lama Hotel situated. A place amidst tall tree lines of rhododendron, pines, oaks, and fir with some bamboo stalks, which makes a prime habitat for elusive Red Panda often seen on walks around.
Walking 6 Hours
Accommodation Tea House
Meals B/L/D
Altitude 2380m
Trek to Langtang Village 3, 480 m - 05 hours.
From Lama Hotel, a place with several nice small simple lodges walk starts heading into a river gorge covered in thick vegetation and tall trees following the narrow trail to reach a small lovely place in Ghoretabela.A good place for a lunch stop, within forest surroundings, where a few small lodges located. Afternoon walks into the cool shade of the forest to reach an open area at Langtang village for an overnight stop in one of its many lodges. Here you can witness a memorial of villagers and foreign trekkers who died during a big earthquake in 2015, where avalanches and landslides swept the whole village and many life.
Walking 6 Hours
Accommodation Tea House
Meals B/L/D
Altitude 3480m
Trek to Kyanjin Gomba 3, 870 m - 04 hours.
Spending a lovely overnight stop at Langtang village, the morning walk follows a path towards higher ground, with a short climb to enter a wide exposed valley of Langtang, where Kyanjin Gomba is situated within a beautifully scenic location. Arriving at Kyanjin for lunch and overnight stay in one of its many good lodges overlooking grand views of surrounding snow peaks on both sides of the valley floor. The afternoon takes a short hike and relaxes marveling at the grand views of the wonderful scenery of the mountain range of Langtang Himal.
Walking 6 Hours
Accommodation Tea House
Meals B/L/D
Altitude 3870m
At Kyanjin Gomba with rest day for hike and excursion.
A leisure and free day for acclimatization, on this beautiful spot in Kyanjin, after breakfast enjoy a short uphill hike to Kyanjin Ri, or on top Tserko Ri at above 4,500 m high. The high ridge of both hills offers a stunning panorama of Ghengu Liru (Langtang -II 6, 571 m / 21,560 feet), Langtang Lirung (7,425 m / 23,765 feet) Kimshun (6, 745 m / 22,137 feet), and Shalbachum (6, 918 m / 22, 699 feet) to the south, the Chimsedang Lekh. That forms a ridge lined with peaks of Naya-Kanga 5,846 m and Gangchempo, Tilman's beautiful Fluted Peak. The views extend towards the east around Jugal Himal and end at Dorje Lakpa (6,980 m / 22, 929 feet). Rest of the day relax and enjoy the pleasant environment of scenic hills and valleys.
Walking 7 Hours
Accommodation Tea House
Meals B/L/D
Altitude 3870m
Trek back to Lama Hotel on downhill - 07 hours
Enjoying a wonderful time at Kyanjin and around Langtang valley, a long day walks to cover a long distance, but much easier on the downhill as altitude lose every hour of the walk to reach back at Lama Hotel for an overnight stop.
Walking Hours
Accommodation Tea House
Meals B/L/D
Altitude 2380m
Trek to Thulo Syabru Village 1, 900 m - 06 hours.
From Lama Hotel walk towards a place called Bamboo a small settlement with few shops and huts that serves as lodges and Tea-House. After a short stop walk continues with a climb to reach a lovely Thulo Syabru village perched on a high ridge. Afternoon enjoys exploring around and observes the local traditional farm life of Tamang villages.
Walking 6 Hours
Accommodation Tea House
Meals B/L/D
Altitude 1900m
Trek to Chandanbari / Sing Gomba 3, 330 m - 05 hours
The morning starts with a steep climb heading past a few small farm settlements with some tea-house and shops. Uphill continues for few hours into a dense forest of tall rhododendron, oaks, magnolia, pines, and fir trees to reach a large grazing pastures field on a hilltop with some small tea-shops. From here onward into nice areas within tall trees walk on a pleasant trail for an hour to Sing Gompa, also known as Chandanbari, which means a place of sandalwood trees. Transfer in a nice small lodge on this small village having few good lodges and guest house, with an old monastery located on top of a village.
Walking 5 Hours
Accommodation Tea House
Meals B/L/D
Altitude 3330m
Trek to Gosainkunda 4, 460 m - 05 hours
A great walk today first half of the morning is pleasant with short ups and then on a gradual forest path with views of Langtang Himal range with Ganesh, Manaslu, as far towards Annapurna Himalaya in the far west.
After leaving the dense tall trees climb to a small place with few houses serving as lodges and restaurants.A good place to stop for lunch, and then continue a steep climb to the top of the west ridge of Laurabina.The name means a place where pilgrims leave their walking sticks, after a visit of Gosainkunda. From the high ridge enjoy stunning views of dramatic landscapes with snow peaks.
A short descend reaches you to Saraswati and Bhairab Kund ponds. Then head for a short climb to Gosainkunda around its holy glacial large pond. Here you can notice traces left behind by pilgrims during their pilgrimage and worships. A festival event of Janai Purnima held once a year takes place in the monsoon time of August, on a full moon day. Where a thousand people from all around Nepal and India visit to pray and worship Lord Shiva and the holy lake Gosainkund.Gosainkund is located in a basin surround by high rocky cliff walls and towering peaks, a place with few small simple lodges to stay for overnight.
Walking 5 Hours
Accommodation Tea House
Meals B/L/D
Altitude 4460m
Trek to Ghopte 3, 440 m crossing Laraubinaya- La - 07 hours
Start early morning after breakfast, as today is a long walk to reach the other side of Langtang Himal range. From Gosainkunda on a gradual path walk on the shore of a pond, then climb to leads to a small Surjakund pond, as the trail winds up to Gosainkund pass or East Laurabina-La, the highest spot of the adventure at 4, 609 m / 15, 100 feet high. Standing on top of the pass festooned with prayer flags, enjoy the grand scenery of rolling green hills and snow-capped peaks, and walk downhill a long stretch to reach the base called Phedi (bottom) at about 3,694 m. A place with few teahouses for a possible lunch break. After a refreshing stop walk continues towards the east to reach around the Helambu area. Back into green vegetation's and tree lines of junipers, rhododendron to reach Ghopte for an overnight stop in a nice small lodge, the name of the place means an overhanging rock cave.
Walking 6 Hours
Accommodation Tea House
Meals B/L/D
Altitude 3440m
Trek to Kutumsang 2, 440 m - 06 hours.
From Ghopte located in the middle of the trail for Helambu, Kathmandu, and Gosainkund, a morning walk into a forested area for an hour, with an hour uphill near the high hill of Tharepati which is 3, 650 m high. As our route leads to a small settlement at Mange-Goth, a wide green pasture field for grazing of local villagers' cattle. Stopping here for lunch as time permits. After Mange-Goth, a pleasant walk down into the cool forest to reach Kutumsang village for an overnight halt. An interesting farm village populated by Tamang, Sherpa, and some Hyalmo a small group of hill tribes, practice the same Tibetan Buddhism religion and culture as Tamang and Sherpa.
Walking 6 Hours
Accommodation Tea House
Meals B/L/D
Altitude 2440m
Trek to Chisapani 2, 190 m - 07 hours.
Spending pleasant overnight at Kutumsang, a long walk today to reach Chisapani, starting early morning on a nice winding path with few short ups and down heading past farm areas and villages to Gul-Bhanjyang a nice village, located on a ridge. After the short refreshing break continues to walk on a pleasant trail with steep ups and downhill to reach Pati Bhanjyang village. From here a short climb to an overnight stop at Chisapani, a nice small village situated on a hilltop just north of Kathmandu valley rim. Chisapani famous for striking sunrise and sunset views over a Himalayan mountain range that includes Langtang, Jugal Himal extends to Ganesh Himal-Manaslu and as far towards Annapurna Himalaya range in the west.
Accommodation Tea House
Meals B/L/D
Altitude 2190m
Trek to Sundarijal 1,520 m short drive to Kathmandu - 04 hours.
Early morning catch the stunning sunrise views that shine lights on an array of snow peaks, after breakfast our last day trek leads downhill past dense forest and farmlands, then a short climb to Burling and Chepu Bhanjyang at 2,438 m high. Where you can enjoy views of Kathmandu Valley, walk continue with long descend to Sundarijal (means a place of beautiful streams and water-falls) a lovely spot with a cool shade of forest with fresh running clear streams. After a pleasant walk with the higher side of Sundarijal then head down to a roadside at main Sundarijal town, where a short drive reaches you Kathmandu after an enjoyable and great adventure on Langtang Valley and Gosainkund Trekking. Rest of the day free at leisure for shopping souvenirs, evening farewell group dinner in a nice Nepalese restaurant with Folk culture programs as entertainment.
Jeep 6 Hours
Accommodation 3 Star Hotel
Meals B/L
Altitude 1300m
Depart Nepal for international departure homeward bound
Your last day in Nepal, enjoying a memorable adventure of a lifetime experience on Langtang Valley and Gosainkund Trekking, and then as a time for your international flight. Our staff transfers you to the airport for homeward bound.
Includes/Excludes
What's Included?
All airport/hotel transfers
Hotel in Kathmandu
All accommodations and meals during the trek
Private or Local transportation (Kathmandu-Dhunche) and (Sundarijal-Kathmandu)
An experienced English(trekking guide), assistant guide When you are in a group of 10 persons and Porters to carry luggage (2 trekkers:1 porter) including their salary, insurance, equipment, food, and lodging
Certificate of Achievement by Vertex Holiday
All necessary paperwork and permits (National park permit, TIMS )
What's Excluded?
Lunch and dinner in Kathmandu
Your personal Travel insurance
International airfare
Nepal entry visa
All kinds of drinks (hot and cold) during the trek
Hot showers during the trek
Your Personal trekking equipment
Tips for trekking staff
Complimentary
Comprehensive medical kit
Duffle bag for Trekking
Snack of seasonal fruit during the trek
Essential Information - Langtang Valley and Gosainkunda Trek
Langtang Valley and Gosainkunda Trekking Route
Langtang Valley and Gosainkunda Trek begins with an exciting drive from Kathmandu to reach high areas of the Rasuwa district within Langtang Himal. The walk starts from a nice village of Syabru, towards higher hills and a river gorge covered in dense alpine tree lines. As treks continue with several overnight stops on the route, then entering an open wide scenic valley at Kyanjin Gomba. Located in the heart of beautiful Langtang valley, enclosed by a series of high snow mountain ranges.
At Kyanjin with time to marvel the spectacular scenery, as well as for a day hike to support acclimatization. Before heading towards our next high destination at Gosainkund glacial lake, the holy pilgrimage site for all Hindu followers. From Kyanjin and Langtang valley, the Langtang Valley and Gosainkunda Trek continues heading northeast towards other exciting highlights at holy Gosainkund. Heading on the same trail, then towards the high hill village of Thulo Syabru, a moderate size Tamang village.
The Langtang Valley and Gosainkunda Trek adventure then heads into a beautiful forest of rhododendron and pine trees to reach Sing Gomba, a small village with an old monastery. Walk from Sing Gomba during Langtang Valley and Gosainkunda Trek leads to climbing, facing an awesome panorama of the Far Western Himalayan peaks of Ganesh, Manaslu, and Annapurna ranges. Enter into the scene forest and then leave the tree lines behind as uphill begins all the way to reach Gosainkunda.
A glacial pond is considered a holy area and a major highlight of Langtang Valley and Gosainkunda Trek, hosts  a festival once a year,  on the rugged lake shoreline of Gosainkund. Thousands of pilgrims and devotees visit to pay homage at Gosiankunda, regarded as one of many abodes of Lord Shiva.
The creator of many ponds and lakes around this sacred and mystical area, where Hindu followers taka dip and bathe. Gosainkund is an alpine freshwater oligotrophic lake that is non-active, with no vegetation or water life like fishes.
The story and belief make Gosainkund a special holy place for all Hindu as well as some Buddhist followers. After an interesting time around this scared land, then head towards the highest point of the adventure. On top, Laraubinaya-La 4, 609 m / 15, 100 ft., rewards a magnificent panorama of green landscapes with high snow peaks.
Traversing from Rasuwa to enter another district of Sindhu-Palchok , around the eastern ridges of Langtang Himal at Helambu country. From here onward Langtang Valley and Gosainkunda Trek leads through the lovely forest and then on the road to Kathmandu.
Langtang Valley and Gosainkunda Trek route leads to the end of the adventure, heading past the farm villages of Kutumsang and Gul Bhanjyang to Chisapani villages. A scenic spot perched on a high ridge above the north of Kathmandu valley's eastern rim offers a grand panorama of Himalayan peaks. From Chisapani, enjoy glorious sunset and sunrise views that shine on an array of snow mountain ranges.
Spending the last overnight of the adventure in Chisapani, a place with several good lodges, then down to Sundarijal. From here, a short drive to your hotel in Kathmandu after a memorable and wonderful experience on Langtang Valley and the Gosainkunda trek.
LANGTANG VALLEY AND GOSAINKUND TREK ADDITIONAL INFORMATION:
During Langtang Valley and Gosainkunda trek, lodges are simple with basic facilities, mostly with common toilets and bathe-room. But the rooms are neat and clean with a good comprehensive food menu served in a nice and warm dining room. The food menus during the Langtang Valley and Gosainkunda Trek are combination of TIbetan , Nepali and some foreign dishes
In 2015 huge earthquake shook the whole Mid-West and Mid-Eastern region of Nepal. The Langtang area was worst affected, many large villages and settlements were badly damaged, and many lives were lost of local villagers and some foreign trekkers.
The Langtang Valley and Gosainkunda Trek is slowly returning back to normal so that all trekkers can enjoy the minimum facilities and excellent hospitality of Langtang villagers. Trekkers with limited time, if they cannot continue the whole trek, can walk back to Syabrubesi from Lama Hotel and drive to Kathmandu.
The other options carry on Langtang Valley and Gosainkunda Trekking is to Sing Gomba and walking downhill to Dhunche town, where you can catch private or public transport to reach Kathmandu.
Religious Significance during Langtang Valley and Gosainkunda Trek:
During Langtang Valley and Gosainkunda Trek , there are two major religious sites Kyanjin Gumba and Gosaikunda lake . Kyanjin Gumba is a Buddhist shrine, decorated with Prayer Flags and Mani Walls. Trekkers and Travelers are allowed explore the shrine.
Gosainkunda is a glacial lake , major higlight of Langtang Valley and Gosainkunda Trek , is a major pilgrimage site for both Hindus and Buddhists and hosts a festival in the monsoon month of August as per the Hindu Lunar calendar on the auspicious time of the full moon, called 'Janai Purnima', a Hindu, especially for menfolk, the event changing of holy thread worn by men and boys of tender age. At this festival, Hindu devotees and pilgrims visit Gosainkund in large numbers to worship and pray to take a bath and dip in the holy lake.
Belief has relinquished the sin of a thousand lifetimes, and prayer and worship take place on this religious event. Hindus believe that the glacial pond was created by Lord Shiva. When he drank a lethal poison to save the earth and earthly beings, it spread by the devils. Lord Shiva then, with his mighty weapon, a trident or Trisul, struck the ground.
Desperately in need of fresh water to drink and dilute the poison that he consumed, he formed 108 ponds. At present, exists fewer than a dozen ponds around this sacred place, with the main holy pond being the main highlight of Langtang Valley and Gosainkunda Trek
Most Asked Questions by Travellers
Not at all, like all over high Himalayan region with ups and downs hills to encounter, it is not difficult where the trail is well-trodden by many groups of trekkers. The only tough and difficult is climb that involves high altitudes of above 3,000 m high. Trek to Langtang valley will help and support to get acclimatize before reaching much higher elevation to Gosainkund and over Laraubinaya-La Pass.
It is best to be physically fit and in sound health before and after booking this trekking adventure, good exercise is needed to keep you in shape as this trek involves many steep ups and downhill, as well a touch of high altitude.
From springtime of March to May, as well in autumn/fall season from September to November. The best season is April to May and September till November, where days are clear for excellent views of surrounding beautiful landscapes and high snow-capped peaks.
With cold morning and late afternoon till night time cold and in the shade. Can get snow sometimes around this good season also, especially on higher areas and the pass can make the walk difficult in deep snow.
The lodge is very simple, but clean and hygienic, as Langtang is rebuilding back into a better place to stay, after the damage from past earthquakes. The accommodation in lodges is of tourist budget standard, with common toilets and bathrooms but hot/cold shower available at extra cost for fuel charge to heat the water. The food is excellent with a long list of menu to choose all meals served in a large cozy dining room with warm hospitality.
The nearest hospital and medical post are at Dhunche or back to Kathmandu. In critical cases for very sick persons from any other medical reasons or accidents, as well as altitude sickness. Who cannot continue the journey, the sick person needs to be taken back to Kathmandu. The fastest means of transport is taking a helicopter service. In this emergency case where victims have to bear all the expenses to be claimed from health and medical insurance.
At present nearly all villages that we stay for overnight, do have electrical power or from private solar energy, where you can charge your electronic gadgets like camera, cell-phone or laptop, on paying a fee for each item per hour.
Our itinerary is designed with care, with much shorter days and enough time to get acclimatized, that is why Vertex Holiday is different from other local companies as we care for our clients and staff safety. Following our trekking itinerary very low chances of getting altitude sickness, as the altitude gains gradually by the time you reach higher areas you will be fine and well acclimatized by then.
But in rare situations, if someone gets very sick from AMS (Acute Mountain Sickness) needs the patient to evacuate to lower areas accompanied by our reliable staff. For server cases calling for helicopter services to be taken to Kathmandu for proper treatment.
Chances are small, but wild-life do exists, like mountain antelopes, snow leopard, fox, deer, and wild cats including the rare endangered Red Panda with many species of birds. Depends upon the area of walks and staying longer where animals can be spotted.
If lucky can see some wild-life even Red Panda, but not all trekkers have the great chance to spot the wild animals on treks. It depends upon the season as well, during winter times the animals migrate to lower hills and valleys, and in spring and summer move to higher mountainous areas for grazing.
Reviews on Langtang Valley and Gosainkunda Trek
Be first to post a review in this trip.