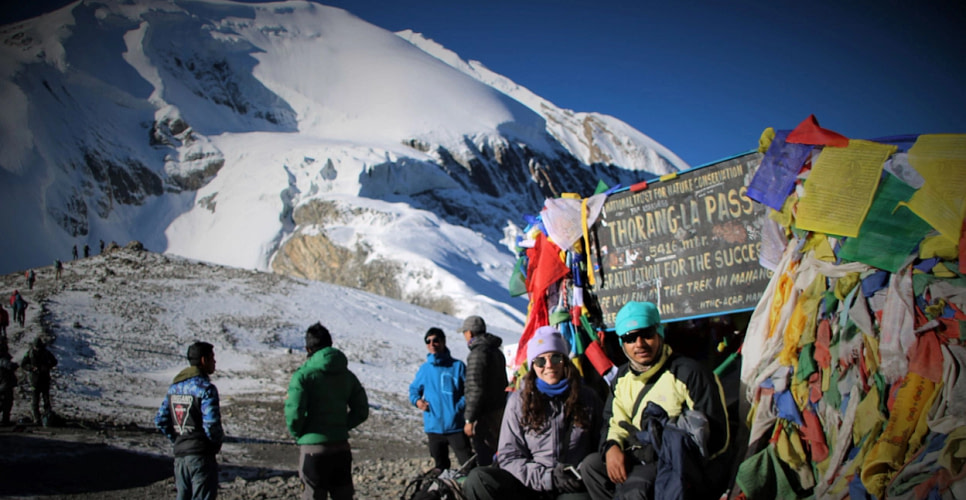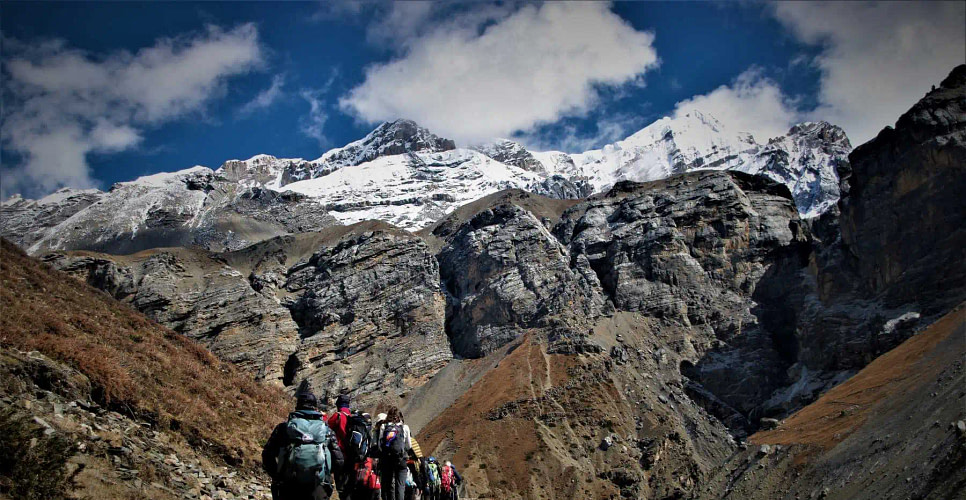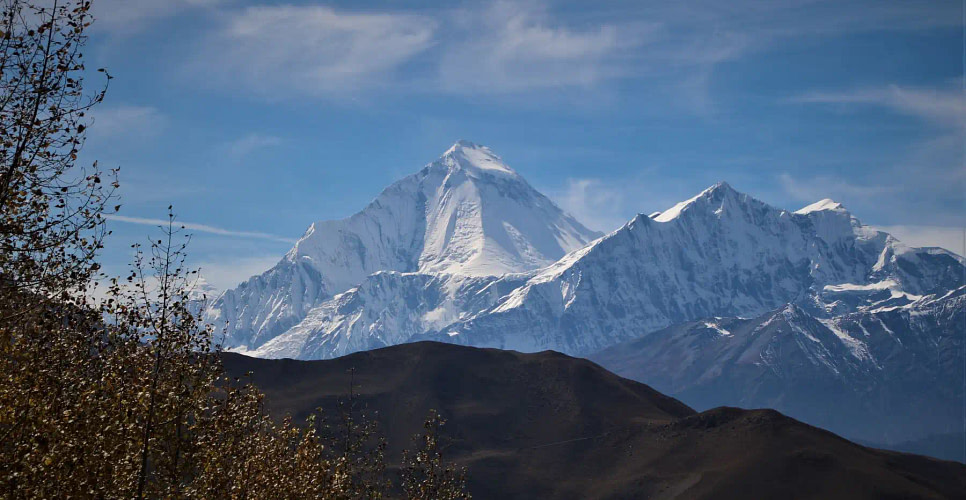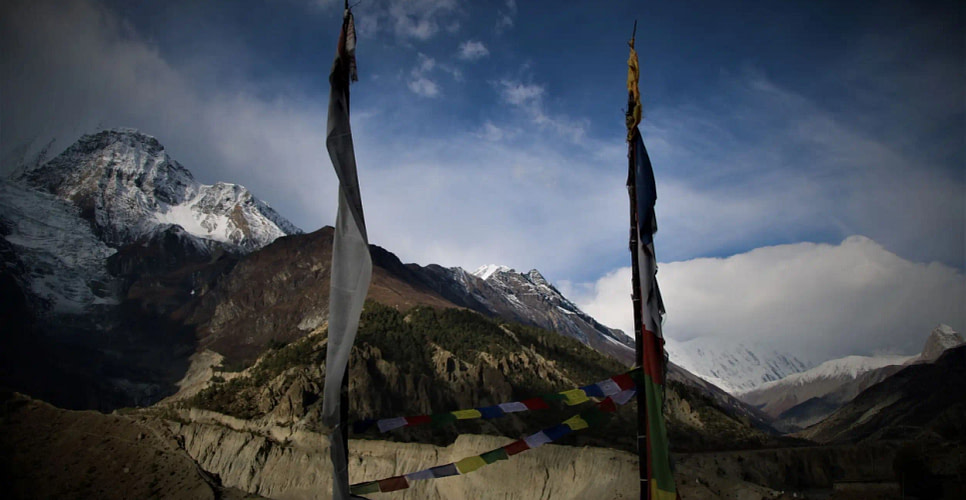 Trip Highlights of Annapurna Circuit Trek
Spectacular Marshyangdi River valleys and waterfalls
Tibetan influenced villages
World's highest Himalayan pass- Thorung La (5416m)
Sacred pilgrimage destination- Muktinath
Kagbeni and windy Jomsom valley
Overview of Annapurna Circuit Trek
One of the oldest trekking routes, Besides Everest Base Camp, Annapurna Circuit Trek is among the most popular hiking destination in Gandaki province of Nepal attracting tourists and travelers from all around the world. Scenic Mountain vistas of Dhawalagiri (8167m), Annapurna (8091m), Manaslu (8163 m), Gangapurna(7445m) , Nilgiri (7061m), Machapuchhre (6993 m), and many other high snow peaks bejewel the entirety of the trip.
The trail goes through Marsyangdi river gorge, exploring the green lush forests and diverse geographical regions of Lamjung district. Crossing the green hills, the adventure trip continues to the alpine settlements of Pisang, Ghyaru and Manang, enriched with Tibetan Himalayan Buddhism cultures. Offbeat path hikes to glacial lakes and Gangapurna base camp are also possible for acclimatization.
Crossing the high mountain pass of Thorang La (5416m), the most difficult part of the trekking trip requires a strong willpower as well as physical stamina. However, offering spectators with jaw dropping views of Annapurna Himalayas. Besides, the trail takes you to high altitude alpine regions with yak pastures with tranquil environment.
The cold deserted region of Mustang, gateway to the restricted Upper Mustang Region, is a major highlight of the Around Annapurna Trek. Jomsom, the windiest place in Nepal is equipped with a small airport connecting flights to Pokhara.
Following the Kaligandaki River valley, the trekking trail has been overtaken by motor able toads shortening the duration of the trip. However, Tatopani (Hot spring) can be an ideal spot for relaxation of strained muscles where travelers and tourists can take a warm bath. Trek to Annapurna Base Camp, Khopra Ridge, Ghorepani and other off the beaten paths can be combined with the ACT.
Itinerary of Annapurna Circuit Trek
Arrive in Kathmandu (1300m), transfer to hotel.
Namaste and welcome to Nepal. After your arrival in Kathmandu, Vertex Holiday's airport representative will receive you at the airport and transfer to the hotel. After getting refreshed, our trekking leader will conduct short briefing and orientation . The evening is wonderful with a dinner with the Nepali cultural program. Overnight at hotel.
Car 20m
Accommodation 3 Star Hotel
Meals Dinner
Altitude 1350m
Drive to Besisahar (790m).
From Kathmandu, drive to Besisahar in the morning. It takes about 6-7 hrs in total. The views of Lamjung HImal and Himalchuli can be seen from the way. Overnight at lodge.
Jeep 7 Hours
Accommodation Besisahar
Meals Breakfast
Altitude 760m
Drive to Chame (2714m).
After breakfast our driving journey is starts. We have to drive on dusty road all the way. We pass the check point and Drive to the Chame village. It is a district center of the Manang district. Overnight at lodge.
Jeep 8 Hours
Accommodation Tea House
Meals B/ L/D
Altitude 2714m
Trek to Pisang (3171m).
After breakfast, we walk through the planned apple farm at Brathang. The Tibetan Khampas who came to Nepal as refugee settled down at this place.Walking through the woods, you reach to your destination . Pisang village is another wonderful village, which is located just below the Pisang peak. The Pisang peak climbers split from Pisang. Overnight at lodge.
Walking 7 Hours
Accommodation Tea House
Meals B/ L/ D
Altitude 3171m
Trek to Manang (3537m).
Walking through the arid part, we reah to the Manang valley. It is wonderfully located below the Annapurna peak. The view of Annapurna II (7937m), and IV (7525m), Annapurna III (7555m), Gangapurna (7455m) and Tarke Kang (Glacier Dome) (7193m) can be seen during the excursion. Manang is a perfect village to research about the Tibetan Buddhism and their cultural values. Overnight at lodge.
Walking 7 Hours
Accommodation Tea House
Meals B/ L/ D
Altitude 3537m
Acclimatization day at Manang.
As the altitude is getting higher, we need to acclimatize so that we can have a successful journey on the coming days. You should know that the huge day is coming soon. During this acclimatization day, we can hike to the Gangapurna Lake or take a side trip to Bhraka Manang and explore the Manang Gomba. Back to Manang and rest. Overnight at lodge.
Walking 4 Hours
Accommodation Tea House
Meals B/ L/ D
Altitude 3537m
Trek to Ledar (4230m).
We have a short walking day through the high altitude range. We ascend through Yak Kharka and Churi Ledar. The stream down rises from the Chulu West peak. It is a popular climbing peak in Annapurna. Reach to Ledar and rest. Overnight at lodge.
Walking 6 Hours
Accommodation Tea House
Meals B/ L/ D
Altitude 4230m
Trek to Thorang Phedi.
A day before crossing the high pass of Thorong La. With the pleasing sound of Jargeng Khola, we head upwards. Mountain blue sheep can be seen grazing on the meadows. Crossing a bridge, we walk towards the Thorong phedi, wishing the perfect weather tomorrow. Overnight at lodge.
Walking 6 Hours
Accommodation Tea House
Meals B/ L/ D
Altitude 4600m
Cross Thorang pass (5416m) and trek to Muktinath (3760m).
It is the most important day of the Annapurna circuit trekking. From Thorong Phedi, we climb up through the steep trail for a couple of hours. This undulating trail leads us to the top of Thorong pass (5416m). Reaching to the top of Thorong La, we can view the scenic Annapurna Himalayan panorama, Dhaulagiri, Manaslu and Lamjung range. Then we descend down to the famous pilgrimage site- Muktinath temple for Both Hindus and Buddhist . The name of this site literally translates to the one that liberates , thus believers believe that visiting this site will help one for their liberation.
Walking 9 Hours
Accommodation Tea House
Meals B/ L/ D
Altitude 3760m
Trek to Jomsom (2713m).
We visit the temple and begin to descend after breakfast. If you prefer, we can also take a drive. Passing Kagbeni and the windy Jomsom valley, we reach to Jomsom. It is the district center of the Mustang region. Then we celebrate the succession of the trek. We stop there waiting for the next day's flight. Overnight at lodge.
Walking 6 Hours
Accommodation Tea House
Meals B/ L/D
Altitude 2713m
Jomsom to Pokhara by flight.
This morning, we take a half an hour flight from Jomsom to Pokhara. Then we drive to hotel. Then we prepare for the city tour around Pokhara: Davis falls, Mahendra cave, World peace stupa, International mountaineering museum and others. Later on, we can also enjoy the boat ride. Overnight at hotel.
Multiple 45m Flight and 30m drive from airport to Hotel
Accommodation 3 Star Hotel
Meals Breakfast
Altitude 800m
Drive/fly back to Kathmandu.
Today, we drive back to Kathmandu. It's a scenic drive through the Prithvi Highway road. Or if you take a flight, its half an hour flight. After your arrival at Kathmandu, transfer to the hotel. Overnight at hotel.
Note: If you are going for the jungle safari tour in Chitwan, you drive to Chitwan and enjoy the safari trip. We offer 2 Nights/3 Days package for your wonderful holidays in Nepal.
Bus 7 Hours
Accommodation 3 Star Hotel
Meals Breakfast
Altitude 1350m
Final departure.
Vertex Holiday's representative will drop you at the airport for your departure.
Includes/Excludes
What's Included?
Airport picks up and drops off by company vehicle.
Three nights and one night's accommodation at a 3-star category or similar hotel in Kathmandu and Pokhara(BB plan with twin sharing basis)
Flight ticket from Jomsom to Pokhara
Ground transportation on public vehicles from ktm to Besisahar
All meals (breakfast, lunch, and dinner) during the trek
Accommodation during in mountain (twin sharing basis)
An experienced government license holder, helpful, friendly, and English/Chinese-speaking trekking guide, porter to carry luggage (2 trekkers: 1 porter) including all kinds of costs i.e. Transportation, salary, insurance, equipment, meals, and accommodation
All necessary paperwork and trekking permits (ACAP, TIMS, please bring 3 passport-size photos)
All government and local taxes
What's Excluded?
Nepalese visa fee
International airfare
Personal travel insurance
Driving costs from Besisahar to Chame
Any kind of museum, heritage site, and park entrance fee
All kinds of drinks, snacks, and personally ordered food
All kinds of personal expenses
Hot shower during the trekking
Lunch and dinner in Kathmandu and Pokhara
Personal trekking equipment
Rescue charge (if needed)
Tips for trekking staff
Complimentary
A comprehensive medical kit
Duffle bag for Trekking
Snack of seasonal fruit during the trek
Essential Information - Annapurna Circuit Trek
Annapurna Conservation Area (ACAP):
The largest protected area of Nepal established in 1992, ACAP covers an area of 7629 sq. kilometers of Lamjung, Manang, Mustang, Myagdi, and Kaski districts. With altitude variation ranging from 1000 to 8091 meters, the Annapurna region comprises of diverse topography of lush green forests with Rhododendron and rain shadow area of alpine meadows including various species of vegetation including oak, Fir, Junipers, pine, and many others.
The diverse geography and its biodiversity allow for various species of wildlife to flourish, including some rare and endangered species of Snow and Clouded leopard. Himalayan Thar, Ghoral, Jharal, Pheasants, Himalayan Bears, foxes, coyotes, and other species of wildlife are major inhabitants.
Annapurna Conservation Area encompasses diverse ethnic groups of people, including Gurung, Magar, Thakali, Jhong, and Sherpa people with their own distinct cultures. Traditional-styled houses, foods, languages, and remote villages are interesting for travelers and tourists. Besides Hindus and Buddhists, several other spiritual practices such as Bon, Jhong, Nature worship, and Ancestral worship make the region more vivid.
Major Highlights of Annapurna Circuit Trek:
Tilicho Lake elevated at 4919 is a glacial lake and is an important highlight before crossing the Thorang La pass. Formerly renowned as the highest freshwater lake it was surpassed by Kajin Sara at an elevation of 5200 m in the Manang district. Formed by the melting of snow from Tilicho peak, this lake has a significant spiritual value in Hinduism as it is mentioned in the Epic Ramayana as Kag Bhusundi Lake. Besides, the trail to the lake and views of mountains like Tilicho, Nilgiri, Khangsar, and Muktinath peaks allure thousands of tourists.
Muktinath Temple, Muktinath temple, a major attraction, offers a cultural insight, as the shrine is visited by devotees seeking liberation from sins. "Mukti" translates to liberation, whereas "Nath" to the lord, meaning the lord of liberation. It is dedicated to Lord Vishnu and is among the eight most important shrines, with Srirangam, Srimushnam, Tirupati, Naimisharanya, Thotadri, Pushkar, and Badrinath of India.
Devotees from all around the world, including India and Nepal, visit the site and take a bath on icy cold 108 taps. It is also the place where sage Padmasambhava meditated before going to Tibet in order to spread the teachings of Gautam Buddha. Thus, the shrine is a pilgrimage site for Hindus and Buddhists and is revered by both communities.
Annapurna Circuit Trek Route:
After a long drive from Kathmandu to Chame, Annapurna Circuit Trek begins with an excursion through the ethnic villages and through the bank of the Marsyangdi River. This trekking holiday package offers a view of breathtaking waterfalls as you pass through lush green forests. Sometimes, we walk through the canyon and again ascend to the forest.
Villages like Pisang and Manang are beautiful Tibetan culture-influenced settlements. A side trip to Gangapurna Lake helps to acclimatize to the increasing altitude. The treeless region begins as we walk to Yak Kharka, Thorang Phedi, and Thorang High Camp. It is a glacial zone. Reaching the top of Thorong La, you can explore the scenic views of the panoramic Annapurna Himalayan range, Dhaulagiri, Manaslu, and Lamjung ranges.
The Upper Mustang region is another part that lies in the Himalayan rain shadow area connected with the Tibetan plateau. Muktinath temple is a renowned pilgrimage destination for people of various religious orientations. Annapurna Circuit trek then heads down to the windy Jomsom valley via Kagbeni, a magnificent ancient settlement. After Jomsom, the trek goes along the Kali Gandaki River Bank. However, we will take a flight back to Pokhara and then to Kathmandu.
Vertex Holiday has custom-tailored Annapurna Circuit Trekking Itinerary best suitable for an amazing trekking vacation at an affordable cost in Nepal. If you are planning a hiking trip holiday in Nepal, then ACT is one of the best trails to choose from. Get in touch with us for more detailed information about this trekking trip and other similar adventure holiday trips.
Annapurna Circuit Trek challenges:
Encircling the Trans Himalayan climatic region around Annapurna Massif, this trek's elevation ranges from 1000 to 5416 masl, excursing through diverse topographical areas, making it a moderate-grade journey. The lower regions of the trek don't pose a great challenge for trekkers, except for some steep stone-stepped trails.
Hike to Tilicho Lake and crossing the Thorang La pass are the most challenging part of the trek due to their high altitude. This part's weather is unpredictable, with strong winds during the late afternoon. Snowstorms and blizzards are probable and can be fatal at times, however, can be avoided by starting the journey as earliest in the morning.
Acute Mountain Sickness or Altitude Sickness can be a challenge for inexperienced trekkers with poor health conditions. In such cases, it is wise to follow the instructions of the tour leader and descend to lower altitudes ASAP. In severe cases, one might need supplemental oxygen or emergency evacuation with the fastest means of transport, like Helicopter to the nearest health center.
Annapurna Circuit Trek Preparation:
While taking this wonderful hiking trip, preparations are to be made considering various factors like weather, health condition, and season. Warm clothes, sunshades, rain gears, snow gear, sleeping bags, trekking poles, headlamps, medications, toiletries, and water bottles are essential. However, luggage should be packed considering the weight limit of 14 kg per person, as a porter is assigned to two clients. Daypack should be as light as possible so that it won't drain your energy.
A healthy mind and body will help you accomplish the trekking trip comfortably, so we recommend you start physical exercises like swimming, jogging, cardio, or cycling as early as a couple of weeks before the trip departure date. Besides, breathing exercises, Yoga, and Meditation classes with proper guidance are also beneficial.
Food and Accommodation during Annapurna Circuit Trek:
Accommodations are mostly based on tea houses and lodges ranging from basic to luxury categories. High alpine regions provide basic lodging facilities with shared bathrooms but are with hygienic comfortable bedrooms and warm dining halls. During the high tourist seasons, the availability of rooms can be difficult and advanced bookings must be made. However, in the lower regions of Jomsom, Marpha, and Tatopani, well-facilitated Hotels are abundant with attached bathrooms and showers.
Food menus include Dal Bhat and other local ethnic dishes, with options of Indian, Continental, Chinese, Korean, and Mexican dishes. In the higher regions choosing from diverse menus may not be possible; therefore, local foods are a lifesaver, including a hot bowl of soup. Food is hygienic and healthy, mostly including local produce.
Permits for Annapurna Circuit Trek:
Permits are necessary for trekking in the Annapurna region for foreigners and can be obtained from Kathmandu or Pokhara cities. ACAP (Annapurna Conservation Area Project) issues permit for entering the region. Besides, the Trekkers Information Management System issued by Trekking Agencies Association Nepal (TAAN) is also mandatory.
The fees collected for the entry permits are used by respective organizations are utilized for the maintenance and preservation of the trails. Besides, the salaries of the staff depend on these funds. The costs for permits are included in the trip package, and Vertex Holiday will be responsible for obtaining them.
Vertex Holiday has custom-tailored Annapurna Circuit Trekking Itinerary best suitable for an amazing trekking vacation at an affordable cost in Nepal. If you are planning a hiking trip holiday in Nepal, then ACT is one of the best trails to choose. Get in touch with us for more detailed information about this trekking trip and other similar adventure holiday trips in Nepal.
Reviews on Annapurna Circuit Trek
Be first to post a review in this trip.