Thorang La Pass Trekking with Tilicho Lake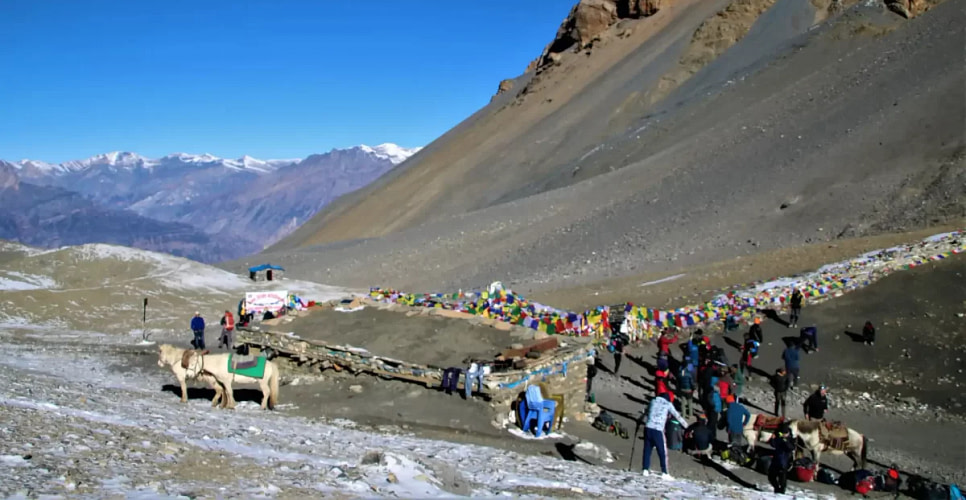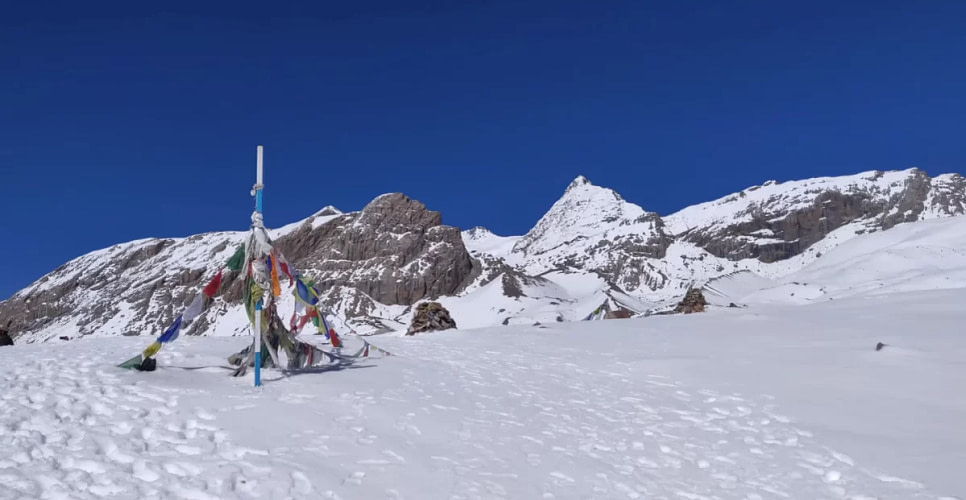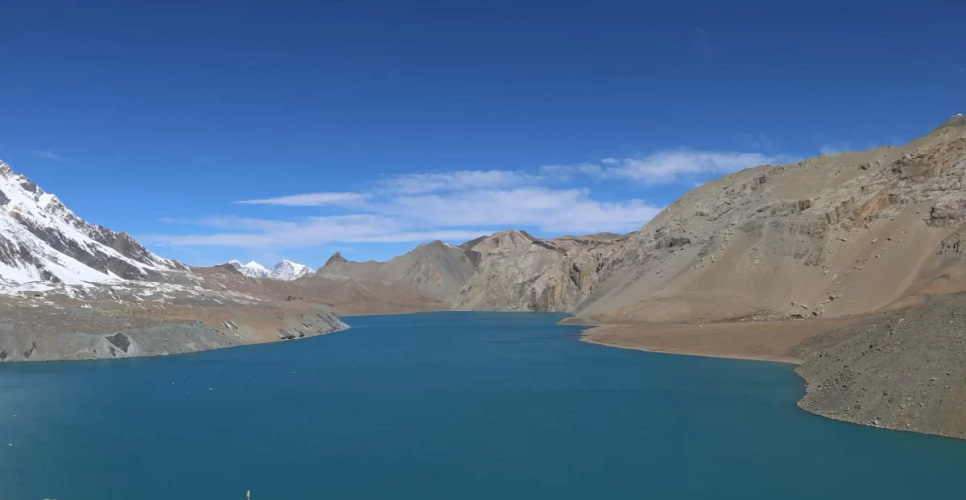 Trip Highlights of Thorang La Pass Trekking with Tilicho Lake
"Explore the scenic high valleys of Manang, visiting places of great natural interest.
 Exciting overland drive to Nepal's Mid-West Himalayas within beautiful landscapes.
 Enjoy the immense Buddhist culture of age-old traditional heritage on daily walks.
 From beautiful forests lined with rhododendron, and pine trees to arid, barren terrains
 Adventure to turquoise-colored Lake Tilicho and crossing high Thorang-La Pass."
Overview of Thorang La Pass Trekking with Tilicho Lake
Thorang La Pass Trekking with Tilicho Lake  or the Annapurna Circuit Trek is the second most popular hiking trail in Nepal next to Everest Base Camp. It is also the first hiking route opened for international tourists and was voted best long-distance trek in the world. Annapurna Circuit Trek with TIlicho Lake is a customized itinerary with an off-the-beaten trail to a glacial lake seeping from the Annapurna and Tilicho mountain peaks. This lake is elevated at the height of 4919 m which was considered to be the world's highest freshwater lake. But in 2019 another lake named Kajin Sara has been found and is considered to be at th
e height of 5020m.
Thorang La Pass Trekking with Tilicho Lake trekking  trip starts from Chamje of Manang similar to the Annapurna Circuit Trekking and moves forward through the bank of the Marshyangdi River. During the trek, you can view the majestic Manaslu and Himal Chuli  Mountain peaks. Cultural Buddhist villages, inhabited by  Gurung and Tibetan ethnic communities are preserving the cultural heritage of Himalayan Tibetan Buddhism. A detour through the isolated Khangshar village leads to the Tilicho Base Camp and Tilicho Lake.
Then the hiking trail retraces to the Yak Kharka and crosses the Thorong La Mountain Pass (5416m). The world's highest mountain pass offers views of Annapurna, Manaslu, Lamjung Himal, Tilicho Peak, and glacial regions. The steep ascent to Thorong La Pass is one of the most strenuous parts of this trek. Then descends to Muktinath Temple, a world-renowned pilgrimage site for Hindus and Buddhists believed to offer salvation. People take a cold icy bath from the 108 taps for the ritual. This hiking trail offers a once-in-a-lifetime experience of the Annapurna Himalayan region.
Vertex Holiday's Annapurna Circuit Trek with Tilicho Lake itinerary is suitable for hikers with a couple of weeks' time to spend. Get in touch with us for more details regarding the cost and map of this hiking trip and other holiday packages. We are here to help you plan and fulfill your wish to explore this amazing Himalayan land.
Itinerary of Thorang La Pass Trekking with Tilicho Lake
Arrive in Kathmandu (1300m), transfer to hotel.
Namaste and welcome to Nepal. After your arrival, Kathmandu, Vertex Holiday's airport representative receives you at the airport and transfer to the hotel.
After getting refreshed,  a short briefing and orientation by our trekking leaders. The evening is for a wonderful dinner at a Nepalese restaurant with the Nepali cultural program. Overnight at the hotel.
Car 30m
Accommodation 3 Star Hotel
Meals Dinner
Altitude 1300m
Full day Cultural Tours in Kathmandu valley/ Trip Preparation and briefing.
After breakfast, set out for the sightseeing tour in Kathmandu, which includes UNESCO-listed world heritage sites. Kathmandu is a city of temples and medieval arts and architecture.
Pashupatinath temple, Boudhanath, Swayambhunath, and Kathmandu Durbar Square in Kathmandu are among the major destination. However, there are in total of seven world heritage sites in the Kathmandu valley.  Overnight at the hotel.
Car 6 Hours
Accommodation 3 Star Hotel
Meals Breakfast
Altitude 1300m
Drive to Besisahar (790m).
From Kathmandu, drive to Besisahar in the morning. It takes about 6-7 hrs in total. The views of Lamjung Himal and Himalchuli can be seen from the way. Overnight at lodge.
Jeep 6 Hours
Accommodation Lodge
Meals B/L/D
Altitude 790 m
Drive to Chame (2714m).
Our driving journey starts in the morning as we drive on the dusty offroad all the way. We pass the checkpoint and Drive to the Chame village. It is a district center of the Manang district. Overnight at lodge.
Jeep 6 Hours
Accommodation Lodge
Meals B/L/D
Altitude 2714 m
Trek to Pisang (3171m)
After breakfast, we walk through the apple farm at Brathang.  It is the place where Tibetan Khampas who came to Nepal as a refugee settled down at this place.
Pisang village is another wonderful village, which is located just below the Pisang peak. The Pisang peak climbers split from Pisang. Walking through the woods, we reach our destination. Overnight at lodge.
Walking 5 Hours
Accommodation lodge
Meals B/L/D
Altitude 3171
Trek to Manang (3537m)
Walking through the arid part, we reach the Manang valley. It is located below Annapurna peak. Manang is a perfect village to research Tibetan Buddhism and its cultural values.
The view of Annapurna II (7937m). IV (7525m), Annapurna III (7555m), Gangapurna (7455m), and Tarke Kang (Glacier Dome) (7193m) can be seen during the excursion.
Walking 5 Hours
Accommodation Lodge
Meals B/L/D
Altitude 3537 m
Acclimatization day at Manang.
As the altitude gets higher, we need to acclimatize so that we can have a pleasant journey in the coming days. You should know that a huge day is coming soon.
During this acclimatization day, we can hike to the Gangapurna Lake or take a side trip to Baraka Manang and explore the Manang Gomba. Back to Manang and rest. Overnight at lodge.
Walking 5 Hours Sightseeing Around
Accommodation Lodge
Meals B/L/D
Altitude 3540 m
Manang to Khangsar Village (3700 m).
After  acclimatizing  at Manang, we walk towards the Tilicho Lake trail, separate from the core trail that escorts us to the Thorang La.
Through the western gateway, we move down to the stream and reach to Khangsar after crossing the bridge. It is an antique village of Tibetan Buddhists and well-known as the last Tibetan village of this region. Overnight at lodge.
Walking 5 Hours
Accommodation Lodge
Meals B/L/D
Altitude 3700 m
Khangsar to Tilicho Base Camp (4200m).
Moving further through the recently built trail, we pass a colorful monastery. Among two different trails, we take the downward one.
The upward trail is more rough and rugged. The lower one is comparatively fine. Gradually, we reach to the Tilicho base camp and rest. Overnight at lodge.
Walking 5 Hours
Accommodation Lodge
Meals B/L/D
Altitude 4200 m
Tilicho Base Camp to Tilicho Lake (4919m) and retrace to Tilicho Base Camp (4200m).
Getting up early in the morning, we climb up to Tilicho Lake. It is one of the highest located freshwater Lakes in the world. It is surrounded by the airborne white peaks.
The glacial blue Lake and its surroundings are astounding. Spending some spectacular moments around the Tilicho Lake, we walk back to the Tilicho base camp. overnight at lodge.
Walking 5 Hours
Accommodation Lodge
Meals B/L/D
Altitude 4919 m
Tilicho Base Camp to Yak Kharka (4000m).
There is one option of heading forward rather than retracing. Crossing the Mesokanto La, you can descend to the Jomsom valley.
However, according to our itinerary. We trek down to the River and from the next bank, we climb up to the Yak Kharka steadily and rest. Overnight at lodge.
Walking 5 Hours
Accommodation Lodge
Meals B/L/D
Altitude 4000 m
Trek to Thorang Phedi.
A day before crossing the huge pass of Thorong La. With the pleasing sound of Jargeng Khola, we head uphill. Mountain blue sheep can be seen grazing on the meadows.
Crossing a bridge, we walk towards the Thorong Phedi, wishing the perfect weather tomorrow. Overnight at lodge.
Walking 6 Hours
Accommodation Lodge
Meals B/L/D
Altitude 4600m
Cross Thorang pass (5416m) and trek to Muktinath (3760m).
It is the most important day of the Annapurna circuit trekking. From Thorong Phedi, we climb up through the steep trail for a couple of hours. This undulating trail leads us to the top of the Thorong pass (5416m).
Reaching to the top of Thorong La, we can witness the scenic views of the Annapurna , Dhaulagiri, Manaslu and Lamjung mountain range.
Then we descend down to the famous pilgrimage site for both Hindus and Buddhists- Muktinath temple . This site is believed to help people get liberated from the cycles of life and death. Overnight at lodge.
Walking 8 Hours
Accommodation Lodge
Meals B/L/D
Altitude 5416 m Thorang - La pass
Trek to Jomsom (2713m).
We visit the temple and begin to descend after breakfast. If you prefer, we can also take a drive passing Kagbeni and the windy Jomsom valley, to Jomsom.
It is the district center of the Mustang region. Then we celebrate the succession of the trek. We stop there waiting for the next day's flight. Overnight at lodge.
Walking 5 Hours
Accommodation Lodge
Meals B/L/D
Altitude 2713 m
Jomsom to Pokhara by flight.
This morning, we take a half an hour flight from Jomsom to Pokhara. Then we drive to the hotel.
Then we prepare for the city tour around Pokhara: Davis falls, Mahendra cave, World peace stupa, International mountaineering museum, and others. Later on, we can also enjoy the boat ride. Overnight at the hotel.
Multiple 30m Flight and 20m drive
Accommodation 3 Star Hotel
Meals Breakfast
Altitude 860m
Leisure day and sightseeing tour.
Early in the morning, we drive to Sarangkot for the sunrise view over the Annapurna, Dhaulagiri, Fishtail, Himchuli and other peaks. Sarangkot is also one of the best paragliding sites in the world.
You can go down to Pokhara by paragliding, which lands near the Phewa Lake. Then we drive to the hotel, have breakfast and set out for the Pokhara city sightseeing.
Davis falls, Mahendra cave, world peace stupa and mountaineering museum are some of the popular sites for the sightseeing. We take a boat ride at the end and return to the hotel. Overnight at the hotel.
Accommodation 3 Star Hotel
Meals Breakfast
Altitude 860m
Drive/fly back to Kathmandu.
Today, we drive back to Kathmandu. It's a scenic drive through the Prithvi Highway. Or if you take a flight, it's half an hour flight. After your arrival at Kathmandu, transfer to the hotel. Overnight at the hotel.
Note: If you are going for the jungle safari tour in Chitwan, you drive to Chitwan and enjoy the safari trip. We offer 2 Nights/3 Days package for your wonderful holidays in Nepal.
Bus
Accommodation Hotel
Meals Breakfast
Rest day
This is a great day to explore the ancient town of Bhaktapur. It is a half-day trip. Bhaktapur Durbar Square is an old Newari town, where medieval architectures, pagoda style temples, pottery square, and various other attractions lie there.
After the tour, drive back to Kathmandu and join the dinner in the evening at a typical Nepali restaurant.  Overnight at the hotel.
Accommodation 3 Star Hotel
Meals Breakfast
Altitude 1300m
Final departure.
After the mesmerizing trip experience with Vertex Holiday, our representative will drop you at the airport for your departure.
Includes/Excludes
What's Included?
Airport picks up and drops off by company vehicle.
 Three nights' and two nights' accommodation at a 3-star category or similar hotel in Kathmandu and Pokhara(BB plan with twin sharing basis)
 For two-day Kathmandu city tours tour guide and private vehicle only
 Flight ticket from Jomsom to Pokhara
 Ground transportation on public vehicles from ktm to Besisahar
 All meals (breakfast, lunch, and dinner) during the trek
 All accommodation during in mountain (twin sharing basis)
 An experienced government license holder, helpful, friendly, and English/Chinese-speaking trekking guide, and porter to carry luggage (2 trekkers: 1 porter), including all kinds of costs of Transportation, salary, insurance, equipment, meals, and accommodation
 All necessary paperwork and trekking permits (ACAP, TIMS, please bring 3 passport-size photos)
All government and local taxes
What's Excluded?
Nepalese visa fee
 International airfare
 Personal travel insurance
 Driving cost Besisahar to Chame
 Museum, heritage site, and park entrance fee
 All kinds of drinks, snacks, and personal ordered food
 All kinds of personal expenses
 Hot shower during the trekking
 Lunch and dinner in Kathmandu and Pokhara
 Personal trekking equipment
 Rescue charge (if needed)
Tips for trekking staff
Complimentary
Comprehensive Medical Kit
 Duffel bags for carrying luggage
Seasonal fruits for snacks
Essential Information - Thorang La Pass Trekking with Tilicho Lake
Thorang La Pass Trekking with Tilicho Lake Best Seasons:
The best seasons are in spring and autumn/fall; spring starts in March and ends in May. Autumn/falls begin from September till November and springtime with much longer days due to sunlight hours. During spring much warmer during day time with enough sunshine from early morning till late afternoon.
But cold morning, evening and night time, a pleasant day for walks and clear views till afternoon. Could get snowed on higher areas of Manang above 3,000 m high onwards sometimes.
Next, the best time is autumn and falls, one of the peak and high seasons for trekking and other adventure around the Himalayas. Days are clear for views and scenic walks with sunny days; however, days are much short due to sunshine hours.
Colder morning, late afternoon, and in the shade as well nighttime, with the bright starry night sky. Chances of snowfall during the walks sometimes, but one of the best times for Semi-Annapurna Circuit, Tilicho Lake, and Thorang-La Pass trekking
Manang village:
A major halt of most trekkers and climbers at Manang large village enriched with immense Buddhist culture and religion. The houses are both built as semi-modern and retain their old traditional architectures, an interesting village for rest days.
The village offers various short hikes with scenic sights to explore and visit Gangapurna Himal Ice-fall, glaciers, and Gangapurna Lake. A walk of a few hours down to Masrsyangdi River and hike up close to the glaciers of Gangapurna Himal. Facing views of Annapurna-III at 7555 m and Gangapurna Himal 7, 455 m in the background with Chulu's towards the north.
For adventurous people can take a long hike of 3-4 hours above Manang village and the valley to Ice Lake. Located at 4,620 m high, also called Kicho Tal, a small pond that remains frozen most of the year. From this high spot, enjoy a marvelous grand panorama of Annapurna and Chulu's Himal Mountain range.
Other places of interest are the old Braga Monastery and the visit to 11th Century saint Millerepa meditation cave, located in south Manang. An interesting place for a short tour of famous guru and saint Milarepa visited Manang valley from Tibet to meditate. Apart from the religious and holy sites, the views of Annapurna and Chulu peaks are equally fascinating.
Spend two overnights at the main Manang village, and then the adventure continues towards our next destination at Tilicho Lake.
Tilicho Lake is located off from the mainstream of the popular Annapurna Circuit trail, heading south of Manang valley. The walk leads to a scree, rocky path crossing streams, staying overnight at Khangsar village and towards our destination at Tilicho Lake.
Thorang-La Pass:
Thorang-La Pass, at 5,416 m and 17 769 feet high, forms the boundary of the Manang and Mustang districts. Located close to the Damodar Himal range northeast of Mustang and north of the Annapurna Himalaya range. Enclosed in between by two giant peaks of Khatung Kang and Yakawa Kang, facing tremendous views of the Dhaulagiri Himalayas.
The pass is marked with a signboard with the name and height of the pass with thousands of Buddhist prayer flags. The passes in Buddhism are considered holy and abode of gods and mountain spirits, the 'La' a word of respect. Likewise to the father is Pa-La, and the mother Ama-La, or using other people in addressing names La at the end. Most people think 'La' for a pass, but it is a most respectable word, as the passes are the place of gods.
From Thorang-La, long downhill to the base and bottom of the pass at Phedi, with few tea shops and lodges. After a great climb and descent, a slow, pleasant walk of a few hours reaches a famous holy sanctuary at Muktinath. Ending the day walk in the comfort of the nice lodge at Ranipawa close to Muktinath temple premises.
Muktinath:
Muktinath is one of the main havens for Hindu pilgrimage hubs around the high Himalayas region. The origin of the main temple is believed to be from the 19th century; however, the sanctuary of Muktinath has existed. Even more, thousands of centuries, dedicated to Lord Vishnu, one of the three main gods in Hindu mythology.
The word Muktinath means Liberation or freedom from the life cycle and re-birth and reaching Nirvana. For Tibetan Buddhists, it is the home of Dakinis, goddesses known as Sky Dancers, an important tantric spot.
Buddhists believe in a manifestation of Avalokiteśvara / the god of compassion; visitors can visit the monastery and witness everlasting blue flame. That springs out of the holy soil of Muktinath, a flame lightened by the underground natural gas.
Muktinath Temple area, situated in the Mustang District around the rugged environment, is enclosed by snow mountains with views of the Dhaulagiri Himalayas.
The sacred 108 water spouts, where pilgrims take a holy bath before entering the main temple of Muktinath.
From Muktinath, a short morning walk downhill on a scenic trail with a big drop to Kaligandaki River valley. A pleasant walk to Jomsom, where our adventurous trekking completes at Jomsom, the headquarters town of Mustang district.
Enjoy the last day of the adventure in the comfort of lovely lodges and hotels with the warm hospitality of Thakali. The main ethnic tribes of Lower Mustang and Kaligandaki River Valley are interwoven into Buddhism religion. With time at Jomsom in the afternoon, explore the town and markets with close views of Nilgiris peaks.
The next morning after an early breakfast, walk to Jomsom airport terminal for a short scenic flight to beautiful Pokhara. On reaching Pokhara stay overnight in the best hotels by the serene Phewa Lakeside. After completing a marvelous adventure on Annapurna Semi-Circuit with Tilicho Lake & Thorang-La Pass Trekking.
From Pokhara the next day, on the road to Kathmandu. Where our memorable adventure of great experience on Annapurna Semi-Circuit with Tilicho Lake & Thorang-La Pass Trekking concludes.
Attractive Views of Thorang La Pass Trekking with Tilicho Lake :
From the beginning of the trek, one will enjoy glorious views of dramatic landscapes and snowy peaks till the end of the trek at Jomsom as well in Pokhara. Scenic views of the Mid-West Himalayas follow you throughout the walks from drive to walk as well as on a short flight from Jomsom to Pokhara.
Fitness For Thorang-La Pass And Tilicho Lake:
All trekkers joining this high-altitude trek should be in good physical fitness and in sound health. For any personal health problem, consult with your doctor and inform Vertex Holidays for special help, care, and as well dietary foods. Some people can be allergic to some foods and plants; please inform your guide and leader.
Food & Accommodation during Thorang La Pass Trekking with Tilicho Lake
Foods & Accommodation depend upon each major and isolated smaller settlement. Chame, Pisang, Manang, Muktinath, and Jomsom offer a wide range of good lodges with nice and best rooms facing grand views. These places provide choices of rooms attached to common baths and toilets.
Where prices differ from the budget, standard to classy rooms in the lodges, as for few places like Khangsar, Tilicho base camp, Yak Kharka, and High Camp on route Thorang-La pass, lodges are basic and simple with nice small rooms with common toilets and bathe. However, all have nice heated dining rooms to make it cozy with potbellied stoves. Nearly all lodges offer hot/cold showers at extra cost for interested trekkers.
Foods nearly all lodges have comprehensive food menus as per seasonal vegetables and fruits. Most villages serve home-cooked meals from the famous Nepali Dal Bhat (Boiled Rice, Lentil soup with mild veg or meat curry). Indian, Tibetan, Chinese, Continental, Japanese to Mexican foods.Deserts from custard, rice pudding, fresh or canned fruits, and yogurt, as well fresh bakeries' cakes, pies to pastries.
Lunch is always simple either fried/boiled noodles with veg, fried rice, and bread with potatoes fried or boiled. Drinks from tea and coffee to hot drinking chocolates as well hot lemonade and etc….
Around isolated places like on route Tilicho, as well on High Camp, simple meals are available, from noodle soup/ fried with veg, Dal Bhat, and with limited food menus.
Preparation For Tilicho Lake & Thorang-La Pass:
Depending upon the time of booking, full preparation is required to get yourself organized, buying the necessary items for the wonderful trekking.
As well as getting oneself physically fit and in good medical health, and practice exercise jogging, walking up and down steps for an hour or other physical fitness exercise and staying healthy for the trip. It would be good to know some local cultures of Nepalese, especially the Manang and Mustang areas.
FITNESS FOR THORANG-LA PASS AND TILICHO LAKE:
All trekkers joining for this high altitude trek should be in good physical fitness and in sound health. For any personal health problem consult with your doctor and inform Vertex Holidays for special help, care, and as well dietary on foods. Some people can be allergic to some foods and plants, please inform your guide and leader.
THE BEAUTY OF MANANG & MUSTANG AREAS:
The beauty of Manang & Mustang areas offers various aspects from the breathtaking scenery of landscapes, snow peaks, and local cultures.
The charm and beauty of the Manang & Mustang region are the views of beautiful country terrains, as it follows you from the start to the end of the trek.
The views of the high Himalayan peaks of Manaslu, Lamjung, and Annapurna Himal remain constants, along with Dhaulagiri, Chulu's, and Damodar Himal.
Besides wonderful scenery of peaks and landscapes, the local culture are equally fascinating. The area of trekking around Manang and Mustang involves strong Tibetan Buddhism, one can immerse within its age-old traditional heritage and colorful custom. An opportunity to visit impressive monasteries on route trekking as well interacting with local natives and knowing its traditional cultures.
As you walk come across many prayer walls and spinning wheels which makes a lovely picture with a mountain backdrop. The beauty and charm of the region are its friendly cheerful people provides guests with warm hospitality.
TRAVEL & MEDICAL INSURANCE:
One of the first priorities is Travel & Medical Insurance, one should purchase according to age-wise, areas of travel. As some Medical Insurance is difficult for people above 60 years old, especially if traveling to high Himalayan countries.
Travel & Medical Insurance are the most important while joining for the high altitude adventure. Travel Insurance in case of delay on trekking due to unfavorable weather conditions, road blockade due to political strikes, broken trail due to landslide, and avalanches. Where extra expenses might incur on sudden unfortunate situations. As well for Medical Insurance which is very important in case of sudden accidents, serious sickness while on the trek.
Where the victim on critical conditions needs to be brought to the nearest good medical care and in hospitals either to Pokhara or Kathmandu. For immediate quick evacuation by private transportation or by Helicopter service. In this situation, all medical bills and emergency evacuation by any means of transport are to be borne oneself.
Vertex Holidays will issue a backup letter to your insurance companies so that one can claim expenses incurred other than trip costs.
Most Asked Questions by Travellers
Most major villages do have electricity and Wi-Fi available except on route to Tilicho Lake at base camp, Sri Kharka, and High Camp towards Thorang-La Pass. Places without electricity will have solar power. Wi-Fi network with interrupted reception around Tilicho Lake area and on High Camp, as the area is quite remote and enclosed by high mountains.
The trek is moderate to Adventurous and is not that tough and difficult the only hard is walking on a narrow path in some sections towards Tilicho Lake. As long as one takes it slowly and with care, it will be enjoyable and worth the adventure. The other tough part is climbing to Thorang-La pass, but taking it slowly with rest in between will make the walk enjoyable, and it won't be as tough as you trek at your own easy pace.
On this trek catching AMS (Acute Mountain Sickness), chances are quite slim, as this trek leads to slow and gradual gain on elevation. Taking slow and with enough rest will be the best way to catch AMS. As this trek with enough days for acclimatization before heading towards much higher altitudes. Sleeping well, and drinking enough fluid like water, black tea, or hot drinks as well as soups is the best way to avoid AMS.
Most large villages and towns like Chame, Pisang, and Manang including Muktinath and Jomsom will have nice hotel and lodge accommodations. Where one chooses single or double rooms as well as attached baths and toilets also, but at Khangsar, Sri Kharka, Tilicho Base Camp, and High Camp will have simple room accommodations, clean and nice with a large cozy dining hall for meals.
Before or after joining this wonderful great trek, as well as after checking your health and fitness, a simple exercise like a long walk for an hour, walking up and down stairs, swimming, aerobics, or jogging will help to maintain shape and energy for this trek. Rest is listening and taking advice from your trekking guide and leaders if there are any problems and issues that you might need. Having good meals, rest, and sleeping well also helps and supports maintaining your health for this great trekking.
Reviews on Thorang La Pass Trekking with Tilicho Lake
Be first to post a review in this trip.