Lobuche East Peak Climbing with Everest Base Camp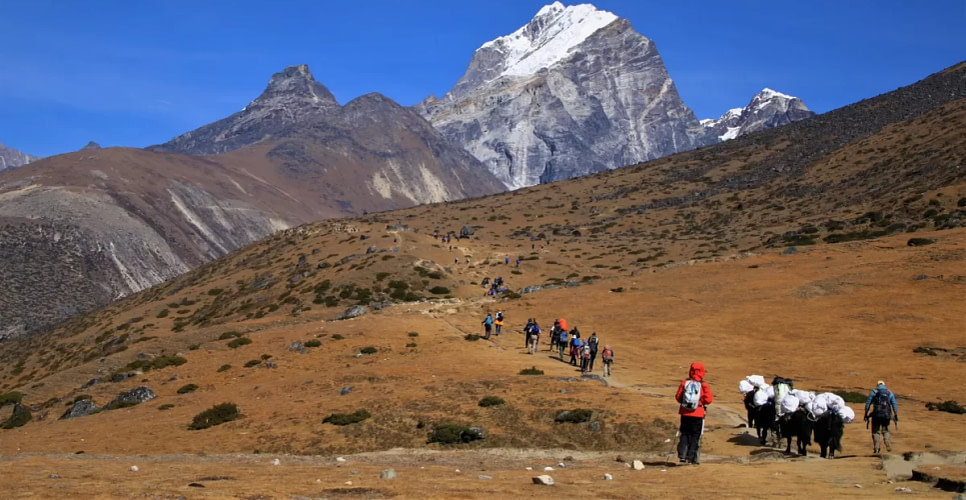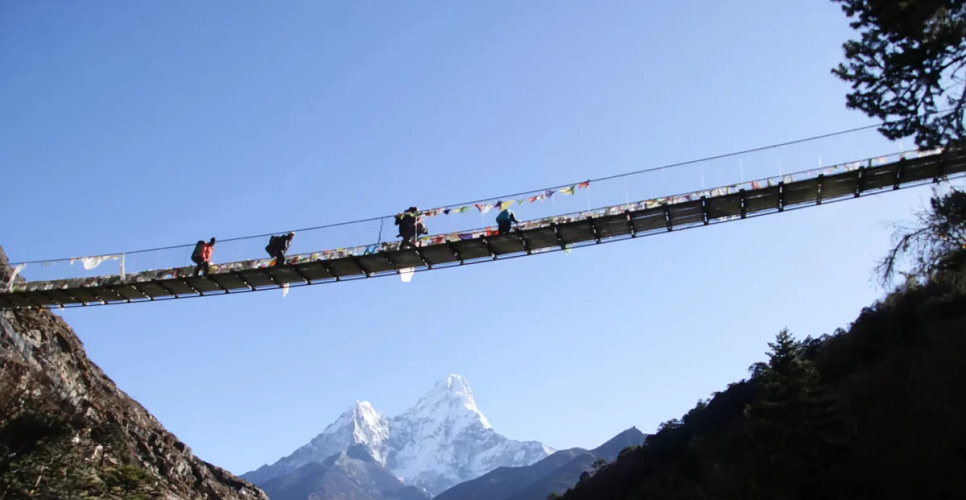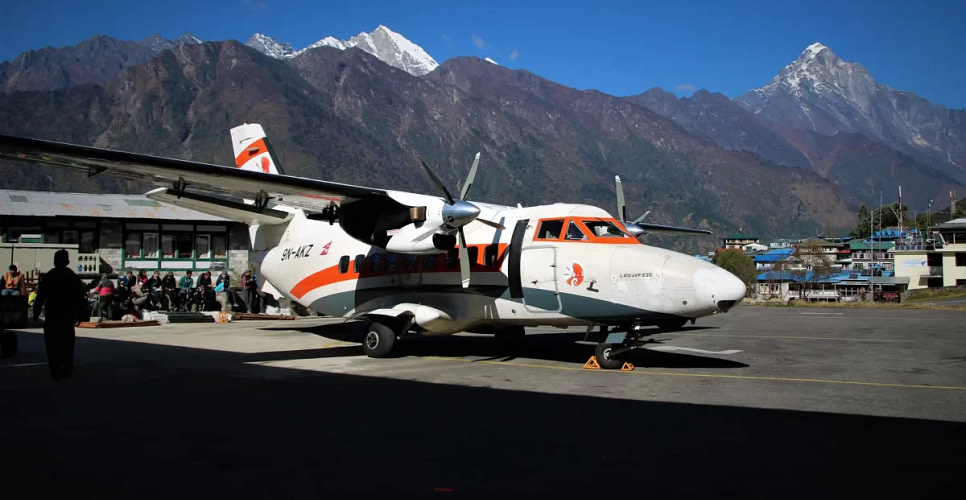 Trip Highlights of Lobuche East Peak Climbing with Everest Base Camp
Adventure of the incredible thrill and exciting climb to the top of Lobuche
Peak Sweeping scenery of high Khumbu valley with close views of Mt. Everest
Explore lovely Sherpa villages adorned with the age-old culture of Buddhism
scenic trails with ever-present views of the world's highest giant peaks
Interesting Monasteries and Mountains, the charm of the adventure
Overview of Lobuche East Peak Climbing with Everest Base Camp
Lobuche East Peak Climb with Everest Base Camp Trek is an amazing adventure to experience with Vertex Holidays. Lead by expert guides with decades of great climbing skills around high Himalayan peaks. Lobuche East Peak rises at the height of above 6,119 m and 20,192 feet high, close to Mt. Everest.
Adventure of great technical effort to negotiate to reach its high summit, adequate and proper equipment required for the climb. The grade of Lobuche East Peak is 'TD,' which means 'Technical Difficule' grading used from French and Swiss Alpine Climbing Classification Systems, which is much more popular around the world in alpine-style climbs, which you will witness and experience. On this challenging, exciting climb of Lobuche Peak, we have spared enough days to make the climb safe and successful.
Lobuche, with twin lesser mountains, includes east and west peaks, where the west is slightly higher at 6, 145 m high. To its close adjoining east peak, but the east peak is more popular than the west due to its high success rate. The two peaks of Lobuche, are separated by a long and deeply notched ridge. That makes the traverse from one peak to another difficult and near to impossible.
Itinerary of Lobuche East Peak Climbing with Everest Base Camp
Arrival in Kathmandu and transfer to your hotel.
On arrival at Kathmandu-Nepal International Airport via various airlines, our guide and staff receive you for a short transfer to the heart of Kathmandu city. Where your hotel is located, after checking into your rooms and then meet other members of the trek at the hotel lobby for briefing. Regarding the wonderful adventure to Lobuche East Peak Climb with Everest base camp trek. On briefing includes useful information to make your holiday in Nepal more enjoyable. The evening group welcomes dinner in a lovely Nepalese Restaurant with an introduction to the Nepalese culture of various parts of Nepal with folk dance and music.
Accommodation Hotel
Meals Dinner
Altitude 1300
In Kathmandu tour of heritage sites and trek preparation.
A free day in Kathmandu for trek preparation, with a day tour of exciting places around Kathmandu city of great historical, cultural and religious interest. Most of the Hindu and Buddhist monuments including old palaces are included in UNESCO World Heritage Sites. Our city guide will show you the ancient wonders of Nepal, afternoon relax and prepare for the trek and climb of Lobuche East Peak around the Everest region.
Accommodation Hotel
Meals Breakfast
Altitude 1300
Fly to Lukla 2, 820 m, trek to Phakding 2,645 m
– 04 hrs.
Early morning departure from the hotel, a short drive to Kathmandu domestic airport, as per flight time after going through securities board in a small aircraft. Dornier / Twin Otter or similar types. The flight heads east overlooking a breathtaking panorama of the Himalayan range of peaks with views of Mt. Everest, Lhotse, and Nuptse, as the plane lands at Lukla airstrip. The airport called Tenzing & Hillary tribute to the first conqueror of Mt. Everest on May 29th, 1953. From Lukla airport after collecting all our baggage, carried by our strong porters or pack animals called Zhopkyo (crossbreed of Yaks and normal low altitude cows or ox). After a refreshing stop, start the walk to Phakding for the first overnight stop. Walk beings through Lukla street market and then descend to a place called Choplung, with many prayer monuments. The place where the route of Lukla and Jiri meets, and then on the main scenic trail past many nice farm villages to reach Phakding for an overnight stay in a moderate standard lodge.
Flight 30 minute
Accommodation Lodge
Meals Breakfast,Lunch.Dinner
Altitude 2820
Trek to Namche Bazaar 3,440 m / 11, 350 feet
Walk today takes you to the famous Namche Bazaar the hub of Khumbu villagers, as well as trekkers. Where once a week, a colorful and busy market is held every Saturday walk leads to cross few bridges over Dudh Koshi glacial rivers to reach the entrance of Sagarmatha National Park, where a ticket to be shown of purchased. Sagarmatha for Everest in Nepal, while the Sherpa knows as Chomolungma of Tibetan origin language. From here reach the last village of Jorsalle before Namche Bazaar, for a lunch break, and then continue to walk following the river on a bank, within the cool shade of pine and rhododendron forest. On crossing the last high bridge, along undulating uphill for few hours to reach Namche Bazaar for two overnights stops. Enjoy views of Kwangde and Tharmasarku peaks from the lodge in Namche and then check into your rooms for refreshing rest before dinner time in a large warm and cozy dining hall.
Walking
Meals Breakfast, Lunch, Dinner
At Namche for acclimatization and a short scenic hike.
Free day and well-deserved rest day after a long climb of the previous day to reach Namche Bazaar, a necessary to have spare and leisure day for a short hike to view-points. A good way to support acclimatization, enjoy the morning with breakfast and hike to Namche viewpoint overlooking Mt. Everest and the beautiful peak of Ama Dablam with other adjoining peaks. Visit the museum offers full information about the Khumbu region. Energetic people can take a hike up to Everest View Hotel for few hours.
Meals Breakfast, Lunch, Dinner
Trek to Tengboche 3,867 m
The morning after breakfast, an easy stroll after a short climb to the top of Namche facing excellent views of Khumbu peaks with Everest, and then down to Imjatse River at Phungitenga, a small settlement with few lodge and restaurants. A popular mid-day stops of trekkers for lunch and refreshments, from here on steep winding up for few hours through the cool shade of lovely woods to reach Tengboche and its colorful monastery. The area is surrounded by an array of peaks with grand views of Everest, Lhotse, and Ama Dablam with a range of adjoining high mountains. Herewith time to visit the impressive Buddhist monastery interior of great cultural and religious interest, and then retire back to your lodge for rest and marvel at the surrounding exciting vista of snow mountains.
Walking 05 hrs
Accommodation Lodge
Meals Breakfast, Lunch, Dinner
Altitude 3867 m
Trek to Dingboche 4,340 m -
From Tengboche enjoy the morning views of snow-capped peaks while you have breakfast, and then the day starts with an easy descend to reach a strong metal bridge. On crossing the bridge above Imjatse River, a slow uphill climb to Pangboche village with closest views of beautiful Ama Dablam. From here onward tree lines disappear for short bushes of juniper and dwarf rhododendron bushes. The walk takes you higher to reach scenic Imjatse valley, where Dingboche is located for an overnight halt, facing the first view of Island Peak towards the east of the valley floor.
Walking 05 hrs.
Accommodation Lodge
Meals Breakfast, Lunch, Dinner
In Dingboche for rest and acclimatization and hike.
Enjoy an extra day at Dingboche within scenic Imjatse valley, located just beneath the North Face of Ama Dablam, and close to Nuptse and Lhotse Mountain range. At Dingboche, an optional hike to Chukung the last settlement around east of Khumbu and Imjatse valley on route Island Peak. Climb to high Nagarjun hilltop of a few hour hike offers incredible views of surrounding peaks with Mt. Makalu in the east.
Walking
Accommodation Lodge
Meals Breakfast, Lunch, Dinner
Trek to Lobuche 4,960 m
Slowly our adventure heads towards Everest base camp and climbs Kalapathar high hilltop. The morning starts with a steep climb of less than half an hour to a ridge festooned with prayer flags and Buddhist monuments. Enjoy the great views, as the walk continues on easy up to reach a small settlement of Thugla. Where massive Khumbu glaciers melt into torrential cold streams. A favorite stop for trekkers heading both ways to Everest base camp, Lobuche, or down to Dingboche and Pheriche valley. After lunch at Thugla, afternoon an hour climb towards Thugla's small pass where you can notice many tombs and memorial of unfortunate climbers. After a short good rest, a slow and easy walk but strenuous due to thin air and high altitude to reach overnight stop at Lobuche. Lobuche at 4,940 m / 16,210 feet, situated about 150 km (93 mi) east of Kathmandu, located near the foot of Khumbu Glacier, approx. 8.5 km South-West from Everest Base Camp.
Walking 05 hrs.
Accommodation Lodge
Meals Breakfast, Lunch, Dinner
Trek to Mt. Everest Base Camp 5,364 m -
Today, our walks lead to one of the highlights at Everest base camp, although a short distance. But takes strenuous hours of walking due to high altitude and air pressure. Start on the easy path and the up above Khumbu glaciers over moraines of rocks to reach Gorakshep. The highest human settlement before base camp with few lodges to stay for overnights after visiting Everest base camp. From Gorakshep heed slowly taking more than two hours to reach at base camp, feeling wonderful. Standing beneath the world's tallest peaks and close to massive Khumbu Icefall and glaciers. Enjoy the stupendous scenery of high giant snow peaks then back to Gorakshep for an overnight stop, after a great day adventure.
Walking 06 hrs.
Accommodation Lodge
Meals Breakfast, Lunch, Dinner
Hike on top Kalapathar 5,545 m trek to Lobuche East base camp 4,865 m - .
Morning climb to Kalapathar above 5,545 m, the highest point of trekking facing a super panorama of giant peaks with Everest at a mere distance. With amazing time on top Kalapathar, head back to Gorakshep for breakfast and continue trek downhill past Lobuche where the walk leads above Thugla to establish our base camp for the climb of Lobuche Peak. Well hidden from the main trail on-route Everest base camp and Lobuche settlement.
Walking 05 hrs
Accommodation Lodge
Meals Breakfast, Lunch, Dinner
Altitude 4865m
At Lobuche base camp rest and preparation for the climb.
Rest day with time for per- climbing preparation, gathering and checking climbing gears, sorting out the right tools with some practice exercise for the final ascent to the summit of Lobuche East Peak.
Walking
Accommodation Camp
Meals Breakfast, Lunch, Dinner
Climb to High Camp 5,600 m -
We have added one more extra camp, to make the climb much shorter and accessible, as well as to get familiar with the surrounding rough terrains. After a leisure time with breakfast, taking only gears and warm clothing for the climb, a faint route leads past moraine and glaciers to establish our high camp. Climbing of few hours to reach the High or Advance Camp, afternoon free for final climbing preparation, where our expert guide will scout the route of the climb, fixing ropes where necessary for next day climb to the summit.
Walking 03 hrs
Accommodation Camp
Meals Breakfast, Lunch, Dinner
Ascent of Lobuche Peak 6,119 m descend to base -
Understanding the nature of the climbing routes, which is a quite tough mountain to challenge, but can be done with patience and taking its slowly, as to climb heads towards a steep rocky and ice ledges; Where our guide will fix ropes, on a necessary technical section to reach the east summit of Lobuche peak. After a hard struggle and then a final push reach you atop 6,119 m / 20,192 feet. Enjoy the hard effort and release the pain and agony facing the amazing panorama of the mountain range that surrounds you on top, the views and the hard struggle make you feel worth the climb. Grand scenery of Mt. Everest 8,848 m, Lhotse 8,501m, Mt. Ama Dablam 6,856 m, Mt. Makalu 8, 463 m, Chamlang and Baruntse peaks in the far distance. After a great wonderful experience then descend using the same route back to base camp.
Walking 08 hrs.
Accommodation Camp
Meals Breakfast, Lunch, Dinner
Altitude 6119m
Trek to Tengboche via Pheriche 4, 260 m - 06 hrs.
From the base camp Lobuche, the rest of the journey a piece of cake heading towards lower altitude, with much time to enjoy the views on scenic walks. Clear the camp leaving nothing, only your footsteps, and then back on the main trails with descending towards Thugla, where Dingboche and Pheriche path joins, as well the melting point of Khumbu glaciers that runs into a fast-flowing river. The walk continues a downhill to reach the windy valley of Pheriche, as trek heads towards a nice settlement of Pheriche with many nice lodges where you can refresh yourself with a possible lunch stop. Pheriche a place with NRA post (Nepal Rescue Association), from here head down to a river with short ups to a ridge with Buddhist Chorten and then descend past Somare and Pangboche villages to a bridge. After the bridge, climb into woodland to reach Tengboche Monastery overnight within a wonderfully scenic spot.
Walking 06 hrs
Accommodation Lodge
Meals Breakfast, Lunch, Dinner
Trek to Monjo 2, 880 m via Namche Bazaar -
Morning, enjoy lovely views of surrounding peaks, and then start the day downhill to Imjatse River, and then climb to Sanasa village. After the climb to this small village, on a nice wide path to Namche Bazaar for a lunch stop, and then continue walking on the long downhill to a river bed, with short steep up to Sagarmatha National Park entrance and exit gate. Where Monjo village is located near the park gate for an overnight stop before Lukla.
Walking 06 hrs.
Accommodation Lodge
Meals Breakfast, Lunch, Dinner
Altitude 2880
Last day trek to Lukla 2,820 m -
Final and last day walk of the adventure, an easy trek following the river to Phakding, and then on the gradual winding trail with last final climb at the end of a trek to Lukla for last overnight around high Khumbu and Everest region.
Walking 04 hrs.
Accommodation Lodge
Meals Breakfast, Lunch, Dinner
Altitude 2820 m
Fly to Kathmandu with afternoon free at leisure.
Early morning after breakfast, then depart from the lodge to Lukla airport named after famous mountaineers Tenzing and Hillary. The morning flight reaches you back in Kathmandu. From the airport, transfer to your respective hotels with a free day to enjoy the hustle-bustle city life of Kathmandu.
Flight 30 m
Accommodation Hotel
Meals Breakfast, Lunch, Dinner
Free day in Kathmandu spare and contingency day.
It is necessary and wise to reserve a spare as a contingency day, in case of flight delay and might lead to cancellation at Lukla. Due to bad unfavorable weather conditions for small planes to operate which can happen even in the best time of the seasons. On this free day, one can enjoy individual activities and shopping for souvenirs or take a tour of Kathmandu's ancient cities site within Kathmandu, Patan, or Bhaktapur.
Accommodation Hotel
Meals Breakfast
Departure
Your last day in Nepal, enjoying a memorable adventure on Lobuche East Peak Climb with Everest base camp Trek, and then as time for your international flight. Our staff transfers you to the airport for homeward bound.
Includes/Excludes
What's Included?
All ground transportation on a comfortable private vehicle as per the itinerary
Four-night accommodation in Kathmandu(Twin sharing basis) at a 3-star hotel with a BB plan
Two-way airfare for Kathmandu-Lukla-Kathmandu
Airport pick up and drop off for Lukla's flight by private vehicle
professional tour guide and private vehicle for a city tour
Including all kinds of entries fee for a city tour
All meals during the trek time in the mountain (breakfast, lunch, and dinner)
Accommodation during the trek with Twin sharing basis
An experienced, English-speaking, knowledgeable, skillful, and helpful government license holder trekking guide and porter to carry your luggage(max:-25kg), including their all kind of costs i.e. Transportation, salary, insurance, equipment, meals, and accommodation
All kinds of the necessary paperwork for your trips (TIMS card and permit – please bring 3 PP size photos)
Government taxes and office service charge
What's Excluded?
Nepalese visa fee
International airfare
Personal travel insurance
All kinds of drinks, snacks, and personally ordered food during trekking time
All kinds of personal expenses
Hot shower during the trekking if needed to pay
Lunch and dinner in Kathmandu
Personal trekking equipment
Rescue charge (if needed)
Tips for trekking staff
Complimentary
Comprehensive medical kit
Duffle bag for Trekking
Snack of seasonal fruit during the trek
Essential Information - Lobuche East Peak Climbing with Everest Base Camp
Lobuche East Peak Climbing with Everest Base Camp Trek Route
However, climbers will feel great that they have chosen the right climbing peaks. Lobuche East Peak Climb, with the Everest base camp trek, begins from Lukla, the gateway town to various adventure destinations of Khumbu and the Everest region.  On reaching Lukla Tenzing & Hillary Airport, after taking a short scenic flight from Kathmandu, facing the grand panorama of the high Himalayas. From Lukla, the adventure starts heading through nice Sherpa villages adorned with impressive Buddhism prayer monuments as the walk follows the Dudh Kosi River.
As the trek progress walking into a forest of pines and rhododendron tree lines to enter Sagarmatha National Park. Sagarmatha is a name for Everest in the Nepalese language and is also called Chomolungma by the native Sherpa. The park was added to World Heritage Sites in 1979, enriched with exotic flora/fauna and the world's highest peaks. The walk continues on Dudh Kosi River valley within a cool forest and then on a long undulating uphill trail to Namche Bazaar.
Namche is a large village, almost the size of a small town, the capital and main center of Khumbu villagers. Where trekkers can find all kinds of facilities from banks, and post-office, including excellent lodges, hotels, shops, and well-stocked stores. Namche a name tagged as Bazaar, where once a week, a lively, colorful market is held every Saturday. A great bazaar to observe local villagers from all around Khumbu interwoven with immense colorful culture and customs. From Namche Bazaar, spending an extra day for acclimatization and an enjoyable hike, our adventure carries on to a scenic trail.
Heading towards a higher region of Khumbu valley, on walks, enjoy grand views of snow peaks with Everest and beautiful Mt. Ama Dablam. Walk with a climb to scenic Tengboche and the colorful impressive monastery, surrounded by high snow mountains and green woodland. From this lovely spot views of Mt. Everest and the majestic peak Ama Dablam, the tour of the monastery treasures ancient masterpieces of statutes and religious paintings. After a pleasant stop at scenic Tengboche towards high trails, tall tree lines fades to smaller alpine bushes as adventure leads close to the mountain wilderness of arid and dry landscapes, with time around the picturesque Imjatse valley at Dingboche.
Spending wonderful days in Dingboche, enclosed by the high peaks of Ama Dablam, Lhotse, and Nuptse, with views of the Island peak. Finally, our adventure heads towards our destination at Lobuche East Peak base camp for a classic climb. After visiting the world's number one Mt. Everest base camp and climbing of high Kalapathar hilltop. Offers grand closest views of Mt. Everest and surrounding giant peaks, adding more experience on high altitude climb. To get well acclimatized before the great ascent on top of Lobuche East Peak, a mountain of a big challenge to encounter.
The climb of Lobuche East Peak is done by setting tented camps for a few days. The base of Lobuche is located on a hidden corner away from the main popular trails on route Everest base camp. Where we will be spending some days in complete isolation in harmony with the beautiful scenery of mountains and glaciers. From base camp, after much preparation and practice, climb, then set extra high camp to make the ascent more accessible. As our guide will scout and check the route for the climb, making it safe with fixed ropes where necessary.
Especially on difficult and technical sections, after final training and groundwork, and then start the big day early morning when a steep climb on rocks, ice, and snow reaches you on top of Lobuche East Peak's main summit. After going through a few tough sections climbing on a vertical edge of rocks and ice to reach for the triumph. On top of Lobuche, East Peak faces a mind-blowing panorama of the high mountain range, with Mt. Everest at a near distance. Views include an array of peaks with Lhotse, Nuptse, Cho-Oyu, and Amadablam extending towards Mt. Makalu and Lhotse Shar on the eastern horizon.
Enjoy the adventure of a lifetime experience after a tough struggle to ascend to the top of Lobuche East Peak. Feeling tired but with great exciting moments on achieving a successful feat and triumph, then descend back to base camp.
Return journey on the same scenic route to Lukla, heading towards windy Pheriche valley with overnights in Tengboche and Monjo. As altitude loses every hour walking down with few ups past Namche Bazaar to reach the lower Dudh Kosi River valley. Finally, our adventurous walks completely in Lukla for the last overnight halt around Khumbu and Everest region. The next early morning short sweeping flight brings you back to the hustle and bustle of city life of Kathmandu. Where Lobuche East Peak Climb with Everest base trek completes, after an awe-inspiring experience and adventure around high Khumbu and Everest area.
Reviews on Lobuche East Peak Climbing with Everest Base Camp
Be first to post a review in this trip.