Island Peak Climb with Everest Base Camp Trek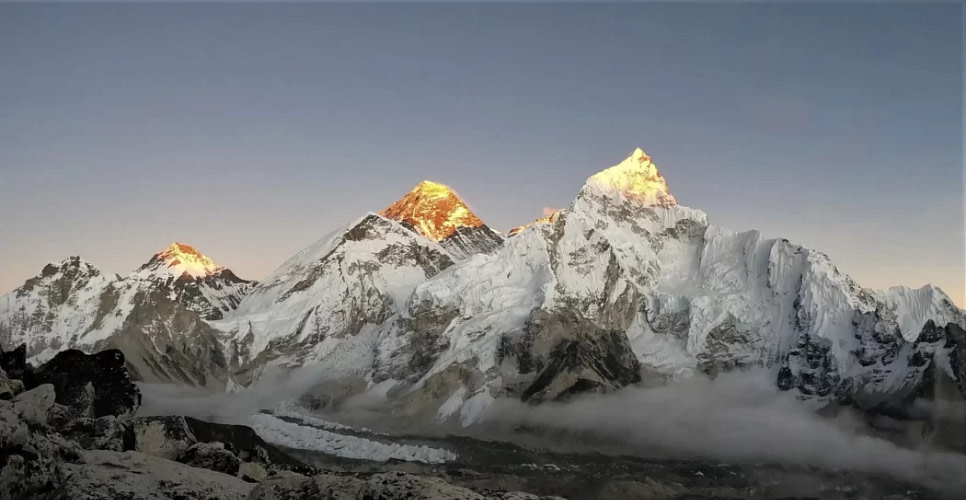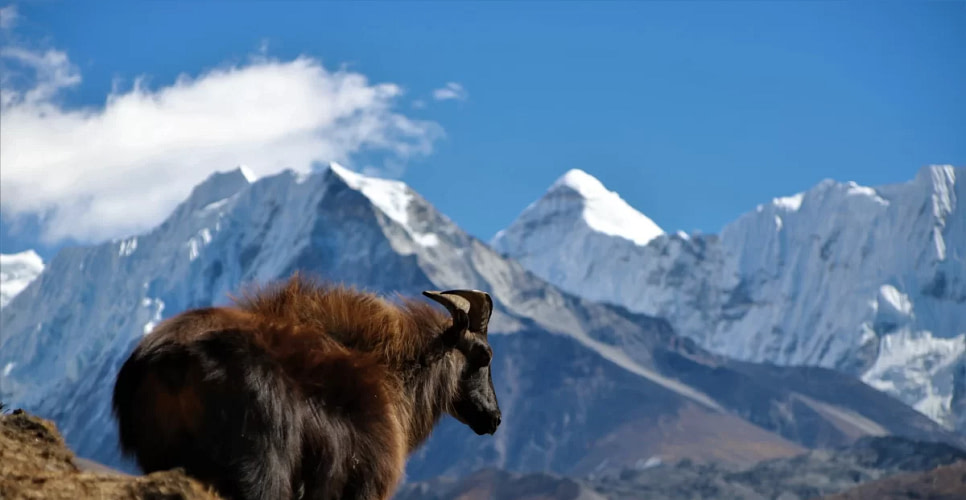 Trip Highlights of Island Peak Climb with Everest Base Camp Trek
The popular climbing peak in Nepal
Ideal for beginners and experts both
Offers the breathtaking views of the Everest region peaks
Perfect to connect with the Everest base camp trek
Explore Sherpa culture and lifestyles
Overview of Island Peak Climb with Everest Base Camp Trek
Island Peak Climb with Everest Base Camp Trek is a popular adventure among beginner-level climbers.  Island Peak (6189m) is situated in the Everest region on the top of Chukung Glacier between the Ama Dablam and Lhotse Himalayan ranges.
It is a gorgeous and comparatively less challenging NMA (Nepal Mountaineering Association) authorized trekking peak.
Island Peak Climb with Everest Base Camp trek is an ideal trip for those seeking to warm up before attempting higher mountain peaks like Everest and others.
Island Peak is the name given by Eric Shipton, a Mountaineer who is impressed with the range of ice and its beautiful location. This peak was first climbed by the British climbing team in 1953 A.D, before ascending to the top of the world- Mt. Everest. Island Peak Climbing is an adventurous journey and is suitable for climbing practices.
Although Island Peak Expedition has been illustrated as less technical climbing, it is challenging enough for the Peak climbing experiences in the Everest region. It needs the climbing equipment of mountaineering as boots with crampons on, climbing ropes, ice ax, harness, carabineers, a Descender device, and others.
Trip to the Island Peak Climbing is combined with the world-famous Everest Base Camp Trekking. It is also helpful to acclimatize the climbers for a successful climb. While flying to Lukla from Kathmandu, it crosses Phakding, Namche Bazaar, Tengboche, Dingboche, Gorakshep, Everest Base Camp, Kalapatthar, and heads to Chhukung for the Island Peak Climb. Hence, our expert peak climbing guide assists you with the Island Peak Route Map with proper information.
Indeed, the views of Mt. Everest, Ama Dablam, Lhotse, Nuptse, and other peaks are stunning and incredible. The trip descends all the way to Lukla and flies to Kathmandu. Vertex Holiday suggests you have some more spare days, which is useful in case the climate will not be favorable. We provide you the information about the technicality as well as the need for practice to have a successful summit. We offer all the required basic climbing materials and hygiene meals for the climbers. Please, contact us for more information.
Itinerary of Island Peak Climb with Everest Base Camp Trek
Arrive in Kathmandu (1300m), transfer to hotel and dinner with Nepali cultural program
Namaste and welcome to Nepal. As you arrive Kathmandu, Vertex Holiday's airport representative receives you at the airport and transfer to the hotel. After getting refreshed, we give you short briefing and orientation by our trekking leaders. The evening is wonderful with a dinner with Nepali cultural program.
Car 30 minutes
Accommodation 3 Star Hotel
Meals Dinner
Altitude 1300m
Full day Cultural Tours in Kathmandu valley/ Trip Preparation and briefing.
After breakfast at the hotel, set out for the sightseeing tour in Kathmandu, which includes UNESCO listed world heritage sites. Kathmandu is a city of temples and medieval arts and architectures.
There are Pashupatinath temple, Boudhanath, Swayambhunath, Kathmandu Durbar Square in Kathmandu. However, there are in total of seven world heritage sites in the Kathmandu valley. Returning back from the sightseeing tour, you get a short trip briefing.
Car 6 Hours
Accommodation 3 Star Hotel
Meals Breakfast
Altitude 1300 m
Fly to Lukla (2804m) and trek to Phakding (2610): walk approx 3-4 hrs.
Having breakfast, drive to the domestic airport of Kathmandu and fly to Lukla enjoying the picturesque Everest region Himalayas. Landing at Lukla, you meet the rest of the crew who accompany us during the trekking. Then the trek starts smoothly through the easy trail and you can see the tiny settlements along with their potatoes fields. Crossing the steel bridge over Dudh Koshi River, we reach Phakding.
Multiple Airport Drop by car, 30 minutes Flight, 2 Hours walking
Accommodation Lodge
Meals B/L/D
Altitude 2800 m
Trek from Phakding to Namche Bazaar (3440m)
After the delicious breakfast, we begin our trek, which is ascending high. Crossing bridges, we reach to the entry gate of Sagarmatha National Park at Jorsalle. Now the trail is steep high.
The charming view of Everest can be seen for the first time of the trek. We walk continually till we reach to the horse-shoe shaped Namche Bazaar, which is one of the busiest settlements in the Everest region.
Walking 5 - 6 hrs.
Accommodation Lodge
Meals B/L/D
Altitude 3440 m
Acclimatization day at Namche Bazaar -day hiking to Khumjung valley over Everest view point hotel.
Today is an acclimatization and exploration day. To avoid mountain sickness, it is necessary when we walk over 2700 meters. So, we go on exploring this amazing town along with its neighboring parts as Khumjung and Everest view hotel.
There are almost all the facilities and markets of all the goods. Basic facilities are available as health post/hospital, school, trade centers, and others. Hillary school is located there. The exploration hiking is also wonderful to understand the Sherpa culture and traditions, spirituality and hospitality. Back to lodge and rest
Walking 5 - 6 hrs
Accommodation Lodge
Meals B/L/.D
Altitude 3440m
Trek from Namche Bazaar to Tengboche Monastery (3,860m):
Beginning the trek from Namche Bazaar, we head towards the Tengboche monastery, following the River and walking through the oak, rhododendron and birch forest.
You have a chance to see the wild animals as the wild goat, blue sheep, and others. The dazzling Himalayan views accompany us throughout the trail. We have lunch at Phunki Tenga, which lies beside the River. Gradually, we walk to Tenbuche and rest.
Walking 5 - 6 hrs.
Accommodation Lodge
Meals B/L/D
Altitude 3,860m
Trek from Tengboche Monastery to Pheriche (4350m):
Mornings are normally chilling in the mountainous region. Having a warm breakfast, we begin our trek from Tengboche. The morning bells can be heard. Lamas and monks perform their rituals in the morning.
The monastery is perhaps the most highly located monastery in Nepal. On the lunch stop of Pangboche, we can again visit the oldest monastery of Everest. It takes a couple of hours to reach Dingboche from here. The views of Everest, Nuptse, Ama Dablam, Kwangde, Thamserku, and others are brilliant. Reach Pheriche and rest.
Walking 5 - 6 hrs
Accommodation Lodge
Meals B/L/D
Altitude 4350 m
Trek from Pheriche to Lobuche (4950m):
Having breakfast, we move out through the rocky trail. With breakfast, we begin to climb up to Lobuche. First, we pass Phalang Karpa and reach Dugla, which is our lunch point today. There is a memorial place for the climbers who pass away during the Everest expedition.
Up to reaching Dugla, we can feel if we have some symptoms of altitude sickness. If you feel that, we do not move higher. If not, we walk again and reach Lobuche for the stop.
Walking 5-6 hrs.
Accommodation Lodge
Meals B/L/D
Altitude 4950 m
Trek Lobuche - Gorak Shep (5,170m) to Everest Base Camp (5,364m) and back to Gorak Shep:
We are very near to the Everest base camp. For lunch, we reach to Gorakshep, where we also put our baggage. Carrying a day pack, we begin to ascend to the Everest base camp through the rocky trail that is prevailed with moraines.
At the climbing seasons, Everest base camp remains full of tents, where climbers stay and do climbing practices. Taking sufficient snaps, we descend to Gorakshep and rest.
Walking 8-9 hrs
Accommodation Lodge
Meals B/L/D
Altitude 5364 m
Hike up to Kalapatthar (5555m) early in the morning and trek down to Lobuche.
Getting up early, we hike up to Kalapatthar. For the breathtaking sunrise view over the snowy peaks, Kalapatthar is the best viewpoint. Also, the awesome panoramas of Makalu, Ama Dablam, Pumori, Lhotse, Nuptse, and Cho Oyu can be seen.
Then we trek down to Gorakshep, have breakfast/lunch, and trek down to Lobuche. It's a long walk but a superb excursion. Overnight at lodge.
Walking 8 -9 hrs
Accommodation Lodge
Meals B/L/D
Altitude 5555 m
Trek Lobuche to Chhukung (4,730m):
After breakfast, we descend all the way to Dingboche. Then we catch the trail that leads us to Chhukung. The trail is easy, but the high altitude may cause the walk to become slower.
There are few Sherpa houses in Chhukung village, and it is surrounded by potato fields. It is a summer settlement. After this long walk, we take a rest there.
Walking 3-4 hrs.
Accommodation Lodge
Meals B/L/D
Altitude 4730 m
Trek Chhukung to Island Peak Base camp (5200m):
After breakfast, we begin to ascend to the Island peak through the rocky trail, but it is wide. The trail is zig zag to trek down to the moraine of the Lhotse glacier. Then we follow the Imja Khola, those that emerge at the Island peak and walk continually to the base camp.
Walking  3-4 hours.
Accommodation tented camp.
Meals B/L/D
Altitude 5200m
Pre-Climb training on Island Peak Base Camp.
For any peak climbing, you need to know the technicality of the peak. Which way to follow and what equipment is mostly used in the trip. Our professional guide gives you a briefing about it and also takes you to the climbing spot.
Having a pre-climbing session builds confidence in you and knows the peak structure. Pre-climbing practice is also highly beneficial for physical fitness and acclimatization.
Walking 3 Hours
Accommodation Tented camp.
Meals B/L/D
Altitude 5200 m
Climb Island Peak Base Camp to Summit and back to Base Camp (5,600m)
It is the day of summiting the Island peak. With great enthusiasm, we begin the trip with an early breakfast. Though Island peak is not highly technical, some parts of its boulder are steep and slippery.
Finding the ridgeline and following the fixed rope, we reach the peak point of the Island peak. The outstanding panoramas of Everest, Ama Dablam, Lhotse, Nuptse, and other peaks can be explored from the closest point of view. Then we retrace to the base camp through the same route. Celebrate the succession of Island peak climbing with your crews.
Walking 10-12 hours.
Accommodation Tented Camp
Meals Breakfast, Lunch, Dinner
Altitude 5600m
Trek from Island Peak Base Camp to Pangboche (3,985m)
After breakfast, we trek to Dingboche and walk down to Pangboche. After exploring the Tengboche monastery, we reach the Pangboche monastery, which is the oldest monastery in the Khumbu region that reflects the cultural loudness in the locality. It is surrounded by snowy white peaks on the near horizon. Overnight at lodge.
Walking 5-6 hrs
Accommodation Tented Camp
Meals B/L/D
Altitude 3589 m
Pangboche to Namche Bazaar.
We follow the route that goes through the bank of the Dudh Koshi River. The trek is wonderful with views of some Khumbu peaks that are familiar to us. Passing Tengboche, we reach the Namche Bazaar. If you prefer, we can descend further to Monju and take a rest. Overnight at lodge.
Walking 6- 7 hrs
Accommodation Lodge
Meals B/L./D
Altitude 3440 m
Trek from Namche Bazaar to Lukla (2804m)
This is the last trekking day. We have breakfast and begin the excursion through the steep trail from Namche Bazaar. Checking out from the national park counter, we reach Monju and head further, crossing the suspension bridges.
Passing Phakding, the normal route begins. We gradually reach to our concluding point at Lukla. We celebrate our successful trek with all the team members. It is the last day of the trek for our crew.
Walking 6-7 hrs
Accommodation Lodge
Meals B/L.D
Altitude 2804 m
Fly back to Kathmandu after the Everest base camp trekking/Rest day.
It's time to bid farewell to this Himalayan town and fly back to Kathmandu. The Himalayan peaks that became familiar to us can be explored for the last time if the weather is clear. Landing in Kathmandu, you transfer to the hotel and take a rest.
Multiple 30 minutes Flight and Drive to Kathmandu
Accommodation 3 Star Hotel
Meals Breakfast
Altitude 1300 ,
Departure.
After a successful Island Peak climb with Everest Base Camp trek with Vertex Holiday, our representative drops you at the airport for your departure.
Car 30 minutes
Meals Breakfast
Includes/Excludes
What's Included?
All ground transportation on a comfortable private vehicle as per the itinerary
Four-night accommodation in Kathmandu(Twin sharing basis) at a 3-star hotel with a BB plan
Two-way airfare for Kathmandu-Lukla-Kathmandu
Airport pick up and drop off for Lukla's flight by private vehicle
professional tour guide and private vehicle for a city tour
Including all kinds of entries fee for a city tour
Meals during the trek time in the mountain (breakfast, lunch, and dinner)
Accommodation during the trek with Twin sharing basis
An experienced, English-speaking, knowledgeable, skillful, and helpful government license holder trekking guide, climbing guide, and porter to carry your luggage(max:-25kg), including all kind of costs i.e. Transportation, salary, insurance, equipment, meals, and accommodation
All kinds of the necessary paperwork for your trips (TIMS card and permit – please bring 3 PP size photos)
Government taxes and office service charge
What's Excluded?
Nepalese visa fee
International airfare
Personal travel insurance
All kinds of drinks, snacks, and personal ordered food during trekking time
All kinds of personal expenses
Hot shower during the trekking if needed to pay
Lunch and dinner in Kathmandu
Personal trekking equipment
Rescue charge (if needed)
Tips for trekking staff
Complimentary
Comprehensive medical kit
Duffle bag for Trekking
Snack of seasonal fruit during the trek
Essential Information - Island Peak Climb with Everest Base Camp Trek
PERSONAL CLIMBING GEAR FOR ISLAND PEAK:
Plastic Boot: a pair
Crampons: a pair
Ice Axe: one
Harness: one
Carabineer or Karabiner: two each
Snow Gaiters: a pair
Snow / Sun Glass: one each
Warm Gloves: a pair
Wind Proof Jacket & Trousers, a set of each
Down Jacket: one each
Down sleeping bags : one each with inner linear
Main Ropes : 200 m (50 m per person) as per the peak chosen
Snow Bar : 2 / 4 pieces depending upon group size.
Ski Pole (optional) : one each
Most Asked Questions by Travellers
Any mountains or peaks around the Himalayas are tough to climb, but not overall difficult as for Island peak climb, a straight-forward peak to reach the summit but with some tough technical sections to cope with. Our expert climbing guide will make the climb much more possible, guiding and supporting you all the way to the top with a safe descent.
Not much like a major mountaineering expedition, but yes, you need some excellent gear for the climb, an important for all climbers is a good ice-axe to begin with, then crampons, harness, helmets, carabineer/karabiner, and main ropes, which will be provided by the company and etc. Including your personal warm clothing with good climbing boots.
Certainly, it is worth a climb to Island Peak if you are interested in basic or high-standard climbing and mountaineering. Island Peak has the highest rate of success of any other trekking peak, besides Mera or Yala Peaks. Island Peak will be a good start for your mountaineering career as it involves all that climber needs to experience, from rocks, ice, and snow.
Altitude-wise, it won't be a big problem, but it can happen to some trekkers/climbers in the group or with other illnesses, like severe diarrhea or any other medical and health issue if the member with the worse condition has to break the journey and reach Kathmandu by the fastest means of transport for evacuation. The only fastest and most reliable is taking a helicopter service, where all medical and other expenses incurred have to be borne by oneself. Where it can be reimbursed from the insurance company, with a supporting letter from Vertex Holiday and as well from medical doctors in Kathmandu.
Around the high Khumbu area from Lukla onwards of strong Buddhism religion and culture of ancient heritage customs with the traditional life of farming and raising livestock. Khumbu areas dominated by Sherpa follow Tibetan Buddhism, which you can witness on walks as well visiting some monasteries like at Tengboche and Pangboche.
It sometimes happens, even during the best time of the year. Where Himalayan weather can be unpredictable sometimes, but not all time the good seasons. In this situation, if the flight does not operate due to unfavorable weather. Our guide will make the best effort as well contact the head office in Kathmandu regarding the situation. If the weather does not improve for flights, even on the next day, the best option is to use helicopter services if needed, especially for people with tight international flights. Staying longer in Lukla for a few days and using of chopper where clients have to bear the extra expenses and to be claimed from your travel insurance company.
Nearly all seasons of the year, but best in spring from March to May, with autumn/fall of September to November, including pre-winter times of December. Spring is best with wildflowers in full bloom till Tengboche Monastery, and with clear fine days, most of the time can get cloudy in the late afternoon with clear starry nights. It is much cold in the morning, and nighttime as well in shady areas, and the wind-chill factor adds colder with freezing temperatures; you can expect snow sometimes around higher altitudes.Autumn/fall is another best time with a clear day for views and climb of Island Peak and trekking. But it can be much cold in the morning, and nighttime can expect snow sometimes around higher altitude.
Certainly, every best lodge we use for overnight stops or lunch does have facilities to charge electronic gadgets from cell-phone, cameras, and laptops to pay a charge per hour for each item. The price differs from one place to another. The only place that you cannot get the facility for charging is at Island peak base camp for some days.
Reviews on Island Peak Climb with Everest Base Camp Trek
Be first to post a review in this trip.