Island Peak Climbing with Mt. Amadablam Base Camp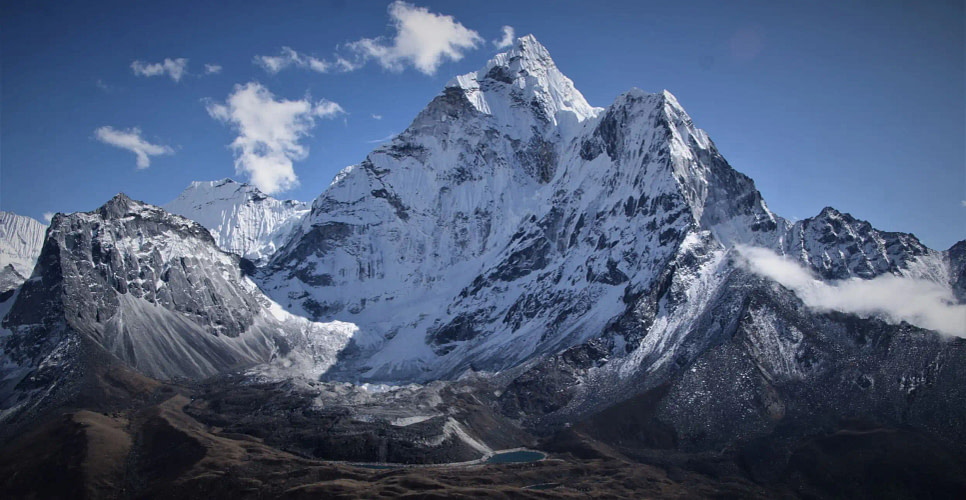 Trip Highlights of Island Peak Climbing with Mt. Amadablam Base Camp
Enjoy the adventure of a lifetime experience on top of stunning Island Peak
A sweeping panorama of the world's tallest mountains range from Island Peak summit
On scenic trail within high and beautiful Imjatse valley enclosed by giant peaks
Trek on a peaceful path away from the main route to the majestic Amadablam base camp
Adventure of exciting activities from beautiful views to impressive local cultures"
Overview of Island Peak Climbing with Mt. Amadablam Base Camp
Island Peak Climbing with Mt. Amadablam base camp Trek, an amazing adventure with Vertex Holiday and quite different from others. As we have included the Amadablam base camp trek to make the trip more special than other companies. This allows climbing members to get acclimatized better in a tranquil wilderness, being away from the main busy trail for a day.
Island Peak is also known as Imjatse Himal due to its location, which towers high amidst the magnificent Imjatse valley. As it appears like an island, the early pioneers and mountaineers tagged the name as Island peak. The peak in the past years and at present is regarded as a perfect mountain for practice climb and exercise before heading for major expeditions for an ascent of Mt. Everest and other high surrounding giant mountains of Khumbu. Island peaks stand as individual mountains at 6,189 m / 20,305 feet, close to Lhotse and Nuptse peaks.
The grading for the climb is PD + 'Per Difficule', with plus means a straightforward mountain to climb. As the climb progressed, some technical challenges to face to reach the summit of Island Peak. The grade we have used from famous and popular French and Swiss Alpine Climbing Classification Systems, which is popular worldwide. Island Peak, or Imjatse Himal, is a popular trekking peak to climb with a high success rating due to ease of access. A straightforward route to its base camp and close to the settlements of Chukung and Dingboche. Where climber needs to stay only for a few nights in a tented camp for the climb than other trekking peaks of Nepal, Island Peak Climb with Mt. Amadablam base camp Trek, a wonderful combination visiting first right on the bottom of majestic Mt. Ama Dablam.
One of the most beautiful peaks around the great Himalayas range, then heading straight towards our final destination. At Island Peak base camp, with enough days for practice climb and acclimatization for the next big day. The adventure starts with a swift scenic flight from Kathmandu to land at Lukla Tenzing & Hillary Airport, a nice Sherpa town. Where most treks and climbs around the high Khumbu of Everest region begin and ends in Lukla. The walk starts on an easy gradual well-defined path with downs and ups past lovely Sherpa villages.
On the way, I encountered many prayer monuments of great religious interest as the walk led through farms and villages. Then crossing over bridges above Dudh Kosi River to reach the entrance of Sagarmatha National Park. The park is listed among world heritage sites enriched with exotic flora/fauna, including the world's highest peaks and famous mountains. Sagarmatha is a name for Everest in Nepal, while the native Sherpa calls Chomolungma in both languages means 'a great mother'.From the park, after walking on a river valley and gorge covered with a green forest of tall rhododendron and pine trees. Where climb heads towards the wide undulating trail to reach the renowned Namche-Bazaar, the heart of Khumbu villagers and trekkers. At Namche Bazaar for rest days, a perfect place and height at 3,440 m for acclimatization facing grand views of snow peaks. After, Namche headed towards the main scenic trail catching views of Everest, Amadablam, and an array of peaks. The walk continues with a climb to reach picturesque Tengboche and the monastery, surrounded by high peaks with close views of Amadablam.
A beautiful and scenic spot amidst green woodland, encircled by snow mountains with grand views of Mt. Everest with Mt. Amadablam.Enjoy an impressive tour of the monastery, and then continue to walk to reach an open wild country, leaving the forest behind. A walk takes you high at Pangboche village, the closest route to Mt. Ama Dablam base camp. A day hike from Pangboche to Ama Dablam base camp, as adventure finally enters scenic Imjatse valley. Then towards our destination at Island peak base camp, the route leads past Dingboche to reach the last settlement of Chukung. Spending overnight in Chukung walk leads to the barren, dry country over moraine and ice to the bottom of Island Peak.
At base camp, with ample time for rest and some practice climbing, we then reach our main goal. The summit of Island Peak with the expert guidance of Vertex Holiday mountain guide, reaches you safely on top of Island Peak. At the top, enjoy an incredible and breathtaking panorama of high snow-capped peaks that surrounds you, facing close to giant mountains. Views of Mt. Everest, Lhotse, Nuptse with Cho-Oyu, Baruntse Himal, and Mt. Makalu in the east direction. An enjoyable, wonderful feeling, after a tough and exciting triumph, descends safely back to Chukung for a return journey back to Lukla. Where sweeping flight brings you to Kathmandu after an overwhelming adventure and experience on Island Peak climb with Amadablam base camp trek.
Itinerary of Island Peak Climbing with Mt. Amadablam Base Camp
Arrival in Kathmandu via respective airlines and transfer to hotel.
On arrival at Kathmandu-Nepal International Airport via various airlines, our guide and staff will receive you for a short transfer to the heart of Kathmandu city. Where your hotel is located, after checking into your rooms and then meet other members of the trek at the hotel lobby for a briefing regarding the wonderful adventure on Island Peak Climb with the Amadablam base camp trek. On briefing includes useful information to make your holiday in Nepal more enjoyable. The evening group welcomes dinner in a lovely Nepalese Restaurant with an introduction to Nepalese culture of various parts of Nepal with folk dance and music.
Car 20m
Accommodation 3 Star Hotel
Meals Dinner
Altitude 1300m
In Kathmandu tour of world heritage sites and trek preparation.
A free day in Kathmandu for trek preparation, with a day tour of exciting places around Kathmandu city of great historical, cultural and religious interest. Most of the Hindu and Buddhist monuments, including old palaces, are included in UNESCO World Heritage Sites. Our city guide will show you the ancient wonders of Nepal; afternoon, relax and prepare for the trek and climb of Island Peak around the Everest region.
Car 6 Hours
Accommodation 3 Star Hotel
Meals Breakfast
Altitude 1300m
Fly to Lukla 2, 820 m and trek to Phakding 2,645 m - 04 hrs.
Start early morning departure from the hotel, with a short transfer to Kathmandu domestic airport, as per flight time, after going through the securities board in a small aircraft. Dornier / Twin Otter or similar types. The flight heads east, overlooking a breathtaking panorama of the Himalayan range of peaks with views of Mt. Everest, Lhotse, and Nuptse, as the plane lands at Lukla airstrip. The airport called Tenzing & Hillary tribute to the first conqueror of Mt. Everest on May 29th, 1953. From Lukla airport, after collecting all our baggage, carried by our strong porters or pack animals called Zhopkyo (crossbreed of Yaks and normal low altitude cows or ox). After a refreshing stop, start the walk to Phakding for the first overnight stop. Walk beings through Lukla street market and then descend to a place called Choplung, with many prayer monuments. The place where the route of Lukla and Jiri meets, and then on the main scenic trail past many nice farm villages to reach Phakding for an overnight stay in a moderate standard lodge.
Multiple Drive to airport 35m flight and walking 2 Hours
Accommodation Guset House
Meals B/L/D
Altitude 2820m
Trek to Namche Bazaar 3,440 m / 11, 350 feet - 06 hrs.
Walk today takes you to the famous Namche Bazaar the hub of Khumbu villagers, as well as trekkers. Where once a week, a colorful and busy market is held every Saturday walk leads to cross few bridges over Dudh Koshi glacial rivers to reach the entrance of Sagarmatha National Park, where a ticket to be shown of purchased. Sagarmatha for Everest in Nepal, while the Sherpa knows as Chomolungma of Tibetan origin language. From here reach the last village of Jorsalle before Namche Bazaar, for a lunch break, and then continue to walk following the river on a bank, within a cool shade of pine and rhododendron forest. On crossing the last high bridge, along undulating uphill for few hours to reach Namche Bazaar for two overnights stops. Enjoy views of Kwangde and Tharmasarku peaks from the lodge in Namche and then check into your rooms for refreshing rest before dinner time in a large warm and cozy dining hall.
Walking 6 Hours
Accommodation Guest House
Meals B/L/D
Altitude 3440m
At Namche for acclimatization and a short scenic hike
Free day and a well-deserved rest day after a long climb of the previous day to reach Namche Bazaar, a necessary to have spare and leisure day for a short hike to viewpoints. A good way to support acclimatization, enjoy the morning with breakfast and hike to Namche viewpoint overlooking Mt. Everest and the beautiful peak of Ama Dablam with other adjoining peaks. Visit the museum offers full information about the Khumbu region. Energetic people can take a hike up to Everest View Hotel in a few hours.
Walking 6 Hours
Accommodation Guset House
Meals B/L/D
Altitude 3440m
Trek to Tengboche 3,867 m - 05 hrs.
The morning after breakfast, an easy stroll after a short climb to the top of Namche facing excellent views of Khumbu peaks with Everest, and then down to Imjatse River at Phunki-Tenga, a small settlement with few lodge and restaurants. A popular mid-day stops of trekkers for lunch and refreshments, from here on steep winding up for few hours through the cool shade of lovely woods to reach Tengboche and its colorful monastery. The area is surrounded by an array of peaks with grand views of Everest, Lhotse, and Ama Dablam with a range of adjoining high mountains. Herewith time to visit the impressive Buddhist monastery interior of great cultural and religious interest, and then retire back to your lodge for rest and marvel at the surrounding exciting vista of snow-mountains.
Walking 6 Hours
Accommodation Guset House
Meals B/L/D
Altitude 3867m
Trek to Pangboche 3, 900 m -03 hrs.
Today a short walk of few hours to reach the next to last village at Pangboche, from Tengboche enjoy the morning views of snow-capped peaks while you have breakfast. Then the day starts with an easy descend to reach a strong metal bridge. On crossing the bridge above Imjatse River, a slow uphill climb to Pangboche village with close views of beautiful Ama Dablam. At Pangboche, check into a nice lodge after a good lunch afternoon free for a short hike to upper Pangboche, a place with an old monastery surrounded by juniper trees and few houses that serves as lodges.
Walking 3 Hours
Accommodation Guset House
Meals B/L/D
Altitude 3900m
At Pangboche day hike to Amadablam base camp 4,580 m.
Another rest day for a lovely walk up to majestic Mt. Amadablam, carrying pack lunch for the day hike. Start the day after good breakfast, heading down to Imjatse River and then cross a small wooden bridge. A steady steep climb takes you to a high ridge, a place with few huts and shelter of Yak herder. From here with a gradual climb to reach an open wide grassy field at Ama Dablam Base Camp. Enjoy the superb panorama of high snow peaks that surrounds this beautiful spot, standing beneath the West Flank of Ama Dablam, the most impressive Face of Mt. Ama Dablam. After spending pleasant time at base camp descend to the river, with a short steep climb to overnight stop at Pangboche village.
Walking 5 Hours
Accommodation Guset House
Meals B/L/D
Altitude 4580m
Trek to Chukung 4,730 m via Dingboche 4,340 m - 06 hrs.
On leaving the last permanent village of Pangboche, while other places on route are temporary settlement with lodges and tea-houses to cater the trekkers. From here onward tree lines disappear for short bushes of juniper and dwarf rhododendron bushes. The walk takes you higher to reach scenic Imjatse valley, where Dingboche is located, a perfect place for a lunch stop in one of many good lodges with nice restaurants, facing the first view of Island Peak towards the east of Imjatse valley floor. After a refreshing stop at Dingboche, a nice scenic walk heading due east on a large field of grassy meadow and crossing few icy streams, with a short climb to reach a high ridge at Chukung for an overnight stop in a nice cozy lodge. Afternoon and enjoy close views of Island Peak, with Lhotse, Lhotse Shar, and Nuptse.
Walking 6 Hours
Accommodation Guset House
Meals B/L/D
Altitude 4730m
Trek to Island Peak Base Camp 5,200 m /17,060 feet -04 hrs.
Slowly our adventure heads toward our main goal and highlight reaching the Island base camp for the climb. The morning starts on an easy descent with a steep climb of less than half an hour to a ridge. Enjoy the great views as the walk continues crossing a few icy streams and then on easily up to reach at wide moraine area at Island Peak base camp, where tents are set for a few overnights. The area around is also called Parsya Gyab, with a small stone-built hut made as a shelter for porters.
Walking 4 Hours
Accommodation Tent House
Meals B/L/D
Altitude 5200m
Free day for Climbing Training before Island Peak climb.
Another important rest day for good acclimatization, and final preparation for the climb to the summit of Island Peak. A nice day with time to check your climbing gear as well practice climb on rocks and ice walls near to the camp. Where our expert guide will teach and instruct you on some technical techniques with information on the route to the summit of Island Peak.
Accommodation Tent House
Meals B/L/D
Altitude 5200m
Climb to High Camp 5,280 m / 17,323 feet -03 hrs.
Normally, most climber makes ascent from base camp but with Vertex Holiday is another story. As we care for the client's safeness and success of the climb to make the climb easier and accessible, we have set another high camp for the climb. After a good exercise and practice with acclimatization at base camp, our adventure starts with a climb across a glacier where one needs to be careful in avoiding crevasses, as the route takes you straight north over snow-covered scree in-between a glacier to the top ridge where we will set as high camp at above 5, 280 m high, not much of altitude gain but makes the next early morning much shorter. Afternoon relaxes and plan for the big day with our expert guide, he will brief you regarding the climb with a safe descend back.
Walking 3 Hours
Accommodation B/L/D
Meals B/L/D
Altitude 5200M
Climb Island Peak / Imjatse Himal 6,189 m / 20,305 feet descend to Chukung maximum - 09 hours climb and walks.
Our final big and long day, starting early before the crack of dawn, climb over rocks and icefall section, a steep snow and ice ramp takes you near 100 meters or300 feet to reach on top of the summit. Where our guide will support technical areas with main ropes to reach on top of Island Peak or Imjatse Himal as listed in NMA (Nepal Mountaineering Association).On top of feeling high, tired but with excitement on achieving great success of a life-time experience. Enjoy facing a grand panorama of towering giant peaks that surrounds the summit. After a wonderful moment then descend safely back to base camp, to clear the camp leaving nothing but your footsteps. After a refreshing stop with a fresh warm drink, continue a few hour walks in the late afternoon to reach an overnight stop in a nice lodge at Chukung.
Walking 9 Hours
Accommodation Guest House
Meals B/L/D
Altitude 6189m
rek to Pangboche - 05 hrs.
From here onward, an easy downhill walk with few short ups as route leads past Dingboche village, and retrace rest of the journey to Pangboche for an overnight stop, with grand views of beautiful Mt. Ama Dablam.
Walking 6 Hours
Accommodation Guest House
Meals B/L/D
Altitude 3800m
Trek to Namche Bazaar - 06 hours.
Morning enjoys the last close views of Ama Dablam, and then morning heads to a short descent to cross over a bridge and then climb to Tengboche. From here onward, back into tree lines, with down and ups to Shanasa village. As the walk gets pleasant on a gradual winding path to reach Namche for an overnight halt.
Walking 6 Hours
Accommodation Guest House
Meals B/L/D
Altitude 3440m
Trek to Lukla - 06 hours.
The last day walk of the adventure leads to a long stretch to reach Lukla, but easier with much downhill, as the walk takes you to the bottom of Namche Hill, the walk along the riverbank, and past Sagarmatha National Park at Monjo village to reach Phakding. From here, on a gradual winding trail with the last final climb to the end of the trek at Lukla. For the last overnight around the high Khumbu and Everest region, party time with fellow members and trekking, and climbing staff, including porters who made the trip a great success.
Walking 6 Hours
Accommodation Guest House
Meals B/L/D
Altitude 2800m
Fly from Lukla to Kathmandu with afternoon free at leisure.
Early morning with breakfast, then depart from the lodge to Lukla airport, named after famous mountaineers Tenzing and Hillary. The morning flight reaches you back in Kathmandu. From the airport, transfer to your respective hotels with a free day to enjoy the hustle-bustle city life of Kathmandu.
Flight 45m
Accommodation 3 Star Hotel
Meals Breakfast
Altitude 1300m
Free day in Kathmandu spare and contingency day.
It is necessary and wise to reserve a spare as a contingency day in case of a flight delay which might lead to cancellation at Lukla. Due to bad unfavorable weather conditions for small planes to operate, which can happen even at the best time of the season. On this free day, one can enjoy individual activities and shop for souvenirs or take a tour of Kathmandu's ancient cities' sites within Kathmandu, Patan, or Bhaktapur.
Accommodation 3 Star Hotel
Meals Breakfast
Altitude 1300m
Depart Nepal for international departure homeward bound.
Your last day in Nepal, enjoying a memorable adventure on Island Peak Climb with Amadablam base camp Trek, and then as time for your international flight. Our staff transfers you to the airport for homeward bound.
Includes/Excludes
What's Included?
Pickups and drops from hotels and airports
Accommodation in a 3-star hotel in Kathmandu, teahouses, and tents during trekking and expedition
All ground transportation as per the itinerary by private vehicles
Services of English/French/Chinese/German speaking, trained and experienced staff, including trekking guide(leader), expedition guide (leader), and porters, including their salary, insurance, equipment, flight, food, and lodging
All domestic flights (Kathmandu to Lukla to Kathmandu)
Welcome or farewell dinners
Breakfast in Kathmandu and all meals on the mountain
Porter services for trekking
All necessary paperwork; trekking permits and Island Peak climbing permit
Good quality tents and kitchen utensils for camping
Down jacket, four seasonal sleeping bags, Vertex Holiday Trekking duffel bag (down jacket and sleeping bag are to be returned after trip completion)
Group mountaineering (climbing) equipment
Medical kit
Travel and rescue arrangements
Company services and all required government taxes/royalties
What's Excluded?
International airfare to and from Kathmandu
Excess baggage charges (if you have more than 15 kg of luggage, the cargo charge is around $1.5 per kg)
Extra night accommodation in Kathmandu because of early arrival, late departure, or early return from the mountain (due to any reason) than the scheduled itinerary
Altitude chamber (PAC) or oxygen
Lunch and evening meals in Kathmandu (and also in the case of early return from the mountain than the scheduled itinerary)
Travel and rescue insurance
Personal expenses (phone calls, laundry, bar bills, battery recharge, extra porters, bottled or boiled water, shower, heater, etc.)
Personal climbing equipment
Personal climbing guide, if requested
Optional trips and sightseeing if extended
Tips for guides, drivers, and porters
Services not listed in the 'What Is Included section
Essential Information - Island Peak Climbing with Mt. Amadablam Base Camp
Personal Climbing Gear For Island Peak:
Plastic Boots, a pair
Crampons a pair
Ice Axe one
Harness one
Carabineer or Karabiner, two each
Snow Gaiters, a pair
Snow / Sun Glass one each
Warm Gloves, a pair
Wind Proof Jacket & Trousers. a set of each
Down Jacket one each
Down sleeping bags, one each with an inner liner
Main Ropes 200 m (50 m per person) as per the peak chosen
Snow Bar 2 / 4 pieces depending upon group size.
Ski Pole (optional) one each
Reviews on Island Peak Climbing with Mt. Amadablam Base Camp
Be first to post a review in this trip.