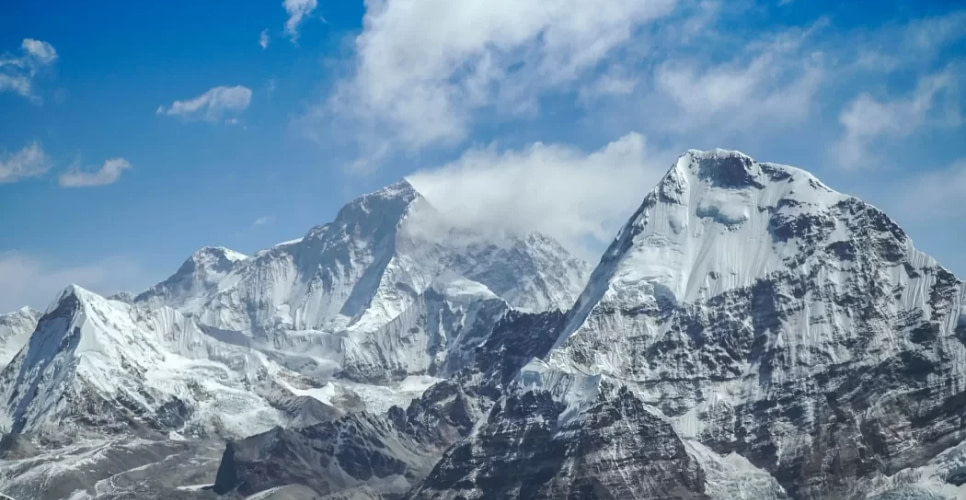 Trip Highlights of Mera Peak Climb
Adventure on off the beaten tracks to and from Mera Peak Base Camp
Within a tranquil environment enclosed within high rolling hills and snow peaks.
On hidden corners of eastern Khumbu and Everest region close to the Makalu area
Exciting views on daily walks within serene Hinku valley to remote Mera Peak base
Enchanting woodland lined with rhododendron, birch, pine, juniper, and fir trees
Enjoy the thrill of climbing on a long snow ridge to the summit of the high Mera peak.
Overview of Mera Peak Climb
Vertex Holiday presents 'Mera Peak Climbing, 'an exciting adventure of great thrills standing on top of one of Nepal's highest climbing peaks. Mera Peak stands at 6,476 m / 21, 246 feet, located far east of Khumbu and the Everest region.
An adventurous trek to reach the foot of Mera Peak at base camp, taking a higher route. Where climb leads over Naulekh and Kalo-Himal, above Lukla town and the airport, to enter hidden pockets of Hinku valley. A lovely walk into dense tree lines covered with rhododendron, pines, and juniper with birch. As vegetation and trees stop as the country changes into rocky moraine, snow, and ice to reach Mera Peak base camp. We have ample time for acclimatization with climbing practice exercises before the ascent to the summit of Mera Peak.
The climb of less technical challenges leads to strenuous, exhausting uphill, but with time and endurance where all can make it. The climbing grade of Mera Peak Difficulty, we have listed as 'F,' which means "Facial Easy," a straight-forward peak to ascent. The climb takes you on deep snow and an icy path with high altitude gain at every step to reach the summit. Likewise, a less technical peak requires good climbing gear for own safety and to enjoy the adventure. The climbing grading is used by famous and renowned French / Swiss Alpine Climbing Classification Systems, which is the best and most simple way of grading alpine-style climbing for a day or more.
Itinerary of Mera Peak Climb
Arrival in Kathmandu via respective airlines and transfer to hotel.
On arrival at Kathmandu-Nepal International Airport via various airlines, our guide and staff will receive you for a short transfer to the heart of Kathmandu city, where your hotel is located, after checking into your rooms and then meet other members of the trek at the hotel lobby for briefing. Regarding the wonderful adventure to Mera Peak Climb and trek. On briefing includes useful information to make your holiday in Nepal more enjoyable. The evening group welcomes dinner in a lovely Nepalese Restaurant with an introduction to the Nepalese culture of various parts of Nepal with folk dance and music.
Car 20m
Accommodation 3 Star Hotel
Meals Dinner
Altitude 1300m
In Kathmandu tour of world heritage sites and trek preparation.
A free day in Kathmandu for trek preparation, with a day tour of exciting places around Kathmandu city of great historical, cultural and religious interest. Most of the Hindu and Buddhist monuments, including old palaces are included in UNESCO World Heritage Sites. Our city guide will show you the ancient wonders of Nepal, afternoon, relax and prepare for the trek and climb of Mera Peak around the Everest region.
Car 6 Hours
Accommodation 3 Star Hotel
Meals Breakfast
Altitude 1300m
Fly to Lukla 2,820 m (35 min) and trek to Chutanga 3,430 m - 04 hrs.
Start early morning departure from the hotel, with a short transfer to Kathmandu domestic airport, as per flight time, after going through the securities board in a small aircraft. Dornier / Twin Otter or similar types. The flight heads east, overlooking a breathtaking panorama of the Himalayan range of peaks with views of Mt. Everest, Lhotse, and Nuptse, as the plane lands at Lukla airstrip. The airport called Tenzing & Hillary tribute to the first conqueror of Mt. Everest on May 29th, 1953. From Lukla airport, after collecting all our baggage, carried by our strong porters as the walk begins heading northeast above Lukla town and past a few farmhouses to enter a nice forest of tall rhododendron and pines trees to reach at Chutanga for a first overnight stop. A lovely area amidst green woods, far from human habitations and villages in tranquil surroundings, where the overnight camp is set on a grassy field.
Flight 45m
Accommodation Guest House
Meals B/L/D
Altitude 3430m
Trek to Thuli Kharka 4,300 m - 06 hrs.
After pleasant overnight camping at Chutanga, start the morning by having breakfast, then head for a climb on a steep slope to traverse over Kalo Himal, also called Nau Lekh, a high rocky ridges that separate the main areas of Khumbu with Inku valley. A walk leads further east, close to the boundary of the Barun and Makalu area. A tough climb to start the morning and then cross over Zatrwa Og and Zatrwa-La at 4,600 meters. Facing grand views of Dudh Kosi River valley with Karyolung and Lumding Himal, and then descend to camp at Thuli Kharka, a small summer pasture for local villager cattle grazing area.
Walking 6 Hours
Accommodation Guset House
Meals B/L/D
Altitude 4300m
Trek to Mosum Kharka 3,430 m - 04 hrs.
Today a short few hour's walk, like on the first day from Lukla to Chutanga, as morning heads down overlooking views of Peak 43 and Kusum Kanguru peaks. As you enter Hinku valley, one of the least ventured regions of Khumbu by trekkers and adventurers, on the walk, enjoy views of Mera Peak as trailheads within dense rhododendron pine tree forest to another grazing pasture at Mosum Kharka for overnight camping. Enjoy the afternoon with good short walks and might spot some wildlife, as the area is undisturbed by serene, tranquil surroundings.
Walking 4 Hours
Accommodation Guest House
Meals B/L/D
Altitude 3430m
Trek to Thag-Nak 4,360 m - 05 hrs.
The morning after breakfast and clearing the camp, continue walks heading further northeast, as the trek progress reaching a wide-open valley around grazing land with some cattle herders' temporary huts and shades on this lovely place called Gondi-Shung which is at above 4,350 m. From here, walk on the west bank of Hinku-Drangkha, a small stream, as the route leads past Gondi-Shung and witness a 200-year-old Lung-Sumgba Gompa/monastery with an inscription on a rock pointing route to Mera Peak. A short walk leads to Thag-Nak, which is a summer grazing area with few primitive lodges and shops at Tag-Nak, a nice spot and a temporary settlement with few huts and shades that serves as a simple, basic tea house and lodge for some travelers and porters.
Walking 5 Hours
Accommodation Guest House
Meals B/L/D
Altitude 4360m
Rest day for acclimatization.
A nice pleasant place, for a rest day after a hard struggle climb of previous days, enjoys the necessary rest day for acclimatization before heading to higher areas and Mera Peak base camp. Take a short hike and climb to gain more heights with is best to get acclimatize as well catching views of surrounding high peaks.
Walking 3 Hours
Accommodation Guest House
Meals B/L/D
Altitude 4360m
Trek to Khare / Mera base camp 5,040 m near Mera-La - 04 hours.
Enjoying a rest day, then on leaving Thag-Nak, where walk follows on a lateral moraine of glaciers to reach Dig Kharka. Facing superb views of Char-Pate Himal (a peak shaped as four-sided or square) with a small pond with the same name Char-Pate Tal. As the climb gets tough through moraines towards a snout of Hinku Nup and Shar glaciers, and then with more steep ups to reach Khare.Which is also a Mera Peak base camp to establish overnight camp, rest of the afternoon after a short day walk and getting organized at tented camping, enjoy short walks and rest facing North Face of Mera Peak.
Walking 4 Hours
Accommodation Guest House
Meals B/L/D
Altitude 5040m
Rest day for acclimatization and practice climb on ice and rocks.
Another rest day for proper acclimatization, as well as for basic climbing exercise and training, will add more advantages to the climb. Vertex Holidays expert and professional climbing guide will train and support you with basic climbing techniques and demonstrate how to use climbing gears like the ice axe, harness, ascender climbing boots, and crampons. The training exercise includes the best climbing technique on ropes, with the rest of the day free to rest and marvel at the views.
Accommodation Guest House
Meals B/L/D
Altitude 5040m
Trek and climb to High Camp 5,780 m - 04 hrs.
Normally trekkers and climbers make it to the summit of Mera Peak from the base camp, but with us is another story to make the ascent more accessible and successful with a safe climb. We have added a high camp which will be good for acclimatization also. The morning walk leads through a boulder-strewn route with a steep path to reach Mera La pass and Mera High Camp. Where climb takes you along a rocky trail, which can be a hazardous and arduous job to find the right path on recently snowed tracks, cross over several crevasses to reach on top of a rock band marked by a large cairn, where the high camp is set for the adventurous climb the next day; from high camp enjoy grand views of Mt. Everest, Lhotse, and Cho-Oyu with Makalu, Chamlang, and Baruntse in the east direction.
Walking 4 Hours
Accommodation Tent House
Meals B/L/D
Altitude 5780m
Climb Mera Summit 6,476 m / 21, 246 feet - 08 hrs.
A Big Day! Of the adventure and main highlight of the trip, start early before breaking of dawn, then with the steady climb but of less technical effort to face. As route leads to straightforward climb, however safety measures should be taken equipped with crampons, ice axe, helmets, and a positive attitude. After a strenuous and long stretch of climb on snowy slopes then reach finally on top Mera Peak summit. Rewards you with breathtaking views of Mt. Everest, Mt. Lhotse, Mt. Makalu, and Mt. Cho- Oyu includes Mt. Kanchenjunga towards the eastern horizon with an array of peaks. Enjoy the experience of a life-time and feeling on top of the world. With time to marvel grand panorama of snow peaks descend back to base camp at Khare on the same route. After an exciting and exhausting long tough day to the summit of Mera peak and reach Khare at base camp.
Walking 8 Hours
Accommodation Guest House
Meals B/L/D
Altitude 6476m
Spare and Contingency day in case of weather conditions.
We have reserved an extra day as a contingency, in case if unfavorable bad weather hinders the climb to the summit of Mera Peak. If all goes well according to our plan and itinerary day using this spare day in Lukla to enjoy more of the last day around Khumbu or reach Kathmandu a day earlier.
Accommodation Guest House
Meals B/L/D
Altitude 3800m
Trek to Kothe 3,680 - 06 hrs.
After an enjoyable time and victory of the climb to the summit of Mera Peak, morning head towards back into tree lines and green vegetation to reach Kothe past Thag-Nak, to camp on a nice grassy field.
Walking 6 Hours
Accommodation Guest House
Meals B/L/D
Altitude 3680m
Trek to Thuli Kharka 4,300 m - 06 hrs.
Morning walks on the nice pleasant path into a forest area with few short ups and downs and crosses several tributaries of the Hinku Khola before reaching a forked path near a place called Taktho. Take the right direction and continue to walk to pass a Chorten / Buddhist prayer monument. From here, downhill on a steep trail and ascend to Thuli Kharka and a small pass towards another Chorten on the way to reach Thuli Kharka for overnight camp.
Walking 6 Hours
Accommodation Guest House
Meals B/L/D
Altitude 4300m
Trek to Chutanga-05 hrs.
Instead of reaching Lukla direct, we have made the walk easier to enjoy more views of surrounding areas with fresh mountain air to breathe before heading back to Kathmandu. Morning with leisure time for breakfast, and then climb towards Zatwar-La pass over Nau-lakh and Kalo Himal ridge, enjoy grand views of both sides of Dudh Kosi and Hinku valley, as the trail descends towards tall tree-lines at Chutanga for last and final overnights in tented camp.
Walking 5 Hours
Accommodation Guset House
Meals B/L/D
Altitude 3400m
Trek to Lukla - 03 hours and transfer to Lodge for overnight stop
From here on the gradual winding trail with a short climb, but more on a pleasant trail to reach the end of the trek in Lukla. For last overnight around high Khumbu and Everest region with party time with fellow members and trekking, climbing staff including porters who made this trip a great success.
Walking 3 Hours
Accommodation Guest House
Meals B/L/D
Altitude 2800m
Fly from Lukla to Kathmandu with afternoon free at leisure.
Early morning with breakfast, then depart from the lodge to Lukla airport named after famous mountaineers Tenzing and Hillary. The morning flight reaches you back in Kathmandu. From the airport, transfer to your respective hotels with a free day to enjoy the hustle-bustle city life of Kathmandu.
Flight 45m
Accommodation 3 Star Hotel
Meals Breakfast
Altitude 1300m
Free day in Kathmandu spare and contingency day.
It is necessary and wise to reserve a spare as a contingency day in case of a flight delay which might lead to cancellation at Lukla. Due to bad unfavorable weather conditions for small planes to operate, which can happen even at the best time of the season. On this free day, one can enjoy individual activities and shop for souvenirs or take a tour of Kathmandu's ancient city sites within Kathmandu, Patan, or Bhaktapur.
Accommodation 3 Star Hotel
Meals Breakfast
Altitude 1300m
Depart Nepal for international departure homeward bound.
Your last day in Nepal, enjoying a mesmerizing adventure on Mera Peak Climb and trek, and then as time for your international flight. Our staff will transfer you to the airport for homeward bound.
Includes/Excludes
What's Included?
All airport/hotel transfers
Guided sightseeing tour in Kathmandu
Hotel in Kathmandu tea houses and tented accommodation during trekking and climbing
Breakfast in Kathmandu and all meals in the mountain
All ground transportation as per the itinerary by private vehicles
All necessary staff with experienced English-speaking climbing leader (guide), cook, assistant climbing leader (6 trekkers: 2 assistant guides) and Sherpa porters to carry luggage (2 trekkers:1 porters), other helpers (1 trekker: 2 helpers) including their salary, equipment, flight, food, and lodging
All domestic flights (Kathmandu to Lukla to Kathmandu)
All necessary papers works; trekking permits and Mera Peak climbing permit
Down jacket, four seasonal sleeping bags (if required)
vertex Holiday Trekking duffel bag(to be returned)
Group mountaineering camping and climbing equipment, high-quality tents, mattresses, and kitchen equipment
Insurance for climbing guide and trekking staff
Travel and rescue arrangements
Welcome or farewell dinner
Exclusive Medical Kit Bag
Certificate of Achievement by vertex Holiday
All government and local taxes
What's Excluded?
Meals not specified in the 'Meal Inclusions' in the itinerary.'
Travel Insurance
International airfare
Optional tours and activities during free time
Nepal entry visa
Garbage deposit fee US$ 500 (Refundable)
Drink including: Including water, Coke, Fanta, alcoholic beverage, snacks, and other personal expenses.
Personal trekking equipment's
Tips for Guide, Porters, and Driver
Essential Information - Mera Peak Climb
Mera Peak Detail Itinerary:
Mera Peak Climbing begins with an exciting scenic short flight from Kathmandu to land at Tenzing & Hillary airport in Lukla. A nice busy Sherpa town where most treks and various adventures around high Khumbu and Everest starts and ends. From Lukla, on leaving the last human settlement heading towards absolute wilderness around remote areas where there are no villages. Except for some cattle herders, temporary huts and shades serve as small, simple tea-house and shops. Leaving Lukla, walk into a nice forested area and then steep up to cross Zatwar-La pass and Naulekh Himal ridges. Which forms a barrier between the Dudh Kosi River of popular Khumbu areas and with remote, quiet Hinku valley.
As you walk, head to the end of Sagarmatha National Park to reach the boundary of Makalu Barun National Park and the Conservation Area. Mera Peak is located directly south of Mt. Everest and west of Mt. Makalu and Baruntse Himal. The walk continues through lovely woodland, past a few small cattle grazing pastures of Solu-Khumbu villages, to reach the Mera Peak base camp. To make the climb successful, accessible, and safe where the high camp is set right beneath towering Mera Peak. The next day an early morning start for a long stretch climb, with safe and precautionary measures avoiding deep crevices. Then after vigorous walks, challenge your strength and stamina on uphill slopes to reach the summit of Mera Peak.
Enjoy a breathtaking panorama of the stunning high Himalayan mountain range with the world's five top tallest peaks. Facing Mt. Everest, Lhotse, and Cho-Oyu towards the north includes near views of Mt. Makalu and Kanchenjunga towards the far-east horizon. We are feeling on top of the world, standing at 6,476 m / 21, 246 feet high. After a remarkable feat, achieving our goal and the adventure highlight descended safely back to base camp. Where return journey takes you on the same scenic trails to reach Lukla for the last overnight stop around the Khumbu area. The following day a sweeping flight brings you back to Kathmandu after an incredible adventure of a lifetime experience on Mera Peak Climb.
Additional  Information on Mera Peak Climbing:
The best time for Mera Peak climbing is during the Autumn (Sept, Oct, Nov) and Spring (Mar, Apr, May) seasons. These seasons have consistent weather that is good for climbing Mera Peak. Similarly, it is possible that you may become immersed in mud and seasonal streams if you attempt to ascend Mera Peak in the summer or monsoon season. There will be a lot of rain, and fog and mist will cover the mountains, making it difficult to see the view. Mera Peak is nearly impossible to reach in the winter because of the severe cold and snow. It becomes risky to spend extended periods on the route as the days become shorter and it gets darker earlier. Climbing Mera Peak in the winter is challenging because of the snow and ice.
A climb to Mera Peak makes you understand the nature of trails and landscapes around remote pockets of Khumbu and the Everest region around Hinku Valley. The walk takes you away from the main popular trekking path. There are no lodges on the route to Mera Peak base camp, and beyond, there are a few small primitive tea shops at Thag-Nak. But not up to the tourist standard, rather than a shack and just shelter with limited food to serve. For this reason, tented camping is much more necessary, carrying all camping equipment and food to last the trek and climb to Lukla.
Personal  Gear For Mera  Peak  Climbing:
Plastic Boot: a pair
Crampons: a pair
Ice Axe: one
Harness: one
Carabineer or Karabiner: two each
Snow Gaiters: a pair
Snow / Sun Glass: one each
Warm Gloves: a pair
Wind Proof Jacket & Trousers: a set of each
Down Jacket: one each
Down sleeping bags: one each with an inner liner
Main Ropes: 200 m (50 m per person) as per the peak chosen, which will be provided by the company.
Ski Pole (optional): one each
Reviews on Mera Peak Climb
Be first to post a review in this trip.