How Difficult Is Mera Peak Climbing, Everything About You Should Know?
 How Difficult is Mera Peak Climbing:
'Adventure to the summit of one of Nepal's highest trekking peaks' The difficulty of Mera Peak Climbing, which all trekkers and adventurers should know before daring this exciting adventure.
Mera Peak towers high at 6,476 m / 21,247 feet and is one of the highest trekking peaks in the Nepal Himalayas. Nepal's highest is Chulu East Peak, 6,584 m / 21,727 feet. It is located around Manang valley, north of the Annapurna Himalaya range.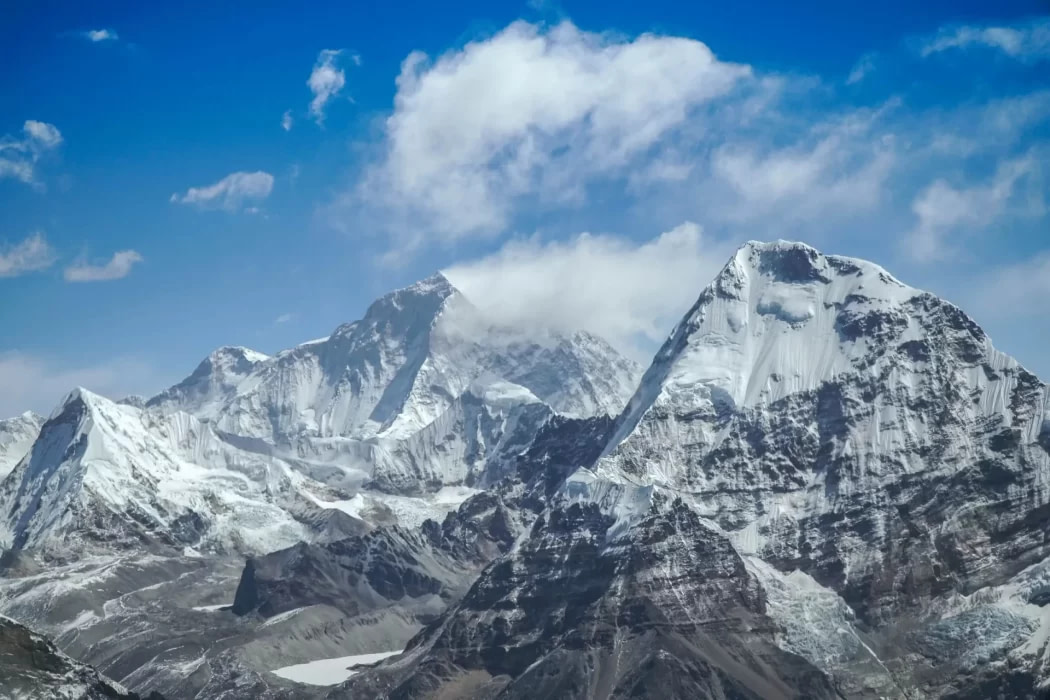 Mera Peak Climb is also a famous trekking peak to climb due to its simple and ordinary grade of F. Which means 'Facial Easy' as per French & Swiss Alpine Climbing Classification Systems, a straightforward climb of less technical effort.
At present, the climb of Mera Peak is listed as PD' Per-Difficile'. Due to the movement and change of glaciers, which occurs quite frequently around the Himalayas.
However, it is still considered one of the less challenging peaks to climb.
The only most challenging section is the rapid gain in elevation due to thin air and high altitude. The walk to Mera Base Camp or Khare at 5 050 m high is equally challenging. Especially on the 2nd day after walking from Lukla and Chutanga with a steep climb to the top of Kalo Himal, also called Naulekh.
They are crossing over Zatwar-La and Zatwarla-Og at 4,700 m high, facing jaw-dropping views of Dudh Koshi River valley. As well as Lukla town and the airport with stunning Kongde-Ri and Dudh-Kunda peaks. The Zwar-La and Naulekh divide the boundary of the Dudh Koshi and Hinku valleys of the Khumbu and Everest regions. After crossing over the high ridges of Kalo-Himal, the rest of the walk is on a pleasant trail from Thuli Kharka. An excellent trek into beautiful woods of rhododendron, pines, firs, and oaks with juniper, firs, and birch trees.
The walk leads around cattle herder temporary summer shelters of stone huts, reaching an exciting place in Gondaishung. A Buddhist shrine, at one time a small monastery or Gompa, has a history of more than two hundred old.
Where in the early days a refuge and a retreat for priests, monks, and nuns as a meditation or hermitage place.
Just close to this sacred place is Tangnak, an area with a few simple tea houses serving as lodges and shops. Most climbers and trekkers route to Mera Peak and beyond Honku valley spend an extra rest day.
A perfect height and spot for acclimatization before heading to a higher elevation, where one can enjoy short hikes to viewpoints. From Tangnak, the trail follows east, as tree lines and vegetation disappear for arid and barren arctic landscapes.
Walk lead on a rough vague path close to Charpatte Tal (four-sided, square glacial lake). The trail follows over boulders and moraine to the base of Mera Peak, the starting point of the great adventure.
The Climb To The Summit Of Mera Peak:
The climb of Mera Peak summit, compared to other Nepal trekking peaks, is quite relatively easy. A few years back, the grade of the climbing route was just 'F' "Facial Easy," a straightforward climb with strenuous uphill.
But the changes and movements of glaciers and avalanches have created a few notches, making it slightly technical where the grade at present is listed as PD 'Per Difficile,' which means walking on ice, glaciers, and snow. Facing extreme tiredness as altitude gains climbing to the top on one of the highest trekking peaks of Nepal Himalayas.
Mera Peak is an ideal and perfect mountain for all interested trekkers and adventurers, where one does need basic training skills. The local expert guides will hold a practice day and provides short exercise on ice and rocks. Includes use of climbing gears where required, from crampons, ice-axe, and abseiling to fixing ropes.
However, much of the climbing equipment, like in other technical climb peaks, is not needed. But always good to know where, when, and how to use it for safe, successful climbs and descent.
The climb is always best to add an extra High Camp or Advance Camp to make the rise more accessible. As well easier and shorter, the rise begins as early as possible, carrying packed light lunch for the day's activities.
Following the expert guide on a snowy slope, we have a short refreshing stop from being breathless. The last big push leads to a quick technical effort, standing on top of the Mera Peak summit. Feel the spirit of victory overlooking the grand spectacular panorama of the world's highest peaks facing Mt. Everest, Lhotse, and Cho-Oyu. The view extends as far as Makalu and Kanchenjunga towards the east direction, including Ama Dablam and Baruntse Himal.
After a successful feat, with safe descent to base camp and onward journey to Lukla, one the same scenic route.
The Best Seasons For Mera Peak Climbing:
The best season for the Mera Peak climb is spring begins from March to May, a day with bright sunshine hours. The days are longer due to sunlight hours, making the walk pleasant, covering long distances in good time. Where wildflowers are in seasonal bloom, they can get overcast with clouds in the late afternoon.
Chance of rains and snowfall around higher elevations sometimes, morning and night time is much cold. The wind-chill factor adds extra colder nights also.
The next best time is autumn/fall starting from September to November:
Most days are fine with crystal clear blue sky for scenic walks and views, but cold morning and night time. Chances of snowfall sometimes, with clear starry nights, and days are shorter due to sunlight hours.
Besides spring and autumn, in the last few decades, trekkers and climbers have been interested in winter climbs. Few trekkers venture for the climb of Mera Peak in winter times of the Christmas and New Year holidays also.
Needful Things In Preparation For Mera Peak Climbing:
Mera Peak climbing is the least technical effort, and all beginners and veteran climbers can venture for Mera Peak climb. One of the most stunning trekking peaks and the highest in Nepal Himalayas to enjoy the skill of basic mountaineering.
For Mera Peak, climbers do not need professional mountaineering skills.
But it will be an advantage to have some mountaineering knowledge and skills.
As long as people are physically fit and in good health can join Mera Peak Climbing and trekking. The rest of the climbing routine will be done by the guides, who are experts in mountaineering having long-time experience.
The first step is booking with the right reliable trekking companies in Nepal and the best seasons. As well as acquiring details and complete information regarding the treks and climbing of Mera Peak.
Getting ready with needful trekking and climbing gear before departure from home country. If it is too much to carry the trekking and climbing equipment, one can hire or buy it in Kathmandu also.
Mera Peak climbers need to book well in advance with the local companies in Kathmandu. The local agencies require to obtain climbing permits as well as Sagarmatha National Park permits. As well as other necessary arrangements like hotel accommodation in Kathmandu and domestic flight tickets to and from Lukla.
What To Expect On The Trek And While Climbing To Mera Peak:
Mera Peak is located on a hidden Hinku valley away from main trails and villages, and towns. It is entirely off the beaten tracks, far from significant trekking routes, and few small settlements exist. The only tea-house or lodge accommodation is almost nil, except Thaknag or Khare, available in good seasons of the year.
The trek and Mera Peak climbing require total camping gear overnights in a tented camp. Local companies will organize all camping with a separate unit of kitchen department with cook and kitchen staff. All the camping and climbing equipment is carried by the strong porters from Lukla and back.
The meals are served by the camping kitchen cook, having varieties of cuisines to satisfy the delights of all climbers.
On the trek, due to the location of Mera Peak around Hinku valley, recharging electronic gadgets are not available. A few places like Tangnak may have solar power, where one can recharge by paying extra fees per item.
The best is to carry a portable solar power, which can be hung outside the backpack. Then charge it at the end of the day upon reaching designated camping spots. The only place for charging with proper hydroelectricity is Lukla on the way back before flying to Kathmandu.
Trekking & Climbing Gear To Carry:
Trekking Gear:
Trekking Boots: Well-fitting and comfortable to walk.
Trainers / Sport Shoes: After the day, walks to use in camp.
Light Weight Trousers: For warmer lower areas.
Fiber Pile Jackets:
Shorts or Skirts (for ladies):
Light Cotton Trousers:
Breeches /Track Suit Bottoms /Ultra Fleece Trousers:
Duvet / Down Jackets: (Down feathers or synthetic (required in autumn/winter and early springtime)
Wool Balaclava, Wool Mitts: (required in autumn/winter and early springtime)
Waterproofs: Jacket and trousers
Sun Hats:
Scarf: Silk/Nylon, helpful in keeping the sun off the back of your neck
Sunglasses / Goggles: Essential to get a pair that cuts out 100% UV rays
Sun Screen Cream: High protection factor [20 or higher] or high
altitude glacier cream due to thin air the
U/V is stronger in the sun.
Lip Slave/ Labisan: Protection for the lips with a sunscreen
Water Bottle: 1-liter metal to keep warm while at night time.
TOILETRIES:
Head Torches: Petzel (recommended) -spare batteries and bulbs
Small Knife: Swiss army style – has many uses
NOTEBOOK/DIARY/PENS
Small Padlock: Useful for locking your kit/duffel bag
Money Belts
OPTIONAL:
Camera Gear
WALKING STICKS / POLES: Useful for crossing rivers and snow and ice areas.
Standard and Basic Trekking Peak climbing equipment list:
Plastic Boots, a pair
Crampons a pair
Ice Axe one
Harness one
Carabineer or Karabiner, two each
Snow Gaiters, a pair
Snow / Sun Glass one each
Warm Gloves, a pair
Wind Proof Jacket & Trousers a set each
Down sleeping bags, one each with an inner liner
Ski Pole (optional) one each
The local company will provide needed like Main Ropes 200 m (50 m per person) as per the peak chosen and Snow Bar 2 / 4 pieces depending upon group size.
Most trekking and climbing gear can be bought and hired in Kathmandu before the trek departs.