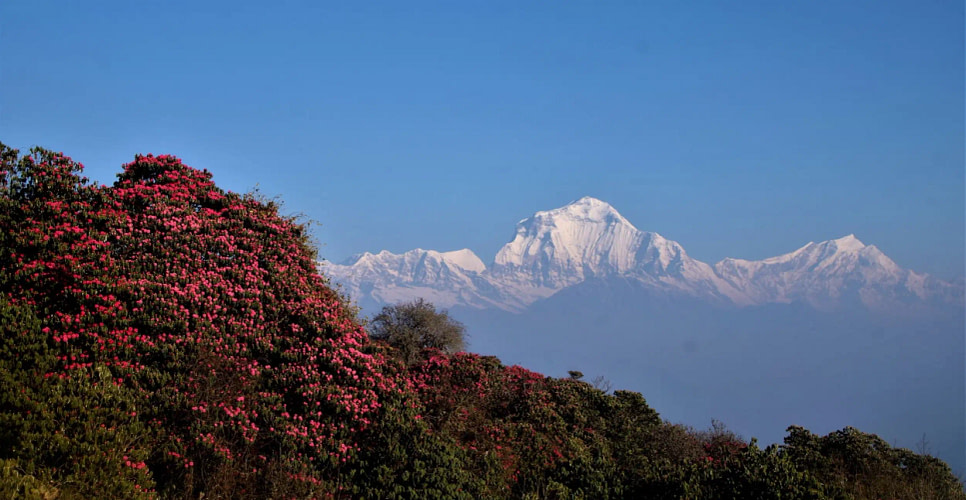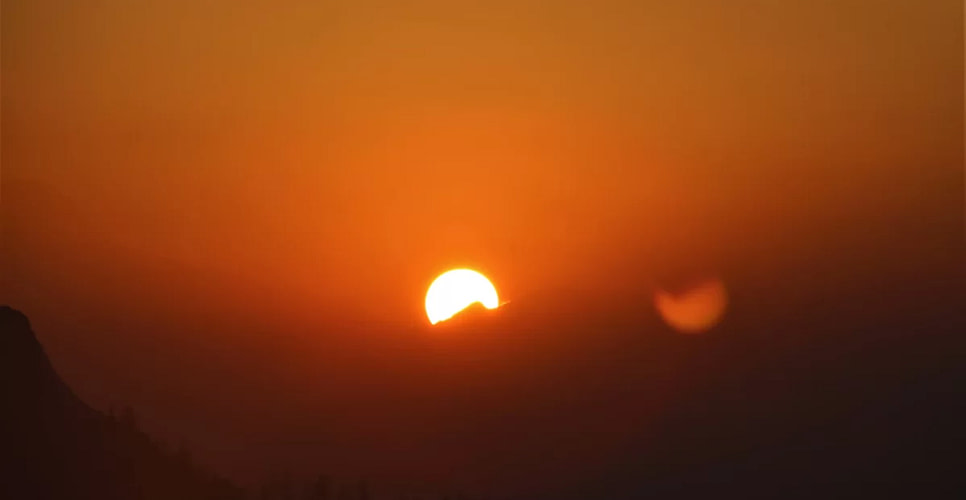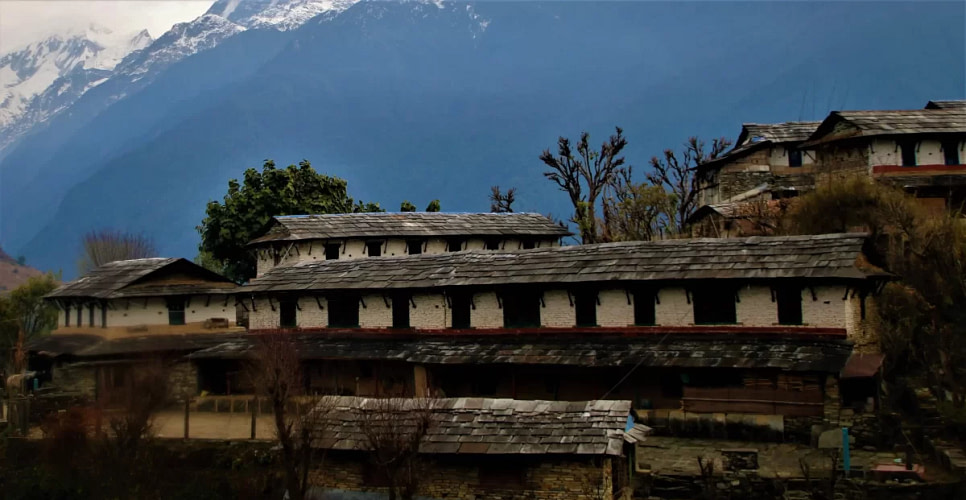 Trip Highlights of Ghorepani Poon Hill Trek
Easy and lower altitude trek in Annapurna
Rhododendron forest and cascading waterfalls
Majority of Gurung and Magar inhabitants' ethnic villages
Beautiful forest lined with tall rhododendron, magnolia, oaks, pines, and fir trees
Stunning sunrise views over 360° panorama, including the world's 7th and 10th highest mountain peaks.
Overview of Ghorepani Poon Hill Trek
The Ghorepani Poon Hill Trek is the best short and easy trekking destination in the Annapurna Region of Nepal, also known for its scenic trails.This hiking trip rewards its trekkers with experiencing stunning views of panoramic snow-clad mountain peaks, green hills, forests, and various ethnic villages within a short period.
After an hour's drive from Pokhara to Nayapul, the Ghorepani Poon Hill Trek trip goes through green lush Rhododendron forest, terrace farms, stone thatch-roofed ethnic villages, and stone-stepped trails following the Bhurungdi River.
Ghorepani Poon Hill Trek trail is best during the spring season when the flowers are in full bloom. A 40 min walk uphill to Poon Hill for sunrise offers a panoramic view of Dhaulagiri I (8167m), Annapurna I (8091m), Nilgiri (6940m), Hiunchuli (6441m), Fishtail(6993m), and other peaks.
The Ghorepani Poon Hill trek is suited for all trekkers, including children and the elder. It does not matter if you are a beginner or a professional trekker. This hiking trail has what it means to be called one of the best trekking trips in the lower Himalayas.
Ghandruk village, inhabited by most of the Gurung ethnic community, is a significant highlight of Ghorepani Poon Hill  trekking trip. A traveler can experience the snow at lower altitudes in the winter season. November to January is the best time to take Ghorepani Poon Hill Trek  to enjoy trekking in the snow.
Eight days Ghorepani Poon Hill trek itinerary offers the best remarkable and worth-remembering holiday experience in Nepal. This trekking route can be connected with other more famous routes like Annapurna Base Camp, the Annapurna Circuit, and different off-the-beaten hiking routes.
Itinerary of Ghorepani Poon Hill Trek
Arrive in Kathmandu (1300m), transfer to hotel
On arrival in Kathmandu, Nepal's international airport, a representative from Vertex Holiday receives you for a short transfer in the center of Kathmandu city, where your hotel is located. At the hotel after getting refreshed in your lovely rooms, then time for a briefing with other members of the trek. The briefing includes dos and don'ts, information on the trekking trails, climate, cultures, and standards of lodges and foods on trekking. Evening a group dinner in a nice restaurant an introduction to Nepali meals with cultural folk programs.
Car 30 minutes
Accommodation Hotel
Meals Dinner
Altitude 1300m
Fly or drive to Pokhara 860 m
Morning departs from the hotel in a car, coach, or regular tourist bus, depending upon the group size. However, drive leads to low warm farm country villages, towns, as the main highway, follows the Trisuli River for a few hours. The drive continues,  heading due west as a scenic view of Snow Mountainsfollows all the way to Pokhara, on reaching Pokhara transfer in a nice hotel by the Phewa Lakeside.
(Flying options from Kathmandu to Pokhara, 30 minutes scenic flight)
Accommodation Hotel
Meals Breakfast
Drive to Nayapul 1,050 m and trek to Tikhedhunga 1,340 m
Having early breakfast, a few hour drive takes you beyond Pokhara city and the valley, reaching Nayapul a town where hill villagers visit for shopping essential goods and provision. From here the walk starts following Modi River for short while till the lovely village of Bhirethati, and then slowly climb towards our overnight stop at Tikhedhunga, which is a small farm village with several nice simple lodges close to beautiful waterfalls.
Walking drive 2 hrs 04 hrs.
Accommodation Lodge
Meals Breakfast, Lunch, Dinner
Altitude 1,340 m
Trek to Ghorepani village 2, 874 m / 9,429 feet
 – .
Start the morning to Ghorepani village with a long climb on 3,000 stone steps to Ulleri village, reaching on top of Ulleri with views of Annapurna peaks. From here onward on a gradual winding uphill trail through a lovely mixed forest of tall rhododendron, pines, firs, and oaks trees with some bamboo.
As walk heads further up then reach the entrance of lower Ghorepanithe village, a few minutes of the climb takes you to a high ridge of upper Ghorepani.
Enjoy grand views of Dhaulagiri and Annapurna Himal, the village with many good lodges, located amidst rhododendron forest. Which is at the bottom of Poon Hill, a great place and the highest spot for an overnight stop, where the air gets much cooler.
Walking 06 hrs
Accommodation Lodge
Meals Breakfast, Lunch, Dinner
Altitude 2, 874 m / 9,429 feet
Morning hike to Poon Hill 3,210 trek to Tadapani 2,645 m
Early morning before dawn, an hour climb to Poon Hill to catch striking views of the sunrise. Enjoy the fresh morning cool air along with fabulous sunrise that reflects on an array of Mid-West Himalayan peaks. The range of peaks includes Dhaulagiri, Nilgiris, Annapurna Fang / Vara Shikar with A-I, A-II, III, and IV with majestic Machhapuchare Himal, the famed Fish-Tail peak.
The view extends to Lamjung and Manaslu Himal as far towards Ganesh Himal in the far-east direction. After a glorious moment, back to Ghorepani for breakfast and then start the morning trek heading up to Deurali and then down to a gorge for a lunch stop at Bhanthati, a small settlement. Having lunch down to a stream, and then the last climb of the day for less than an hour to Tadapani.
A nice scenic small settlement with a number of lodges amidst forest surrounding facing views of Annapurna Himalayas. Enjoy the last overnight stop of the trek, in the comfort of a nice simple lodge.
Walking   06 hrs.
Accommodation Lodge
Meals Breakfast, Lunch, Dinner
Altitude 2,645 m
Trek to Nayapul via Ghandruk village 1,950 m and drive to Pokhara 860 m - 05 hours walks and 2 hours drives
From Tadapani, one can enjoy sunrise views also. Having breakfast hike through dense forest and then downhill to Ghandrung village for a possible lunch stop. A nice and large village of Gurung, the main hill tribes of the Annapurna region enjoy the views of Annapurna peaks with rolling hills and valleys.
Afternoon walks a long descent to Syali Bazaar, and then on an easy pleasant trail to Bhirethati village, and then at Nayapul for a few hours of the drive back to Pokhara by the Lakeside for last overnight in Pokhara and around the Annapurna Himalaya range.
Pokhara to Kathmandu (1337m)
Today, we drive back to Kathmandu. It's a scenic drive through the Prithvi Highway road. After you arrive in Kathmandu, transfer to the hotel. Overnight at the hotel.
Note: If you are going for the jungle safari tour in Chitwan, you drive to Chitwan and enjoy the safari trip. We offer 2 Nights/3 Days package for your wonderful holidays in Nepal.
(Flying options from Pokhara to Kathmandu, a 30 minutes scenic flight)
Bus 6 hrs drive
Accommodation Hotel
Meals Breakfast
International departure for homeward bound.
Last day in Nepal and Kathmandu, the land of the high Himalayan mountain range, as per your international flight, transfer to airport for homeward bound or next port
of call, after an amazingly wonderful experience in Ghorepani and Poon Hill trekking and around Annapurna Himalayas.|
Includes/Excludes
What's Included?
Airport picks up and drops off by our private vehicle
 Two nights' accommodation at a 3-star category hotel in Kathmandu and Pokhara(BB plan with twin sharing basis)
All ground transportation as per the itinerary(for and to Pokhara, then Pokhara to Naya pul)
Meals (breakfast, lunch, and dinner) during the trek until Pokhara
Accommodation during in mountain (twin sharing basis)
An experienced government license holder, helpful, friendly, and English-speaking trekking guide, porter to carry bag (2 trekkers: 1 porter) including their all kinds of cost
Necessary paperwork and trekking permits (ACAP, TIMS, please bring 3 passport-size photos)
All government and local taxes
What's Excluded?
Nepalese visa fee
Personal travel insurance
All kinds of drinks, snacks, personally ordered food, etc.
Hot shower during the trekking(if needed to pay)
Lunch and dinner in Kathmandu and Pokhara
Personal trekking equipment(for personal use )
Rescue charge (if needed)
Tips for trekking staff
Complimentary
Duffle Bag for luggage
Comprehensive Medical Kit
Fruits for snacks.
Essential Information - Ghorepani Poon Hill Trek
The Best Season for Ghorepani Poonhill Trekking:
Among the four seasons, the best season for Ghorepani Poonhill Trek in the Himalayas is during the spring season, when days are mostly clear for views and pleasant hiking experiences. In the springtime, days are longer with enough sunlight hours, and chances of light rainfall and snowfall above the elevation of 2,000 m high are possible.
Mornings are cooler, sunny days and chill nights during this beautiful season where wildflowers are in seasonal bloom, especially the Rhododendron (national flower of Nepal) of various different species from tall trees to a bush with other colorful flowers.
The next best season for Ghorepani Poon Hill Trek would be time is autumn, from September to November, after the post-monsoon rainy season. On a bright sunny day, for grand views and exciting hikes, days are much shorter due to sunlight hours. Temperature's colder during late afternoon till morning, with chances of light snowfall above 2,500 m.
Ghorepani Poon Hill Trek is a short moderate trek that trekkers can visit during the winter of December to February. Most days are fine with clear blue sky, but freezing temperatures in the morning and nighttime around Ghorepani and Tadapani areas with bright starry nights.
Ghorepani Poonhill Trekking Route:
Ghorepani and Poon Hill Trekking is a short moderate adventure on the high hills of the southern Annapurna Himalayas. It is one of the most popular trekking destinations in the Himalayas due to its close proximity to the road head to Pokhara.
The main highlights of Ghorepani and Poon Hill Trekking are tremendous views of beautiful landscapes with a backdrop of the Annapurna Himalayas, Where one can hike for a few days and catch closer views of the high snow-capped mountain range.
Besides grand scenery and stunning sunrise from Poon Hill, the walk leads to enchanting woods of tall rhododendron and pine trees. Ghorepani Poon Hill Trek also leads on historic trails following the ancient Nepal Trans Himalaya Salt Trade Route to Tibet. The famous Ghorepani name, derived from "Ghode-Pani," means Horse Water'. From its early days till the present, Ghorepani has been a perfect stop for watering the mules and horses laden heavy with merchant goods.
As you can notice, Ghorepani village is situated on a high pass in between the uphill climb from Tirkhedhunga and Tatopani villages. The trek to Ghorepani and Poon Hill leads to a short circuit around the southern green hills of Annapurna Himalaya. A moderate grade and scenic walk through villages and lovely forest, although it leads to an uphill climb for a few days.
Ghorepani  Poon Hill trek begins and ends at scenic Pokhara city, blessed with natural wonders, located on a sub-tropical temperature valley, surrounded by tiers of hills dotted with farm villages and a series of terraces. A charismatic city: with a view of Dhawalagiri, Annapurna, and Manaslu mountain range that reflects on its calm Phewa and Begnas Lakes.
From Pokhara, a short drive to the outskirt of the valley rim, reaching the starting point of Ghorepani Poon Hill Trek at Nayapul town. The walk leads to the lovely village of Bhirethati and onwards with a slow climb to Tikhedhunga, a village with beautiful waterfalls. After an overnight stop at Tikhedhunga, climb leads on stone steps all the way to Ulleri village.
The Ghorepani Poon Hill Trek gets easier from Banthati with a gradual up into a forested trail to Ghorepani village. Situated on a high ridge amidst rhododendron forest at the bottom of scenic Poon Hill, where all lodges are painted blue. After rising early in the morning, a side hike of about an hour climbs up to Poon Hill, the sunrise viewpoint on the highest point of the adventure.
Catch the brilliant sunrise views as it reflects over an array of snow peaks of Dhaulagiri, Annapurna, and Manaslu Himalayas. Panorama of 360° mountain range with majestic Machhapuchare, the famous Fish-Tail peak, extending towards Ganesh Himal in the far-east horizon. The Ghorepani Poon Hill Trek trail leads into the Rhododendron forests with a climb to Deurali and then down to a stream, and up to Tadapani.
A small settlement with grand views of Annapurna South, Hiunchuli, and Machapuchhre mountain peaks and descends leads to a large village at Ghandruk. An interesting village inhabited by the majority of Gurung hill tribes of the Annapurna region, interwoven with Buddhism and Bon religion and cultures.
The final day of Ghorepani Poon Hill Trek takes you back to low, warm farm areas at Nayapul to complete the walk. An interesting drive of a few hours brings you to Pokhara after a marvelous experience on.
Attractive view on Ghorepani  Poon Hill Trek:
An amazing walk on the hills of Southern Annapurna, where one can enjoy views of high snow-capped peaks. From the start to the end of Ghorepani Poon Hill Trek, trekkers will be captivated by grand views of Annapurna and Manaslu Himalayas. From Poon Hill, gorgeous sunrise views over an array of peaks, where one catch the world's three highest Mountain ranges. Namely, Dhaulagiri, Annapurna, and Manaslu, with an array of peaks, as well view of the dramatic scenery of rolling green hills and verdant valleys.
Preparation for Ghorepani and Poon Hill Trek:
Ghorepani Poon Hill Trek is a short moderate scenic trip, where travelers interested in this trek have to be physically fit to cope with high hill climbs and downhills. As well, all trekkers should be in sound medical health. As a low-altitude trekking journey, this trip doesn't require you to be a trekking expert and is suitable for anyone, including children and pensioners. However, a couple of weeks of yoga, cardio, jogging, or walking stairs will be helpful.
Warm clothes, including down jackets, trekking poles, water bottles, personal medications, warm caps, sun hats, sunglasses, snow gaiters, rain gear, towels, and toiletries, are recommended for the packing list. A first aid kit, including essential medicines, is carried by the guide; however, you can carry your personal medications with you.
The best sunrise viewpoint of Poon Hill:
Poon Hill is one of the best vantage view-points in all Himalayas for sunrise as well as one can enjoy a 360° panorama of the world's three highest mountain ranges during Ghorepani Poon Hill Trek
The world's 7th highest Mt. Dhaulagiri, 8th highest Mt. Manaslu, and the tenth highest Mt. Annapurna, with a range of above and below 7,000 peaks.
Fitness for Ghorepani and Poon Hill Trek:
Should be in good physical shape with sound medical health before joining the Ghorepani Poon Hill Trek some few exercises will be an advantage, like jogging, walking, swimming, aerobics, etc. As well as walking up and down the stairs and checking with your doctor for medical advice.
Food and accommodations during Ghorepani Poon Hill Trek
For this short Ghorepani  Poon Hill Trek, stay in the best available local lodge from the start to the end. In friendly hotels at Pokhara, with a great range of foods as per your choice from comprehensive food menu in lodges while on treks.
Served from famous Nepalese Dal-Bhat to Continental with some Chinese, Tibetan, and Indian foods. All meals are well cooked, hygienic, and freshly served in a large dining hall with a warm environment. Provided safe boiled and filtered
drinking water throughout the trek.
Rooms are nice and clean in all lodges. However, some lodges can provide only rooms with common bathing and toilets. At Ghorepani, one can find attached toilets and bathrooms. On common bathing, one needs to pay for hot showers, as well as for charging electronic items. Meals are served in a large dining hall, which is nice and warm, heated by pot-bellied stoves.
Travel and Medical Insurance for Ghorepani Poon Hill Trek
All travelers visiting Nepal for adventure in the Himalayas require Travel and Medical Insurance covering any unfortunate accidents and sickness during the Ghorepani Poon Hill Trek journey. Sometimes an emergency evacuation using the Helicopter Service might be needed to transport to safe places and the nearest hospitals.
Age Requirements:
For Ghorepani  Poon Hill Trek, young kids with families from infants to 70 years will be allowed, and this involves if one can get medical insurance from your home country.
TIMS Card and Conservation Area Entry Permit:
Necessary Permits for Ghorepani Poon Hill Trek will be obtained by Vertex Holiday, including TIMS (Trekking Information Management Systems) permits as well ACAP (Annapurna Conservation Area Project) entrance fee.
Most Asked Questions by Travellers
After going through our website or home page, fill up the booking form and send us more details and information. After reading and understanding the norms and condition, then book with us by sending us an advance of 20 to 30 % from the total trip cost. For more detailed booking information
As this is a short moderate trek, does not involve high altitude, except for a day at Poon Hill and Ghorepani. Nearly all year one can join for this trek, except the wet monsoon times of July and August. The best time is in the spring and autumn seasons.
When the weather is fine around Nepal, however Himalayan weather sometimes is unpredictable and depends upon the region of trekking and other holidays in Nepal and altitude wise, higher above 1,600 meters day times are sunny most of the time with cooler morning and evening time.
Morning and night can be much cooler in both the spring and autumn seasons, winter is another good time for short treks and hikes, but much colder morning and nighttime with short days due to sun-light hours.
Our guides are fully prepared for this type of situation, carrying a medical kit and the guides have gone medical and First Aid training. If it's very serious needs to be evacuated by any means of various quick transports, hiring a vehicle to reach the patient at the nearest best medical center and hospitals or by Helicopter service.
All villages and lodges on route trekking have electricity, either run by main hydropower, some places have their own private solar power. Where one needs to pay the fee for charging per item as per hour, where you guide will inform you.
Light clothes and some warm jackets for the night and morning time, depending upon season-wise. Must carry rain gear, a nice water bottle, day pack to carry your necessary items for the day. Nice hiking boots or comfortable sports shoes and toiletries.
Reviews on Ghorepani Poon Hill Trek
Be first to post a review in this trip.