Chulu East Peak Climb With Thorang-La Pass Trek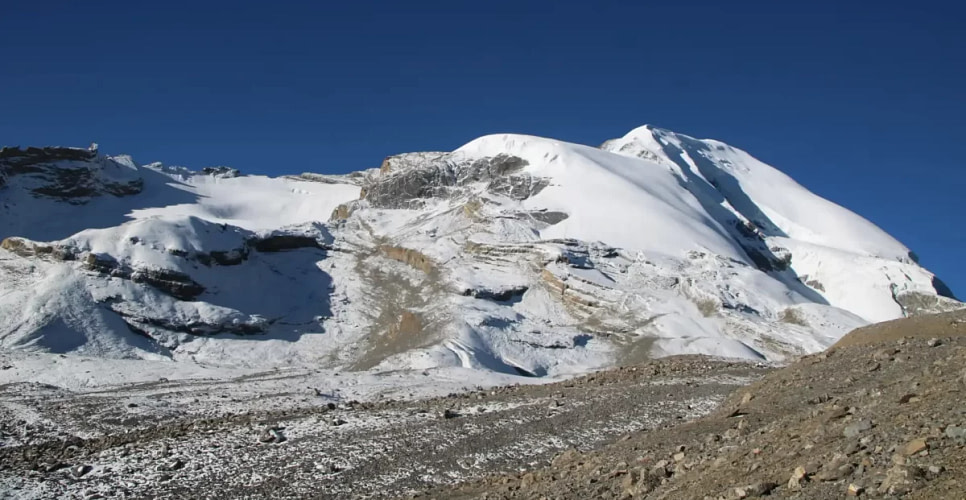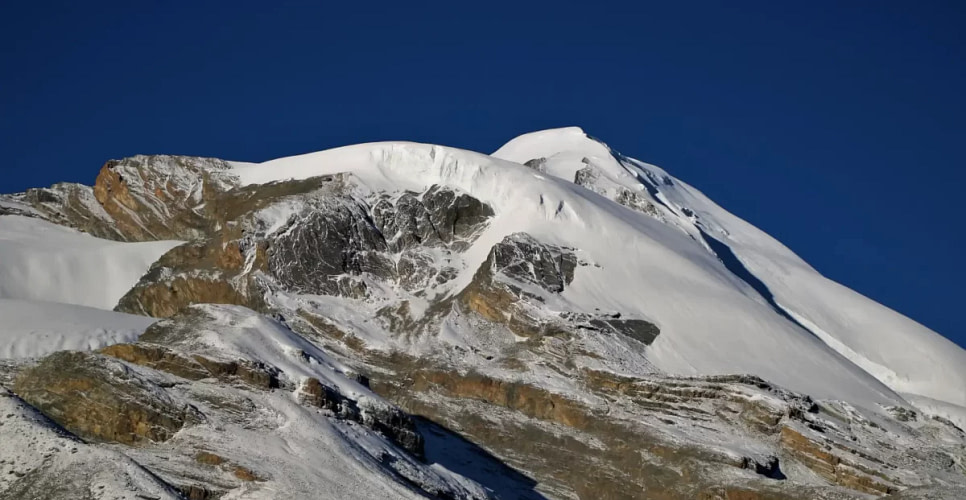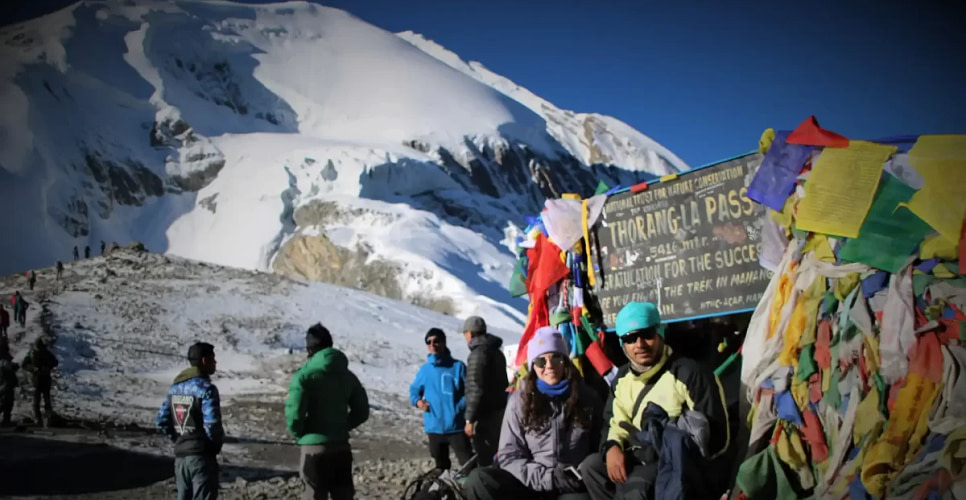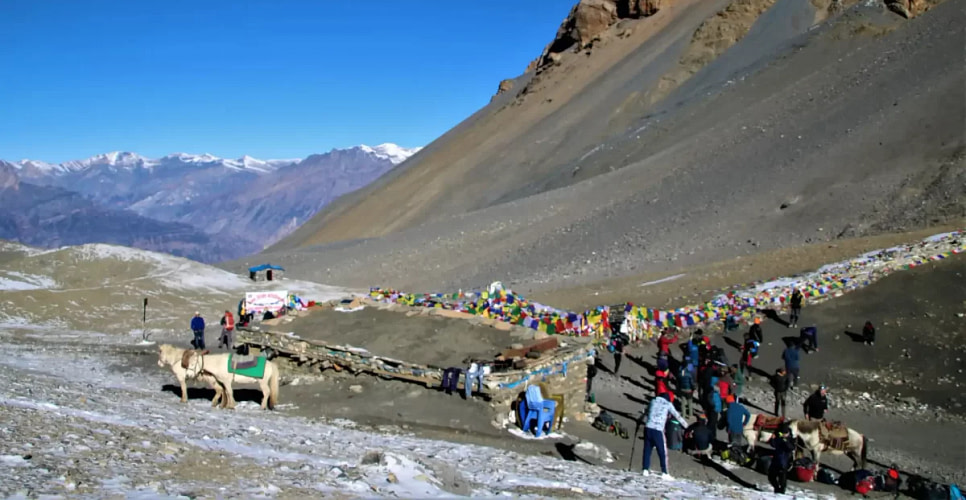 Trip Highlights of Chulu East Peak Climb With Thorang-La Pass Trek
An overwhelming adventure on top of Nepal's highest trekking peaks
Impressive views of a high snow-capped mountain range on daily walks.
From low warm farm areas to cooler hills and towards the arctic cold zone
Trek on scenic Annapurna Circuit trails and then off the beaten tracks
Far from the main path to hidden corners beyond and above Manang valley
Enjoy a lifetime experience standing on top of high Chulu East Peak
Overview of Chulu East Peak Climb With Thorang-La Pass Trek
Chulu East Peak Climb with Thorang-La Pass Trek leads to a great experience standing on top of Nepal's highest trekking peaks. Chulu East Peak stands high at 6,584 m / 21,596 feet, above scenic Manang valley and North of the Annapurna Himalaya range. Chulu's group of peaks includes Chulu Mid, Chulu Far East, and Chulu West, the highest among all is Chulu East.
An adventure on the scenic and popular Annapurna Circuit trail for some days, then our route diverts to remote corners. Far and away beyond Manang valley, off the beaten tracks to reach beneath high Chulu East Peak.
The route for the climb of Chulu East Peak with options, from the west of Chulu's is often used by a few climbers where Vertex Holidays take you in classic and normal directions, trekking and climbing from the North-East Face of Chulu East Peak. Around the hidden pockets within the complete wilderness in the harmony of pristine surroundings of high snow peaks and rugged hills.
Chulu East Peak Climb is for all interested trekkers and climbers, where one can enjoy glorious moments. The grade is 'PD' + which means "Per Difficult" with plus, a straightforward climb with few technical sections to face. Our expert guidance of veteran mountain guides reaches you to the summit of the highest trekking peaks of Nepal. The grading we have used is from French / Swiss Classification Systems on Alpine Style Climbing of a day or two.
Adventure to Chulu East Peak Climb with Thorang-La Pass Trek begins with an interesting overland journey heading Mid-West from the capital Kathmandu. A great drive through lovely farm villages and towns to reach low, warm areas of Lamjung at Besisahar. A large town and headquarter of Lamjung district, as drive, leads further to Syange, a small farm village, to start our trek. The walk leads you to cooler hills and villages of Jagat, Chamje, to enter the Manang district at Tal Besi village. From here onward, follow the high trails to reach Chame, the main administrative town of Manang areas. The air gets much cooler as the walk continues through a nice lovely forest of pines and rhododendron, then climbs towards Pisang village.
Manang valley starts from Pisang windswept village, where you can witness more of Buddhist culture from here onward. An interesting village of age-old traditional farm life, located beneath Pisang peak, Annapurna II and IV, with views of Chulu peaks. At Pisang, spending a day for acclimatization and getting accustomed to the high altitude terrain and local culture.
From Pisang village, take the high trail above Manang valley, overlooking grand views of Annapurna Himalayas with Chulu's and Pisang peaks where walks head to remote corners, on less ventured areas by a few groups of trekkers and climbers, around this tranquil location. The adventure leads through a small hidden village of Julu, crossing an icy stream fed by glaciers of Chulu's peaks. Then reaching the foot of Chulu East Peak, close to the Chulu range of peaks at base camp.
Finding a suitable space around the rocky ground with some grassy meadows, this hidden area is covered in snow most of the year. As the sun hardly reaches this shady area blocked by high rocky cliffs and adjoining mountains of all Chulu ranges. Spending time for acclimatization and pre-training exercise for the climb of the Chulu East Peak summit. Your guide will be brief with full information on some technical difficulties to encounter, as well as for safe ascent and descent.
After much preparation, head for the Big Day Chulu East Peak Climb ! Start early morning before the crack of dawn, being well-equipped to follow your guide. The climb takes you over moraine and ice with vertical rock and snow faces. Slow and steady, getting through some technical sections using main ropes to reach on top of Chulu East Peak. Enjoy the fruit of hard effort, feeling on top of the world, facing a mind-boggling panorama of mountains with scenic Manang valley.
Truly a great achievement; after a successful ascent and triumph, head down safely to base camp. An easy and gradual walk leads you back on the main Annapurna circuit trail to reach the main Manang village. Explore the lovely villages of Manang with an imposing tour of the old Braga monastery, along with scenic views of surrounding peaks.
Slowly our Chulu East Peak Climb adventure heads towards Thorang-La pass, the highest spot besides Chulu East Peak summit. Rewards with fascinating scenery of mountain range that surrounds the high ridge, views of Damodar Himal, Annapurna range with Chulu's. Includes dramatic panorama of Dhaulagiri Himalaya with peaks of Upper Mustang area, where walk leads down to Muktinath.
Muktinath, a holy pilgrimage place with a temple of the Hindu God Lord Vishnu, from here a long descent to Kaligandaki River valley.
Our adventurous trek ends at Jomsom, a headquarters town of Mustang district, located on the old Trans Himalaya Salt trade route.
From Jomsom, a scenic flight brings you to the lovely city of Pokhara, blessed with the natural beauty of Annapurna Himalaya and serene lakes.An exciting and scenic place to complete our treks before heading to Kathmandu. After a great adventure and mesmerizing experience on Chulu East Peak Climb and Thorang-La Pass trek.
Itinerary of Chulu East Peak Climb With Thorang-La Pass Trek
Arrival in Kathmandu and transfer to hotel
On arrival at Kathmandu, a representative from vertex Holiday will receive you and transfer you to the hotel. After checking into your rooms, meet other trek members at the hotel lobby for a briefing regarding the beautiful adventure to Chulu East Peak Climb. The evening group welcomes dinner in a Nepalese Restaurant with folk dance and music.
Car 20m
Accommodation 3 Star Hotel
Meals Dinner
Altitude 1300m
At Kathmandu trek preparation and tour of heritage sites.
The morning after breakfast, enjoy a tour of famous historical and religious monuments with old palaces. Most ancient temples, Stupas, and monasteries, including royal courtyards, are listed as UNESCO world heritage sites. After getting back to the hotel, time for the final meeting and preparations for the excellent adventure to Chulu East Peak and Thorang-La Pass trekking.
Car 6 Hours
Accommodation 3 Star Hotel
Meals Breakfast
Altitude 1300m
Drive to Syange 1,460 m via Besisahar town 760 m - 06 hrs.
Starting as earliest as possible, for a long drive towards Far Mid-West Nepal to reach around Lamjung district, going through the large town of Besisar, a farming village. From Besisahar, we need to exchange the vehicle for rough roads on a jeep to reach our overnight stop at the village of Syange. Located above the Masrsyangdi River with views of cascading waterfalls nearby from the lodge.
Bus 6 Hours
Accommodation Guest House
Meals B/L/D
Altitude 1460m
Trek to Dharapani 1,920 m - 06 hours.
The first day of the trek begins with a pleasant trail, avoiding the main motorable road and then continues with steep climb to reach Jagat village and then to Chamje. As walk leads high above the river into a nice forested area to reach a wide valley at Tal Besi village. We stop here for lunch then continue our trek to the end of the valley with a climb to reach a well-defined track and crossing a bridge to reach at Dharapani for overnight in a nice lodge. It is lovely moderate size village of Tibetan influence which is at the point where Manaslu and Annapurna circuit route joins.
Walking 6 Hours
Accommodation Guset House
Meals B/L/D
Altitude 1920m
Trek to Chame 2,720 m - 05 hrs.Trek to Chame 2,720 m - 05 hrs.
After Dharapani, we head into the rhododendron and pine forest, passing the villages of Bagarchap and Danque. Then we reach Timang village, which is Himalayan Buddhism influenced. This village is jeweled with a view of Mt. Manaslu 8, 163 m. From Timang village few hours' trek leads to Koto and then to Chame town for an overnight stop, Chame.
Walking 5 Hours
Accommodation Guset House
Meals B/L/D
Altitude 2720m
Trek to Pisang 3,190 m - 05 hrs.
From Chame, the morning trek leads closer to the mountains as the trail enters the dense forest of rhododendron and pine trees, following the Masrsyangdi River upstream with short ups and down hills to Bhratang village. From Bhratang village trek follows uphill within the woodland to reach a high ridge at Dhukure Pokhari, a small place with few tea houses and lodges facing view of Chulu and Pisang peaks. Enjoy a refreshing lunch break, and then descend to lower Pisang village for an overnight stop.
Walking 5 Hours
Accommodation Guest House
Meals B/L/D
Altitude 3190m
At Pisang village rest day for acclimatization and hike.
Here we will have to acclimatize, before heading towards our main high destination to Chulu East Peak base camp. Enjoy a rest day exploring this scenic location, and visit Pisang upper village and the monastery. Offers a grand view of Chulu's Pisang peak with Annapurna and Gangapurna Himalaya.
Walking Rest Day
Accommodation Guset House
Meals B/L/D
Altitude 3190m
Trek to Julu 3, 900 m past Ngawal village 3, 657 m - 06 hrs
After a free day at Pisang village, our route diverts from the popular and main Annapurna circuit trail to head above the Manang valley past upper Pisang, overlooking a grand panorama of snow peaks. The trek follows higher towards Ngawal village, where the route to Nar-Phu and Chulu East Peak meets. From here, continue towards the remote hidden village of Julu, a nice weather-beaten small village. Overnight at this amazing village.
Walking 6 Hours
Accommodation Guset House
Meals B/L/D
Altitude 3657m
Trek to Chulu Base Camp at 5, 300 m - 05 hrs.
From this village of Julu, our trek continues down to the Julu River, which later joins with the Masrsyangdi River. On the bank of the icy stream, we climb higher heading towards remote wilderness facing views of Chulu with Annapurna Himalayan Mountain range. After a great scenic climb, we reach a rocky moraine on top of a ridge to set our base camp for the climb. A perfect spot for the camp, beneath towering Chulu East Peak with an amazing view of surrounding mountains and dramatic landscapes.
Walking 5 Hours
Accommodation Guset House
Meals B/L/D
Altitude 5300m
Rest day for acclimatization, training, and practice climb.
A rest day for proper acclimatization, as well as to check the route of the climb. Our guide will demonstrate some techniques of the climbing skill required for summiting Chulu East Peak. Rest of the day, we practice climbing on rocks and ice close to our camp.
Walking Rest Day
Accommodation Guest House
Meals B/L/D
Altitude 5300m
Climb to Chulu East Peak high camp 4, 955 m - 03 hrs.
After breakfast, we climb towards a high or advanced camp, packing only the necessary gear. As the route leads to the steep ridge on a snowy slope, the climb continues to Chulu East High Camp on an inclined path and then crosses over a snow ridge line using crampons fixed on your climbing boots. The trail continues up to reach high camp. Enjoy the spectacular view of landscapes and the vibrant valley below. Under some weather conditions, the area may be covered in snow.
Walking 3 Hours
Accommodation Guset House
Meals B/L/D
Altitude 4955m
Ascent of Chulu East Peak and descend to Base Camp.
Our final and Big Day of the adventure start with an early breakfast for a long climb to the summit of Pisang East Peak. The climb heads through glaciers and moraine. Our guide will assist with difficult and technical sections, which can be extremely challenging, and then make a last final haul to the summit of Chulu East Peak. After a strenuous tough effort where you can enjoy the mind-blowing view of the snow-mountain range, which includes Annapurna-II, III, and IV with Glacier Dome, Gangapurna towards the south includes Mt. Dhaulagiri in the far west, with other groups of Chulu and Pisang peaks. After a great successful ascent and exploring the hidden glaciers to the top of Chulu East Peak and then we head back descending towards base camp.
Walking 5 Hours
Accommodation Guset House
Meals B/L/D
Trek to Julu village or further - 05 hrs.
After a significant climb of Chulu East Peak, feeling high after reaching the top of the high trekking peaks of Nepal Himalayas, Leave the country as pristine as it was before. The morning walk leads back to Julu village for an overnight stop or further en route to Manang main village.
Walking 5 Hours
Accommodation Guset House
Meals B/L/D
Altitude 3840m
Trek to Manang village 3,540 m - 05 hrs.
Enjoy the walk towards Manang valley and on the mainstream route of the Annapurna circuit. The walk is much easier downhill with time to look at the beautiful scenery of mountains and valleys. As our route joins back at the main trail, we stop at Braga village for a tour of the old monastery, an interesting Buddhist shrine that treasures ancient scrolls with large statues of Lord Buddha and famous Gurus. Located on top of Braga village. From here, we take a short walk up to enter the main village of Manang. Where houses are built in the traditional Tibetan style, Manang people are known for their rich culture and traditions. The village is situated in the center of a large scenic valley enclosed by an array of high peaks of the Chulu, Annapurna, and Gangapurna mountain ranges. At Manang village, check into a nice lodge with a comprehensive food menu to enjoy along with large rooms attached or common baths and restrooms.
Walking 5 Hours
Accommodation Guset House
Meals B/L/D
Altitude 3540m
Trek to Yak Kharka 4,210 m - 04 hrs.
After a pleasant time in Manang village, our route heads toward North-West to reach Thorang-La, as the trek follows a gradual trail past a few smaller settlements to reach at Yak Kharka for lunch and an overnight stop. Facing a grand view of Chulu West Peak with Gangapurna in the south. A lovely settlement with several good lodges for overnight stops with great meals to enjoy along with the spectacular scenery.
Walking 4 Hours
Accommodation Guset House
Meals B/L/D
Altitude 4210m
Trek to Thorang- La High Camp or Phedi 4, 450 m - 04 hrs
From Yak Kharka, our trek leads on a nice leveled path to reach another small place at Ledar with a few good lodges. After a short rest, we continued to walk down to a stream and then climbed high above Jarjung's stream. The trail follows to the base or Phedi of Thorang-La Pass. A small settlement with 3-4 lodges, having short rest and then climbing to a steep gravel path for an hour to Upper or High Camp for lunch and overnight stay in a simple lodge.
Walking 4 Hours
Accommodation Guset House
Meals B/L/D
Altitude 4450m
Trek to Muktinath 3,800 m via Thorang La 5, 416 m - 06 hrs.
After breakfast, our trek starts with a small gradual path as the walk progresses on a winding steep uphill to reach a small open area with glacial ponds. From here, another hour of the climb will lead you to the top of the highest point of the adventure at Thorang-La Pass, which is above 5, 416 m high. The top is marked with a signboard with the name and heights of the pass, decorated with hundreds of prayer flag offerings. The pass offers a panorama of high peaks that surrounds the pass, facing views of Mt. Dhaulagiri with some peaks of Mustang areas. Enjoying the grand scenery, a long descent takes you to the other side of the pass into the Mustang region; from the bottom, a place with a few small tea shops, and then an easy walk to Muktinath for an overnight stop. Muktinath is an important temple dedicated to Lord Vishnu, one of the three main gods in the Hindu religion. Where thousands of pilgrims and devotees pay homage all year around from across Nepal and India, a holy site for both Hindus and Buddhists, the name means 'place for Nirvana or Liberation.
Walking 6 Hours
Accommodation Guset House
Meals B/L/D
Altitude 3800m
Trek to Jomsom 2,715 m - 04 hrs.
Today is our last day trek from Muktinath to Jomsom; morning with gradual downhill with a big drop of 1,200 m towards Kaligandaki River windy valley, a walk-on wide river valley to Jomsom. The headquarter town of the Mustang area with a small airstrip above the Kaligandaki River. A large town with nice hotels and a lodge for travelers; after checking into a nice room with refreshing lunch, enjoy the afternoon visiting markets with nice houses and paved streets with many well-kept lodges and hotels. Jomsom is located on the old Trans Himalaya Salt Trade Route of Nepal to Tibet, which extends beyond the Upper Mustang. The whole region of Lower Mustang is inhabited by Thakali people, the main tribe of Kaligandaki valley follows the Buddhism religion with an interesting culture. At Jomsom, we celebrate with local apple products, cider, brandy, and juice, as Jomsom and Marpha areas around Kaligandaki is famous for delicious apples and the product from the apples.
Walking 4 Hours
Accommodation Guest House
Meals B/L/D
Altitude 2715m
Fly to Pokhara 860 m transfer to hotel near Phewa Lake.
After breakfast, we walk to Jomsom airport terminal and then board a small aircraft for a short scenic flight of 20 minutes to the beautiful city of Pokhara. During the flight, enjoy the grand view of Dhaulagiri and Annapurna peaks. After landing at Pokhara airport, we will take a short drive to your hotel near the famous scenic Phewa Lake. The rest of the day is free for individual activities, or enjoy boating on the lake and hiking to Peace Stupa, located on a hilltop opposite side of the lake. Pokhara is famous for paragliding, Zip Flyer, Ultra-Light flight, or Bungee Jump.
Flight 45m
Accommodation 3 Star Hotel
Meals Breakfast
Altitude 860m
Drive to Kathmandu -06 hours.
After breakfast, depart from Pokhara for an exciting and interesting drive to Kathmandu and then transfer to your respective hotel. The rest of the afternoon is free for individual activities and shopping for souvenirs, or enjoy rest with grand memories of the adventure on the high mountains of Annapurna Himalaya. (Flying options half-hour on-air to Kathmandu with a sweeping panorama of mountains)
Bus 6 Hours
Accommodation 3 Star Hotel
Meals Breakfast
Altitude 1300m
A day in Kathmandu for free individual activities.
We have reserved a day in Kathmandu to relax sore and weary muscles from the trek and climb of Chulu East Peak. A free day to enjoy individual activities or shop souvenirs or join for an exciting tour around Kathmandu valley.
Accommodation 3 Star Hotel
Meals Breakfast
Altitude 1300m
Depart Nepal for international departure flight.
Your last day in Nepal after the memorable adventure of Chulu East Peak Climb with Thorang-La Pass Trekking. Vertex Holiday's representative will transfer you to the airport for departure as per your scheduled flight.
Includes/Excludes
What's Included?
All Airport and Hotel Transfer by Private Vehicle
3 nights stay in Kathmandu and 1 night stay in Pokhara with BB Plan
A day sightseeing in Kathmandu with an experienced city guide, all entrance fees, and a private vehicle
All ground transportation by private vehicle – As per mentioned in the Itinerary
Jomsom – Pokhara flight
Climbing permit for Chulu East Peak
All required Trekking permits and Conservation Area fees
Tea House + Camping combined accommodation during the trek – as per itinerary
All meals during trek & climb– Breakfast, Lunch, and Dinner
Experienced trekking & climbing guide
Required number of porters
All necessary climbing gear with a company duffle bag
Kitchen equipment and camping equipment during the climbing period
General first aid kits
Insurance, clothing, and salary for staff
Welcome and farewell dinner in Kathmandu
All government taxes and necessary paperwork
What's Excluded?
Nepalese visa fee
International airfare to and from Kathmandu
Excess baggage charges
Lunch and dinner in Kathmandu and Pokhara
Extra night accommodation in Kathmandu and Pokhara in case of early arrival, late departure, and early return from the mountain(due to any reason) than the scheduled itinerary
Travel and rescue insurance
Personal expenses (phone calls, laundry, bar bills, battery recharge, extra porters, bottle or boiled water, shower, etc.)
Personal climbing gears
Tips for guide(s), porter(s) and driver(s)
Essential Information - Chulu East Peak Climb With Thorang-La Pass Trek
We are updating the contents.
Reviews on Chulu East Peak Climb With Thorang-La Pass Trek
Be first to post a review in this trip.