Musical journey with Himalayan Sound Healing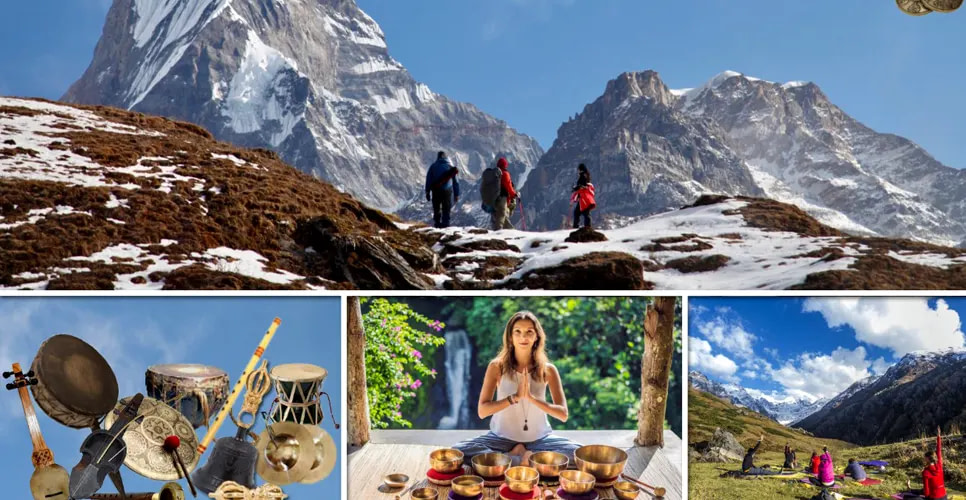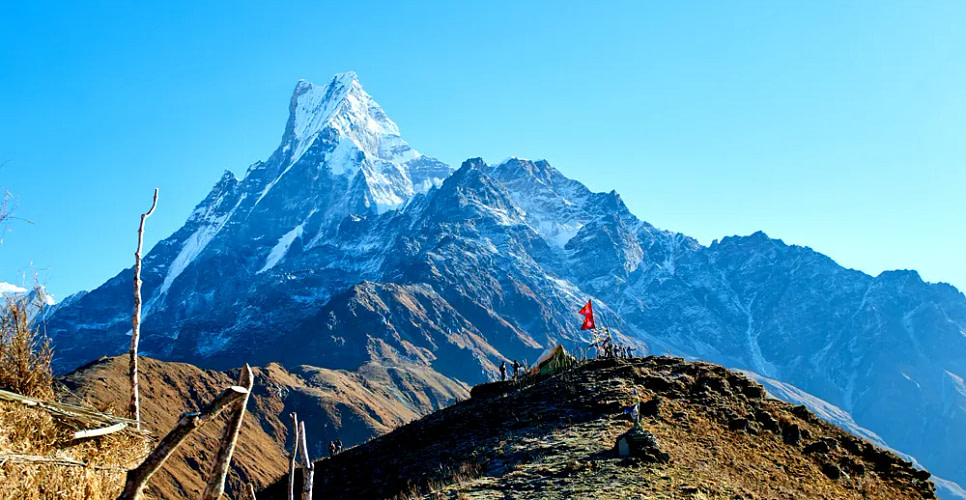 Trip Highlights of Musical journey with Himalayan Sound Healing
"Enjoy the peaceful journey in pristine surroundings on a trek to the scenic Annapurna region.
Explore the soothing sound of a singing bowl within a tranquil, serene environment.
Daily Himalayan sound healing and music program.
An exciting way to experience the adventure in the backdrop of high snow peaks
Immerse into peaceful nature in the close harmony of lovely mountain wilderness.
Walk into the beautiful forest on the high scenic ridges of the Annapurna Himalayas.
Explore traditional Nepali folk music jam with local musicians."
Overview of Musical journey with Himalayan Sound Healing
Trekking in Nepal with a musical journey including the Himalayan sound healing package is specially designed for relaxation and enjoying a musical trip around the beautiful Annapurna area.
Trek to the high Mountain with local music and the sound of the peaceful singing bowl sound healing. Travelers might be amazed to know that such types of trekking in Nepal Himalayas exist. The main flow of visitors to Nepal Himalayas is mainly for trekking towards various exciting exotic destinations.
Travelers come to trek around the Himalayas with different moods and expectations, mostly for scenic views and local cultures.
Some enjoy the trek to gain spiritual knowledge and the simple way of living that one witness in rural villager life. There are various ways that one can take delight of trekking around the Himalayas. Having the pleasure of pristine natural surroundings, and taking excellent photographs of landscapes, mountains, and villages.
Trekking around the Himalayas has slowly changed over the past years; where one visits for mental relaxation as well as to be free from the hectic daily routine and chores, choosing the Himalayas to get a refresher.
Understanding the needs of all trekkers, who are in search of some changes with different ways of trekking. We have come up with a unique way to enjoy and experience the Himalayan walks. Enjoy the soothing sound of singing bowls and musical programs in the backdrop of scenic views of the snow-mountain range.
Mardi Himal trekking is an adventure of a short duration time frame and quite a contrast to other normal treks. Where travelers can feel the pure mountain air in the close harmony of spectacular views of massif Annapurna Himalayas.
The trek that leads you on the foot of high towering Machhapuchare Himal the famous Fish Tail peak which dominates the skyline of Pokhara valley and Annapurna Himalayas.
Mardi Hima is suitable and perfect as it is an exciting short, enjoyable and peaceful destination which is not too far from beautiful Pokhara city. The walk takes you from main trails to off beaten tracks, beyond permanent human settlements and villages.
The area around Mardi Himal is also known as the 'Other Sanctuary' a name given by early pioneers and explorers. Due to its close distance from the main Annapurna Sanctuary bounded by the Modi River and high rocky cliff walls.
A delightful walk into lovely dense rhododendron(the national flower of Nepal) and pine forest then reaching the higher ridges which are popular for it's breathtaking scenic views, where the final goal is reaching the mighty Mardi Himal View Point at the height of 4,500 m / 14,850 feet high.
The viewpoint offers tremendous views of the snow-capped peaks of the Annapurna Himalaya range within a mere distance from Machhapuchare Himal.
Truly an exciting Mardi Himal Trek, a retreat with the meditative sound of a peaceful singing bowl,this fabulous, adventurous trekking is suitable for all types of people and age groups, where altitude gains at a slow pace.
Itinerary of Musical journey with Himalayan Sound Healing
Arrival in Kathmandu 1,340 m and transfer to hotel.
On arrival in Kathmandu, Nepal International Airport, received by our guide and staff for a short transfer to your hotel. Located within the major area of the city around an exciting place in Thamel. On reaching the hotel check into your rooms and after getting refreshed join with other group members a for trek briefing.
Our trekking guide, instructor, and guru of Singing Bowl as well as meditation will provide information regarding this special trip. Includes local culture with do's and don'ts to make your holiday in Nepal more enjoyable and fruitful.
Evening a group dinner at nice Nepalese restaurants with folk cultural programs, an introduction to Nepalese cuisine and culture.
Car 20m
Accommodation 3-star Hotel
Meals Dinner
Altitude 1350m
Drive to Pokhara 860 m and transfer to hotel -07 hrs.
Depart from the hotel after having an early breakfast for Pokhara, located in Nepal Mid-West. An interesting drive of 6 to 7 hours, as the journey leads on the main Nepal busy highway. Driving past farm villages and towns, then finally reaching Pokhara an overnight halt. The hotel is located close to beautiful Fewa Lake with a grand vista of the Annapurna Himalayas.
Bus 7 Hours
Accommodation 3 stars Hotel
Meals Breakfast
Altitude 850m
Drive to Kande village 1,430 m and walk to Potana 1,900 m - 05 hrs.
From the hotel in Pokhara, a short scenic drive to the starting point of the trek at Kande village. The route follows uphill through farm villages reaching a lovely place at Australian Camp, also called Thulo Kharka. Offers grand views of Annapurna and Manaslu Himalaya range with majestic Machhapuchare Himal the Fish-Tail peak. After a short rest enjoying the views, a short down and then up reaching Potana village for overnight halt.
Enjoy the day in meditation with the sound of a singing bowl and music in the serene surrounding with Annapurna peaks on the backdrop.
Car 2 Hours
Accommodation Tea House
Meals B/L/D
Altitude 1900m
Trek to Kokar Forest camp 2,520 m via Deurali 2,100 m-05 hrs.
Early morning with time for a short relaxing moment with the sound of the singing bowl
facing views of Machhapuchare Himal. After breakfast, start the walk uphill
following a forested path to Deurali, a quiet spot with few tea shops and small
lodges. From Deurali enjoy the superb views of Mt. Dhaulagiri and Annapurna
peaks, our route diverts from the main trail. As the walk follows off the beaten
tracks into a deep rhododendron, oaks, and pine trees forest. An uphill walk
within serene surroundings then reaching Forest Camp also called Kokar, a temporary settlement having few simple nice lodges.
Walking 5 Hours
Accommodation Tea House
Meals B/L/D
Altitude 2100m
Trek to Low Camp 2,970 m - 05 hrs.
After an overnight amidst dense forest, morning with time for singing bowl
practice. The walk continues on a forested path with occasional views of the snow-clad climate and continues to Low Camp. A peaceful spot on a nice isolated place having some nice lodges for the overnight stop. This area also is called Badal Camp, as heavy mist and fog hang around in the late afternoon. Making the place kind of mystical within a forest surrounding. The evening before dinner practice meditation with the sound of the singing bowl.
Walking 5 Hours
Accommodation Tea House
Meals B/ L/ D
Altitude 2970m
Trek to High Camp 3,700 m - 05 hrs.
Trek to High Camp 3,700 m – 05 hrs.
From Low camp or Badal Camp towards our main highlight destinations, after a morning routine of singing bowl and meditation. The morning walk leads to the higher ground towards High Camp, following a high ridge with some steep climbs.
Slowly the tree lines drop for the smaller bush of rhododendron and juniper, and then walk end on reaching High Camp. Check into a small simple lodge with a friendly environment along with surrounding mountain views. An afternoon for practice with a singing bowl amidst lovely views of rolling green hills and snow peaks.
Walking 5 Hours
Accommodation Tea House
Meals B/ L/D
Altitude 3700m
At High Camp for a hike to Mardi Himal View Point at 4,500 m.
Start an early morning walk from High Camp, for a long day hike towards Mardi
Himal View Point. The final end of our journey, as walk follows on a high ridge for A few hours. Reaching our main destination and highlight of the adventure facing stunning views of Annapurna Himalayan peaks. Overlooking close views of staggering Machhapuchare Himal the Fish-Tail Peak with Mardi Himal.
Having time here for an hour with the magical sound of the singing bowl, then return to High Camp for overnight halt. After reaching the highest point of the adventure with a glorious mountain panorama.
Walking 5 Hours
Accommodation Tea House
Meals B/ L/ D
Altitude 4500m
Trek to Siding village 1,750 m-06 hrs.
On reaching our main goal and highlight, today a long walk the downhill back
into tree lines, within lush vegetation. The morning walk continues with a big drop in altitude, as the trail follows past Low Camp. Enjoy the last day walking on an undulating winding path downhill.
From Low Camp, our route diverts from the early trail on an alternative path. After long hours of descent reaching Siding for an overnight stop. Siding is a small farm village, located at the base of Mardi Himal high hill.
Walking 6 Hours
Accommodation Tea House
Meals B/ L/ D
Altitude 1750m
From Siding drive to Pokhara 860 m- 02 hrs.
From Siding our walk ends, after breakfast, a few hours drive back to Pokhara for an overnight stop. After a wonderful experience on Mardi Himal Trek, a retreat with the sound of a peaceful singing bowl.
Jeep 2 Hours
Accommodation 3 Star Hotel
Meals B/ L/ D
Altitude 850m
Drive or fly to Kathmandu and transfer to the hotel.
Morning departs from the hotel in Pokhara for an exciting drive to Kathmandu, reaching by late afternoon. On transfer to your respective hotels, the rest of the day is free at leisure for individual activities and shopping souvenirs.
(Options for flight to Kathmandu from Pokhara half-hour scenic flight)
Bus 7 Hours
Accommodation 3 Star Hotel
Meals Breakfast
Altitude 1350m
Depart for international departure.
Last day in Kathmandu and Nepal, as time for your international flight our staff and guide transfer you to the airport. For your international flight homeward bound, after a great wonderful experience on Mardi Himal Trek, a retreat with the sound of a peaceful singing bowl.
Includes/Excludes
What's Included?
Airport arrival and departure by private vehicle
All kinds of ground transportation from Kathmandu to Pokhara by tourist bus (Two ways) and private vehicles from
Pokhara to the trek starting point and from the ending point to Pokhara
Two-night hotel accommodation in Kathmandu (BB plan with twin sharing basis)
Two-night hotel accommodation in Pokhara (BB plan with twin sharing basis)
Six night Best available twin sharing lodge for your mountain accommodation during the trek
Himalayan Singing bowl sound healing instructor during the trip
Professional Music instructor during the trip
Experience porter (Two people – one porter) including all kinds of costs i.e. Transportation, salary, insurance, equipment, meals, and accommodation
An experienced and knowledgeable government license holder trekking guide all kinds of local services charge
All kinds of permits and TIMS card
All kinds of government service charges and tax
Yoga mat for meditation and sound healing
What's Excluded?
visa fee for Nepal
All food in Kathmandu and Pokhara
All personal expenses
All kinds of drinks during a trekking
Personal ordered food
Rescue charge (if needed)
Personal Insurance
Trekking equipment
Tips for trekking staff
Single room extra charge
Complimentary
Comprehensive Medical kit
Duffle Bag for trekking
Seasonal fruit and snacks
Essential Information - Musical journey with Himalayan Sound Healing
Himalayan Singing Bowl Sound Healing Power:
An ancient medical alchemist technique uses the vibration power of a singing bowl to heal certain discomfort and illness.
The present medical research has found an amazing therapy of old ways with sound and music, which can effectively cure various illnesses, including mental, emotional, and even physical ailments. It is also an amazing treatment for several conditions, such as Depression and Anxiety disorders.
The singing bowl's unique tones are also used to stabilize blood pressure and ease asthma-related issues. As well as renewing the functioning of the adrenal gland to open and stabilize the meridians. Which is a great effect on improving the synaptic responses in our brains.
Singing bowls are said to cleanse, balance and unblock body Chakras and restore balance within the body.
The most common use of singing bowl soothing sounds is for mental relaxation and easing tension, and purifying the brain.
Musical Instrument OF Nepal:
In Nepal, a musical instrument is attached to every Nepalese, and the country is rich in folk music and songs. Singing of happiness and events of the day, every village has great musicians for different types of instruments, from local drum / Madal, harmonium, flutes, and percussion. Every evening in villages and towns, as well as on special occasions, a musical program is held.
Visitors can enjoy and take part in the entertainment of musical sessions as well as local folk dances, which is much more common in hill villages as the only source of entertainment. On this trek to Mardi Himal, our staff will carry the local drum, Madal, which is very rhythmic. As well as carrying flutes for the joyous evening time along with your practice with a singing bowl sound healing.
Nepal does have more local instruments besides Madal / Drum and various sizes of flutes. Includes keyboard called Harmonium, Sitar, Sarangi, Tungna,murchunga (a special jaw harp instrument), etc.
The musical instrument of Nepal covers all types of music, from folk and classical to modern music like blues and jazz as well. You can have the pleasure of listening to some of the nights when our staff and local villagers play the music with the local Nepali instrument flutes and Madal, the drum. Some of the nights will be lively with local folk music programs presented by the village communities.
The History Behind The Singing Bowl:
The Singing bowl originated in the Middle East in Mesopotamia over 5,000 years ago. Which slowly reached Tibet, Nepal, and India and has been in practice in the history and culture date back to the past 2,000 years. The singing Bowl is not taken as a musical instrument in Nepal. It is a blend of music and fusion in meditation practice that soothes the mind, body, and soul.
The singing bowl is made of seven metals known as Alloys which consist of gold, tin, lead, mercury, iron, copper, and silver struck by a mallet which is often used in a spiritual or religious ceremony as well to invoke meditation and relaxation through soothing vibrations.
Why Do You Need To Choose This Trip?
Very simple and a great way to escape from the busy work schedule and hectic modernization world of Hi-Fi life. Where one needs some enjoyment and mental relaxation from an overdose of work and mental stress. Which you can find on this sheer mountain wilderness in close harmony with nature.
Apart from the soothing sound of a singing bowl that echoes the surroundings, the sound of nature with bird calls and cool breezing winds makes the trek equally fascinating overlooking glorious views of high towering peaks of the Annapurna Himalaya range.
Mardi Himal trekking is the perfect destination with beautiful, jaw-dropping natural beauty along with practicing the singing bowl reflecting extra inner energy, making you relaxed.
Most Asked Questions by Travellers
Reviews on Musical journey with Himalayan Sound Healing
Be first to post a review in this trip.