Most Popular Monasteries In Nepal
Most popular Monasteries in Nepal, a blessed country steeped with historical sites and ancient monuments. From the low land of Terai to mid-hills, verdant valleys towards the mountainous region around the high Himalayan belt.
A fascinating country to visit and explore, where Hindu and Buddhism religions exist side by side in perfect harmony. Nepal, especially the Kathmandu valley is also known as the city of thousands of gods.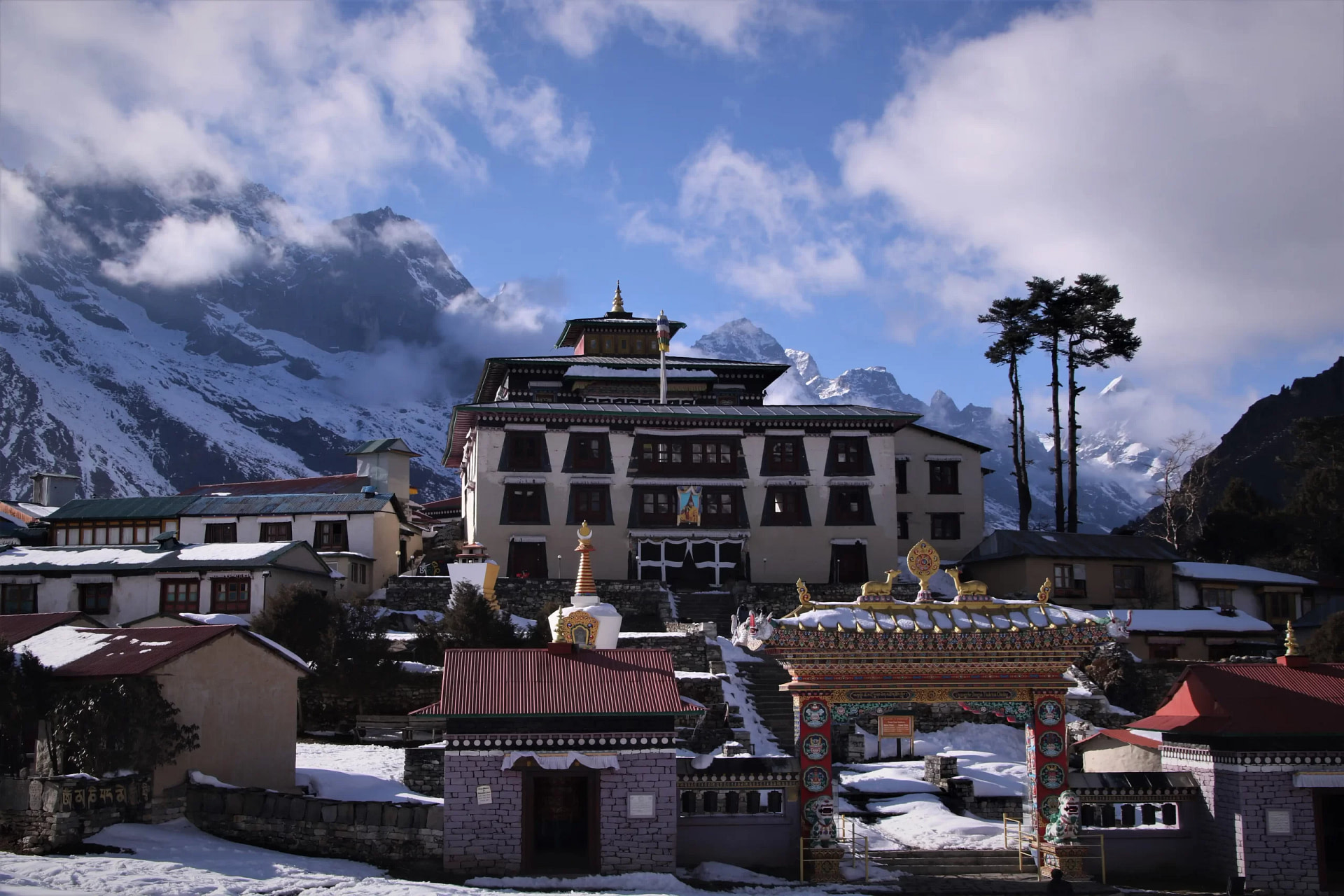 One can notice around the streets of Kathmandu, Patan/ Lalitpur, and Bhaktapur cities, coming across shrines and monuments.Besides numerous countless shrines, monuments, and religious sites of both Hinduism and Buddhism, these cities are famous for magnificent monasteries.Not only within the cities, and towns, but one can visit far beyond towards Everest region, where famed monasteries are located.
Most Popular Monasteries in Nepal, are within Kathmandu cities and in the higher mountainous areas, where most Buddhism followers are settled.
Monasteries normally are huge buildings of Buddhism religions complexes, where monks and priests spend most of their life. Engaging in various activities services of religious rituals, prayers, and worships, as well as the learning place for young monks. In Nepal, every town, city, and major village has monasteries, where a mass flow of strong Buddhist people lives.
It is the center where major religious festivals and events are held, as well as for pilgrims to pay homage. The most popular monasteries in Nepal, apart from religious practice, it is also a place for learning the art of Buddhism.
Most Popular Monasteries In Nepal And Around Kathmandu Cities:
Swambhunath Stupa And Monastery:
Swayambhunath is famous for its huge dome stupa, which also has a monastery within its religious premises. An ancient religious monument was built atop a hill of the valley, west of Kathmandu city. The Tibetan name for Swayambhunath and the site means 'Sublime Trees', for the many varieties of trees found around. Shingkun or Swayambhunath the name also refers to the Tamang language meaning 'self-sprung'; as Tamang is the earliest tribe to settle around the hills of Kathmandu valley rim.
Although the monastery was built later, the stupa is the landmark of Kathmandu and Nepal, dating back to 460 A.D. It is one of the most important centers of Buddhism with 2500 years old history.
Two options to reach the hill of Swayambhunath complex, taking the eastern side from the main gate. A steep climb of less than an hour to the top, the other easier route drive near the base of Swayambhunath.
A short up to the top of the Swayambhunath complex, after walking around the Stupa and visit of the monastery. Enjoy the panorama of Kathmandu valley and the city, on a clear day views of snow peaks, can be seen.
Bouddhanath Stupa And Monasteries:
Bouddhanath Stupa, a huge dome stupa known as Chorten, situated northeast of Kathmandu city, is one of the country's pride and charm.
The area is also known as 'Little Tibet' due to Tibetan origin people living around this holy and beautiful area. A three wide tiers Stupa, one of the largest in Asia surrounded by colorful markets and impressive monasteries. It is one of the most popular and famous Buddhist sites in Nepal and it's worth a visit.
The White Gompa / Monastery:
The White Gompa is a beautiful majestic monastery, the Gompa is called for a religious gathering and to get blessed. Where a priest often resides, the White Gompa is located close to the ridges of Swambhunath Stupa stands.
The White Monastery is one of the most popular monasteries, located on the city outskirts of Kathmandu. It is also known as Seto Gompa for white in Nepali, as well called Druk Amitabh Mountain. It is one of the most beautiful masterpieces of arts and crafts adorned with Tibetan Buddhism murals, statues, and paintings.
Related to Buddhist teachings, in vivid colors, a tour of the monastery takes you into a serene and peaceful harmony. Within the sound of monks and priests chanting prayers with a pleasant aroma of incense.
Where interested visitors can practice meditation and learn Buddhism the way of normal and peaceful living.
The Kopan Gompa / Monastery:
Located Mid-North from the Kathmandu city suburb close to the famous Bouddhanath Stupa, perched on a high green hill. Overlooking grand views of Kathmandu city, a great exciting place to visit to explore Buddhism religion and its impressive cultures.
The Kopan Gompa is the center and foundation to preserve the Mahayana Tradition of Tibetan Buddhism. The Kopan Monastery is a place to practice and study Mahayana Buddhism, based on the Tibetan Gelugpa sect. Following the lineage founder of Gelugpa by Tsong Khapa of Tibet, also known as Thubten Yeshe or Lama Zopa Rinpoche. The monastery was built in 1969 on top of Kopan Hill above the valley floor; where one can practice meditation which started from 1971 onward.
Most Popular Monasteries In Nepal:
Apart from the Kathmandu valley three cities, there are a few interesting and important monasteries beyond the capital. Most other monasteries are located within the Kathmandu valley suburb or in the high mountainous region of the great Himalayas.
The important and popular monastery within Kathmandu valley outskirt is Pharping, where 7th Century Saint Padmasambhava, or Guru Rinpoche; meditated on his way to Tibet. The other famous and popular is Namobuddha, situated east of the valley outskirt of a few hour drive. Where future Matriya Buddha offered his flesh to the hungry feeble lioness and her cubs.
Interested people can visit the famous monastery en route to Everest Base Camp at Tengboche. Which is at a height of 3,867 m / 12,687 feet high, located on a picturesque backdrop of Mt. Everest.
At the Tengboche visit, the monastery interior and main prayer large hall were adorned with tall statues of Buddha. Includes idols of various saints and Gurus facing panoramic views of surrounding giant snow peaks.
Tengboche Monastery, located in Nepal North Mid-East around the district of Solu-Khumbu, where walks and short involves. Flying from Kathmandu to famous Lukla town Tenzing & Hillary Airport and then trekking high up to famed Namche Bazaar. After Namche Bazaar a day walk and climb to Tengboche Monastery, where once a year a colorful Mani Rimdu is held.
The other important and popular Buddhism site and monastery one can visit is Lumbini, the birthplace of Lord Buddha. Located in Far Mid-West Nepal around the low warm Terai belt, an interesting historical and religious site. Where Lord Buddha was born and bred before he reached Nirvana and Buddhahood.
Around the birthplace of Lord Buddha, there are many beautiful monasteries to explore and observe.