The nightlife in Nepal is something you'd want to explore, especially in the main big cities, including the capital Kathmandu the central commercial hub of Nepal, and Pokhara. Compared to other Asian cities like Bangkok, Hong Kong, Singapore, or well-developed countries, Nepal is quite different and small compared to the size of the country.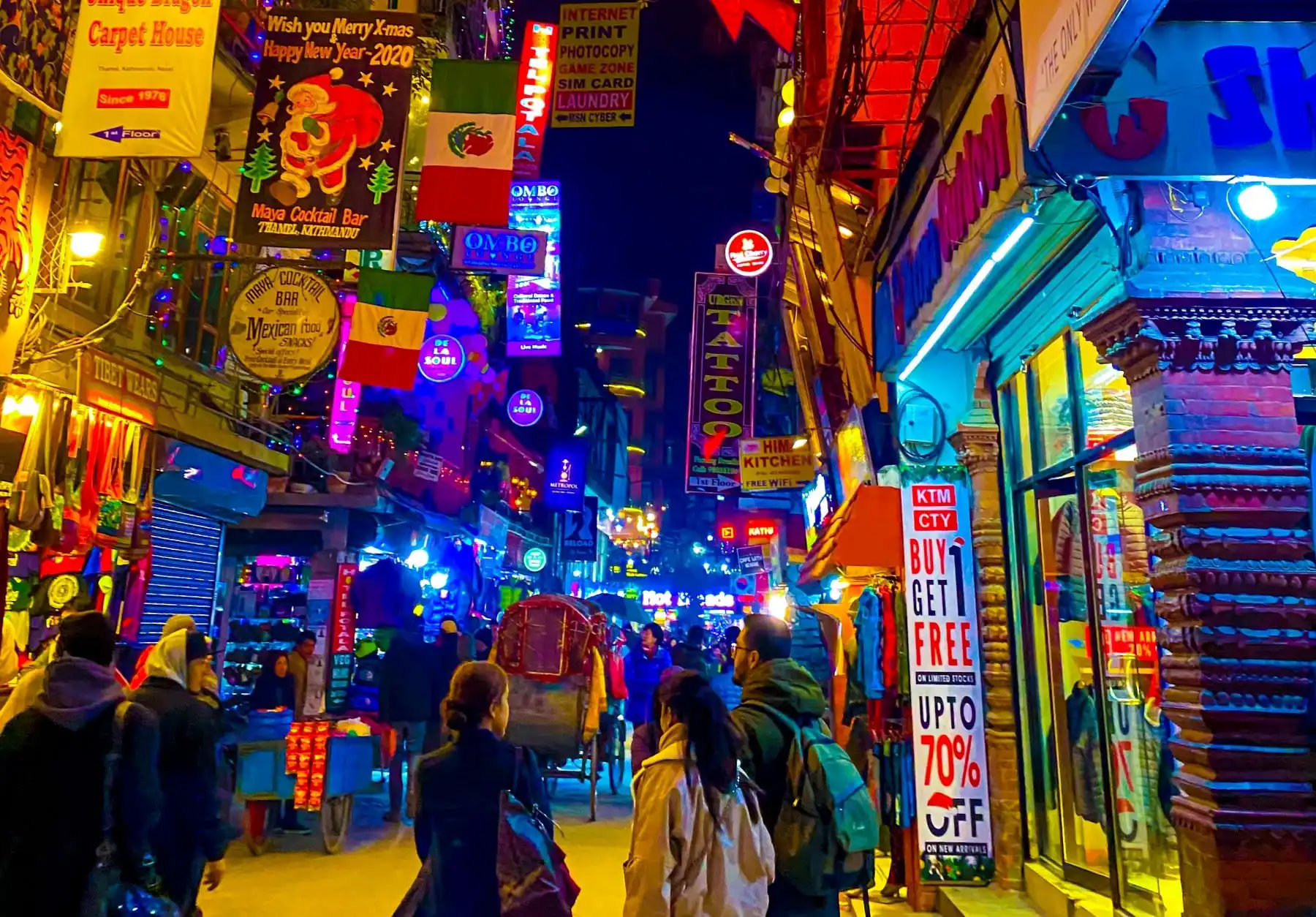 Kathmandu is a semi-modern metropolitan city with the backdrop of ancient glories of historical and religious sites of Nepal as well as the main entrance to the country by international airlines. In contrast, Pokhara, a renowned tourist destination in Nepal and probably around the world, is located Mid-West Nepal, 220 km. Driving distance from Kathmandu.
Besides big cities, there are few places on route trekking destinations like Annapurna and Everest region, where one can explore nightlife for specific hours, depending upon one's interest. Here the main flow of international travelers visits various exotic adventure destinations around Nepal Himalayas, Especially for trekking, mountaineering, cultural and scenic tours, or other adventure activities, as well as for business purposes.
For entertainment around Kathmandu city, there are several places where one can explore the nightlife in Nepal. The major nightlife spots in Kathmandu are pubs, bars, discotheques, and Dohori Saanjha (a typical folk duet singing and dancing). Bars, Night Clubs, and restaurants with live music, including western rock music, local traditional music, and folk instrumentals played by local bands, are common.
One can entertain themselves around these lively joints for a few hours or more, getting a taste of Night Life in Nepal, as well as making friends and interacting with the friendly Nepalese. It is also a way of knowing the inner depth of Nepal and the Nepalese. One can enjoy having parties in these respected places, where foods and drinks range from local to international standards.
In the fast era of the modern world, where worlds are getting connected through fast networks of modern technology, Nepal is slowly turning into a business sector, besides its adventure world of tourism, where nightlife has boomed. The nightclubs, pubs, world-class, elegant restaurants, and lounges have mushroomed over the past decades.
Where the flow of tourism, as well as business, has boomed, which makes Kathmandu and other cities lively in nightlife. The wide and large investment in the country has been well organized to make night entertainment much safe.
Visitors will be delighted while enjoying the grooves with the highest nightlife scenarios and various world-class entertainment places. The liveliest joints to visit for nightlife are around Thamel, located in the heart of Kathmandu city, where one can groove with semi-drinking adventures in the hub of tourist areas at Thamel and Durbar Marg.
Besides foreign visitors, most nightlife junctions target local businessmen, corporate executives, and young people, especially on weekend days, which is Friday, as Saturday is a public holiday in Nepal, an exciting way to enjoy the nightlife. Until it is closed by midnight hours, all nightclubs, bars, and casinos have security officials making all night-life places much safe and sound to enjoy the party having great pleasure with the night entertainment.
Night Life In Nepal Is Safe And Enjoyable:
In Nepal, all-night clubs, bars, discotheques, late-night restaurants, and pubs, including Casinos, are comparatively safer than most countries around the world's big cities, where Nepal and Nepalese are known for their friendly and warm hospitality. Especially among foreign visitors and guests, it is a part of a culture of old heritage and traditions.
Nepali people are fond of music and dancing, soaking in varieties of local drinks, which all visitors welcome. Nepali are peaceful people. Drinking is just part of merriment and pleasure, which encourages dancing and singing. As well as joining friends and families, the other side of safety precaution is the government's law and order.
Here most bars, pubs, or other nightlife entertainment joints are regulated by the law and must close by midnight, but Casinos are allowed to carry on where guests can try their last luck until dawn.
The best places to explore in Nepal for Nightlife:
The Thamel and Durbar Marg areas are the best nightlife destinations, with many places to hang around. Here major clubs, bars, and pubs are located, including elegant restaurants, with Live Music performed by local artists.
From Rock Music to Nepalese Folk, including Gazal, makes these places are most suitable for exploring at night. Various 4-5 star hotels are equipped with Casinos in the heart of Kathmandu, where one can spend the whole night at gambling tables. If you are fond of gambling, you might want to try your luck.
The other place popular for Nightlife is Pokhara, a city blessed with natural beauty, one of Nepal's most desired tourist destinations. Pokhara is the gateway to the Annapurna Himalayas, especially for trekking, hiking, mountaineering, and other adventures.
After completing treks, climbing adventures, or tours in this beautiful city, one can spend quality time around the famous Phewa Lakeside, visiting nightclubs, lounges, pubs, and dancing Bars.
Major places to explore Nightlife in Nepal:
You can choose various spots like clubs, pubs, bars, and restaurants offering places to stomp your feet to the sound of live music with bands jamming to rock and roll as well as the DJ grooving you from techno to trance music, a great nightlife environment to get in.
In Kathmandu at Durbar Marg Location:
The King's Lounge, Trisara, Hard Rock Café, London Pub, and Club Platinum.
At Hotel Soaltee Crowne Plaza:
The Prive Nepal and Casino.
Mirage Lords Inn:
The Strand.
At Thamel:
Lord of Drinks, Club Fahrenheit, Turtle lounge and club, the Senate
club, Reggae Bar, Purple Haze, Shisha bar, Queen's lounge, Beta bar, Fire club, and
the Ibiza club, Club OMG, Buddha bar, Playboy club, and Karma Bar.
At Patan / Lalitpur at Jhamel/ Jhamshekhel:
Evoke, Moksh bar, Tamarind Restaurant.
At Pokhara:
Busy bee, Oxygen club, Club Gravity, The Treasure lounge, The Roof
bar. Kings lounge
Nightlife around the hill villages:
The nightlife around the hill and mountains village takes place only on special occasions, weddings, anniversaries, birthdays, and festivals. In some bigger events, the celebration continues for a few days to a week till the next morning time. Special nightlife around the hills and mountainous region of Nepal Himalayas, booze is specially brewed for festive occasions.
In Mid-Western Nepal around the Annapurna Himalaya region, nightlife existed for many centuries for the Gurung and Magar people. The hill tribes of Annapurna Himalayas have their nightlife known as Rhodi-Ghar, where all visitors are welcomed. Young ladies and men have singing and dancing sessions teasing each other through the tune of music and songs.
For trekkers and adventurers, there is nightlife around Khumbu in the Everest region but in more minor ways. Especially at Lukla, after the trek, visiting the local pubs is a way to celebrate the successful completion of the trip. Besides, Namche bazaar is also equipped with luxurious pubs, bars, and restaurants giving off western vibes, where trekkers visit to relax as the next day is dedicated to acclimatization.
For further reading recommendations, check Nepal's Various Cultural Heritages. For further queries and information, subscribe to our newsletter, and we will keep you updated.