The Everest Three Passes Trek a High-Altitude Adventure
The Everest Three Passes Trek a High-Altitude Adventure Overview
The Everest Three Passes Trek is a High Altitude Adventure around Khumbu valley in the close shadow of Mt. Everest. Truly a mind-blowing experience traversing from one scenic valley to another in picturesque areas of high Khumbu terrain.
Three passes trek clockwise high passes trail include Kongma-La 5,535 m / 18, 160 m. Cho-La Pass 5, 420 m / 17, 782 feet, and Renjo-La 5,360 m / 17, 585 feet. As well as a side trip to Everest Base Camp, 5,364 m / 17, 598 feet with a climb to the highest point. On top, Kalapathar at above 5,643 m / 18,514 feet high.
The highest of all three passes is Kongma-La, located above Imjatse valley and towards Lobuche and Everest Base Camp; travelers can find an Everest three passes trek map before traveling to understand.
The Everest 3 Passes Trek a High Altitude Adventure, with two choices of options either start first from Thame village. Located west end of Khumbu and Namche Bazaar, close on route to Rolwaling Valley via the high Tashi-Labtsa-La pass.
Crossing first over Renjo-La to Gokyo Valley and its turquoise-colored glacial lakes close to Nepal's longest Ngozumba glacier. From Gokyo valley onto Cho-La pass, reaching the main trail of Everest base camp. Where adventure leads to traverse over the last third pass of the Kongma-La pass, reaching Chukung or Dingboche around Imjatse valley.
Whichever route to follow the trail diverts from the famous Namche Bazaar as well ending at Lukla via Namche Bazaar.
The other option on the Everest Three Passes Trek a high-altitude adventure one can skip the Everest base camp. As well as the Kalapathar rocky hill climb, making the trekking itinerary a few days shorter.
The delight and charm of the Everest Three-pass trek are testing and challenging your endurance and physical abilities. Where most days lead to longer hours of walking of more than 7 to 8 hours crossing each high pass. Depending upon the trail and snow conditions, at higher altitudes, snowfalls are normal at any time of the season.
The Route To Everest Three Passes Trekking:
At first, the walk starts on gradual main trails from Lukla town after flying in from Kathmandu, on a small aircraft. The route follows through the nice lovely Sherpa villages of Ghat and Phakding, the path adorned with Buddhist monuments. Like prayer walls and rows of spinning wheels and interesting carving on rock walls, as the walk enters Sagarmatha National Park.
From the park entrance, walk on Dudh Koshi River valley, after crossing a high last bridge, on an undulating uphill. Reaching the famed Namche Bazaar, the main hub and capital of Khumbu Sherpa are the highlanders of Everest.
Namche Bazaar is an ideal and perfect spot for rest days to support acclimatization at 3,440 m high. Offers several short hikes around the viewpoints for the grand scenery of Mt. Everest and adjoining peaks.
After Namche, for a pleasant rest day in the comfort of a nice lodge and enjoy a wide list of food menus. Options to choose from starting with Three High Passes crossing from Thame village, which is west of Namche Bazaar.
The most popular and favorable route to the Three High Passes is from Dingboche and Chukung, located in Imjatse valley.
As it allows much better exercise for acclimatization and is close to Everest Base Camp and Kalapathar Hill. Walk from Namche on the main scenic trail facing glorious views of Mt. Everest, Lhotse, and Ama Dablam. A short downhill with a few hours' climb leads to the top of Tengboche, a beautiful picturesque spot with an impressive monastery.
Enjoy the panorama of Everest and surrounding high snow peaks and the last green forest for several days. From Tengboche onwards, within sheer mountain wilderness of arid and barren rocky terrain with ice and snow.
Visit the monastery of great religious and cultural interest, as well as get blessed for a successful adventure crossing three passes.
On leaving Tengboche, down to a river and above on gradually up to Pangboche.
The last permanent village on the route before reaching Thame after crossing the last Renjo-La pass. Other places on the route are temporary settlements catering to the needs of trekkers providing good lodge accommodations and nice food.
After Pangboche, a slow, gradual climb to enter a beautiful scenic Imjatse valley, where Dingboche is located. Spending a day rest and then walking to the end of Imjatse valley, facing tremendous views of Ama Dablam, Island Peak, and Lhotse with Mt. Makalu. A short interesting walk to Chukung, the starting point of the first pass to cross Kongma-La.
The Adventure Over Three High Passes Of Everest:
Spending overnights at Chukung with time to enjoy the close towering peaks, starting walk early morning heading above Imjatse valley.
The faint path enters a gully walking on a rocky trail as a steep climb reaches on top of Kongma-La. The highest pass of the adventure, marked with a rock cairn and prayer flags, walks down to cross the Khumbu glacier. Then climb to a moraine and descend to Lobuche, a nice settlement with several fine lodges.
From Lobuche, options for a side trip to Everest base camp and climb of Kalapathar rocky hill. As per the itinerary days with more time, enjoy the walk to Everest base camp. As well as climb to the highest point of the trek on top of Kalapathar, which offers a breathtaking panorama of surrounding giant peaks. Facing the closest views of Mt. Everest at a close distance, then walk downhill on leaving the main trail.
The walk continues heading to the base of Cho-La, passing on route to scenic Gokyo valley and glacial emerald-colored lakes. After overnight at Dzongla, a place with few lodges, the adventure begins early morning to cross the second high Cho-La Pass.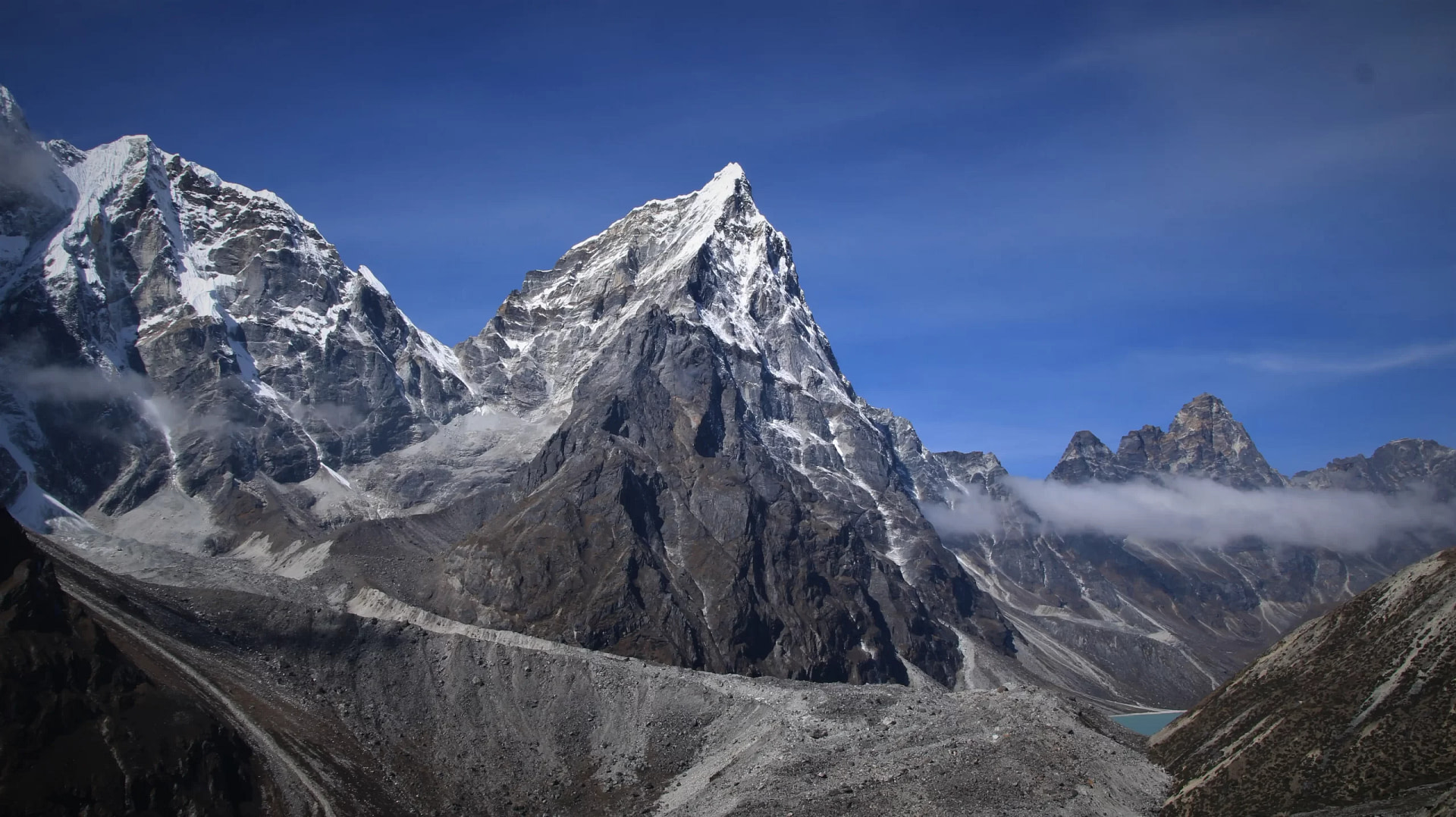 A strenuous steep climb for some hours till the top is reached of Cho-La Pass, a scenic high pass. Overlooking grand views of high snow-capped mountains, from here down, enter a beautiful Gokyo valley.
An exciting and great scenic high valley of Gokyo with its simmering lakes with close views of Mt. Cho-Oyu. The world's 6th highest peaks enjoy a climb up to high Gokyo-Ri rewards superb panorama of the world's 4 highest mountain range.
From the top overlooks the dramatic scenery of Gokyo valley with an array of peaks. Getting ready to cross the last third pass of the adventure, an exciting climb on leaving the scenic Gokyo valley. Enjoy the last steep haul to the top of Renjo-La, facing a superb panorama of Mt. Everest, Lhotse, and Cho-Oyu.
Includes views of Mt. Makalu with a series of snow peaks encircling Renjo-La, the last pass of the adventure. After completing all three high passes of Everest, feeling in high spirits, on the trail for homeward bound to Lukla. Walk down to Thame village and then on a pleasant trail back into tree lines, following the trail to Namche Bazaar. Enjoy a refreshing stop at Namche Bazaar, then downhill to Lukla for an exciting panoramic flight back to Kathmandu.
At Kathmandu, our great journey concludes after an overwhelming experience on Everest Three Passes Trek, a High Altitude Adventure.