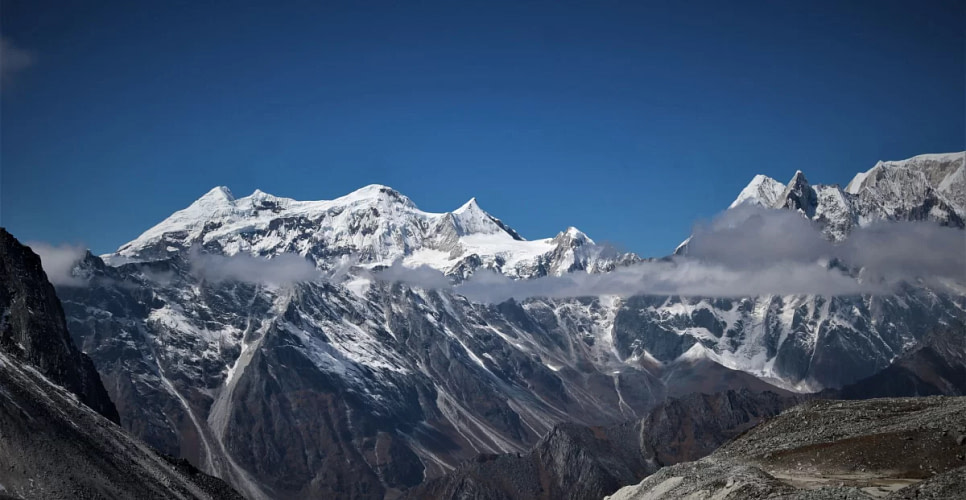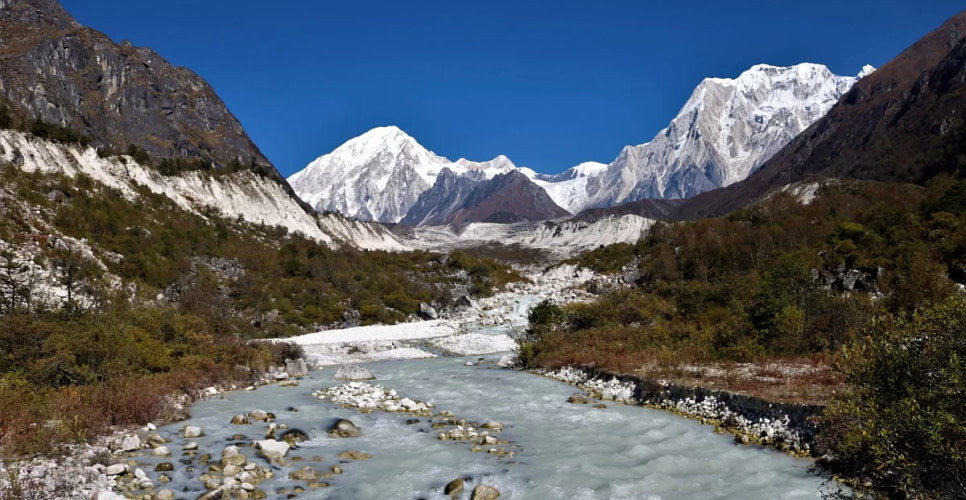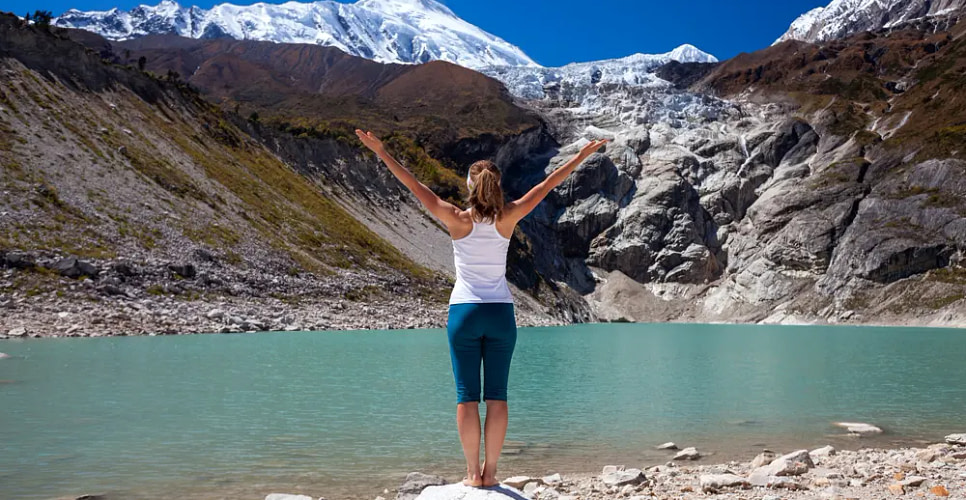 Trip Highlights of Manaslu Circuit Trek
 Ethnic communities and their culture
 Manaslu Conservation Area Project: natural diversity
Follows the Budi Gandaki River
Technical Larke Pass
Views of Mt. Manaslu and its neighboring peaks
Overview of Manaslu Circuit Trek
Manaslu Circuit Trek is a strenuous trek in the Manaslu region of Nepal. The route was opened in 1991 AD as a restricted area trekking that requires a special trek permit. Its recognition got a higher degree of significance in 2010 after tea houses were built. It makes the trip comfortable and exciting. Walking through the ethnic settlements, raging rivers, and crossing shaky bridges, you eventually cross the technical Larke pass (5160m).
The excellent combination of nature and cultural vistas enticed trekkers from different parts of the world. Manaslu Circuit trek begins from the sub-tropical region that is dominated by lush forests.
Manaslu Circuit Trek follows the Budi Gandaki River that leads to the high pastures and great light at the base of the Himalayas. Manaslu Conservation Area includes six different climatic parts. Mt. Manaslu (8156m) and its surrounding vistas can be explored from the Larke Pass (5160m), the highest trekking point. Higher than 5000 meters, the landscape mostly remains snowy.
The Tibetan Buddhist culture, traditional values, and architectures flourish in these parts. Jagat, Namrung, Sama Gaon, and Samdo are some culturally loaded villages inhabited by the ethnic Gurung.
The Manaslu Circuit Trek is decorated with culture and rituals  that are similar to those of the Tibetan highlands. Crossing the Larke pass, you join the Annapurna circuit trail and trek down gradually. If you're looking for a unique and adventurous excursion, Vertex Holiday recommends Manaslu Circuit Trekking.
Itinerary of Manaslu Circuit Trek
Arrive in Kathmandu (1300m), transfer to hotel.
Namaste and welcome to Nepal. After your arrival, Kathmandu, Vertex Holiday's airport representative, will receive you at the airport and transfer you to the hotel.
After getting refreshed, a short briefing and orientation will be conducted by our trekking leaders. The evening is reserved for dinner at a typical Nepali restaurant with a Nepali cultural program. Overnight at the hotel.
Car 20m
Accommodation 3 Star Hotel
Meals Dinner
Altitude 1300m
Drive from Kathmandu toMachha Khola (900m)
After breakfast at the hotel, drive to Aarughat through the Prithvi Highway and later through the bumpy road. The sceneries of green hilly terraced farming villages can be seen during the road trip. We drive further to Machha Khola (900m) and conclude the day's travel. Overnight at lodge.
Bus 9 Hours
Accommodation Guest House
Meals B/L/D
Altitude 900m
Trek from Maccha Khola to Jagat (1410m): walk approx 5-6 hrs.
Beginning the trek from Machha Khola, we cross the stream and head to Khorlabesi. Passing it, we reach Tatopani (natural hot spring). We can enjoy the natural hot bath, which helps in removing all the tiredness from trekking.
The trail goes through the sub-tropical forest, descends to the River, and reaches the juncture known as Dobhan. Walking a short time through the bank of the river, we ascend to Jagat and stop. Overnight at lodge.
Walking 6 Hours
Accommodation Guest House
Meals B/L/D
Altitude 1410m
Trek from Jagat to Philim (1,804m): walk approx 6 /7 hrs.
The restricted area of the Manaslu region begins from Jagat. After breakfast today, we head towards Salleri through the uphill track and hike down to Sirdibas.
Following the straightforward route, we reach Ghatta Khola, cross the steel bridge, and reach Philim. Overnight at the lodge.
Walking 7 Hours
Accommodation Guest House
Meals B/L/D
Altitude 1804m
Philim To Deng
From Jagat, our trekking continues a straight uphill walk to Saguleri. From the ridge, we can view the Sringi Himal.
Then we hike to Sirish Gaon and continue the trek through the narrow Budi Gandaki canyon and steep rocky wall. Gradually, we reach Deng and halt. Overnight at lodge.
Walking 7 Hours
Accommodation Guset House
Meals B/L/D
Altitude 2280m
Trek from Deng to Namrung (2,630m): walk approx 6 - 7 hrs
From Deng, we descend to the Budhi Gandaki River, cross the bridge and ascend to Rana village. After a gentle climb, our trek heads towards the west to the Budhi Gandaki River valley.
Passing the Mani walls, we reach Ghap and then Prok village. Walking ahead, we pass through the dense woods. In some of the places, there are tiny Gompas. Crossing the River, we climb to Namrung and rest. Overnight at lodge.
Walking 7 Hours
Accommodation Guest House
Meals B/L/D
Altitude 2630m
Trek from Namrung to Samagaon (3,530m): walk approx 6-7 hrs.
Our today's trek begins early in the morning as it is a long walk today. On the way, we pass Syala, a picturesque village. We stop for a short break.
Then we continue our walk, enjoying the green hill sceneries and the Himalayan views at the backdrop. The beautiful Sama Gaon is the cultural center of the local people. Overnight at lodge.
Walking 7 Hours
Accommodation Guest House
Meals B/L/D
Altitude 3530m
Trek from Samagaon to Samdo (3,860m): walk approx 4 - 5 hrs.
After breakfast, we trek down to the River and take a north trail. Crossing the stream, we ascend and reach the juncture. One of the trails leads to the Manaslu base camp. Splitting the trail, our trekking goes through the widening trail to Samdo.
On the way, we pass several Chhortens and Mani walls. Walking through the birch forest, we descend to the River, cross it, and climb to Samdo via Kani. Overnight at lodge.
Walking 5 Hours
Accommodation Guest House
Meals B/L/D
Altitude 3860m
Rest day at Samdo for acclimatization.
Another day for acclimatization is in Samdo. We set out on our hike around the village. The history of this village goes back to the years when the salt trade was in practice. Even the people of this part go shopping in Tibet. It is a form of trade exchange.
The views of Mt. Manaslu, Himchui, Simrang, Kang Guru, Larke peak, and others can be explored. As the altitude is nearly 4000 meters, this hiking helps us to acclimatize properly. Overnight at Samdo.
Walking 4 Hours
Accommodation Guest House
Meals B/L/D
Altitude 3860m
Trek from Samdo - Dharamsala to Larkya Base Camp (4,460m): walk approx 4 - 5 hrs.
After breakfast, we descend to the River and cross over the wooden bridge. Our trekking trail leaves the river and ascends, where we cross a couple of glacial streams. The Larke Glacier is visible from here.
Passing the Salka Khola valleys, we see a stone guest house which is known as Dharmasala, located at the bottom of Larke La. We prepare for the grand excursion on the following day. Overnight at lodge.
Walking Hours
Accommodation Guest House
Meals B/L/D
Altitude 4460m
Dharamsala – Cross Larkya la [5,160m] and trek to Bimthang (3,720m): walk approx 8/9 hrs.
This is a big day for us to cross over the Lrkya La pass. We get up early in the morning, pack our belongings, and have breakfast. Due to the altitude and Himalayan surroundings, the morning is usually chilling. Leaving Dharmasala, we approach the technical ascend.
With a hard climb, we reach the top and the picturesque Himalayan sceneries make us anesthetized that we forget the tiredness. Mt. Manaslu (8156m) and the surrounding snow-covered peaks are extremely mind-blowing. Our day-packed lunch is a source of our energy. After taking photographs, we continue descending to Bimthang. Overnight at lodge.
Walking 9 Hours
Accommodation Guset House
Meals B/L/D
Altitude 3720m
Trek from Bimthang to Tilche (2,300m): walk approx 5/6 hrs.
After breakfast at Bimthang, our tired feet will feel relieved with a gentle descent. The excursion has gone easier with the decreasing altitude. The fig and rhododendron forests dominate the trail. With a relaxed hike through the lower altitude forest and fields, we reach Tilije. Overnight at lodge.
Walking 6 Hours
Accommodation Guest House
Meals B/L/D
Altitude 2300m
Tilije to Kathmandu (1,350m)
After breakfast, we follow the stone-paved trail and pass a few small Himalayan settlements. Gradually down, we cross the Dudh Khola and reach the Thonje village.
Here we meet the Annapurna round trail. Leaving the Manaslu region, we walk in the Annapurna region and steadily walk to Dharapani. Today, we drive back to Kathmandu. It's a scenic drive through the Prithvi Highway. After your arrival in Kathmandu, transfer to the hotel. Overnight at the hotel.
Bus 7 Hours
Accommodation 3 Star Hotel
Meals B/L
Altitude 1300m
Free Day in Kathmandu
Besides trekking, you can explore UNESCO-listed world heritage sites around Kathmandu, Bhaktapur, and Patan. The Everest Base Camp helicopter tour is also a demandable option, Overnight at the hotel.
Accommodation 3 Star Hotel
Meals Breakfast
Altitude 1300m
Farewell.
Having an excellent, memorable trekking experience with Vertex Holiday, our representative drops you at the airport for your departure.
Includes/Excludes
What's Included?
 All airport\hotel transfers by private vehicle
 Three nights' accommodation with breakfast at star category hotel in Kathmandu
 All Meals (breakfast, lunch, and dinner) during the trek
 Best available twin-sharing accommodation during the trek
Welcome and farewell dinner
 One highly experienced, helpful, and friendly guide, porter (1 porter for 2 people max weight 25kgs) including their food, accommodation, salary, equipment, and accidental insurance
 All Surface transfer from Kathmandu to Machha Khola. Similarly, transport from Dharapani to Beshishahar, Beshisahar – Kathmandu by bus.
 Manaslu trekking special permit fee (Manaslu region is in a restricted zone, we need a special permit to visit this area)
 TIMS Fee- [Trekkers' Information Management System] (Please bring 2 passport-size photos for Permit and TIMS)
 Annapurna and Manaslu conservation are fees.
 Government taxes and office service charge
What's Excluded?
 Lunch and dinner in the city
 Travel Insurance
 International airfare
Nepal entry visa: for more, you can see in travel info button
Drinks (hot and cold), snacks, and other personal expenses
 Personal ordered food
 Hot shower during the trek
 Rescue charge
Personal trekking equipment
Gratuities and Tips for trekking staff
Complimentary
Comprehensive medical kit
Duffle bag for Trekking
Snack of seasonal fruit during the trek
Manaslu Circuit Trekking Information:
Manaslu Circuit Trek is a thrilling adventure around the world's 8th highest mountain peak Mt. Manaslu (8163m), and the ancient Trans Himalaya Route of Nepal to Tibet, where heavy trade of yak caravan loaded with Nepalese goods crossed through Manaslu high valley in the past.
An exciting Manaslu Circuit trek is blessed with the natural beauty of high towering peaks and rich Tibetan cultural villages. The high-altitude Manaslu Valley was opened for foreign visitors in 1991. However, this zone has been listed under restricted areas, where international travelers require a specialized permit to enter the Manaslu region.
Most people worldwide are unaware of the Manaslu Circuit trekking trail and its breathtaking scenery, lively with a fascinating Tibetan-influenced culture. The first ascent was by Japanese Expeditions on May 9th, 1956, and since then, it has been climbed by many mountaineers from various nations.
The name Manaslu comes from the ancient Sanskrit word "Manas", referring to the mind or soul of a god, similar to the holy Lake of Manasarover near Mt. Kailash in Tibet. The local name is Kutang for Manaslu, meaning a paradise land for yielding rich crops of barley, wheat, and buckwheat, as well as other seasonal vegetables.
Manaslu Circuit Trek is a hiking adventure trip beginning from a lower warm farm country to more excellent green hills and then finally arriving at the alpine region of ice and glaciers. The exciting part of the hiking adventure traverses from the Manaslu and Gorkha districts to the Manang region crossing high altitude Larkye-La Pass (5,106 m/16,752 feet), the highest point of the trek.
Then the hike descends towards Dharapani village in Manang district, where mesmerizing Manaslu Circuit trek completes. However, the trekking trip can be adjoined with the famous Annapurna Circuit Trekking if one wishes to drive back to Kathmandu.
Manaslu Circuit Trek Highlights:
Manaslu Circuit Trek is one of the least ventured regions around the restricted and particular region Mid-Western Himalayas of Nepal. Enriched with diverse climates, landscapes, vegetation, and wildlife, bio-diversity is the major highlight, from lush green vegetation and tall rhododendron, pines, and fir trees to arid and windswept country.
Exploring various cultures of different hilly ethnic tribes, including the Tsum and Nubri people of Mid-West Nepal. Visiting impressive cultural villages and monasteries, the hiking trail follows the ancient Trans Himalaya Caravan and Salt Trade Route of Nepal and Tibet.
Glorious views of Mt. Manaslu, Ganesh Himal, Annapurna mountain range, Boudha, and Himal-Chuli Himal enhance the trek experience. High Larke-La Pass offers a breathtaking panorama of the Mid-West Himalayas range while traversing from one beautiful valley to another exciting destination.
15 Days Manaslu Circuit Trek Routes:
Various options for Manaslu circuit trekking routes are possible, where the motorable road has reached as far as Machha-Khola beyond Arughat town. Another choice is to drive to Dharapani village in Manang district and trek clockwise, crossing Larke-La and then Machha-Khola.
The most popular Manaslu Circuit trek route is an anti-clockwise trail, starting with a drive of around 8 hours to Soti-Khola and beyond to Machha-Khola.
As per your time for the Manaslu Circuit Trek, the walk follows the Budhi-Gandaki River upstream past Tatopani (hot spring) to Jagat. A medium-sized hilly village with simple lodges for accommodation is the entrance to the restricted area of Upper Manaslu valley. Entering the high country, past Philim, Deng, and Namrung to Lo-Gaon is a picturesque village below the majestic North Face of Mt. Manaslu.
Stop at Lo Gaon overnight with time to explore this beautiful village and Buddhist monastery of great religious value would be worth. Then the hike ascends to higher terrain, and the vegetation and tree lines slowly fade into smaller bushes. Finally, the journey leads to the heart of Manaslu valley at Sama-Gaon, one of the largest hamlets of the upper Gorkha district.
As well as a favorite stop for acclimatization at the height of 3,525 m. Sama-Gaon is an exciting village located on the route to the Manaslu base camp, Larke-La Pass as well to the Tibet border in the north direction. On the acclimatization day at Sama-Gaon, there are various exciting and scenic places for short hikes. One can visit Birendra glacial lake (3691m).
Which is on the way to Manaslu base camp of a couple of hour walk, and back at Sama-Gaon for a pleasant overnight stop. After an enjoyable and exciting rest at the Sama-Gaon hike, heads to the last remote village of Samdo, ahead of Larke-La pass. Spending the night at Samdo, the trekking journey slowly ascends to the main highlights reaching Larke-La base at Dharmasala or Phedi.
Next early morning climb to the top of Larke-La Pass, the highest spot of the adventure at 5,106 m.
A long descent takes you to the base of Larke-La within the district of Manang at Bumthang. Heading Back into the dense forest, then journey downhill to Dharapani village, located on Annapurna and Manaslu circuit  trek route. Spending overnight on an exciting long drive brings you to Kathmandu after a great experience on Manaslu Circuit trek.
The Longest Himalayan Pass -Larke La Pass :
Larke pass, also known as Larkya La Pass, is one of the most popular longest passes in the Himalayan region of Nepal. It lies at an altitude of 5,106 meters (16,752 ft) above sea level, and between Dharmashala and Bimthang, the highest point of Larke La pass is a center point of destination for the world's 8th highest Mt. Manaslu, 8,163 meters (26,781 ft) in the restricted area of Manaslu Circuit Trek.
Larke-La Pass is the barrier between the Gorkha district, Manaslu valley, and the Manang area. The pass is decorated with thousands of colorful Buddhist prayer flags and a board with the name of the access and its elevation.
The key offers a fantastic panorama of Manaslu as far as Ganesh, Damodar Himal, Annapurna mountain range, and Manang Himal.
After crossing the highest spot of Larke La pass, the route connects with another popular trail of the Annapurna circuit and treks down gradually towards Dharapani village.
Best Time For Manaslu Circuit Trek:
The best time for the Manaslu circuit trek is the year of mid-spring, April to May, and Autumn /Fall from September to early November. The villagers migrate to lower warm regions from mid-November, most of Upper Manaslu, to escape the cold winter.
Springtime of April and May is a lovely time when most days are clear and sunny. Mornings, late afternoons, and nights are more relaxed, but days are warmer with enough sunlight. This is when wildflowers are in seasonal bloom, making the trek more enjoyable.
The temperature during Manaslu Circuit Trek ranges from a minimum of -5 to a maximum of 25 degrees Celsius from above the elevation of 2,000 m high. The wind-chill factor adds extra cold during the mornings and late afternoon. You can expect snowfall above 2,000m on the Larke-La pass to Bumthang.
The Autumn season, September to November, is another best season for this beautiful hiking trip. From above 1,800 m high, the temperature ranges from a minimum of -05 degrees to a maximum of + 20 degrees Celsius. However, one can get extra cold due to the wind chill factor around higher altitudes. You can expect snowfall above 2,000m on the Larke-La pass to Bumthang.
Essential Equipment for the Manaslu Circuit Trek:
Besides your belonging and necessary items, sleeping bags, down jackets, good trekking boots, warm inner clothing, headwear for the sun and cold, Sun-block, and good water bottle, a hiking pole, and a crampon are the most important things.
If it's too much to carry from home, one can buy or rent in Kathmandu at a reasonable price. Apart from this, vertex holiday recommends an essential equipment list for trekking here as they are helpful and provide good support.
Food and Accommodation During Manaslu Circuit Trek:
The local lodge and guest house, also known as a tea house, offers meals and lodging throughout the day for each overnight trip. Food depends upon the standard of the lodge, where a simple basic lodge provides a simple food menu. In comparison, standard lodges offer a comprehensive food menu during Manaslu Circuit Trek. Staffs cook meals in a healthy environment and adequately take care of hygiene.
Generally, tea houses serve meals from breakfast, lunch, and dinner, including snacks as per the menu of continental, Indian, Nepali, and Tibetan dishes. But in the high tourist season, especially at Dharmasala, with few lodges to accommodate a large number of trekkers, better to order similar food for everyone in the group to save time and fuel energy. The best choice would be the famous Nepali Dal-Bhat with lentil soup and well-cooked mild vegetable curries.
Accommodations are simple on the Manaslu Circuit trekking trail, as this trek is not as popular as Everest and Annapurna regions. Whereas lodges are basic but have cozy rooms with clean beds and with large warm dining rooms.
Most lodges till Dharapani have shared toilets and bathrooms with single rooms. At Dharmasala, due to the flow of trekkers in the high season, trekkers might need to spend overnight in tented camps, with meals in the lodge restaurants.
TIMS, Permit, and Special Permits Require For The Manaslu Circuit Trek:
Manaslu Circuit Trekking does not require a TIMS card (Trekking Information Management Systems). Trekkers are obliged to obtain special permission to enter the Manaslu Conservation Area Project, which is US$ 50.00 per person for 07 days with an extra US$ 07 for each day after mentioned days in the itinerary.
The additional permit cost for the Annapurna Conservation Area Project(ACAP) costs US $ 30 per person. Vertex Holiday has added all the costs of permits to the trip cost on booking payments. The entry fee for SAARC Nationals is Npr 200 per person and for other Nationals is Npr 2,000 per person.
Why choose The Manaslu Circuit Trek?
Manaslu Circuit Trek is a less crowded hiking destination due to its restricted region, though it is more expensive than other mainstream trekking areas. However, it is worth an ideal adventure to experience the raw, unspoiled territory of the Mid-West Himalayas of Nepal and its remote, isolated villages.
The culture and customs similar to Tibetan are an exciting aspect to witness, along with the Himalayan Buddhist-influenced lifestyle. Besides, grand views of the snow mountain range of Manaslu and Ganesh Himal, including peaks of the Annapurna Himalayan region, are a significant attraction during Manaslu Circuit Trek
Trekking Difficulty and challenges:
Graded as a difficult trekking trip, the Manaslu Circuit trekking trail consists of several ups and downs. However, entering Manaslu valley leads to gentle ups. Only the altitude gain makes it difficult.
Taking slow and steady with a few more minor stops makes the trek enjoyable; the only most challenging part is the steep climb of a few hours to Larke-La Pass. The rest of the trail is downhill to the end of the walk at Dharapani village.
Critical Of Travel & Medical Insurance:
Comprehensive Travel & Medical Insurance is compulsory to obtain from your respective home countries after booking Manaslu Circuit Trek trip with Vertex Holiday. Trekkers need Travel Insurance in case of bad weather. This might lead to canceling the trek or diverting to other safe destinations. Extra expenses can sometimes occur due to roadblocks or political strikes leading to trek delays.
Medical Insurance is essential in case of unfortunate accidents, altitude sickness, or inability to continue the trek. Accordingly, trekkers need immediate medical attention and probably evacuation by the fastest means of transport, like a Helicopter service. It is your personal choice to buy insurance from a reliable company from your respective country before departure.
Altitude Sickness Around Manaslu Circuit Trek:
As the altitude rises, oxygen decreases in the atmosphere raising the chances of getting mountain or altitude-related sickness. The risk is high for trekkers living in lower altitudes during Manaslu Circuit Trek
Proper acclimatization is therefore essential for venturing into the higher altitudes, where a day after a couple of days of trek is reserved for. During an acclimatization day, a side hike to a higher elevation than that of the camp will help your body to adapt accordingly.
For a high-altitude adventure trip around the Manaslu region, Vertex holiday recommends acclimatization at Samdo to reduce the probability of altitude-related sickness for travelers.
Another point not to avoid acclimatization during Manaslu Circuit Trek is the high Himalayan pass of Larke La pass because this place is situated above 5000 meters and has beautiful climatic conditions to prepare for high altitude and to cope with the frequently changing weather situations.
Generally, trekkers might suffer from altitude sickness as they cross the elevation mark of 3500 meters. Therefore, it is recommended to drink plenty of water and take rest after an hour of walking.
Some symptoms include ongoing dry cough, minor fever, headache, vomiting, dizziness, and loss of consciousness which couldn't be treated with painkillers or water.
Trekkers must be aware of altitude sickness if they have any symptoms regarding altitude sickness. If any such symptoms appear, then you should consult your guide or trek leader.
But when they complete their journey to the Samdo, they will have already acclimatized until reaching the alpine region of Larkya La pass. After reaching High altitudes, their body will start to cope with the harsh environment.
Fitness for Manaslu Circuit Trek:
Fitness and good medical care are essential for the Manaslu Circuit trek, as this trek leads to far remote areas of the Himalayas, where some days lead to strenuous walking and climbing for long hours.
Before or after booking this trip, the client needs to exercise like jogging, to run, and walking for an hour or more every day before departing for Nepal.
Walking up and down the stairs also helps to keep you fit. Staying healthy and physically provided before or after the trek makes your adventure holiday more enjoyable and memorable. In case you are interested in accomplishing this or other holiday trekking trips. Please, feel free to contact us to customize your exciting Manaslu Circuit Trek itinerary.
Most Asked Questions by Travellers
Manaslu Himalaya and the trek located around Nepal Mid-west in the district of Gorkha, and then completing the walk at Manang District.
For several reasons, the upper Manaslu valley is located close on route to the border of Tibet/China. Which is the first region, and the other is to limit the flow of trekkers to keep the country as it were in the past years.
Yes, most large villages from Jagat onward have hydropower and are privately managed by the village communities or semi-government and private companies. Some remote villages and settlements like Samdo, Dharmasala, and Bhimthang are on other sides of the pass. Electricity is run by solar power, where all trekkers can charge their electronic gadgets, paying a small fee for each item per hour.
Not allowed to trek on this Manaslu circuit or any other restricted region where one needs to join with reputed trekking agents. A minimum of 2 people are required to run this trek. The trek will be accompanied and led by an expert and recommended and authorized by the government of the tourism department.
Reviews on Manaslu Circuit Trek
Be first to post a review in this trip.