Benefits Of Himalayan Sound Healing Trekking in Nepal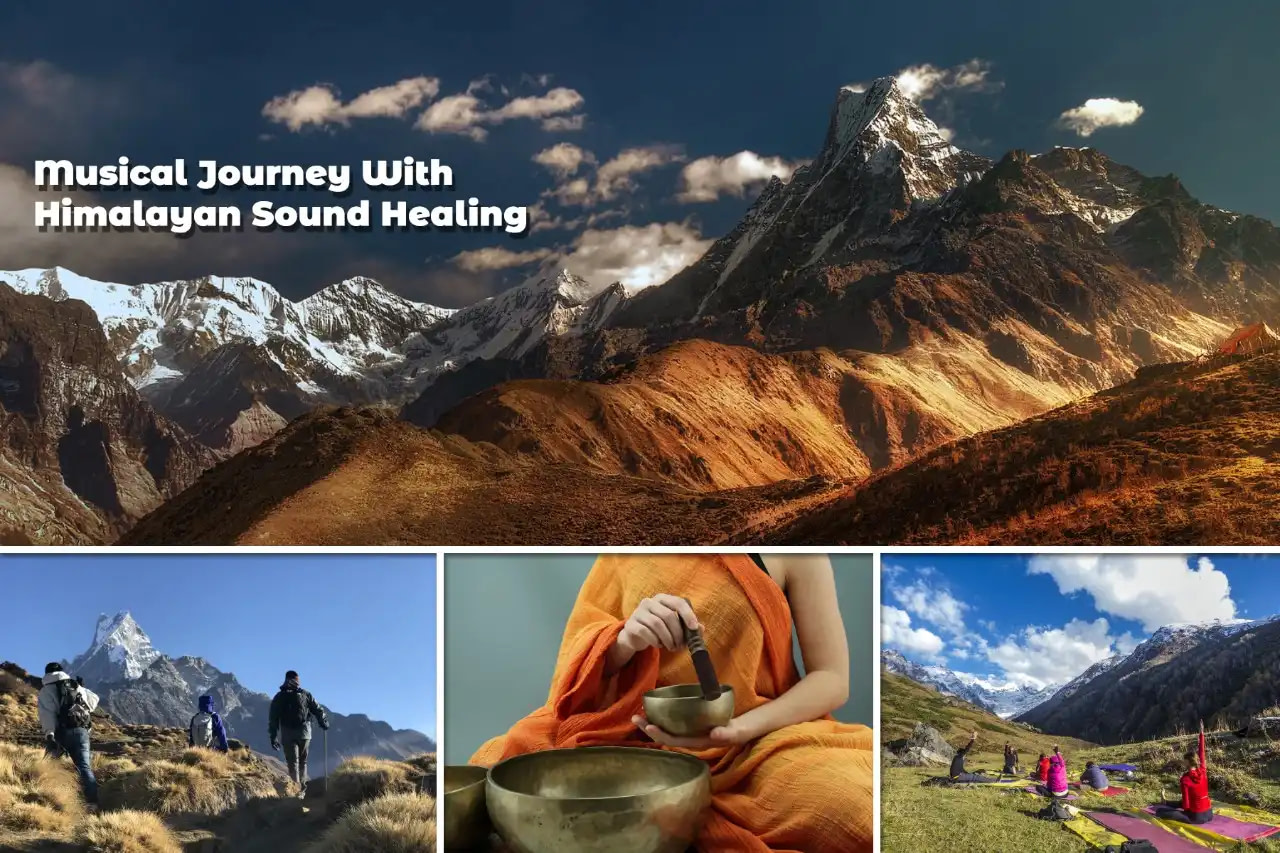 Typically, the benefits of Himalayan Sound Healing is that the music  inspires people's life from spiritual awareness, spiritual relaxation, and peace in a person's life and feelings.
Therefore, Sound healing is an amazing ancient meditative practice to connect one's inner self with calmness, pleasures, and peace by maintaining a physical and mental state by constantly seeking through the use variety of sacred musical instruments like vocals or objects like Gongs (Tuned at strategic frequencies), Tibetan singing bowls and tuning forks are used to create healing vibrations around the different parts of body and mind to bring in a meditative state.
Basically Sound, Healing refers to a state of an incident that enhances an individual's mindset by relieving or removing one's mind from stress, insomnia, anxiety, and depression from their life and also maintains unstable mental thoughts. It balances and brings the disturbed minds of an individual into a clear and creative mind by renewing their sense of humor and state of feelings in order to make a person well-being, calm, and joyful.
Although this service is used widely, people suffering from conditions like depression and trauma frequently use sound healing techniques as a form of therapy.
Why Sound Healing In the Himalayan Region?
While traveling through the clean, soothing, peaceful, and spiritual environment of the Himalayan Region, travelers themselves find it courageous to start their ongoing trek with the practice of sound healing therapy.
The main benefits of Himalayan Sound Healing  is that it helps travelers to lower their pressure condition, maintain stability in their emotions and mood swings as well as improve sleep in time.
A person can develop a positive vision and creative, logical inventions in his mind to deal with difficulties and problems of their physical and mental status while trekking in the high Himalayas with the help of relaxing music and sound healing therapy.
People who frequently practice meditation while traveling are able to develop mental as well as emotional balance in them by finding patience within their minds, which is appropriate for an adventurous trek. Sound healing therapy can be done in the peaceful and wonderful environment of the Himalayan Region. While trekking in the mountains, music and sound healing therapy can be done in any situation, and simply doesn't matter how we are. If you are interested in knowing the benefits of Himalayan Sound Healing trekking , then Vertex Holiday recommends you to explore it yourself.