Popular Souvenir to Buy from Nepal
Popular Souvenirs to Buy from Nepal
When it comes to traveling anywhere in the world, popular Souvenirs are the best way to take back home as a memory of a wonderful experience of the destination. Nepal also offers very interesting and unique items as souvenirs, which include a wide range of products. This includes antiques, arts, and crafts, fabrics, edibles, herbs, and spices. However, some of them are more popular among tourists and travelers, and they are listed below.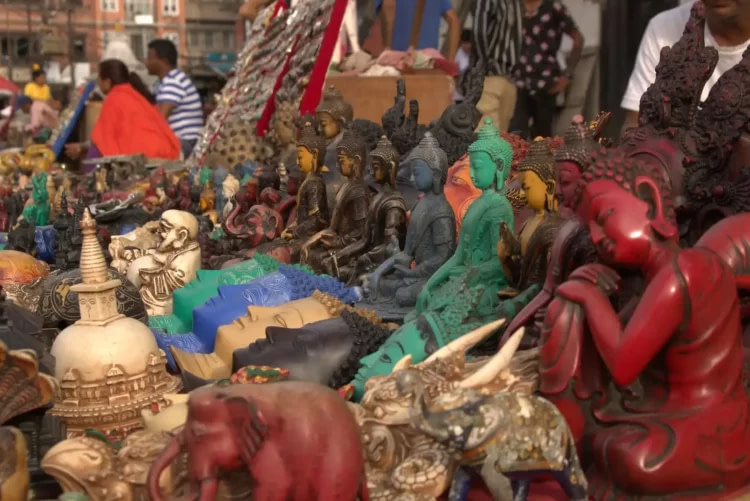 Antique replicas:
Popular Souvenirs to Buy from Nepal, Statues, and idols made out of bronze, copper, and stones are one of the major highlights in the Souvenir markets in Nepal. The intricate artistic beauty of these items makes a huge impact on tourists, as they are awed by the beauty. Most of these items have a deep meaning story engraved on them, including religious and spiritual values. Besides, some of them have great historical value to it too.
Portrayals of Gautam Buddha, Shiva, and Ganesh are among the most popular buys. However, there are idols and statues of more than hundreds of thousands of Gods and Goddesses that you can choose from. The price of these items is based on the elements it is made out of and the time and effort put into the making process.
Pashmina and other Fabrics:
Nepal's Pashmina is a luxury fabric extracted from mountain goats known as "Chyangra " and is popular for its smooth and fine quality. The extraction of this fabric is time-consuming as well as an expensive trade, thus causing prices to rise significantly. However, the cost is worth the quality as the clothes made up of Pashmina are light and warm. Shawls and Sweaters are the major products out of Pashmina.
Besides, there are several other fabrics that are unique and processed using the traditional method of extraction. Some of them are Hemp, Nettle, and Woolen, out of which some of them are exported abroad. Items of clothing, Bags, Hats, Shoes, and Wall hanging are quite popular souvenirs. In recent years, the banana stem fabric is gaining much popularity.
Thangka and Paintings
Nepal has a rich history of intricate arts and crafts, an interesting aspect that attracts travelers and tourists. Even in the modern-day, some artists have been able to maintain the traditional authenticity of it, including sketches, paintings, thangka, and other elaborate art pieces that can be taken as souvenirs. Among them, Thangka Painting is the most elaborate and popular among tourists. It is a painting made on a silk or cotton applique, mostly depicting the stories and deities of Himalayan Buddhism. Some of the major illustrations include Gautam Buddha, Tara, Bhrikuti, Mandala, and many more. A lot of time and effort is put into making these amazing art pieces.
Besides modern paintings using watercolors, acrylic and oil colors are also quite popular. Several touristic destinations like Thamel, Swayambhunath, Bouddhanath, Durbar Squares ( Patan, Bhaktapur, and Basantapur), Lakeside Pokhara, and Sauraha Chitwan have several shops showcasing their arts and are for sale. The paintings are normally of mountains, villages, religious shrines, and people. So if you are seeking something to gift to your friends or family back home, then paintings can be a good choice.
If you fancy jewelry and gemstones, Nepal has a wide variety of them, including precious and semi-precious items to take as souvenirs. Necklaces, rings, bracelets, and earrings are the major pieces of jewelry to buy from local shops around Kathmandu and other touristic destinations in Nepal. Silver, Copper, Bronze, Rudraksha beads, Yak Bones, and Boddhachhita are some major elements that these jewelry are made from.
Some of them can be found with gemstones embedded in them, which may include Turquoise, Ruby, Quartz, Sapphire, and Amber, among some of the popular stones. Besides, another popular stone is Shaligram (Fossil), as they contain intricate patterns of fossilized sea creatures. These black stones have a great historical value as they speak about the time when this land was under the ocean. Besides, their spiritual and religious value is also as significant as they are used in different rituals.
Herbs, Tea, and Spices:
Nepal has a rich biodiversity, making it possible for different types of Spices and Herbs enriched in Medicinal and Therapeutic value. Different herbs and spices are found all over the country, especially in the lower Himalayan regions. Some of the major Medicinal herbs are Yarchagumba (Cordyceps Sinensis), Ban Lasun (Allium Wallichii), Shilajit, Aswagandha, Satuwa, Katuka, Paanchaunle, and Mugwort, some them being tonics and immune boosters.
Essential oils extracted from these herbs are also gaining popularity. Whereas some the spices like Turmeric, Black pepper, Cinnamon, Timur, Tiltimur, Flax Seeds, and Carraway seeds are used as a flavoring for foods and have great therapeutic value. It is a great way to let your family and friends know about the flavors of Nepal.
Teas, including green and herbal products, are also quite a delicacy in Nepal. Produced in a clean and hygienic environment, the teas from Nepal are renowned around the world. The tea can be normal or with some flavors added, like ginger, lemon, Jasmine, and other herbal extracts. It is one of the major export products famous in the USA and European countries. However, for souvenirs, the teas are packed in artistic packaging made out of wooden boxes or paper boxes that highlight the art and crafts of Nepal.
Wild Mad Honey:
It is true that there are two spring seasons in Nepal, as the flowers bloom during two different times of the year. This allows for a wide variety of bees to flourish, including domestic and wild honey production. Known as mad honey, honey produced by wild mobile honeybees are a special treat as they are famous for its hallucinogenic property.
They are specially extracted from the lower Himalayan regions on the face of rocky cliffs. Even more interesting is the process of extracting, as they use minimal equipment of ropes, baskets, and knives. Some travelers visit Nepal just for the purpose of witnessing the extraction process rather than consuming it. The months of Spring and Autumn are ideal for harvesting the Mad Honey.
Musical Instruments:
In Nepal, music is a part of life and offers various ethnic and cultural music representing various sects and communities. Even though the impact of the western musical genre is huge, the traditional part of the music is also worth exploring. Traditionally, there are several communities that are known for their music, like the Gandharva, Newars, Damai, Tamangs, Rai, Limbu, and so on.
One of the most popular musical instruments to take back as a souvenir is the Sarangi, a four-string violin-like instrument made out of wood, leather, and strings. It is the traditional instrument of the Gandharva or the Gaine community, and they would roam around the country singing and playing the instrument for their livelihood.
Other major musical instruments for souvenirs include the Maadal( Two-faced hand drum), which is popular in the Lok music community and made out of animal skin and wood. Tungna(banjo lookalike) and Murchunga(Jaw Harp) represent the Tamang community and are mostly used in their pop songs as well.
While the Damai community is known for its famous Nau Baja(band of 9 different instruments), they are responsible for playing during auspicious events, including marriage, festivals, and other ceremonies.
The Newar community is known for its traditional music using flutes and drums and can be seen performing around Kathmandu valley during their Jatras and festivals. Another important musical instrument for Souvenirs is the Singing Bowls Set, normally used for meditation and healing functions.
Khukuri Knives:
Khukuri is a traditional knife of the Nepali community, as they have a great significance in our culture. The bravery with which the ancestors of Nepal fought against hostile enemy forces, including the Britishers with Khukuri, is still a worthy tale to tell.
Therefore, the Gurkha regiments in Britain and India still use this knife as a part of their arsenal. It is synonymous with bravery and is a quite popular souvenir item. Whether you use it for decoration are used for daily activities, taking it back with you is a wonderful choice as it has a very long and interesting history added to it.
Formerly, the Kami community of people were the only people who had mastered the art of making these fierce yet beautiful weapons and helped the Gurkha fight the enemy and create a glorious history. However, in recent years modern technology has helped in the mass production of fine knives.
But if you are more into simplistic handmade items, then you can find Khukuri's made in a traditional way, but they are quite rare. After purchasing, as they cannot be packed in with your luggage in a flight, one must use the courier service.
Note:
Besides all these interesting souvenirs, there are many other things that represent the unique culture of diverse Nepal which you will come across once you decide to make a holiday trip to Nepal. If any of these items fascinate you beyond the point that you want to know more about them or possibly buy them, then we can help you with the necessary information about them.