Why Music and sound healing are important in life?
Why sound healing is important in life?
Sound healing and music are essential aspects to connect a person's inner self with peace, calmness, and a soothing mind. Music or sound can differ according to every religion, ethnic group, and cultural aspect of life.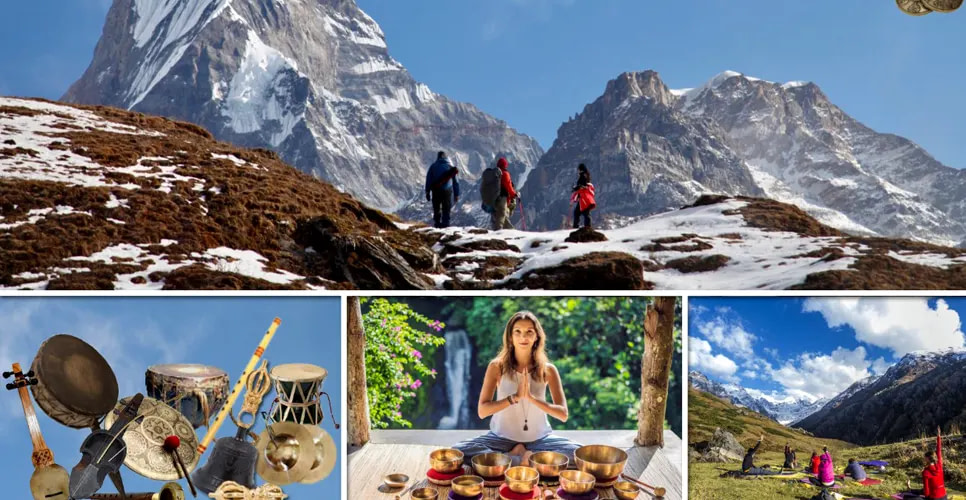 Nepal is blessed with a unique diversity of natural scenic beauty and diverse cultural aspects, which can be found in art and music. From the top of the world to the deepest gorge and Mechi to Mahakali. This multi-dimensional cultural heritage encompasses within itself the cultural diversities of various ethnic, tribal, and social groups inhabiting different altitudes, and it manifests in various forms: music and dance; art and craft; folklore and folktales; languages and literature; philosophy and religion; festivals and celebrations; and foods and drinks.
Nepal has many musical genres, but Nepalese folk music holds great significance in the country. The local music of Nepal is played on various occasions, festivals, ceremonies, and rituals. These traditional songs are typically played for a particular community in Nepal. These ethnic folk songs are sung in local tunes, with or without musical instruments. Each folk songs express different stories of people regarding joy, love, tragedy, unity, and so on. In Nepal, different ethnic communities have folk songs according to their traditional and cultural backgrounds. Back in time, Nepal's dominant music was found in its folk songs. Western cultures have greatly influenced Nepali music, like hip-hop, rock, jazz, blues, techno, etc., to introduce Nepal's popular songs and tribal folk music to the world.
Local Musician presents a unique and joyful way of experiencing, listening to, and enjoying live Nepali traditional folk music and sound healing on the Himalayas. Various Nepali musical instruments like Sarangi, Madal, Tungna, Damphu, jhyali, bells, and bowls will be played by local musicians that will soothe your soul and cares for your heart. At the same time, you fill your lungs with fresh air and pleasure your eyes with the mind-blowing view of natural beauties on the mountains of Nepal. Despite being a small country, Nepal has a wide variety of folk and popular music. It isn't easy to trace a unifying profile of Nepalese music.
The different ethnic dialects, practices, traditions, and singing styles define many "micro-cultures" in Nepal. Great opportunity to explore the Nepal Himalayas and learn about the great musical traditions of the people of this mystique land.
Singing Bowls sound healing has been utilized in various cultures for thousands of years as a tool for healing. Sound healing is also one of the essential parts of the music in Nepal. Shamans of Nepal practice meditation and healing people with sound in different parts of our country. Sound healing therapy treatment is both a passive and participatory experience. The passive aspect is that you become more relaxed by lying down and slowing your breath. By doing this, you can prepare yourself to become the receiver of sound. In this place of stillness, you participate by becoming more open and aware of each sound that comes in.
Himalayan Sound healing helps people to create the pathway to this place of stillness, the same as a mantra helps you to arrive at the still point of meditation. Local Musicians and gurus help trekkers during the trip for enjoyment and relaxation time to trance with the frequencies of their music. Sound of Nature is a healing instrument that is the incantation of powerful Vedic and Buddhist Mantras while meditating on the Himalayas that will bring relaxation to your body and mind. Awaken your spiritual energy, heal yourself, feel more connected to Mother Nature, experience peace of mind, and feel divine.
Why Music and sound healing in the Himalayas of Nepal?
Nepal is a beautiful scenic country for travelers around the world. Trekkers can enjoy the incredible mountain view, local music, and singing bowls that sound healing simultaneously in the Himalayan region of Nepal without wasting time. Music and sound healing therapy in the beautiful scenario of the Himalayan region inspire people to connect their mental and physical state of mind with spiritual awareness, relaxation, and peace in their state of life and feelings.
Therefore, Music and Sound healing therapy is the best way to maintain emotional balance and courage to overcome difficulties while traveling along the Himalayas of Nepal.
A clean, peaceful, soothing, and beautiful environment in the Himalayas is the best place for people to focus while doing sound healing therapy and Meditation. This calming therapy can be done anywhere and in any situation, no matter how and where we are.
The soothing and fantastic view of mountains in the Himalayan region brings exemplary courage to travelers to start their ongoing journey with meditation, yoga, music, and sound healing therapy.