15 Best places to visit in Nepal in 2023 for tourists
The best 15 places to visit in Nepal in 2023 are various exciting, exotic places to choose from around the Nepal Himalayas. The country offers more than fifteen beautiful areas per travelers' interest and holiday duration.
There are hundreds of beautiful places around Nepal, from the lowland of the Terai belt to mid-hills and valleys. Extends towards higher green hills and mountainous terrain; stretches from low sub-tropical to cooler alpine hills and arctic zone of remorseless fields of ice, snow, and glaciers.
Makes Nepal one of the most enchanting holiday destinations for a wide range of adventures. Visitors will be amazed, with so many exciting places to choose from, to make it easier.
We have lined the best 15 destinations in Nepal for the upcoming 2023 and onwards. Where one can enjoy the tour and short hike throughout the year, but the best favorable seasons are as follows.
Springtime from March to May with sunny days most of the season and clear views of the Himalayas. Autumn/fall is another best season to venture around Nepal to charming scenic and cultural destinations.
During autumn, most days are crystal clear with blue skies, but days are shorter due to sunlight hours.
Interested travelers can visit in the wintertime during Christmas and New Year Holidays. Most days are fine and clear, but cold mornings and nights, but an enjoyable time for a tour and hike.
The best 15 destination in Nepal to visit in 2023 is for all types of people and age group. For instance, from family, school /college students as well for corporate executives, as well for adventurers, and nature lovers.
Nepal is regarded as one of the richest countries in the world due to its dramatic bio-diversity. The country offers a unique geographical position and altitude variation, ranging from 60 m above sea level. Extends to the world's highest point, the top of Mt. Everest, at 8,848 m, within a mere distance of 150 km.
Which results in diverse climatic changes from warm sub-tropical to more excellent ending at the Arctic cold zone. Nevertheless, Nepal is a unique country to visit and experience, which is also home to various ranges of flora and fauna.
Most travelers might be unaware of Nepal, a country located in South East Asia. In between Tibet / China and India, a landlocked country with an area of 147 181 sq. km. The capital and commercial hub in Kathmandu, with a population of more than 23 Million.
Nepal has four major seasons, namely, (1) spring, (2) Summer: June to August, (3) Autumn: September-November, and (4) Winter: December-February. Nepal can be visited the whole year round.
Places to visit in Nepal in 2023:
01: Kathmandu city World Heritage Sites Tour:
Kathmandu city World Heritage Sites Tour begins from the capital city , a major places to visit in Nepal. A day tour or more days, depending upon one interest and time in Nepal. The tour leads to old Durbar Square, an ancient palace and royal courtyard situated amid the city. The square is surrounded by old temples and Hindu monuments with a nice resident of Kumari, known as the Living Goddess.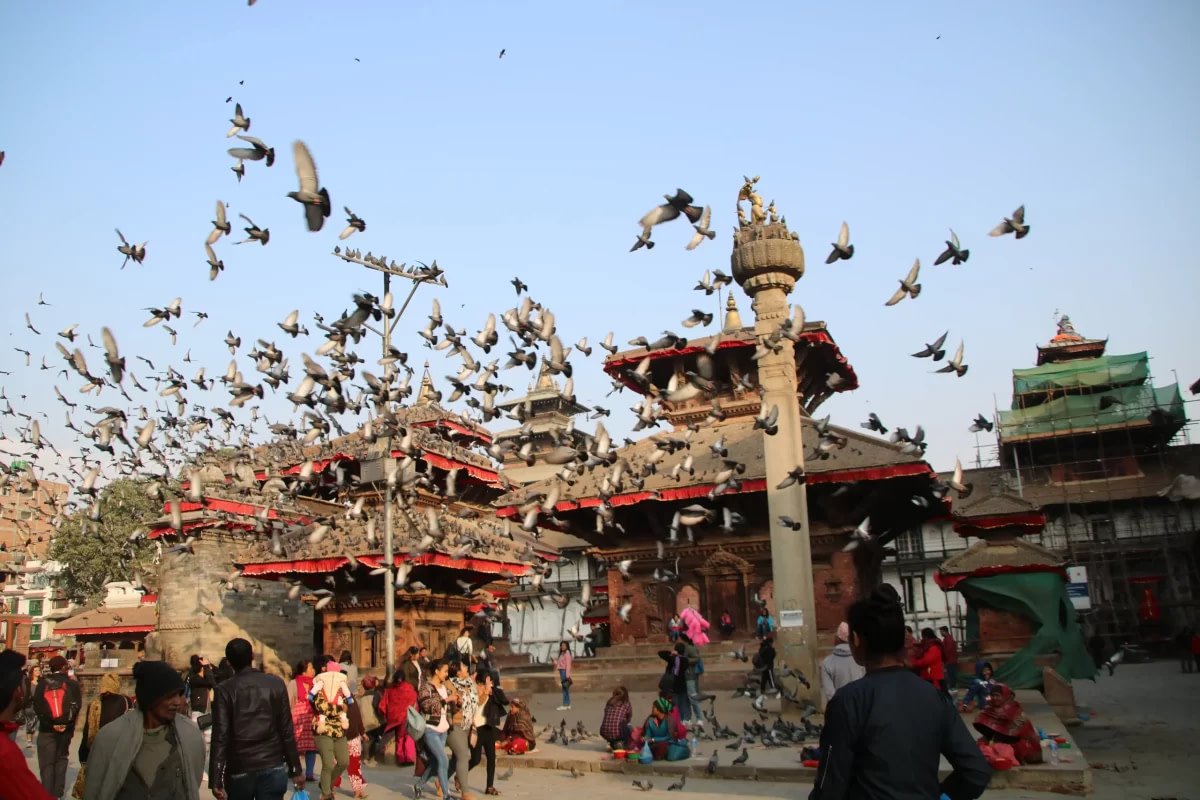 A fascinating place of a medieval era, from Malla to the late Shah Kingdom, from the 6th to 17th Century.
From the old palace square, a short drive beyond the city rim to the high hill of Swayambhunath Stupa. Holds a history of more than 2,500 years old, an ancient Buddhist monument facing a grand panorama of Kathmandu.
An exciting and interesting spot, visit the nearby monastery and enjoy the views of the surrounding green hills of Kathmandu valley.
After Swayambhunath, the drive leads east to Pashupatinath Temple, the holiest of all holy Hindu temples. With a pagoda-style golden roofed, visitors can enjoy religious activities from the opposite side of the Bagmati River.
Enjoying a brief visit to Pashupatinath Temple, a short drive leads north to the beautiful large dome Buddhist Stupa of Bouddhanath. A lovely and amazing place to experience the Buddhist pilgrims chanting prayers with a religious circuit of the Stupa. After a tour and visit of the monasteries and walking around the huge Stupa, return to the hotel.
City Tour In Nepal People can extend the tour around Kathmandu city rim. There are more exciting sites of great historical and religious interest.
02: Lalitpur / Patan city world heritage site and old towns:
Lalitpur or Patan means city of fine arts and crafts, located southern rim of Kathmandu city. An adjoining city with different districts within the valley, a short drive leads to cross a bridge, which divides the two cities of Kathmandu and Patan, a lovely place full of local daily activities. It makes the visit worthwhile to observe the culture and customs of Newar, the indigenous people of Kathmandu valley.
Places of great interest to visit are as follows:
Patan Durbar Square houses ancient Newari architecture with three main courtyards in the palace: Mul Chowk, Sundari Chowk, and Keshav Narayan Chowk. Mul Chowk is the oldest one at the center of Patan Durbar Square.
Several multi-sized and multi-styled temple houses the western part of the complex. The main ones are the Krishna Temple, Bhimsen Temple, and the Golden Temple of Hiranya.
03: Bhaktapur city full of charm and beauty:
Bhaktapur, situated east of Kathmandu and Patan areas, is a drive of less than an hour at approx. 13 km. distance. One of the most beautiful cities in Nepal, as well as the oldest city and former kingdom around Kathmandu valley. Once you enter Bhaktapur city and its Durbar Square, it takes you back to the medieval era.
Listed as the best world heritage site of Nepal, it reflects age-old rich culture, art, and masterpiece architecture. The famous golden gate leads to the main courtyard of an old Palace with 55 windows. The golden gate is considered the world's most beautiful and richly carved specimen.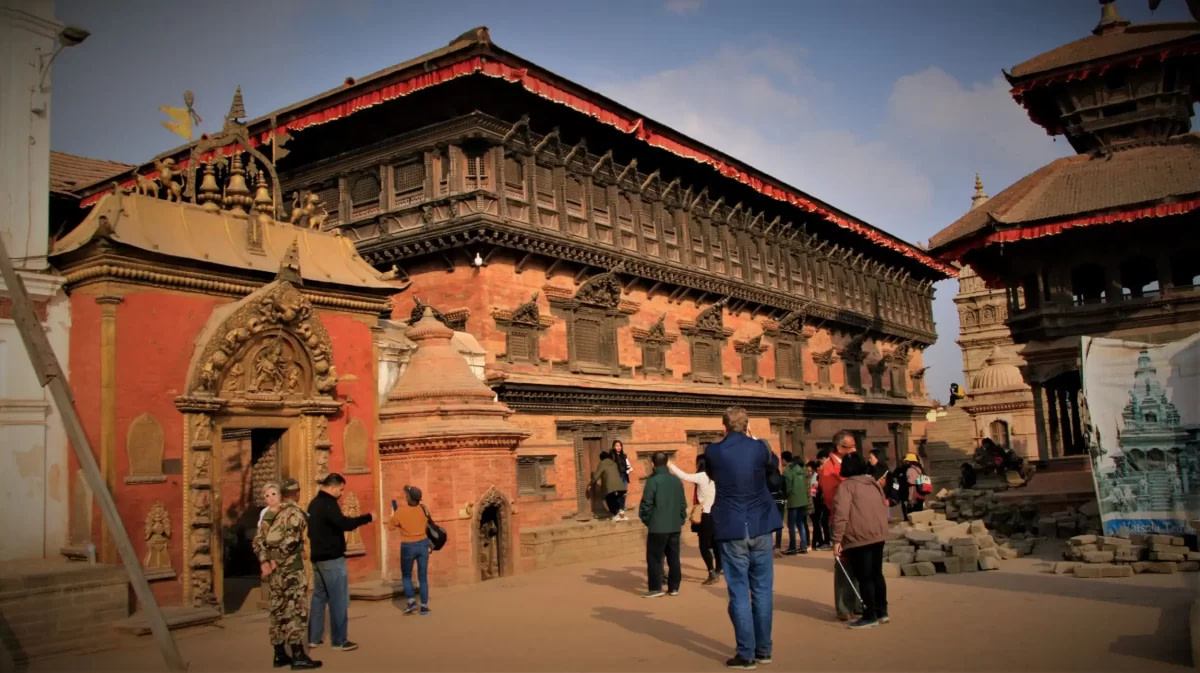 Bhaktapur Nytapola Temple is the main highlight of Bhaktapur as well as the landmark of the city. The Newar language means 5-storied temple at 30 meters high, the tallest temple within Kathmandu valley. Nytapola was built by King Bhupindra Malla in 1708 AD. Another interesting monument is Dattarya Temple, built in 1427 AD; it is believed the temple was built from a single tree. Visit the monastery enriched with exquisitely carved peacock windows located close by from the temple area. Pottery square and market:
While visiting Bhaktapur Durbar Square, enjoy the tour of the old traditional ways of making pottery. After a wonderful time at Bhaktapur, interested people can stay for more days to enjoy the living museum of Bhaktapur.
04: Nagarkot Hill a scenic viewpoint:
Nagarkot Hill is a scenic viewpoint and refreshing spot to escape from the bustling city for a day or more. Located on the eastern valley rim of Kathmandu and Bhaktapur city at the height of 2,100 m.
Famous and popular for stunning sunrise and sunset views over a chain of Himalayan peaks. Where one can enjoy views of sunrise/sunset over the Himalayan Mountain range in the comfort of a standard to a luxury hotel.
05: Pokhara city and the scenic valley:
Pokhara is one of the fascinating cities in Nepal, not to be missed while visiting Nepal. 6 hours of driving distance and 30 minutes flight from Kathmandu, Pokhara is a unique place on earth, a popular tourist destination for domestic and international travelers. Located 860 m, of sub-tropical climate in the close shadow of massif Annapurna Himalayas, a beautiful spot with serene lakes.
Pokhara is also a trekking gateway to Annapurna and Dhaulagiri Himalayas, as well as various adventure sports. Quite different from Kathmandu, Pokhara with few historical places, a city blessed with natural wonders.
06: Chitwan National Park, a world heritage site:
The Chitwan National Park, the oldest and most popular park for a wildlife safari, is located Mid-South, at the low sub-tropical Terai belt. Where deep, dense green jungles are situated, a perfect habitat for wild mammals and exotic bird life.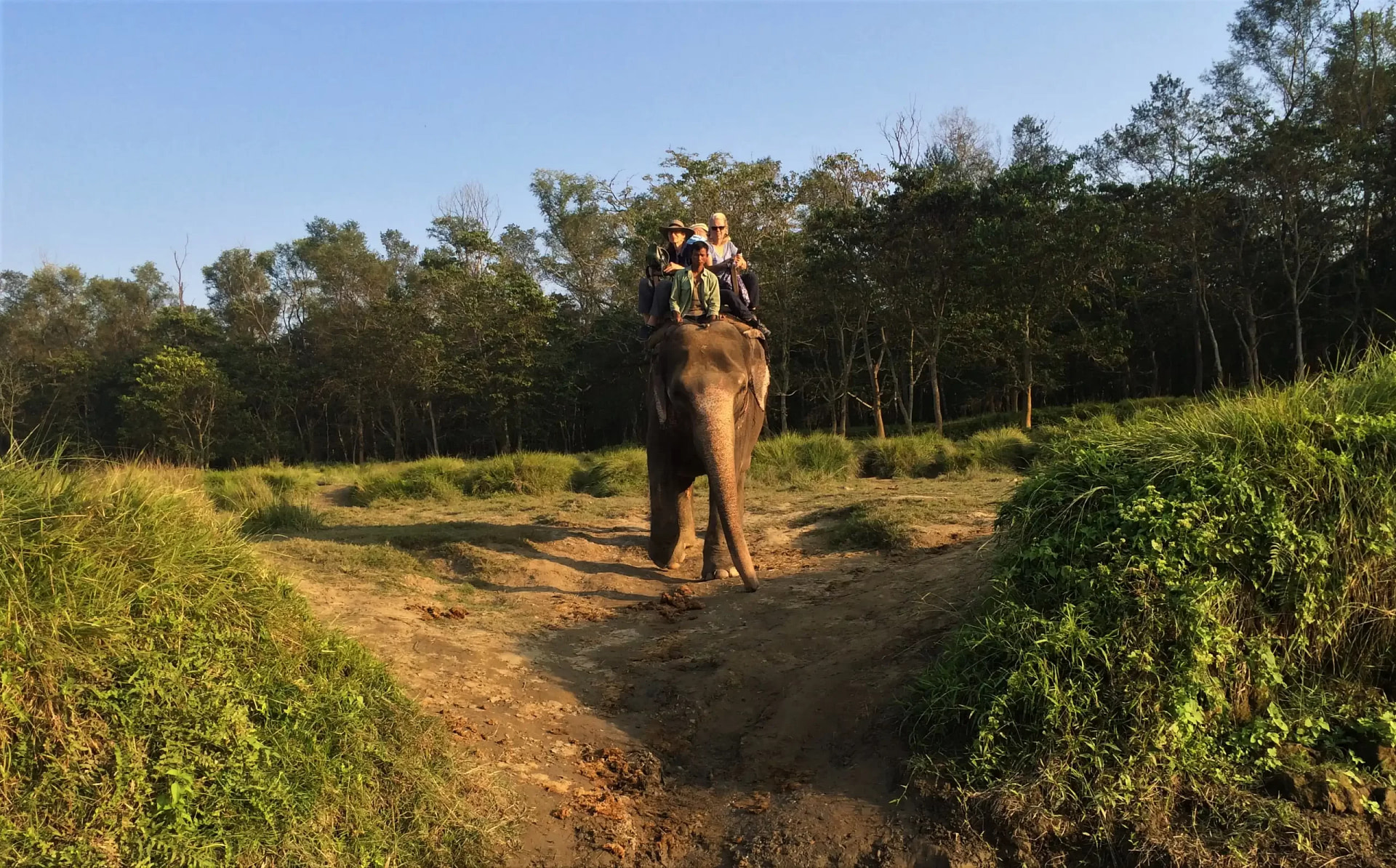 The overland journey takes about 5-6 hours, reaching the park boundary and the hotel or resorts. Chitwan National Park, considered Asia's best park, is listed in World Heritage Sites. The Park is famous for the endangered Royal Bengal Tiger, one-horned Rhinoceros, freshwater Gharial crocodile, and various species of bird life.
Jungle activities:
Bird Watch Tour, Machan (Watch Tower) Tour, Jungle walks, nature walks, elephant and jeep safari with elephant briefing and bathing. Tour of local Tharu villages with cultural programs.
07: Bardiya National Park Safari in isolated, tranquil jungles:
Bardiya Wildlife Safari is one of the finest parks for jungle activities within serene, tranquil surroundings. The Bardiya National Park is situated in Far South West Nepal within the sub-tropical zone of Terai. The park, with an area of 968 sq. km. treasures most of the endangered mammals and exotic bird life.
The Bardiya National Park is a perfect habitat for various mammals of more than 30 different species. Includes Royal Bengal Tiger, One-horned Rhinoceros, Wild Elephant, Swamp deer, and a herd of Blackbuck. Within the park, one can witness other animals like leopards and lesser cats, the blue bull (Nilgai), and deer.
Outside the park flows the great Karnali Rivers, where one can catch a glimpse of a Gangetic dolphin. As well as Gharial and Marsh mugger crocodiles with more than 250 species of birds. From river and pond-dwelling birds to grassland and tree lines birds.
08: Lumbini birth place of Lord Buddha:
Lumbini is a great place to visit for a day or more, taking a long drive or a short flight. Lumbini is the official birthplace of Lord Buddha or 'The Light of Asia' located in Far South West Nepal. Gautama Buddha was born in the 6th Century B.C. Visitors can enjoy various sites of great historical and religious interest: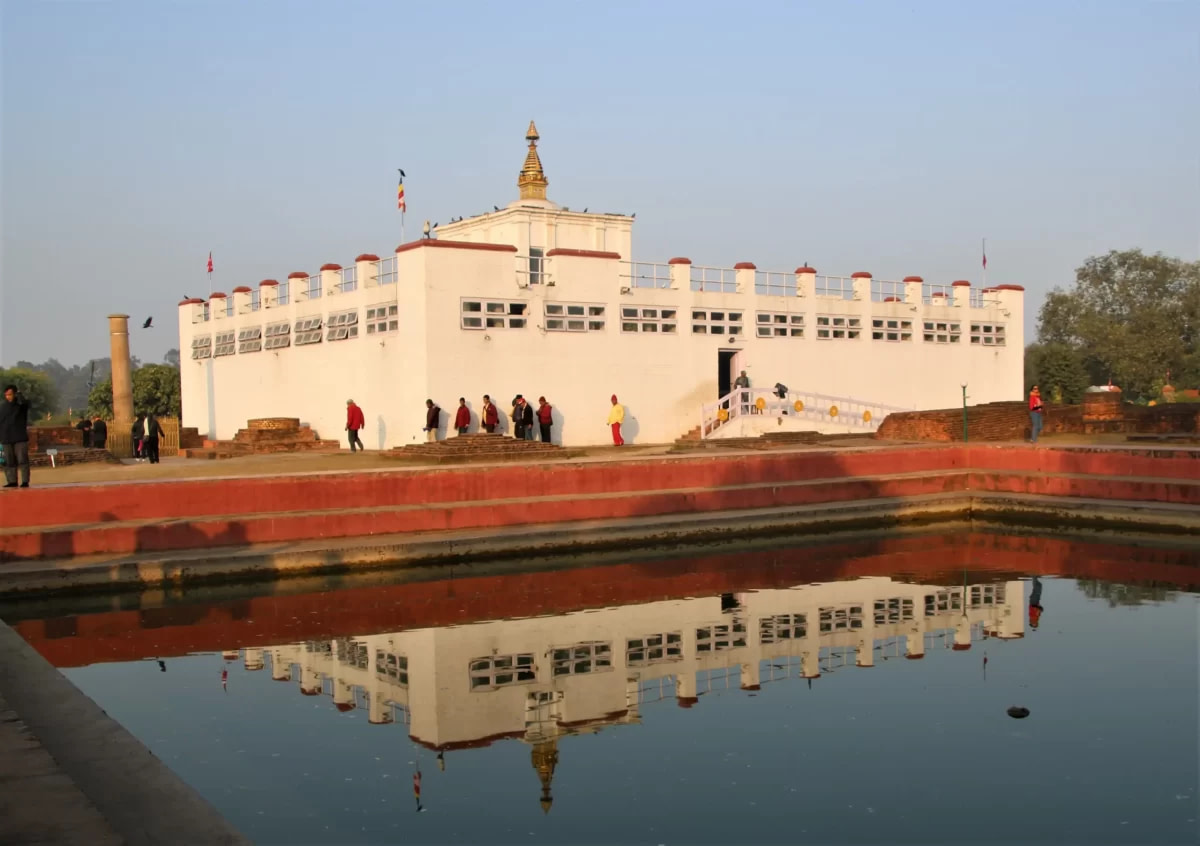 Places to visit around Lumbini holy premises:
Asoka Pillar, in 249 BC, the Buddhist convert Emperor Asoka visited Lumbini and constructed four stupas and a stone pillar. The site was rediscovered in 1895 by a German archaeologist. A Chinese Buddhist scholar Fa Xian also identified the religiously acclaimed site. Lumbini was designated a UNESCO World Heritage Site in 1997.
09: Bandipur Cultural village:
Bandipur cultural town and village can be added to the list of Pokhara tours if driving to Pokhara or vice-versa. Bandipur is well hidden from the main Kathmandu and Pokhara highways of Kathmandu.
Located at 1,030 m high offers grand views of the Annapurna and Manaslu Himalaya range. The old town and village of Bandipur once was a trading route between Tibet, Nepal, and India. It is famous for its ancient culture, the well-preserved Newari culture, and the hill station and its rural tourism.
10: Ilam scenic Tea Garden:
Ilam is one of the scenic and cultural destinations of Nepal due to its beautiful location on a high green hill. The whole hill and valleys are covered by a sea of Tea Garden facing views of Mt. Kanchenjunga. Ilam is famous for six major cash crops Potato, Cardamom, Ginger, Red Round Chilly, Milk, and broom grass.
Ilam, besides huge tea production, the scenery of the landscape is spectacular, located in far eastern Nepal. Ilam with beautiful terraces of tea gardens, lush green forests, and a unique mixed cultural civilization of both Hinduism and Buddhism.
11: Upper Mustang Trek:
The most exciting country to visit is the Upper and Lower Mustang, driving to beautiful Pokhara. Then heading North-West, following the Kaligandaki River upstream through the charming villages of Tatopani, Tukuche, and Marpha.
Around the most delicious apple country of Lower Mustang and over the world's deepest gorge of Kaligandaki River. Sandwiched between two giant peaks ofMt. Dhaulagiri and Mt. Annapurna drive leads past the beautiful alpine forest to Jomsom town. The headquarters of the Mustang district, from here onwards towards the arid and barren country to Upper Mustang, enter through Kagbeni.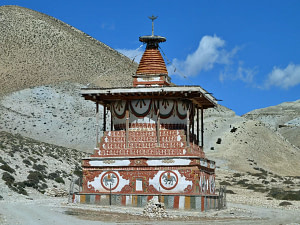 A classic Tibetan-influenced village, the entry point to the Upper Mustang trek, where the drive leads within dramatic landscapes. Enclosed by a windblown canyon and towering cliffs, past several nice villages to enter the former walled kingdom of Lo-Manthang.
Enjoy the former kingdom of Lo-Manthang takes you back into medieval, located on the Trans Himalaya Trade and Caravan Route. This leads to the border of Nepal and Tibet, where trade still exists, exchanging goods across the border.
After an interesting time at Lo-Manthang, visiting its ancient monasteries and places of great historical and religious interest. The return journey leads on the same scenic route back to scenic Pokhara city.
12: Lwang Homestay a scenic and cultural visit:
An interesting visit just a mere distance from Pokhara is a typical hill village of Lwang with the comfort of a Homestay where visitors can immerse into the traditional Gurung tribe's lifestyle, staying in the comfort of cozy huts and cottages.
An enjoyable stay to observe daily farm activities in the close backdrop of stunning Mt. Machhapuchare, "The Fish Tail." Includes grand views of massif Annapurna Himalayan peaks, Lwang village is famous for its vast tea gardens. A great way to enjoy the immense local culture, staying with the Gurung community homestay and having typical Nepali foods.
Homestay in Lwang will be a nice experience soaking in local culture and customs with beautiful scenery for a few days.
13: Ghale Gaon, a blend of culture and picturesque mountain scenery:
Ghale Gaon is located in Nepal North Mid-West within the whale-shaped Lamjung Himal, between Annapurna and Manaslu Himalayas.
An enjoyable time with the local village community of Ghale Hill people of the Gurung tribe, staying in a local Home Stay. A new approach in Nepal tourism started past few decades, where travelers can feel at home and enjoy the taste of local culture, and experience the traditional customs.
14: Helicopter flight to Everest and landing at viewpoint:
While in Nepal, it would be a delightful opportunity to take a helicopter flight to Everest. Spectacular and jaw-dropping scenery of the world's highest mountain to experience flying above the amazing scenic Himalayan landscapes.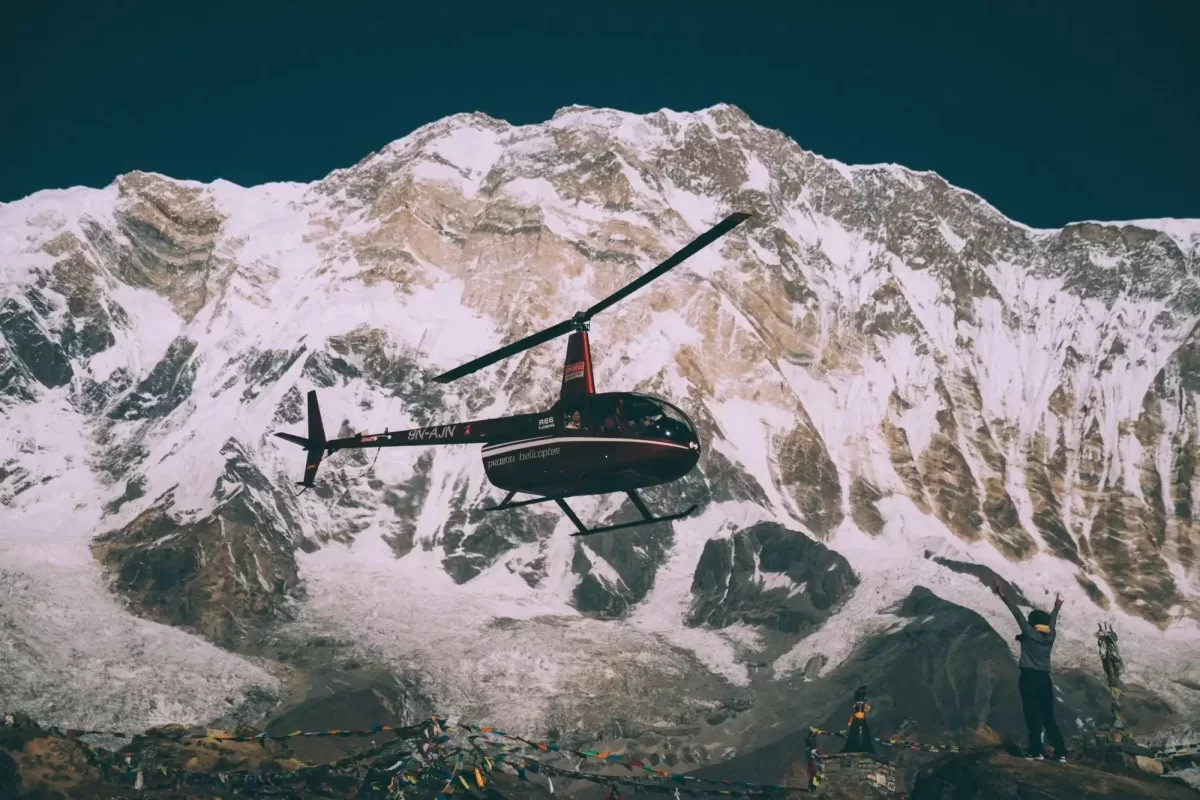 A wonderful way to be close to Mt. Everest. A scenic flight of a few hours both ways, landing close to Everest base camp. Where one can view Mt. Everest at a close distance, like in the picture of a postcard.
Interested people can stay for a few overnights in the comfort of a luxury Everest View Hotel. The first and the world's highest deluxe hotel at 3,880 m high in the close shade of Mt. Everest.
15: Overland to Manang village behind massif Annapurna Himalaya range.
A great and mind-blowing experience, a drive of a few days, with great contrast of landscapes, climate, and vegetation. A journey with ever-present views of the dramatic scenery of towering peaks of the Annapurna Himalayas at a close range.
An exciting overland journey on rough dirt tracks but interesting through several lovely traditional farm villages. Reaching the high and scenic Manang valley and the village nearly a size of a town. Manang is tucked between the giant mountain range of the Annapurna Himalayas and Chulu's peaks at 3,500 m high.
Staying in the comfort of a nice lovely cozy lodge and guest house where rooms face grand views of snow-clad peaks. Enjoy the immense local cultures interwoven with the age-old custom of Buddhism and hike to its viewpoints.
Truly one of the best ways to enjoy a holiday in the high Himalayan valleys and is worth a visit for a wonderful experience.