25 Things You Need To Know When In Nepal
25 Things you need to know when in Nepal will allow foreign visitors to Nepal to get prepared. As well as being aware of the country's culture, customs, heritage and ancient history, including its exotic flora and fauna. Including its beautiful dramatic landscapes with the world's highest Himalayan range of peaks and the Nepalese renowned warm hospitality. Makes Nepal different and unique from other countries in this world, although a small country blessed by beautiful Mother Nature.
There are more and various things to know about the country besides only twenty-five. Nepal is an amazing country, tucked in between India and China, a landlocked nation; that provides countless scenic to cultural destinations for enthusiastic travelers. The country of variation from low-warm Terai of semi-tropical climate to cooler alpine hills extends to a higher cold mountainous zone.
From deep, dense green jungles, where the elusive Royal Bengal Tiger roams, to Yak & Yeti trails around the high Himalayas. Such a vast difference in just 150 km. Driving distance makes Nepal an amazing place on earth.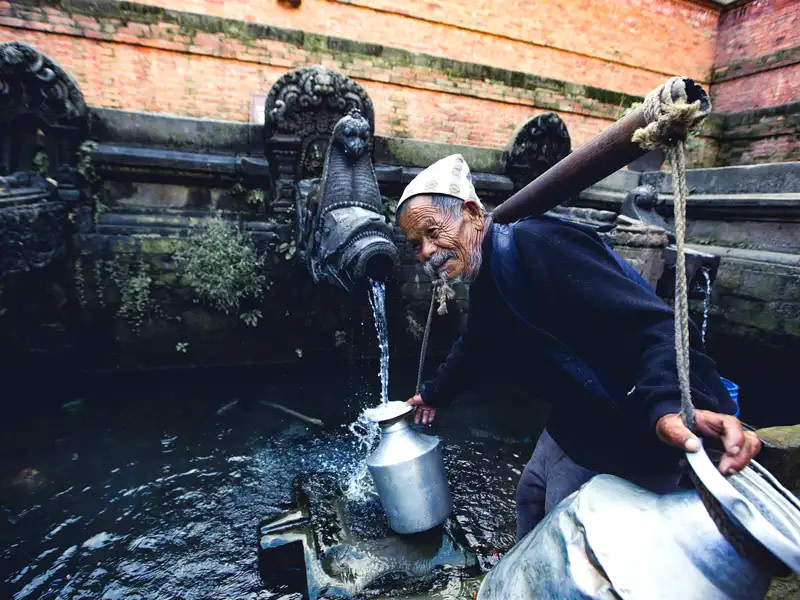 Makes Nepal one of the most sought countries on this planet, and visitors can enjoy a wide range of options to choose from.
Nepal at a glance:
Area of 147 181 sq. km, Geography, between China to the north and India in the South, East, and West. The capital is Kathmandu, as well as the major commercial hub of the country. Nepal with over 23 population, and the major language and mother tongue are Nepali, spoken across the country.
The present political System is the Republic of Nepal, with a Multi-Party Democracy after the king and royals were abolished. Became democratic on May 28th, 2008, after Shah Regime ruled the country for more than 240 years of monarchy.
25 Things you need to know when in Nepal, as follows:
01: Country of the world's highest peaks and mountain range:
First of all, a country with the world's highest, Mt. Everest, the height of
Mt. Everest was slightly overgrown. Recorded officially in 2020 at 8,848.86 m
/ 29, 031. 69 feet, from a previous height of 8,848 / 29,028 feet.
02: Nepal with most world's highest peaks:
Nepal captures the world's eighth highest above 8,000 meters, peaks out of 14 major mountains. Namely, 1st highest Mt. Everest, 3rd Mt. Kanchenjunga, 4th
Mt. Lhotse, and the 5th Mt. Makalu with 6th Mt. Cho-Oyu. Includes the 7th
Mt. Dhaulagiri, 8th Mt. Manaslu, and the 10th Mt. Annapurna, with more hundreds of above 6,000 m and 7,000 m peaks.
03: Country of wide-range of Adventure Sports Activities:
Nepal is a premier country for all types of adventure sports for various
outdoor activities, like Para-Gliding, Sky Dive, and Zip-Liner.
Includes Ultra-Light Flights, with the world's 2nd highest Bungee Jumping, waterfall cannoning, rock and ice climbing. As well as Mountain biking on main trails and off the beaten paths, double or on single tracks.
04: Nepal holds the world's highest marathon:
World's highest Everest Marathon takes place every year on May 29th
marking the anniversary of Mt. Everest's first ascent.
Which was conquered by the late Tenzing & Hillary on May 29th, 1953.
05: XTRI / Extreme Triathlon:
World toughest, highest, and most extreme XTRI Triathlon, which takes place every year in May. The first ever XTRI Triathlon in Asia started on May 7th, 2022, and was held in Pokhara around Annapurna Himalaya region.
06: Boundless Trekking Destination:
Nepal is a country with boundless trekking destinations; the main flow of tourism in Nepal is trekking. Where thousands of trekkers visit Nepal at the best time of the year in every season for trekking; Nepal and its wide Himalayan range offer various trekking routes from the Far East to the West. The most popular are Annapurna, Everest, and Langtang Himal region as well Manaslu areas with Upper Mustang.
07: Mountaineering and Peak Climbing:
Mountaineering expeditions and peak climbing is other big attraction for adventurers and mountaineers. The high Himalayan peaks provide excellent mountaineering adventure from high 8,000 m and 7,000 m to below 6,000 m peaks.
08: White Water Rafting and Scenic Floats:
Nepal with wide networks of Himalayan glacial rivers, where interested adventurous or beginners can enjoy rafting thrills. From White-Water to Scenic floats on various glacial rivers of Nepal.
09: Kayaking the rivers and lakes of Nepal Himalayas:
Besides rafting, one can enjoy the exciting thrill of kayaking the Himalayan various glacial rivers and huge lakes of Nepal.
10: Hiking for a day or more:
Travelers can enjoy a day hike or more for a few days in the close harmony of pristine natural green surroundings. As well as walking with great panoramic views of the Himalayan range of peaks.
11: Home Stay around Heritage villages:
Travelers can enjoy staying around hill villages, soaking into the beautiful scenery of Himalayan peaks, and staying in a local village where most villages in Nepal's remote areas provide the comfort of Home Stay comfort for visitors.
12: Wildlife Safari:
Nepal is an amazing country, from the high Himalayas to the low foothill and flat land of the Terai sub-tropical climate. Where one can enjoy an exciting wildlife safari riding on an elephant on the lookout for endangered wild animals and exotic bird life.
13: Nepal with world's famous national parks:
Nepal with many national parks and conservation and wildlife reserves, and travelers can explore from the high Himalayan Mountains. As well as low land of the Terai belt of Chitwan and Bardiya National Parks with Koshi Wild-life Reserves.
14: Botanical Tour:
Nepal is a paradise for nature lovers, occupying only 0.03% of the earth and is home to 2 % of all the flowering plants in the world, 8 % of the world's population of birds (more than 857 species), 4 % of mammals on earth; 11 of the world's 15 families of butterflies (more than 500 species); 600 indigenous plant families; 319 species of exotic orchids.
15: Mountain & Monasteries:
Trekkers, explorers, and religious people interested in Buddhism, religion, and cultures can enjoy visiting the high mountainous villages.
The famous monasteries of Tengboche are located around Everest, as well around Upper Mustang and Manang areas.
16: Pilgrimage Tour:
Nepal with wide places for Pilgrimage tours from the cities of Kathmandu, Patan / Lalitpur, and Bhaktapur. For both Hindu and Buddhism followers, the country with many famous temples and monasteries for pilgrimage visits.
17: Lumbini birth place of Lord Buddha.
The country where Lord Buddha, the Light of Asia, was born in Nepal's Lumbini zone of Rupendehi district. Located Far South Mid-West.
18: Buddhist Circuit Tour:
Buddhist followers can follow the path of Buddha from the birthplace of Lumbini. Where visit takes you to the historical place of Buddha's mother and across the border in India. Visiting Sarnath and Varanasi, Boudha Gaya, where Lord Buddha meditates to reach Nirvana, the place of first preaching.
19: Hindu Pilgrimage to Janakpur:
Janakpur city, located around the Mid-South of Nepal, is the official birthplace and home of Sita, the consort of Lord Rama. A famous temple and palace square of Janakpurdam, where Hindu followers can visit the Maithili city. Having an ancient history of Hindu religion Sita and Lord Ram.
20: Kathmandu city and World Heritage Sites:
Kathmandu is famous not only as the capital city but for its ancient historical monuments of both Hindu and Buddhism religions. Enjoy an exciting tour of an old palace and royal courtyard, visiting the old Swayambhunath Stupa of more than 2,500 years old Buddhist monument. Hindu Pashupatinath Temple and large Dome Stupa of Bouddhanath.
21: Patan Durbar Square:
Another famous city within Kathmandu is Patan or Lalitpur, known as the city of fine arts and crafts. The area offers an interesting tour of its Palace and Royal Courtyard, along with famous Buddhist and Hindu Temples.
22: Bhaktapur Durbar Square:
One of the finest old cities of Bhaktapur is steeped with an ancient religious monument and old historical buildings. Entering Bhaktapur takes you back to the medieval period era; the whole city and palace square is a living museum.
23: Everest Mountain Flight:
While visiting Nepal, not to be missed Everest Mountain Flight if you are not trekking to the Everest region, the Mountain Flight operates every day in the best seasons of the year when days are clear for Himalayan mountain views and of Mt. Everest, an exciting hour or less flight.
24: Helicopter Tour to various mountain destinations:
Nepal, with various private Helicopter companies, offers a day or longer tour in the comfort of a spacious Helicopter. Travelers who are not interested in trekking and other adventure can take a swift flight to various mountain destinations.
Enjoy the flight to Everest, Annapurna, or Langtang valley in the close harmony of towering Himalayan peaks.
25: Festivals and cultures of Nepal:
Nepal is a country of both ancient Hindu and Buddhism religions, where one can enjoy and observe the colorful festivals of Nepali. The main festivals are Dashain falls in October and Diwali at the end of October or November, including the color festival of Holi, which takes place in February. Nepal with many festivals around each season of the year. In the Himalayas, the most famous are the Mani Rimdu festival of Everest at Tengboche and the Tiji events of Upper Mustang.