The 10 Interesting Facts About Nepal
The 10 interesting facts about Nepal that all visitors and travelers should know before or after being in the country. However, are many than tens amazing and unique things to witness and observe around Nepal.
Where visitors will be fascinated with hundreds of various sites and cultural activities of Nepal and the Nepalese. Probably the only country in this world where all major religious sects of people live in close peaceful harmony. Where one can visit exciting and interesting temples and monasteries located close near to each other.
A country of wonders from its natural surroundings of high green hills with the world's highest peaks. Including the lively, colorful cultures of the Nepalese celebrating religious and traditions almost throughout the year round.
Visitors will be amazed and surprised by the warm hospitality of the Nepalese, which is part of the traditional heritage. Nepal is a unique place on earth where dense tropical forest extends towards the cold arctic mountains of the Himalayas.
Where one can explore from mainstream trails to remote hidden corners of the Himalayas, far from the maddening crowd of modern civilization.
Completely different from the rest of the world, that makes Nepal one of the most sought destinations for all types of holidays.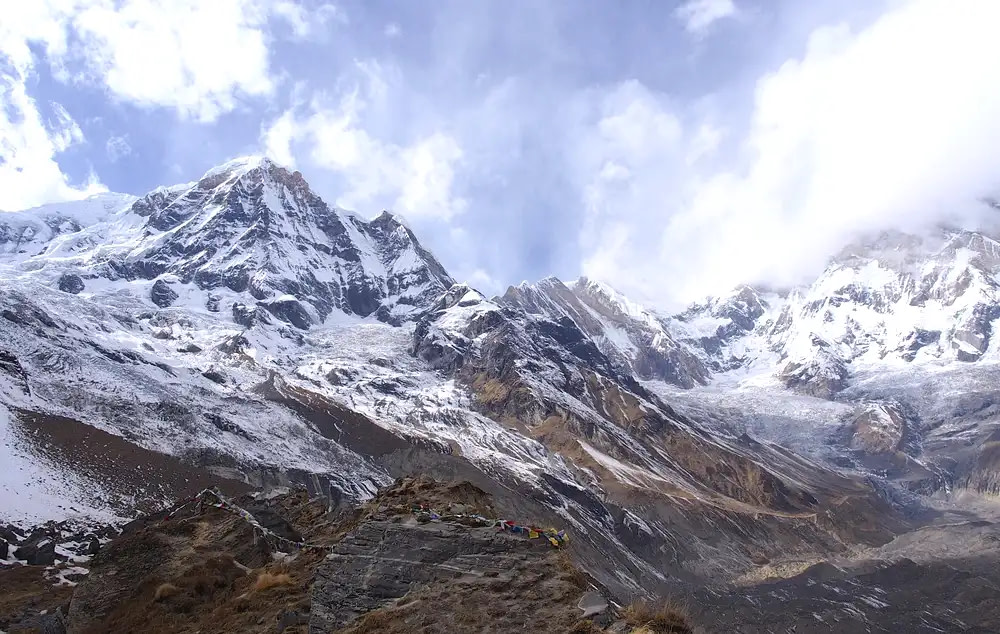 The Ten Interesting Facts About Nepal:
01: The Himalayan country tucked in between the great countries of Tibet, China in the North, bounded by the Himalayan range. The country with many borders to enter Tibet / China from Far West to the Far East, including from North Mid-West.
The southern lowland country known as the Terai belt stretches the borders with India from South, East to West. Namely, the closest Indian states close to Nepal are Bihar, Bengal, UP (Utter Pradesh), and Sikkim in the Far East.
Most of Nepal's high Himalayan country serves as the famous Trans Himalayan Salt Trade Route between Nepal and Tibet. Where yaks and mule caravans laden with goods passed through from the mid hills to the high country of Tibet and Nepal.
02: Nepal is known as the country of the high Himalayan mountain range. Where 8th out of the world's 14th highest above 8,000 meters peaks is located in Nepal. Which forms the natural boundary between Nepal and Tibet around the northern ends of the country.
Nepal with world's 8th tallest peak, namely Mt. Everest, 8,848.86 m,
Mt. Kanchenjunga 8,586 m, Mt. Lhotse 8,516 m. Includes Mt. Makalu
8,463 m, Mt. Cho-Oyu at 8,201 m, Mt. Dhaulagiri at 8,167 m, and
Mt. Manaslu at 8,163 m; with Mt. Annapurna-I at 8,091 m. As well, more than 1,310 over 6,000 m and 7,000 m peaks are located within Nepal, some borders with Tibet/China.
03: Nepal is famous for mountaineering expeditions as well as trekking adventures, considered the world's best country for adventure activities.
The main flow of foreign visitors is for trekking and mountaineering from above 8,000 m to below 6,000 m peaks.
Besides major mountaineering with various trekking peaks, Nepal offers hundreds of trekking destinations, from moderate and adventurous to challenging.
Where one can enjoy a few days of a hike to a week or more trekking for over a month from the popular main trail. As well as walking away from the beaten tracks around the hidden corners of the high Himalayan wilderness.
Trekkers can find the comfort of various types of lodge accommodations from budget to deluxe standard. Trekkers can also enjoy tented camping on remote corners of the Himalayas around the Far East to the western end of the country.
04: The country of most UNESCO World Heritage Sites, from old monuments and ancient palaces to natural wonders. The first natural world heritage site on Nepal's list is Sagarmatha National Park. Followed by Chitwan National Park and Lumbini, the birthplace of Lord Buddha, which includes various temples, Stupas, and Palaces. Most areas with world sites in Nepal are within Kathmandu valley's three cities. Kathmandu with old Durbar Squares steeped with ancient Malla and Shah Dynasty palaces, the old Swayambhunath Stupa, and Pashupatinath Temple.
Extends to Bouddhanath huge, Asia's biggest dome stupa, as well as Patan Durbar Square and its famous temples. Including the medieval city of Bhaktapur's beautiful palace courtyards and high terra-cotta temples, as well as the ancient Changunarayan Temple
05: Nepal is one of the world's richest countries due to its great bio-diversity with unique geographical position and altitude variation. The elevation of the country ranges from 60 m above to the highest point on earth, Mt. Everest. Which is all within a distance of 150 km, resulting in great climatic changes from Sub-tropical-alpine to Arctic cold.
06: Nepal-occupying only 0.03% of the earth, is home to 2 % of all the flowering plants in the world. 8 % of the world's population of birds (more than 857 species); 4 % of mammals on earth. 11 of the world's 15 families of butterflies (more than 500 species); 600 indigenous plant families; 319 species of exotic orchids.
07: Amazing Nepal with only 147 181 sq. km. areas for more than 23 million population. Mostly concentrated in the capital Kathmandu, also the major commercial of the country. Nepali is the official and national language, however
the travel-trade people understand and speak English, as well.
After diminish of the royal Shah Regime, the country at present Republic with Multi-Party Democracy System. Nepal has more than 60 ethnic tribal groups with 70 native spoken languages.
08: Nepal is a premier country for all types of adventure sports, where travelers in Nepal can enjoy various outdoor sports activities. From Paragliding, Bungee Jumping, and cannoning the waterfalls to pleasant Ultra-Light flights and Zip-Liner, including scenic and whiter water rafting. Interested people can enjoy riding on a mountain bike, riding from the main trail to single tracks. The best way to explore Nepal's rural farms and towns and to observe the in-depth of the country.
09: Mountain Resorts and Home-Stay is another best to enjoy exciting holidays in Nepal with the scenic backdrop of Himalayan peaks. Around Nepal's high hills and mountain ranges, Mountain Resorts and Home-Stay program has flourished.
Where visitors can soak into local cultures and traditions, staying in the comfort of a Home-Stay run by the village communities.
10: Last but not least, visitors with leisure time in Nepal having short holiday duration can enjoy taking a Mountain Flight. Operates every morning in good seasons of the year, a breathtaking experience with grand views of Mt. Everest. The other good option is joining the Everest tour on a helicopter that flies and lands close to Mt. Everest. An exciting thrill and the best way to get close to the Himalayan range of peaks and Mt. Everest.